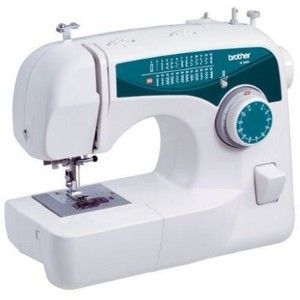 These top 5 beginner sewing machines all cost under $100 and have outstanding reviews. These are full size home sewing machines that can last for years, offer basic utility stitches plus some extras, have the highest consumer ratings, and are great for kids, too!
Click on the price options in the table for any machine to quickly check current pricing.

Top 5 Beginner Sewing Machines
Rank
Sewing Machine
Best Price
Reviews, Ratings, and Stitch Patterns
1
Brother XL2600i

Click to see price at:

# of Reviews: 646

Average Rating: 4.4

# of Stitches: 25
2
Brother XL2610

Click to see price at:


(Sometimes the price is just under $100 - sometimes it's just over $100 - check to see)
# of Reviews: 88

Average Rating: 4.4

# of Stitches: 25
3
Singer Simple 2263

Click to see price at:


# of Reviews: 309

Average Rating: 4.0

# of Stitches: 23
4
Brother LX3125
Click to see price at:


# of Reviews: 195

Average Rating: 4.1

# of Stitches: 14
5
Brother LS2125i

Click to see price at:

# of Reviews: 253

Average Rating: 4.0

# of Stitches: 10
The table gives only the basic information about these beginner sewing machines but the list was whittled down based on a ton of information. Following are the specifics of each model.
Brother XL2600i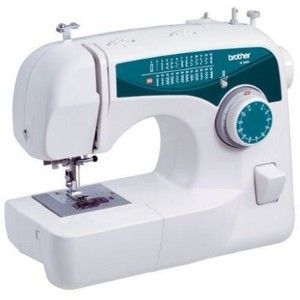 The Brother XL2600i has one very important feature for anyone new to sewing: a drop-in bobbin system. Beginners often find this bobbin system is much easier to work with and is less prone to jamming than front-loading bobbin system.
It also comes with a great set of built-in stitches.
Additional features include:
Built-in stitches: 25
Presser feet: 4
Weight: 11 pounds
1-step buttonhole
Free-arm sewing
Automatic Needle Threader
Drop-in bobbin
Variable needle position
3 bobbins
3 needles
1 twin needle
Extra spool pin
Screwdriver
Darning plate
See through bobbin cover
Brother XL2610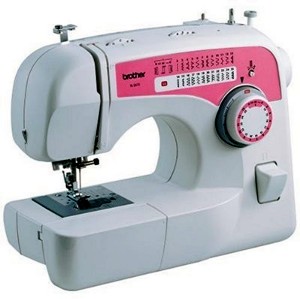 The Brother XL2610 is a recent addition to this list (as of May 2012) because the price has come down to JUST under $100. Sometimes it's a few dollars more which makes it a borderline option for this category but I can't ignore it based on the high ratings and reliable performance.
However, it's the same exact sewing machine as the XL2600i which is #1 and the only difference is the color of the trim. (For some, the extra few bucks is worth it to get away from the blue trim and get something that's pink.)
Other features:
Built-in stitches: 25
Presser feet: 4
Weight: 11 pounds
4-step buttonhole
Drop-in bobbin
Free-arm sewing
Twin needle capable
Variable needle position
Adjustable stitch width and length for more stitch functions
Needle
Bobbins
Singer Simple 2263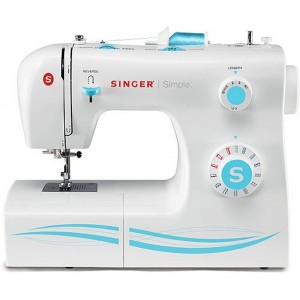 The Singer Simple 2263 is not only cute and easy to use, but you get a nice set of built-in stitches. While the bobbin system is front-loading, not drop-in like the #1 & #2 options, it does have horizontal thread delivery which is another operating plus.
Additional features include:
Built-in Stitches: 23
3 presser feet
Weight: 14 pounds
4-step buttonhole
Automatic needle threader
Free-arm sewing
Front-loading bobbin
Pack of needles
3 bobbins
Darning plate
Additional spool pin
Twin needle capable
Variable needle positions
Horizontal thread delivery
L Screwdriver
Seam Ripper/Brush
Brother LX3125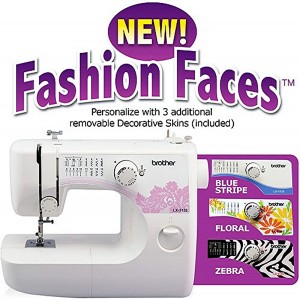 The Brother LX3125 is a great basic sewing machine for mending and small home projects. It's ideal as a portable backup or for kids who want to learn to sew. If you're looking for a sewing machine as a gift, don't miss Walmart's model of this machine, Fashion Faces, that comes with slick add-on covers in pattern designs to personalize the look of the machine front. Costs a bit more but makes a great present.
Other features include:
Built-in stitches: 14
Presser feet: 4
Weight: 15 pounds
4-step buttonhole
Free-arm sewing
Darning plate
1 bobbin
1 needle
Brother LS2125i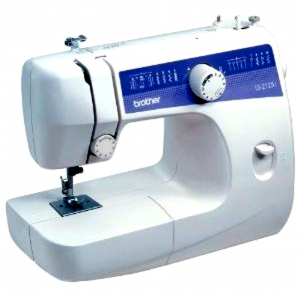 The Brother LS2125i includes all the most used utility stitches, is light weight and easily portable. It has a strong consumer rating and solid construction. For it's price, though, you can see that other options had more built-in stitches so this machine comes in at #5.
Sewing machine features include:
Built-in stitches: 10
Presser feet: 4
Weight: 15 pounds
4-step buttonhole
Free-arm sewing
3 pack of needles
Twin needle
4 bobbins
Darning plate
Screwdriver
Additional spool pin for twin needle
Building the Top 5 Sewing Machine List
Sometimes, the more options you have, the harder it is to make a decision. This site has expanded to include sewing machines across a number of price bands but if you're looking for a reasonably priced sewing machine for yourself or for a child, it might just be easier to cut right to the chase so a list of the top 5 machines under $100 seemed very worthwhile.
To build this list of beginner sewing machines, a set of criteria were selected. The machines on the list:
Cost under $100
Are as resistant to thread jams as possible
Incorporate at least a couple of decorative stitches along with the basic utility stitches
Weigh 15 pounds or less
Have at least 50 online reviews
Have an average consumer rating of 4.0 or better
Are readily available online
This list works for adults looking for their first sewing machine as well as for those shopping for children. No toy sewing machines were included, however, with reason. One thing my mother has burned into my head is that those things do not hold up. In fact, try as I might I could not find one under $100 that had decent reviews at all. If you know a child interested in sewing, a machine that will break quickly is not the best encouragement. Considering the reasonable prices of the models in this list, you could very well get a real sewing machine for kids that will hold up over time.
How was this list compiled?
Searched for every home sewing machine on Amazon, Walmart, Target, and Overstock that was priced under $100 and added it to a spreadsheet.
Noted the price, number of reviews, and average rating for every machine on every one of those online retail sites.
Calculated the lowest price option, the total number of reviews, and the weighted average consumer rating for each sewing machine.
Sorted the sewing machines by consumer rating (high to low) to find the top 5.
Reviewed the consumer reviews and the sewing machine manuals to identify the number of stitch patterns available, stitch names, the machine weight, and the features that helped to eliminate thread jams.
Made final adjustments to the order of the top 5 based on additional features that added value to the sewing machine.
I come from an aggressive line of comparison shoppers and accountants and we tend to get a bit analytical in our comparisons. Not many would use entire Excel spreadsheets to compare products but I'm a numbers geek, too, so…well…we do what we do. 🙂
The objective, though, was to get all of this information in one place to speed up your own decision making process. A number of sites had to be considered, not all machines were available in each store, and not all product listings are created equal. Weeding through the detail to boil down a solid set of beginner sewing machines with great ratings will hopefully save you from having to do the same to ensure you get the best value for your money.