In my last post I talked about the creative ways people are repurposing other furniture to be used as a sewing cabinet or table. Lots of pieces that are designed for something else – like crafting, drafting or writing – can be used to meet your needs.
Think computer desks, folding tables, and cocktail tables.
There are also lots of second hand pieces, too – real cabinets as well as furniture that would do just as well (or better) – that can be had for a bargain price.
The less you want to spend, the harder you might have to look but in just a few short minutes online, I found two perfect options in my area. One was a wood table that looked to be in good shape with a single, padded chair for $75. The second was a FREE used desk as long as I picked it up. Admittedly, that freebie would need a coat of paint but we're talking a free table. Get a bit crafty, fix something up and you could get years of use out of it.

However, you have to know where (and how) to look to find these deals. I'll give you some tips. See if you can't find something like these near you.
For Used Sewing Tables and Cabinets
The best and easiest place to look is in Google. If you know a few tricks, you can force Google to pull up great information. You don't have to drive from thrift store to thrift store. You can do all the leg work at home.
The results are only as good as the information you put into the search box and that's where things get tricky.
If I were to just put "used sewing machine cabinet" into Google, I'd see a lot of listings that don't really apply to me. My results included things that weren't for sale any longer, weren't near me, or weren't really used.
To get better results, put in better search terms.
My next search looked like this:
used desk classified az
After I put that into Google, I also clicked the Images tab because I didn't want to bring up every listing just to see the product. I wanted to see all the pictures first. Then I could decide which products looked the best.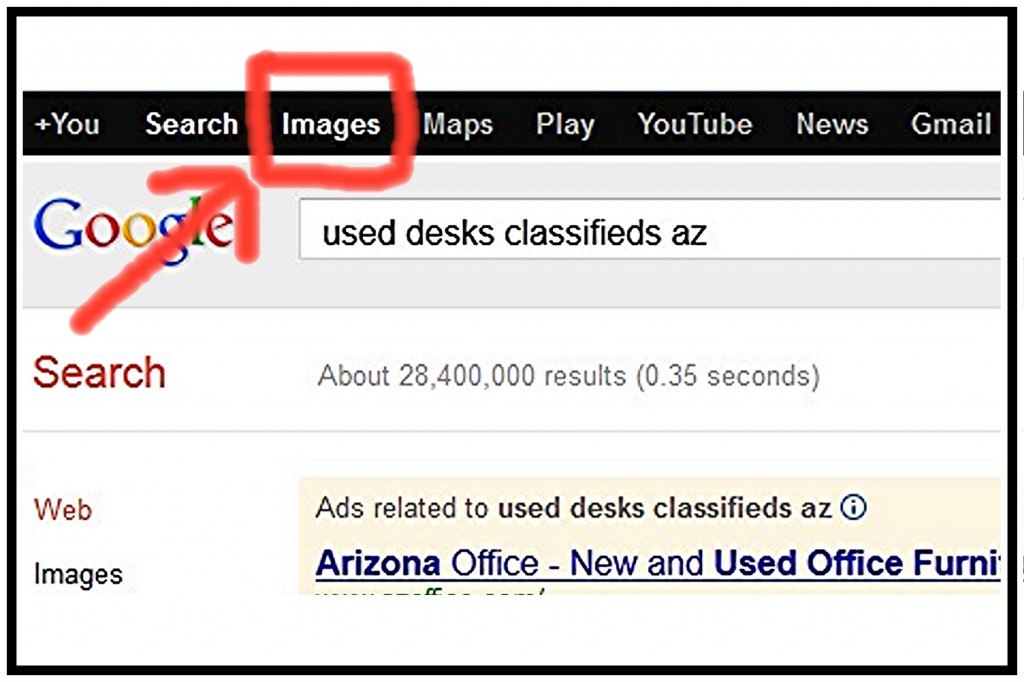 I also clicked the link on the left hand side of Google that says Show Search Tools and then clicked the option to only see results from the past week.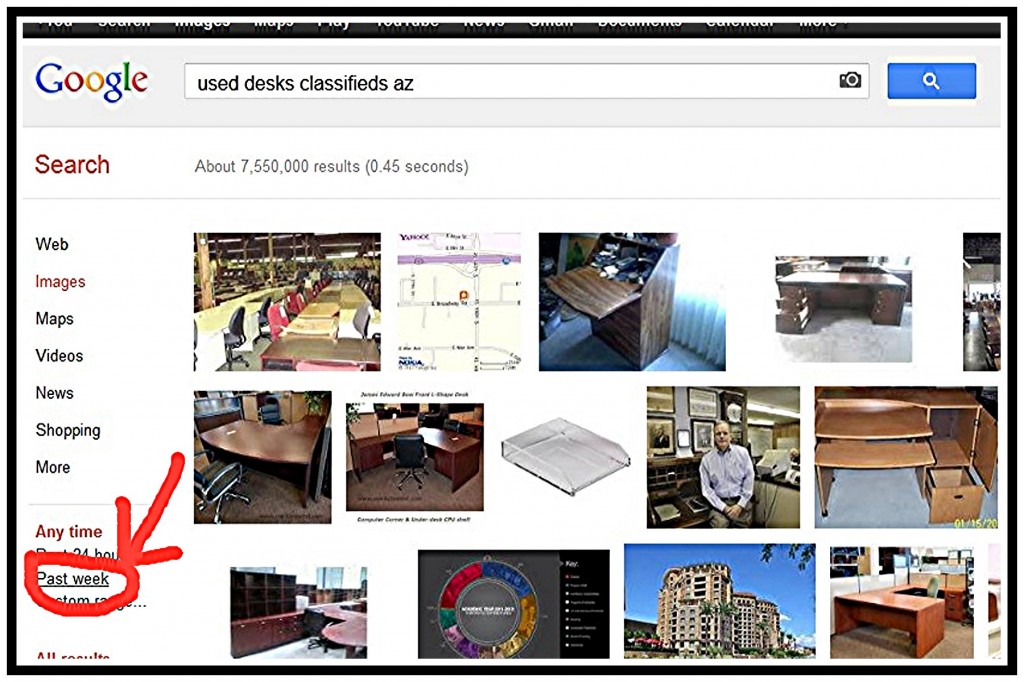 Now, I'm looking at a page of images showing me all the used desks on classified ads in Arizona (where I live) that have been posted in the past week. This should give me the most recent results so chances are these products are still available, I can quickly scan the images to see what looks good, and I'm focused mostly on classified listings so these items should be available for sale.
From there, right click on any of the images that look good and open them in a new tab in your browser so you don't lose your place. Those two products I found weren't on the page of images but were other listings showing on the pages I DID open. I came across classified sites in my area I never even knew existed and would have missed entirely without doing a search like this.
That's MUCH faster than weeding through a long list of unrelated search results.
If you don't get good results, you may have to change up the search terms. Substitute "table", "sewing machine cabinet", "sewing table" or "craft table" for the word "desk". Change the location to include a neighboring state if the drive is not too far.
You're still not having to drive around so spend some time and see if you can get your hands on a deal. On some classified sites, you'd simply make a call or send an email to see if the piece is still available and what you'd have to do to pick it up. One trip – not a bunch of stops and hours looking around town hoping to find something.
Now, you could just bring up a listing of all the classified sites in your area, like Craigslist, and look at them one at a time but making Google serve them up all at once as a page of images just seems so much faster.
The method won't work for everyone. We don't all live in large cities with the same kinds of options. In those cases, there are lots of places to look still:
Thrift stores
Goodwill
Garage sales
Ask family and friends if they have any furniture they've been looking to get rid of that work as a sewing table
Look around your house for desks or tables that aren't being used
Check Craigslist
Local furniture auctions
eBay
eBay Classifieds (yes, they have a classifieds section!)
For New Sewing Tables and Cabinets
To find deals on new ones, you can look online or in local stores. Start with places like Amazon and Walmart as they both tend to have the lowest prices and lots of choices. Remember that it doesn't have to be something that is called a "sewing machine cabinet" but could be a desk with drawers, a rolling work table, or a regular table. You can look at the following places:
Amazon
Walmart
Target
Sears
Kmart
Local sewing machine dealer
In less than an hour online, I found two great used options for less than $100 and five new ones for less than $150. That's an hour well spent!
Happy searching!