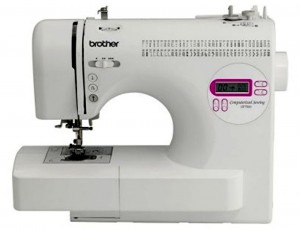 Want a really good deal for under $200? Add the
Brother CP7500
to your short list. The rounded styling and pink trim are just the pretty icing on an incredibly functional, computerized piece of cake.
Come December, this one is sure to be a holiday gift favorite. The model is comparably priced to the manufacturer's most popular model, the CS6000i, and matches it in every way but with an added bonus of 10 additional decorative stitches.
This is a sewing machine that works great for beginners and will grow with the user no matter what kind of sewing projects are pulled into the mix. More than one person noted they purchased this as a backup only to stop using their original model all together because of all the great features that come with this one.
Table of Contents
(Click Ahead!)
Stitch Count / Presser Feet / Functionality / Accessories / Customer Reviews / Pros, Cons & Manual
UPDATE: June 21, 2013 – It's almost impossible to find the CP-7500 online anymore at price that competes with the similar CS6000i. Brother doesn't show it as a discontinued model but considering its lack of availability I have to wonder if it got axed. I'm shocked because I thought the color, price, and extra stitches made it one of their best bargains for beginners. If you can't find it, take a look at the CS6000i or CP-6500.
REVIEW SUMMARY
MODEL: Brother CP7500 Sewing Machine
REVIEWED BY: Erin
RATING: 4.7


LAST UPDATED: April 8, 2015

CHECK CURRENT PRICE
Amazon
Brother CP7500 Sewing Machine Stitches
(Back to Top)
You'll find an assortment of 70 built in stitches that include utility stitches, decorative, heirloom, and quilting. You can make clothing, perform alterations, hem jeans, appliqué, take up quilting, make home decoration items like blankets, pillows, drapes, curtains, and bedspreads, and even do the most delicate heirloom work.
There are 7 styles of 1-step buttonholes – my favorite. These are literally 1-step, as in push one button and let the sewing machine create a buttonhole. You just have to cut the slit in the center when it's done. If you've ever struggled to do well-balanced buttonholes by hand or with an older machine, you'll be amazed at how easy these are. Even kids can do buttonholes like this with no problem.
Many stitches can be modified in width or length for a total of 110 stitch functions (total variations of the built in stitches). Stitch width can be modified up to 7mm and length up to 5mm for select stitches which means you can create a super sized zigzag stitch with this sewing machine.

Comprehensive Set of Presser Feet Come with the Brother CP7500 Sewing Machine
(Back to Top)
The Brother CP7500 comes with 9 snap on presser feet. The original package included only 7 presser feet but two important quilting feet have been added as a bonus:
Zigzag (general presser foot)
Overcasting
Monogramming
Blind Stitch
Zipper
Buttonhole
Button Fitting
Quilting Foot
Walking Foot
Beginners Love the Brother CP 7500 Sewing Features and Automation
(Back to Top)
As I mentioned, this is one feature-rich sewing machine. All the favorite features that make today's sewing machines so much easier to use are included:
Quick-set, drop-in bobbin
Automatic bobbin winder
Automatic needle threader
Built in manual thread cutter
Automatic presser foot pressure
Start/stop button to start or stop sewing with the push of a button
Variable speed control
Speed control slider
Reverse/Reinforcement button
Thread tension control dial
See through bobbin cover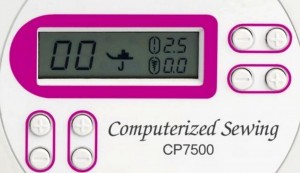 Drop in bobbins are usually easier for beginners to use. The additional enhancement of the Quick-Set ™ bobbin with the one step replacement makes things just that much faster to set up. You literally plop the bobbin in the case and hook the thread to one side and it's ready to sew.
The combination of the Start/Stop button and the speed control slider allow you to sew without the foot pedal, if you so choose. While a foot pedal is included, the combination of the Start/Stop button and the speed control slider can be used to sew completely with your hands – no foot pedal required. If you've grown up sewing with a foot pedal, you might not care to use this feature but beginners LOVE this option and often never use the foot pedal.
The Brother CP 7500 sewing machine is built to keep thread flowing smoothly through the machine to minimize thread jams, too:
Threading diagram printed on the machine
Horizontal thread delivery
Operating controls are very simple. An LCD screen display selected stitch information and tells you which presser foot you need for each stitch. Two pairs of up/down arrow keys control stitch selection, stitch width, and stitch length.
The stitch pattern reference guide is printed right across the top so there's no need to pull out the manual or check a printed sheet to figure out the number of the sewing stitch you want to use.
The Brother CP7500 sewing machine is capable of tackling advanced sewing projects with these features:
Drop feed dog lever
Free arm for sewing circular tubes of material such as pant legs and sleeves
Twin needle sewing for two rows of stitches for reinforced seams or decorative accents
Variable needle positions
Can be used to attach buttons with 2 or 4 holes
It's really lightweight, too. Sturdy enough to handle heavy fabrics and large projects, especially with the included extra-wide extension table, but still light enough to move around your house without complaint. This is a practical for those who take their sewing machines to classes or quilting guilds.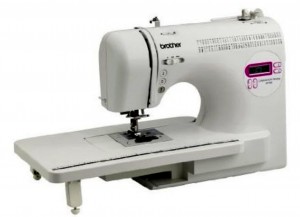 The spool pin is a little unusual in that it's the fold out style. Most sewing machines in this price range have a vertical or horizontal pin that is firmly affixed to the sewing machine while this one folds out from the top. Some people have mentioned a concern that because of the joint, perhaps the spool pin could be prone to breaking but I could not find a single complaint of that happening to date. If you're going to move the machine or cover it, just make sure the spool pin is folded back into place.
Brother puts a nifty little option on a number of their home sewing machines including this model. You can program the needle stop position so that the needle ALWAYS stops in the up position or ALWAYS stops in the down position. You can switch this from one preference to the other depending on your project.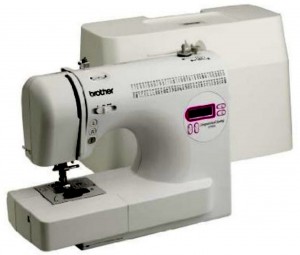 A hard cover is included but be aware this is truly a cover and not a case. There is no bottom. You can fit this over the Brother CP7500 sewing machine to keep it from prying hands or falling objects but there's also a cutout in the top so you can reach the carrying handle which means it won't really protect  from dust.
You can buy the Brother 5300 Universal Sewing Machine Carrying Case
if you want a complete case you can use to transport your machine safely.
Because the Brother CP7500 sewing machine so closely resembles the Brother CS6000i (read more here) in regards to features and price, one of the questions that come up most often lately has to do with the differences between the CP7500 and the CS6000i. Here's what's different:
Both sewing machines have the same 60 stitches but the CP-7500 comes with 10 additional decorative stitches for a total of 70 built in stitches
Design – pink trim and rounded shape vs. blue trim and more boxy look
Price (sometimes) – at times, they've had the same price so all the same features and accessories with 10 extra stitches makes the CP7500 a real online bargain
Everything else is the same – even the operating manual!
Dimensions: L 16.26" x H 11.65" x D 7.01"
Weight: 14 pounds
Accessories
(Back to Top)
A number of sewing notions and accessories are included:
Hard cover
Seam ripper
Extra bobbins (3)
Set of 3 extra needles (1-75/11, 1-90/14, 1-100/16)
Twin needle
Ball point needle (gold colored)
Cleaning brush
Disc-shaped screwdriver
Spool caps (1-large, 1-medium, 1-small)
Extra spool pin
Foot pedal
Eyelet punch
Quilting guide
Extra wide extension table
The Brother CP7500 Sewing Machine Gets Consistently Strong Consumer Ratings
I've been keeping an eye on reviews since this sewing machine first came out. It was hard to ignore how much it matched the CS6000i and that always catches my attention. The next thing I needed to understand for this review was how consumers would respond after enough time had passed to run it through a few projects. Month after month, ratings have held stable and the review comments continue to be extremely favorable.
All the same features and price of the bestseller and yet a more sleek design? And at this price? It's just one of the best ways beginners can get into a sewing machine that starts easy, handles basic tasks, and yet will grow with them in so many ways.
Beginners love that it comes with so many extras and doesn't feel like a cheap machine. It's sturdy and performs very well. The controls are simple and easy to learn. You won't have to worry about buying extras down the road to try quilting, bags, blankets, or clothing. All of these features make it not just a good choice for a beginner sewing machine but also one of the best priced choices for anyone who needs a new sewing machine and wants to stick with a budget of under $200.
You can read more here: Ratings
Average Rating: 4.7
Pros, Cons & Manual

Pros: Great with denim and thick fabrics. Easy to use. Lots of stitches to choose from. Runs very quietly. Nice looking stitches. Lots of presser feet. Included hard cover, extra wide extension table and bonus quilting accessories.  An excellent choice for beginners.

Cons: Dim work light. Might need to keep a lamp handy. Spool pin doesn't feel very sturdy (although no one has complained about it falling off or breaking yet).
Manual available online here: See the Manual
Manufacturer's Warranty: As of this date, Brother offers a 25 year limited warranty.
For current pricing information, follow this link:
CHECK CURRENT PRICE
Amazon
Features Summary Review: