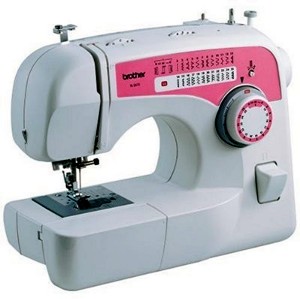 What's not to like about the Brother XL2610 sewing machine? Besides being designed well for beginners, it's cute and pink. Enough said. Well, really, there's more to it than that.
Interestingly, this machine has some mixed reviews. Those new to sewing love this machine. Experienced seamstresses – not so much.
Seems the more experienced you are, the more you like or need the ability to fine-tune the precision of your work and this machine has mostly pre-set settings so there's not a lot of fine-tuning that's possible.

Table of Contents
(Click Ahead!)
Stitch Count / Presser Feet / Functionality / Accessories / Customer Reviews / Pros, Cons & Manual
REVIEW SUMMARY
MODEL: Brother XL2610 Sewing Machine
REVIEWED BY: Erin
RATING: 4.4


LAST UPDATED: April 10, 2015

COMPARE PRICES
Amazon
The stitch variety is nice but the additional accessories are rather bare-boned compared to other machines. Not even a seam ripper with this one – which, for beginners, is kind of important. Of course, that's just a few dollars at a craft store. Still, for a machine that makes things super simple probably to attract beginners, a few little extras like a seam ripper that comes with most machines really helps out because, well, beginners don't usually have seam rippers just hanging around the house.
Utility Stitches Cover the Basics
The Brother XL2610 comes with 25 built in stitches and 59 stitch functions. Stitch width and length are dial adjustable up to 5mm.
Straight
Zigzag
Blind Hem
Shell Tuck
Elastic
Stretch Blind Hem

Elastic Shell Tuck
Double Action
Bridging
Rampart
Triangle
Triple Stretch
Triple Zigzag
Stretch Overlock
Elastic Overlock
Feather
2 Arrowhead Stitches
2 Decorative Stitches
Leaf
Tree
Legs
4-step Buttonhole Stitch with stitch balance control for even stitching
Presser Feet for General Sewing and Buttonholes
(Back to Top)
You get the basic mending/utility presser feet for general sewing, zippers, buttonholes and buttons. Presser feet are snap-on vs. the older screw in type:
General Purpose Foot
Zipper Foot
Buttonhole Foot (4-step)
Button Sewing Foot
Special Features to Make Things Easy
(Back to Top)
As I mentioned, this is a great basic sewing machine with simple operation and extremely light-weight:
Free-arm sewing
Drop-in bobbin
Automatic needle threader
Automatic bobbin winder
Twin needle capable
Carry handle
Dial-controlled stitch selection
Dimensions: L 15.4" W 15.4" x D 6.7"
Weight: 11 pounds
Sewing Accessories Tucked in the Box
(Back to Top)
The Brother XL2610 comes with the following accessories:
3 bobbins in addition to the one that comes in the sewing machine
3 regular needles in addition to the one that comes in the machine
1 twin needle
Extra spool pin for twin needle sewing
Darning plate
Screwdriver
Highly Rated by Users
Great starter sewing machine, many like the use of pink accents, great for basic mending and creative projects, sews evenly and not too fast so nice for beginners who are still working on controlling their fabric.
Average Rating: 4.4
Update June 12, 2010: The XL2600i (read more here) is the same sewing machine but has blue trim instead of pink. Recently, the XL2600i was cheaper by $20-30 but I noticed a recent price drop on the XL2610 on Amazon so they are running for just about the same price now. Check both prices here: Amazon Brother XL2600i and XL2610 Price Comparison
Pros, Cons & Manual
(Back to Top)


Pros: Light-weight makes for easily taking the machine with you to classes and is easy to move around the house. Simple to set up due to automatic needle threader and automatic bobbin winder. Good selection of stretch stitches. Handles thick fabrics well although does move around a bit with heavy projects (use some non-skid material under the machine to keep it in place for heavy duty sewing). Can handle quilting projects with the separate purchase of accessory quilting feet.



Cons: Louder than other machines in this price range. Lots of plastic parts. Foot presser lever is awkwardly located to the right rather than at the back of the machine. Work lamp is placed on the right and your arm causes it to cast a shadow while working so it isn't as effective as it could be if it were on the left. Zipper foot is touchy and requires needle adjustment to achieve proper seam placement. Presser foot pressure is not adjustable.

Manual available online here: Manual
Manufacturer's Warranty: As of this date, Brother offers a 1 year warranty on parts and labor, a two year warranty on electronic pattern control and selection components (parts only), and a 25 year warranty on shafts and rods on the machine head.
For current pricing information, compare these two stores:
COMPARE PRICES
Amazon
Features Summary Review: