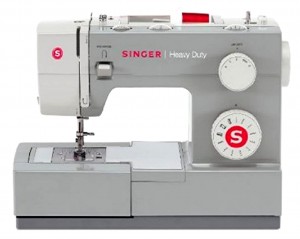 The sturdy base and boxy construction of the Singer 4411 are reminiscent of reliable machines we're used to seeing from this manufacturer and it's not just subliminal.
This machine does something special. It mixes some of the must-haves of today's home favorite features with power like a commercial option so that hobbyists who need speed and strength in a light weight unit can have it without spending loads of money.
I want to be clear – this isn't a commercial grade machine. It's really a blend of features that serves a specific segment of the home sewing machine market. If you want to do a mix of craft work and garment construction and you want lots of pretty stitches, keep looking. If, however, you want something with a boost of power because you are (or will be) a high volume quilter, because you work with unusually thick fabrics, or because you need more speed than most, keep reading!
Table of Contents
(Click Ahead!)
Stitch Count / Presser Feet / Functionality / Accessories / Customer Reviews / Pros, Cons & Manual
REVIEW SUMMARY
MODEL: Singer 4411 Heavy Duty Sewing Machine
REVIEWED BY: Erin
RATING: 3.9


LAST UPDATED: April 9, 2015

COMPARE PRICES
Amazon
Walmart
Singer 4411 Sewing Machine – More Than Just a Straight Stitch
(Back to Top)
This is what some would call a straight stitch sewing machine but it comes with more. There are a total of 11 built in sewing stitches including a four-step automatic buttonhole. That's what makes this machine so flexible. It blurs the lines by having a few extras so you can use it to also do more creative sewing as well as power, utility sewing.
Stitch width on the Singer 4411 is adjustable to 5mm and length is adjustable to 4mm. Both settings are adjusted using dials on the machine.
There's also a buttonhole balance control dial that lets you adjust the left and right side stitches for perfectly balanced buttonholes.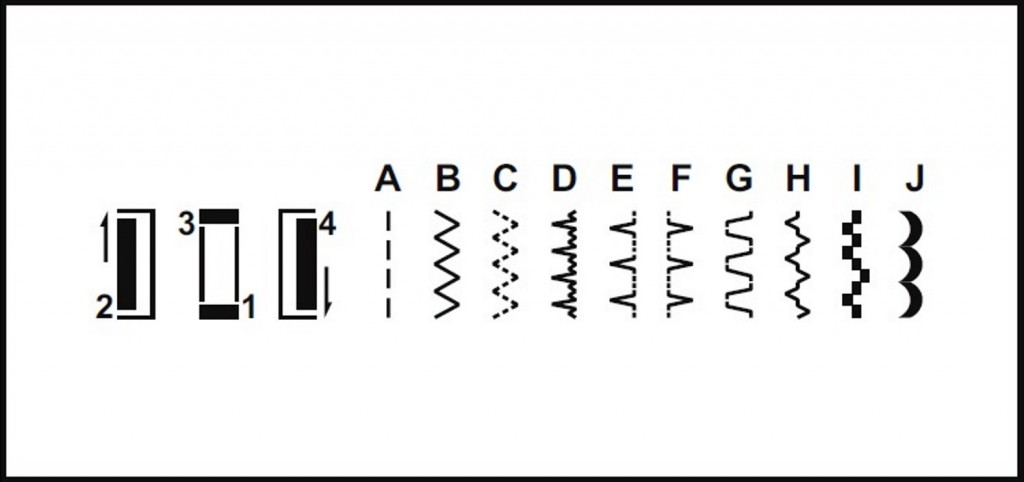 Singer 4411 Presser Feet
(Back to Top)
There are 4 snap on style presser feet included:
General Purpose
Zipper
Buttonhole
Button Sewing
You can buy additional accessory presser feet, including an Singer Even Feed / Walking Foot (Part #006185008-P)
.
Speed and Power Top the List of Features on the Singer 4411 HD Sewing Machine
(Back to Top)
Most home sewing machines operate at a speed of about 800-850 stitches per minute but this one operates at 1100 stitches per minute. Speed is one way you can punch a needle through thicker materials. A stronger motor in this machine also helps. Add the right needle and thread and you can go through multiple layers of even canvas or extra thick denim.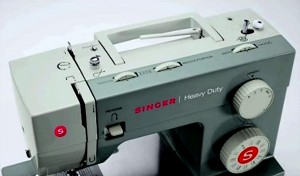 Not everyone who wants to start sewing wants to make clothes or do embroidery. I'm continually surprised at the kinds of projects people are planning – tents, backpacks, car upholstery, sofa covers, rucksacks, and patio furniture covers.
Manufacturers would use industrial or commercial grade machines but if you're just starting out on a small business or sewing thick fabric projects at home you may not have the resources for a sewing machine that costs over a thousand dollars. This is where the Singer 4411 carves out its niche. In comparison, this one is pretty darn cheap. It's less than $150 and built to run and run and run.
The Singer 4411 sewing machines list of features includes:
1100 stitches per minute which is about 30% faster than most entry level machines
Heavy duty metal frame with high quality plastic housing
Stainless steel bed plate to keep fabric moving over the plate without building up friction or snagging on parts
Drop feed lever
Powerful motor
Top drop-in bobbin
Adjustable presser foot pressure
Capable of being mounted in a sewing cabinet
Free arm sewing
See through bobbin cover
Automatic tension
Built in carry handle
Built in work light
Extra high presser foot height
3 needle positions (center, right, and left)
Reverse lever
Manual thread cutter on the left hand side of the machine
Horizontal thread delivery
Twin needle capable (twin needle not included)
Often, experienced sewers who work with certain fabrics want a machine that allows for manual adjustment of the presser foot pressure. They can lighten the pressure or increase it to perfectly adjust for the thickness of the fabric. While the Singer 441 sewing machine is built with the thickest materials in mind, the adjustable presser foot pressure makes it compatible with even sheer fabrics.
Even beginners who have a particular set of sewing projects in mind such as upholstery work or handbags should consider something like the Singer 4411.
It's just another aspect of how this sewing machine was structured to cover some middle ground. It makes a great secondary machine for quilting when you want to really push through a ton of piecing work or when you don't want to put any unnecessary wear on your regular machine. If your job involves traveling and repairing thick material, this machine is strong but still light weight enough to haul around.
This video demonstration shows you how fast the Singer 4411 sews through multiple layers of fabric:
Dimensions: L 15 ½" x W 12" x D 6 ¼"
Weight: 14 pounds

Singer 4411 Included Accessories and Notions
(Back to Top)
Built in accessory storage flips down from the front and holds:
Seam ripper/brush
Edge/quilting guide
Needles
3 extra bobbins
L Screwdriver
Extra Spool pin
Felt disc
Soft Dust cover
Consumer Reviews and Ratings for the Singer 4411 Sewing Machine
A heavy duty machine is built for very certain kinds of work – heavy quilters, piecers, and those working with thick fabrics or anyone who needs to plow through an immense amount of fabric with straight stitches. There's a lot of mention lately about sewing needs for automotive work (they must be making great customized car seat covers!) and this machine is great for those kinds of projects, particularly when you don't have a large budget.
Consumers appreciate the speed and power.
You can read more here: User Comments
Average Rating: 3.9
Pros, Cons & Manual

Pros: Powers through thick fabric but make sure to use the right needle and replace it often. Adjustable presser foot pressure. Strong motor. Even, quality stitches. Nice combination of stitches instead of just having a straight stitch. Good fabric control. Ability to slow the speed which makes it easier to use than some other straight stitch heavy duty machines.

Cons: Rather loud. Tricky to thread (although the guy in the video sure makes it look easy!). Because of its light weight it can be dragged by large, weighty fabrics – use an extension table, put non-skid material underneath, or attach to a sewing cabinet. Twin needle capable but not included in accessory kit.
Manual available online here: Get the Manual
Manufacturer's Warranty: As of this date,the warranty in the US is 25 year limited on the machine head, limited 5 year warranty on motors, light, assembly, wiring, switches, speed control and electronic components, and a limited 1 year warranty on adjustments, belts, rings, bulbs, and attachments. As is standard with most warranties, the warranty may be void if certain requirements are not followed.
For current pricing information, compare these two stores:
COMPARE PRICES
Amazon
Walmart
Features Summary Review: