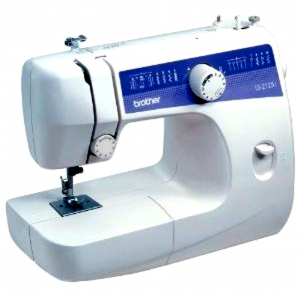 The Brother LS2125i is a
great sewing machine for beginners who want to handle the occasional basic mending tasks, dressmaking, clothing, and home decorating projects and don't want to spend a lot of money
. At less than $100 this is a perfect starter setup for light tasks. It's also a great machine for kids.
It's portable, electric and has a built in handle tucked in the back for easy movement. The machine is white with light and medium blue trim.

Table of Contents
(Click Ahead!)
Stitch Count / Presser Feet / Functionality / Accessories / Customer Reviews / Pros, Cons & Manual
REVIEW SUMMARY
MODEL: Brother LS2125i Sewing Machine
REVIEWED BY: Erin
RATING: 4.1


LAST UPDATED: April 10, 2015

COMPARE PRICES
Amazon
A Basic Set of Built In Stitches
(Back to Top)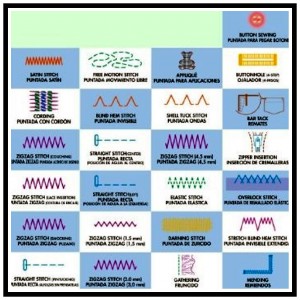 The set of 10 built-in stitch options are utility stitches handy for repairing clothing and hems, making clothes, making curtains, or other small projects.
4-step Automatic Buttonhole
3 styles of Zigzag stitches
Zigzag Satin Stitch
Straight Stitch (5 different stitch lengths)
Straight Stitch (needle left)
Stretch Blind Stitch
Shell Tuck
Elastic
Included Presser Feet
(Back to Top)
The Brother LS2125i sewing machine comes with 4 snap-on style presser feet:
Zigzag (General Purpose)
Buttonhole
Zipper Foot
Button Sewing Foot
Functionality of the Machine
(Back to Top)
The Brother LS2125i has a front loading bobbin system. That's one of the first things I look at when evaluating starter sewing machines or light task machines like this one. This style of bobbin system isn't as easy as a drop in system. It might take a few tries to get figured out but that shouldn't be a show stopper – unless the machine is for kids. I think it's far easier for a child to use a drop-in style than the front-loading kind. (For a highly rated machine with a drop-in bobbin in the same price range, look at the Brother XL2600i.)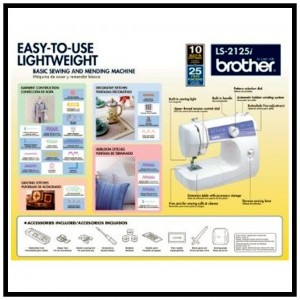 Loading a bobbin with thread is super simple on this sewing machine. Slip the thread through a hole in the top of the bobbin, put the bobbin on the winder, latch it into place and step on the foot pedal. The machine stops automatically when the bobbin is full.
A reverse lever also located on the front of the machine is used to lock completed stitches in place.
Free-arm sewing is possible by removing the extension arm so that fabric tubes like sleeves and legs can be slipped onto the working surface. The Brother LS2125i is suitable for light, manual embroidering, monogramming and appliqué stitches.
There is a built in work lamp, a bag for accessories which is stored in a compartment within the machine itself, and you can perform twin needle sewing with the LS2125i for decorative stitching as long as you use only the needles recommended for this machine.
The tension of the top thread can be adjusted with a dial on the front of the machine.
With the included darning plate, you can cover the feed dogs and do free form sewing work, attach buttons, or mend torn clothing with the zigzag stitch.
A buttonhole fine-adjusting screw allows you to tighten or loosen the buttonhole stitch to cover a multitude of buttonhole options from small, cuff buttonholes to larger button openings.
For a starter or backup sewing machine, this model handles a surprising number of sewing tasks and fabrics. This is a great machine for someone just starting out who doesn't want to spend a lot of money or for those who know they need one for the occasional mending job but don't need to spend hundreds of dollars.
Dimensions: L 15″ x W 11.8″ x D 6″
Weight: 15 pounds
Accessories
(Back to Top)
The Brother LS2125i sewing machine comes with the following accessories:
3 pack of needles
Twin needle
4 bobbins
Darning plate
Screwdriver
Additional spool pin (for twin needle sewing)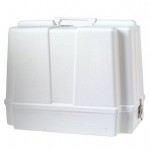 The The Brother 5300 Universal Sewing Machine Carry Case fits this machine but must be purchased separately.
What Do Consumers Think?
As one of the cheapest, full-sized sewing machines you can get, buyers love the fact that they can get just enough machine to handle routine alterations and other projects for a very reasonable amount of money. It's not very heavy so even children can move it easily, it has the basic utility stitches, and it's been around long enough to have proven it can hold up for years.
If you need the most basic sewing machine or have a very small budget, you'll appreciate the value of this machine and the fact that you don't have to sacrifice size or workspace and you don't have to buy a brand you've never heard of before.
Average Rating: 4.1
Pros, Cons & Manual

Pros: Easy to use, even for children. Handles alterations, light weight fabrics, and home décor projects. The machine is capable of making pillows, tablecloths, curtains, and more. Beginners find this machine simple to learn and begin using right away.



Cons: Requires frequent oiling to keep operation smooth and oil is not included in the purchase. Pedal speed seems to go from slow to fast with not much in between. Some problems auto adjusting during stitching.

Manual available online here: Manual
Manufacturer's Warranty – As of this date, the Brother LS2125i comes with a 1 year warranty on parts and labor if purchased from an authorized reseller. Electronic pattern control and selection components are covered for 2 years. Head parts, shafts, and connecting rods are covered for 25 years. Certain actions do void the warranty.
COMPARE PRICES
Amazon
Features Summary Review: