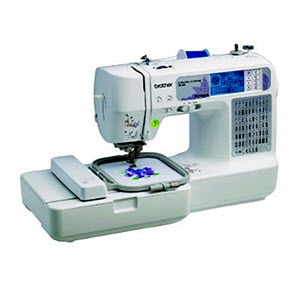 The Brother SE400 Computerized Embroidery Sewing Machine combines art, creativity, and technology to give beginners and experienced sewers a complete and total sewing package.
It does it all – mending, garment construction, embroidery, quilting, heirloom sewing, and craft sewing.
This is exactly the same as the Brother SE350 with one important upgrade – the addition of a USB port so that you can download designs and updates through your computer.

Table of Contents
(Click Ahead!)
Built In Stitches / Embroidery Patterns / Letter Fonts / Presser Feet / Functionality / Video / USB Port / SE400 Software / Accessories / Embroidery Hoops / Brother SE400 Consumer Reviews / Pros, Cons & Manual / Price
REVIEW SUMMARY
MODEL: Brother SE400 Sewing Machine
REVIEWED BY: Erin
RATING: 4.4


LAST UPDATED: April 9, 2015

COMPARE PRICES
Amazon
Walmart
Brother SE400 Stitch Count
(Back to Top)
Because this is a combination embroidery and sewing machine, let's break the stitch descriptions into their two parts, starting with the built-in sewing stitches.
Built-in Sewing Stitches
The Brother SE400 comes with 67 built in stitches including 10 styles of 1-step buttonholes. More stitches don't necessarily mean one machine is better than another but having more does allow you to do certain kinds of sewing more easily. The selection that comes with the Brother SE400 means you can try your hand at quilting, making clothes, hemming your jeans, working with different materials, making bags (a popular project these days!), and even paper craft sewing. The built in stitches include an assortment of Straight, Zigzag, Overcasting, BlindHem, Applique, Stretch, Patchwork, Quilting, Eyelet, Smocking, Decorative, Heirloom stitches and Side Cutter stitches.
Like having a built in serger!
Side Cutter stitches trim the fabric off at the seam during sewing like a serger. Such finished edges are critical to making clothing like you'd find in stores. The side cutter prevents fraying and rolling at the seam. Some sewers have multiple machines – a sewing machine, an embroidery machine AND a serger to do what the SE400 does all by itself. Now, the side-cutter stitches aren't going to have 3 and 4 loop threading like a serger but they still provide a very sturdy, polished and professional finish to your garments.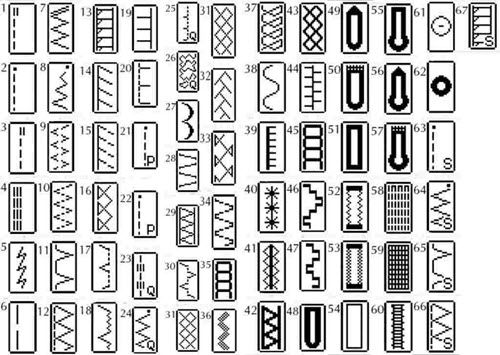 NOTE: You can see the Side Cutter stitches above, #63-67. See the letter 'S' in the lower right corner of each of those stitches? That means that you need the Brother SA177 Side Cutter Presser Foot
in order to perform those stitches. That foot DOES NOT come with the purchase of the SE400 and must be purchased separately. Still – for an extra $30-40 dollars, you've got serger-like stitching without having to buy a separate machine!
(Click here for a complete list of stitch names: (SE400 Stitch List))
Stitch length adjustable to 5mm and stitch width adjustable to 7mm for select stitch patterns.
Stitch functions include: Mirror, twin, multi-directional, side cutter, satin stitch regulator. Think of a stitch function as another way to use a built in stitch. The mirror function lets you sew a decorative stitch in the opposite direction as the original setting. This is used for making symmetrical patterns, for drawn work, and for customizing your own stitch designs using the built in stitches.
To select a stitch, use the arrow keys to page through the stitch icons on the screen until you see the one you want, select the stitch with either your finger or the stylus and then you'll see the various stitch setting options for that stitch.
Embroidery Sewing Patterns
(Back to Top)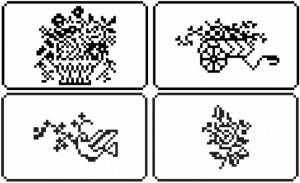 There are 70 built-in embroidery designs including flowers, roses, baskets of flowers, animals, plants and birds. You choose the pattern and the machine will guide you through completing the pattern with step-by-step instructions including thread color selection. The LCD screen shows how much time it will take to complete each step.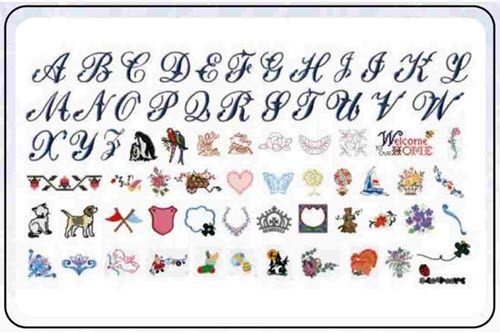 Easily add to your embroidery design collection.
These built in embroidery designs are available to you at any time but you can also add to your collection of embroidery patterns either by buying Brother embroidery cards for the card reader slot located on the side of the sewing machine or by downloading designs you find or buy online through the included USB connection.
Stitch outlines around your embroidery designs.
There are also 10 frame types (such as square, circle, diamond) used to frame patterns and 12 stitch styles to use with those frames for a total of 120 different styles of framing options. For example, you could do a circle frame using a straight stitch or a circle frame using one of the more decorative styles in the set of 12.
Brother SE400 Letter Fonts
(Back to Top)

For monogramming or for use in embroidery stitching, there are five fonts that contain five different types of characters: upper case letters, lower case letters, numbers, symbols and European characters. Font styles include Gothic, Outline, Calligraphy, Serif, and Sans Serif.
Just how big are the fonts on the Brother SE 400? This review shows it has really good-sized fonts. Fonts you could read across the room with the right fabric and thread combination!
There are three sizes available for each font: small, medium, and large.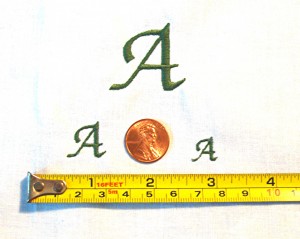 The exact dimensions of each font size are slightly different based on which of the five fonts you select but the small size is approximately 3/8 by 3/8 inch square, the medium size 5/8 by 5/8 inch square, and the large size is 1 1/4 by 1 1/4 inch square. To the left are some pictures to help you get a feel for the size and scale of these fonts.
Brother SE400 Presser Feet
(Back to Top)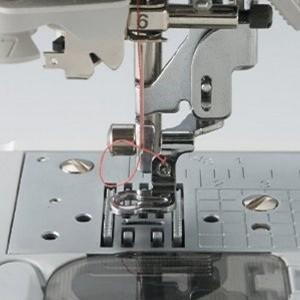 The Brother SE400 comes with 8 snap-on presser feet. The Zigzag foot has a leveling button to help it maneuver over thick seams or fabric edges (as is often necessary when hemming denim for jeans). The presser foot height has 3 settings: down, regular up, and extra up for slipping thick fabrics under the presser foot.
Buttonhole Foot
Overcasting Foot
Monogramming Foot
Zipper Foot
Zigzag (General Purpose)
Blind Stitch
Button Fitting Foot
Embroidery Foot
(Some product listings – even the Brother website – say the Brother SE400 comes with 7 presser feet but they are not counting the embroidery foot in that list as only the other 7 are actual sewing presser feet rather than embroidery feet.)
Brother SE400 Embroidery Sewing Machine Functionality
(Back to Top)
Brother didn't just pack in a ton of cool stitches, presser feet and embroidery patterns to lure sewers towards the SE400, they also employed some of the most updated sewing technology to ensure solid performance, easy set-up, and fewer thread and jamming issues:
Horizontal top thread delivery
Quick-Set drop-in bobbin
7-point feed-dog system
Drop feed-dog lever
Automatic needle threader
Automatic bobbin winding system
Upper thread and bobbin sensors tell you when thread has broken or is running out
Control speed, start, stop, and the needle with the push of a button.
Then there are the features that simply make sewing easier no matter what level of experience you have:
Push button thread cutter
Needle Up/Down button
Start/Stop sewing button
Speed control slider – This particular speed slider serves two purposes. Either it can control the maximum sewing speed while using the Start/Stop button to sew without the foot pedal or, if the foot pedal is attached, the speed control slider can be used to adjust stitch width as you sew.
Reverse/Reinforcement stitch button – If you program the machine to use the automatic thread cutter, the reinforcement button is automatically set as well so no "oops, I forgot a step" once the threads have been cut.
While the machine's settings are preset for most functions, there are also control dials to change settings necessary for more complex work. This is the type of functionality that becomes more important the more you learn to sew:
Adjustable top thread tension
15 needle positions
The Brother SE400 sewing machine is also capable of twin needle sewing which creates a parallel line of stitches using two needles which may contain the same color thread or two different colors of thread.
Max speed is 710 spm (stitches per minute), has a removable extension table to allow for free-arm sewing, a built in carry handle and a work light.
For free motion quilting, lower the feed-dogs and attach the quilting foot or the open toe presser foot.
Brother SE400 Computerized LCD Control Panel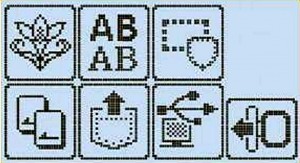 This is really where all the action happens, on the LCD control panel. It is a touch screen measuring 38mm x 71mm (1.5 inches x 2.8 inches) that can be operated with either your finger or the provided touch pen (stylus).
All of your stitch selection and settings are controlled through the panel. Scroll through the stitch pattern icons to find the one you want, press it, and you're shown the settings and options for that stitch.
Control panel guides you every step of the way.
For each stitch, the machine shows you the required presser foot, width and length settings, whether or not a twin needle may be used, and which of the press-button functions you have selected (needle up/down, reinforcement, etc.) You can also save certain stitch settings in the sewing machine's memory so you can quickly get back to the same stitch pattern for a particular project.
An on-screen help button provides quick access to pictures and instructions for threading, bobbin winding, bobbin loading, presser foot changes and more.
Brother SE400 Video
(Back to Top)
This is as close as you can get to seeing the Brother SE400 in video. The following is actually a video from HSN demonstrating the Brother HE 240 embroidery machine which is the same as the Brother SE 400 but with a model number exclusive to HSN. In fact, if you look up the information on the Brother website, the HE 240 is a retired machine but the user manual is EXACTLY the same as the one for the SE400 and the SE350.
The video review will give you all the information you'd want to know about accessories, stitches, and embroidery functionality. You can see examples of the stitches in proportion as well as much more detail in the available embroidery patterns. Especially helpful is the overview of how the sewing machine works with the computer USB port.
The Brother SE400 is just an incredible combination machine with tons of features for less than $400. It's probably one of the best bargains you can find on a combination sewing and embroidery machine.
Brother SE400 USB Port and Machine Updates
(Back to Top)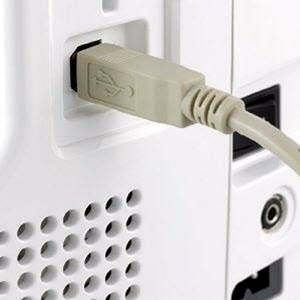 The USB port and included software allow you to connect your sewing machine to your computer so you can download machine updates and new embroidery patterns.
Our Brother SE400 review shows this is where things can get a bit confusing and thanks to one of this site's visitors, I've had a chance to clarify not only how the USB port works but also clarified the answer to a question many have about the USB port and that is whether or not additional software is needed to download new embroidery patterns.
The answer to that question is NO. While there are now three different software packages you can purchase separately that are compatible with the Brother SE400 Embroidery machine, you do not need any of them to get started. You only need the initial software that comes with the machine to get started. That software prepares your computer to be able to talk to your sewing machine.
Without the other software packages you can still embroider the built in designs that come with the machine, you can still import designs you find online using the USB port, and you can embroider from embroidery cards you insert into the card reader slot located on the side of the sewing machine. You can read more about these other software packages here: SE400 Software
The Brother SE 400 comes with a set amount of computer memory inside. You can use that memory to store new embroidery patterns that you download from the internet. The USB port allows you to transfer downloaded designs to the sewing machine's memory so that you can use them later without being connected to the computer.
The SE 400 memory reads and accepts embroidery designs in .pes and .dst file types. These can be purchased from websites specializing in embroidery designs, found free on some craft sites, and Brother's own site often has a selection of free, new embroidery patterns to download each month.
Brother SE400 Software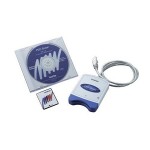 The Brother SE400 Embroidery machine comes with the basic software needed to allow your computer to talk to the sewing machine but that's really all it does. There are now three separate software programs available that work with the SE400 to give you more flexibility in working with existing and new embroidery designs.
No additional software purchase is necessary unless you want to burn designs onto reader cards or create your own designs.
Remember that there's only a limited amount of actual storage on the sewing machine's hard drive. That means that if you take your sewing machine to classes or clubs and don't take your computer along with you, you'll only have access to the built in embroidery designs and any of the few designs you've stored on the sewing machine's hard drive.
Here's where the first level of software, PE-Design/PED Basic, comes in handy. The software has the ability to write embroidery design data onto blank reader cards that fit into the reader card slot on the SE 400. Instead of constantly hooking your sewing machine to your computer or laptop to juggle embroidery designs, you can organize patterns on blank reader cards you create using this software package and then just take those cards with you as needed.
There are two sizes of blank reader cards compatible with the Brother SE400:
Some .pes and .dst files come with code attached that describes the embroidery patterns which the SE 400 cannot read without those files being edited because the additional detail takes up too much memory. The software allows you to edit those files if you do not have another type of editing program available for those file types.
Keep that in mind when considering your purchase of this machine. The software generally runs $120-150 depending on where you buy it (currently on sale here at Amazon). You can always put off purchasing the software until such time as you can justify the expense.
"Want to create your own embroidery designs?"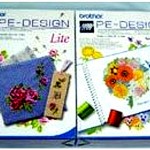 The second level of software you can purchase for the Brother SE400 Embroidery machine is PE Design Lite which allows you to turn your own artwork and photos into embroidery patterns. This software package does everything that the Basic software does but it also digitizes images, photos, and clip art and turns them into embroidery designs. For anyone who wants to embroider pictures of their kids or family onto pillows or wall hangings or on clothing projects, this software does the trick. You're still limited to the max hoop size of the Brother SE400 but you can do some pretty amazing things when you get to embroider your own pictures.
PE Design Lite also includes 35 additional fonts to use on your machine.
The most current software is PE-DESIGN® NEXT which is not yet available online. This has everything the previous two software packages have but includes an upgraded user interface and loads of tools helpful to those who own their own embroidery related business.
How about a free embroidery design software for use with the SE400 embroidery machine?
I just came across this free software download that will let you view thumbnails of your downloaded embroidery designs, convert design formats, and increase or decrease the size of your designs. It's called TrueSizer e1.5 and you can get it by joining Embroidery Startup here. The software is user friendly, compatible with Windows operating systems, and has a dashboard similar to that of Microsoft Office programs. If you're not ready to invest in expensive software but need to be able to manage your downloaded designs Wilcom's TrueSizer software is a great solution. And it's FREE!
Embroidery Functionality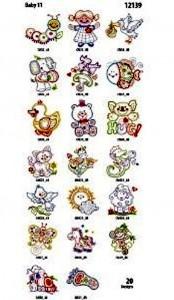 Embroidering with the machine requires that you remove the extension table and slide the embroidery unit onto the machine. Then place your fabric in the embroidery frame and ensure the right needle, thread, and presser foot are in place.
The control panel will walk you through thread color changes and keep you notified of the design progress. All you need to do is supply the right color thread and push the start button for each step. You don't need to use the presser foot. The machine does all the work.
The design hoop size on the Brother SE 400 is 4×4.
While testing this machine I asked the saleswoman why I would ever want anything larger and she said (I kid you not), "Honey, as soon as you start to learn how to machine embroider you are going to wish you had the biggest size possible." She explained that the hoop size determines the maximum size of one design block. If you wanted to do a single, connected design on a 12 x 12 inch pillow, for example, you couldn't do it on a 4×4 hoop – you could only do blocks of designs. To get the maximum machine embroidery size we're talking about machines that cost at least $1000. For similar performance as the SE 400 but with a slightly larger hoop size, you might take a look at the Brother PE770 with a 5×7 inch hoop size.
An embroidery card slot on the side of the machine accepts digital design cards, which can be purchased online and at a number of retail locations, so that you can sew embroidery patterns that didn't come with your machine.
These remind me of the old FisherPrice View-Master toys where you could buy different sets of cards to stick in the View-Master so you could experience different characters or movie scenes. They don't look the same (they're not round little disks with pictures on them) but they have a variety of pictures embedded onto each card. Embroidery cards hold a quantity of new patterns. When you want to use one, insert it into the machine and your machine is provided all the necessary details to guide you through that pattern.
Make sure to use only embroidery cards that are compatible with the SE400 sewing machine frame size – a 4 x 4 design area.
The Brother SE400 requires SA156 or SFB (XA5539-151) bobbins.
Dimensions: L 18" x W 12" x D 8"
Weight: 20 pounds (est.)

Brother SE400 Sewing Machine Accessories
(Back to Top)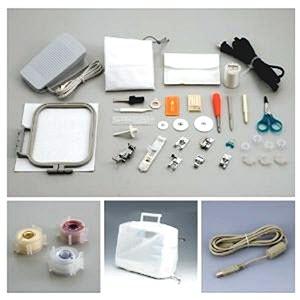 Is it just me or are the accessories that come with the machine nearly as exciting as getting the sewing machine itself? Is it because they're small and fun to hold and sort through? (Reminds me of going through my mother's sewing kit when I was a kid.)
The Brother SE400 comes with all of the following accessories and sewing notions:
Seam Ripper
4 Bobbins
3 Bobbin Clips (caps off a bobbin that is not in use so that the loaded thread won't unwind)
6 Needles (2 size 75/11, 2 size 90/14, and 2 size 90/14 ball point)
Twin Needle
Cleaning Brush
Eyelet Punch
Screwdriver
Touch Pen for the LCD touch control panel
3 Spool Caps (small, medium, and large)
Extra Spool Pin
Spool Net (really – this is like a little hair net for thread. 🙂 Just use it to cover thread that unwinds off the spool too easily like clear, nylon thread. The net keeps the thread on the spool while you sew.)
Scissors (Now, why would you need scissors if the machine has an automatic thread cutter plus a thread cutter on the side of the machine? Well, to cut the bobbin thread after winding, of course! It took me a minute to figure this out so I thought I'd share my little insight in case I'm not the only one that has that question.)
Disc Shaped Screwdriver
Embroidery Frame
Medium Size Embroidery Sheet
1 spool of white embroidery thread
Accessory Bag
Soft Cover
"You'll want to stock up on colored embroidery threads – kits are a great way to go."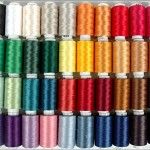 One thing you want to have on hand when buying an embroidery sewing machine is a great selection of embroidery thread. Nothing like getting your beautiful new embroidery machine home and having nothing but some white, black, and brown thread hanging around.
You can buy embroidery thread in kits with a selection of colors readily available to complete any of the patterns on the Brother SE400 Embroidery Sewing Machine.
Brother SE400 Embroidery Hoops
(Back to Top)
The Brother SE400 Embroidery machine comes with on 4×4 inch embroidery hoop. The built in embroidery patterns are designed to work within that size. However, there are several other compatible hoops that can be purchased separately and which might come in handy depending on the kind of work you do.
Two are traditional machine embroidery hoop shapes but in different sizes. One is slightly larger, the Brother SA434 4-Inch-by-6 3/4-Inch Large Hoop
and the other is a smaller Brother SA431 2-Inch-by-1-1/2-Inch Small Hoop
.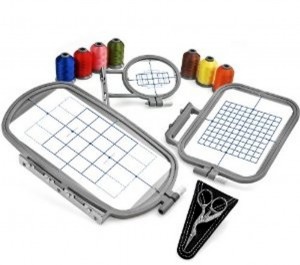 Another option is to buy one of these Embroidery Hoop Packages that includes the 3 hoop sizes that don't come with the SE400 along with an assortment of thread and a pair of embroidery thread stork scissors to help you trim close to your fabric.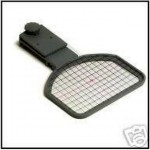 Finally, I just found a specialty hoop that works with the SE400 for embroidering baseball caps! It's called a Cap Hoop and you can find it here: Embroidery Cap Hoop.
Consumer Reviews
(Back to Top)
Until now, this Brother SE400 review has been all about performance and features. The fact that it's taken me thousands of words and more than two years to assemble this information (that's a bit mind blowing!) says a lot about this particular model.
Yet, the most important points are about to be made – consumer reviews from real buyers and users of the SE400. It's one thing to describe a machine but knowing how others felt once they'd completed their purchase and actually used the machine for an extended period of time really add flavor to the stew, so to speak.
There are more than 360 user ratings online regarding the SE400. Overwhelmingly, the comments are extremely positive. I always analyze the comments for trends regarding any issues with the machine, it's components, its core functions and user interaction. In this case, nothing stands out as an issue with this machine. Would I buy the Brother SE400? Absolutely.
You can read more here: Brother SE400 Computerized Embroidery Sewing Machine Reviews
Average Rating: 4.4
The Brother SE400 is perfect for those who:
Want a reliable combination sewing and embroidery machine for under $400
Need more than one sewing machine font to choose from
Would like the option to add machine embroidery to their projects
Like a wide variety of patterns to embroider on their projects
Want to embroider store bought items for personalization
Need a flexible sewing machine that can handle making clothes, alterations, quilting and embroidery
Don't want to be limited in the projects they could explore in the future
Pros, Cons & Manual

Pros: USB port for easy updates and design downloads. Drop feed-dog capability. Embroidery card slot. Variable needle positions. Large selection of intricate embroidery patterns. Speed control slider. Start/Stop button. Needle Up/Down button. Combination of embroidery and sewing functionaility. Wide selection of utility stitches and buttonhole styles for clothes construction and home projects. Soft cover case included.

Cons: Presser foot pressure is preset and not adjustable. (However, because of the leveling button the machine can handle thick fabrics without needing to make many adjustments.) Using stabilizing material can improve the machine's performance on thinner fabrics and sheers. No hard cover case included.
Manual available online here: Brother SE400 Manual
Manufacturer's Warranty: As of this date, Brother offers a 1 year warranty on parts and labor, a two year warranty on electronic pattern control and selection components (parts only), and a 25 year warranty on shafts and rods on the machine head.
Price
(Back to Top)
The price of the Brother SE400 embroidery and sewing machine hovers between $330 and $370 online. Amazon and Walmart are the lowest price options and because of how often the price moves on either site, it's best to check both sites when you're ready to buy. Both sites are also licensed, approved Brother retailers so warranty information applies to purchases through those sites.
For current pricing information, click the links below to compare prices:
COMPARE PRICES
Amazon
Walmart
Features Summary Review: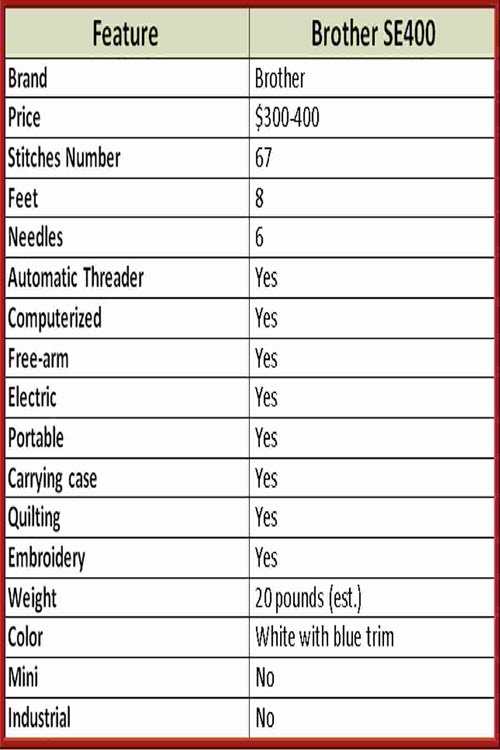 Brother SE400 Built-in Stitch List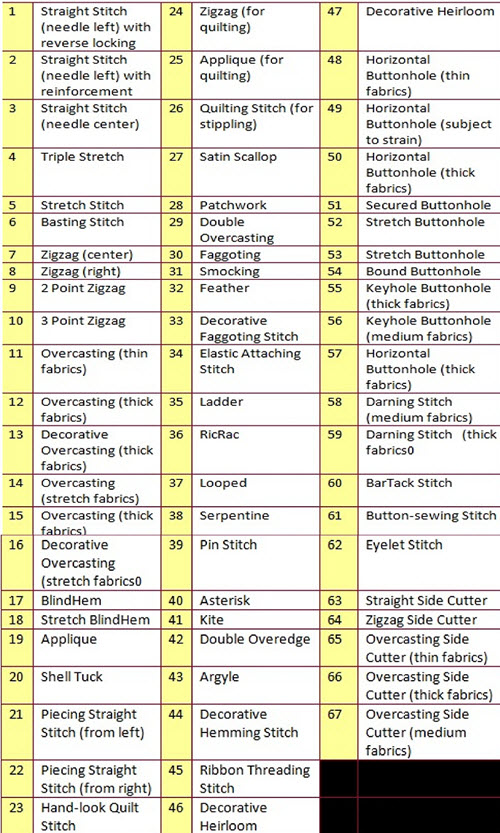 If you made it this far, I'm sure you realize the Brother SE400 embroidery and sewing machine has so much to offer. Hopefully this thorough review has given you all you need to know to decide this is the right machine for you. If not, be sure to read the numerous comment below or leave a question of your own and I'll answer as quickly and as thoroughly as possible!