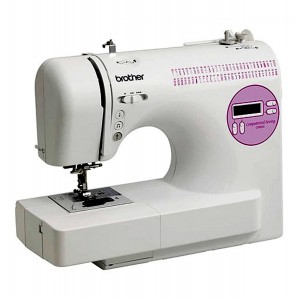 Just a few months old and the Brother CP6500 sewing machine is making waves. Underneath it's sleek design and pink, rounded accents it is the exact copy of one of Brother's most popular models but priced unbelievably low.
I'd seen it around Christmas and had included it in some of the online deals at that time but hadn't done a full review. It's time. Here's a thorough look at all its features and stitches and a thought about why this is a great machine for anyone who doesn't want to spend a fortune but wants enough variety from their sewing machine to keep things interesting.
Table of Contents
(Click Ahead!)
Stitch Count / Presser Feet / Functionality / Accessories / Customer Reviews / Pros, Cons & Manual
NOTE April 9, 2015: Like the CP7500, this machine is very hard to find these days. It seems to be out of production. You can try the links below but it's probably not in stock at either location. If you like these features, though, check out the Brother CS6000i.
REVIEW SUMMARY
MODEL: Brother CP6500 Sewing Machine
REVIEWED BY: Erin
RATING: 4.7


LAST UPDATED: April 9, 2015

COMPARE PRICES
Amazon
Lots of Great Stitches on the Brother CP6500 Sewing Machine
(Back to Top)
There are 60 built in sewing stitches which include 7 different styles of buttonholes. All seven are 1-step, auto-sizing buttonholes so you can produce a number of them in a matter of minutes.
The assortment of stitches can be used for lots of creative sewing. You can make clothes, curtains, drapes, costumes, pillows, tablecloths, home goods, mend jeans, quilt and even decorate your scrapbooking work with pretty stitches. There are joining, piecing, heirloom and smocking stitches for heirloom sewing so items as delicate as christening gowns and bridal veils are very doable.
Embellish the hems of collars or children's clothing or create your own quilt designs with free-form sewing stitches. Because the feed dogs can be lowered you can do free hand embroidery, monogramming or quilting with this machine. Free hand means you guide the fabric to create the letters as there is NO font on the this model for monogramming.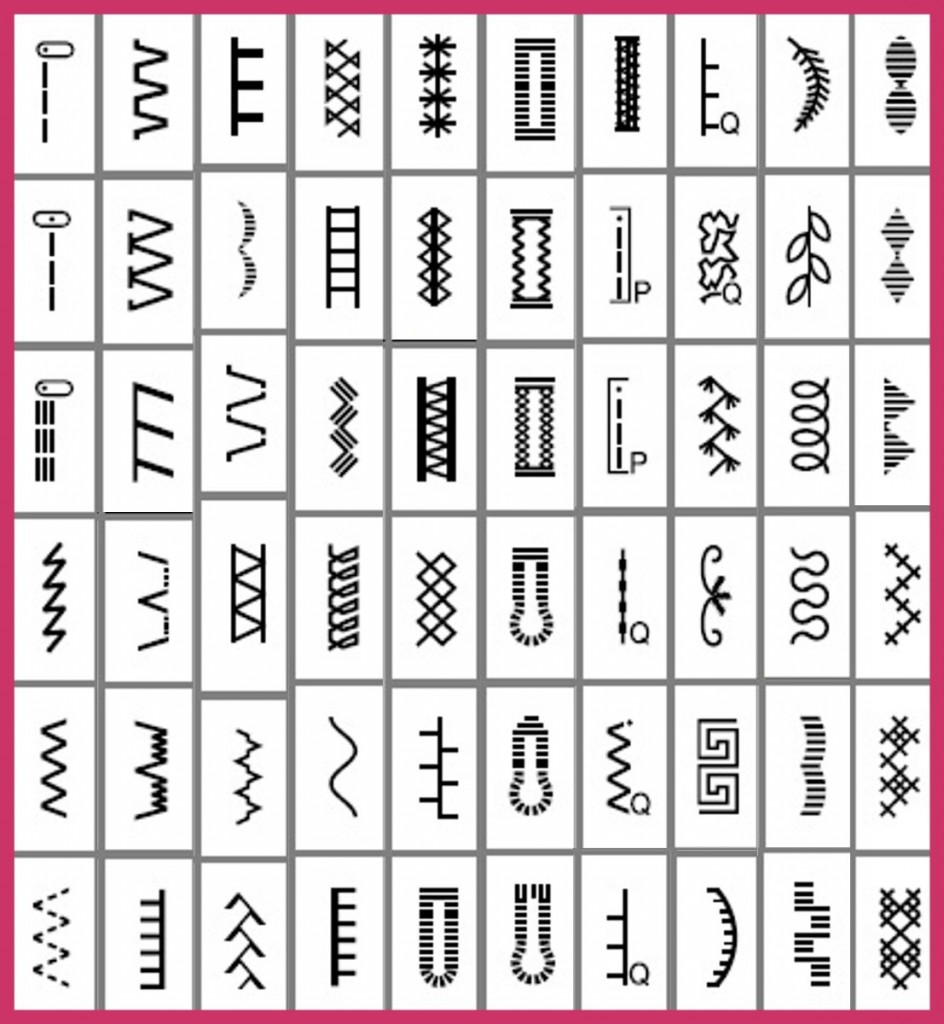 Stitch width is adjustable to 7mm and width is adjustable to 5mm for certain stitches. You can make a super wide zigzag stitch for edging or design.
The stitch reference guide sits above the control panel. On other models, Brother has positioned the stitch reference guide in unused space below the control panel. It took me a few minutes to realize the true benefit of this better layout. You can see the stitch reference guide without having to remove your hands from the control panel. When it is underneath, your hand and arm are often in the way of seeing the guide as you're working the controls. Seems like such a simple thing but really helpful!
More than Just the Standard Set of Presser Feet
(Back to Top)
When you buy, you get 7 presser feet in the box. These include:
Buttonhole foot
Overcasting foot
Monogramming
Zipper
Zigzag
Blind Stitch
Button Fitting
Presser feet are the simple, snap-on style which can be changed easily with one hand. Some listings say that this machine comes with only six presser feet but those listings are not counting the Zigzag (general purpose) presser foot which comes attached on the needle arm in the box.
The Zigzag foot has a small, black button on the back called a leveling button. If you have to climb a small hill of fabric on a thick seam or overlap, just push that button and the presser foot will level out to the highest point and continue to sew consistently through the seam without dropping stitches or getting hung up on anywhere.
The presser feet are made of a very sturdy, metal-colored plastic and white plastic.
Functionality
(Back to Top)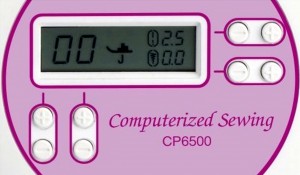 This is a computerized sewing machine which means that you control the machine's settings through push buttons and a screen which interact with a small computer component inside the machine. If you're a beginner, don't worry – these buttons are easy to figure out.  This allows for more automation to be built in so that more time can be spent sewing and less time spent on set up or routine tasks.
Features include many of the most user friendly options:
LCD screen
Automatic bobbin winding
Automatic needle threader
Quick-set, drop-in bobbin
6 point feed dog
850 stitches per minute
Start/Stop button
Reverse button
Programmable Needle Up/Down button
Speed control slider
Drop feed dog lever
Free arm sewing
Twin needle capability
Adjustable thread tension dial
Variable need position
Brightly lit LED lights
Built in carry handle
Threading instructions printed on the machine
Horizontal thread delivery
Built in manual thread cutter on the left hand side
See through bobbin cover
This machine comes with a foot pedal but you don't have to use it. Leave it unattached and you can start and stop the needle by a press of the Start/Stop button. The speed control slider controls the sewing speed. This is a great setup for beginners, especially kids, because you can keep the machine at a low speed for easier fabric control. It's also useful when working on complicated sewing techniques where you need to be very precise.
There are three single-button controls and a slider just above the needle arm which drive a lot of what used to be done with the hand wheel and the foot pedal:
Reverse button – Causes the machine to sew in reverse to lock stitches in place.
Start/Stop button – starts and stops the needle when the foot pedal is not attached.
Needle Up/Down button – push this to lift or lower the needle without having to use the hand wheel. The needle defaults to always stopping in the down position so your fabric doesn't slip before you've finished but this default is programmable so you can change the machine to always stop with the needle in the up position if that better suits your projects.
Speed Control Slider – use this to control the sewing machine speed. Keep it on a slow setting when you're just starting or teaching kids; speed it up when you need to fly through a bunch of straight lines.
The stitch control panel consists of the LCD screen, two arrow keys below the screen, and two arrow keys to the right of the screen. The two arrow keys below are used to select the desired stitch pattern. The first button controls the first digit of the pattern number and the 2nd button controls the 2nd digit in the pattern number. The left/right arrow keys are for stitch width and length changes. The LCD screen shows selected stitch pattern, which presser foot is needed for that stitch and the current stitch width and length settings.
According to the manufacturer, the CP6500 has the same motor as the well rated Project Runway sewing machines they produce. The outside is redesigned with more round curves and different trim.
This sewing machine never needs to be oiled.
For those of you outside the US, the Brother CP6500 sewing machine is 110volt and would require an adapter.
As I mentioned, this machine mirrors another, extremely popular model. Underneath it's cool, sleek design, it's exactly mirrors the Brother CS6000i (read my overview here). Everything from stitches to features to strength of the feed dogs is identical – except the price. The CP6500 costs a lot less but you have to remember that it also doesn't include the quilting accessories, hard cover case, and extra wide extension table that come with the CS6000i.
Dimensions: L 16.26″ x W 7.01″ x D 11.65′
Weight: 13 pounds

Accessories
(Back to Top)
These sewing notions and accessories are included with your purchase: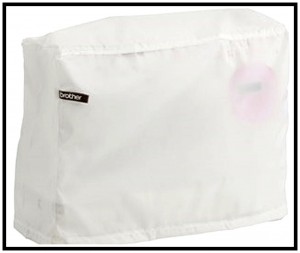 Ball point needle
3 bobbins
3 needles (spare size 11, 1 size 14, and 1 size 16)
Twin needle
Disc shaped Screwdriver
Seam ripper/cleaning brush
3 spool caps (small, medium, and large)
Extra spool pin
Soft cover
Consumer Ratings are Very Strong
I've read through all available reviews and the comments are overwhelmingly positive. The only issue that came up at all was from two people who mentioned that the top thread seemed to come undone while sewing. Since it has only come up twice, it doesn't seem to be a common issue with the machine.
Consistently it was mentioned that this machine runs very quietly, does an excellent job sewing through thick layers of fabric such as denim, and is great for kids, too.
Average Rating: 4.7
Pros, Cons & Manual

Pros: Great set of built in stitches. Automated controls like the Start/Stop button, Needle Up/Down button and the Speed Control Slider. Nice selection of presser feet. Automatic buttonholes. Leveling button for getting through thick seams and fabrics. Twin needle included.

Cons: Pressure foot pressure is not adjustable. No hard cover included but can be purchased separately.
Manual available online here: See the Online Manual
Manufacturer's Warranty: As of this date, Brother offers a 1 year warranty on parts and labor, a two year warranty on electronic pattern control and selection components (parts only), and a 25 year warranty on shafts and rods on the machine head.
For current pricing information, check inventory at these two stores:
COMPARE PRICES
Amazon
Features Summary Review: