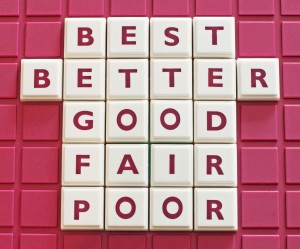 I thought it might be time to tackle an often asked question – is one brand of sewing machine better than another? The answer is yes…and no…but it's the explanation as to why I give such a wishy washy answer that will help you decide which is is really best for you.
This topic is heavily debated amongst even the most experienced so for those just beginning to sew it's almost a minefield of confusion. I hope things will seem a little clearer as you make your way through this post.

First, let's narrow the focus down to just home sewing machines and exclude the industrial models. I've put together a chart comparing some basic information about each of the most recognized and widely available brands on the market today:
| Brand | Current Product Count | Stitch Quality | Available Online or Dealer Only | Lowest Price Point |
| --- | --- | --- | --- | --- |
| Baby Lock | 25 | 2 | Dealer Only | * |
| Bernina | 13 | 1 | Dealer Only | * |
| Brother | 48 | 3 | Online | $75 |
| Elna | 19 | 1 | Dealer Only | * |
| Husqvarna Viking | 14 | 1 | Dealer Only | * |
| Janome | 50 | 2 | Some Online and some Dealer Only | $150 |
| Juki | 8 | 2 | Online | $160 |
| Pfaff | 18 | 1 | Dealer Only | * |
| Singer | 53 | 3 | Online | $85 |
* Note: Are Baby Lock sewing machines made by Brother? Several sites say they are however that's not accurate. Baby Lock is a completely separate company headquartered in Missouri and privately owned. However, it does appear that at least some of their sewing machines are made in the same plants that make Brother machines which is why they sometimes look similar and may be made of some of the same materials.
* Note: Why isn't Kenmore on the list? Sears stopped selling Kenmore brand sewing machines around the beginning of 2012.
(There are a few other names I left off mostly because they produce niche machines or don't have more than a few models in the home sewing machine market.)
Reading the Comparison Table
I know, at first glance this table doesn't really tell you which brand is "best" but it's the starting point we need for the discussion. This table shows you all the names of manufacturers that offer home sewing machines in the US.
I've excluded industrial models, sergers, long arms and embroidery-only machines. I included combination sewing and embroidery machines.
The brands are listed alphabetically with counts of their current model offering, a rating for their stitch quality (1-3 with a 1 being the best), their online or dealer only availability and a note about the lowest priced machine in their line-up as defined by current listings on Amazon.
The high end manufacturers sell their products exclusively through dealers. I'll have to fill in their lowest priced product over time through some additional research. For now it's safe to assume that if there's an asterisk in the low price column that figure is probably higher than what's noted for the other brands.
The only thing this table will tell you immediately is how the brands rank when looking at stitch quality. Those with a 1 (Bernina, Elna, Husqvarna Viking, and Pfaff) are the names that would earn you an "Ah!" or two from even the most experienced sewers in your local quilting club.
Those are also the brands that cost the most. If you were sewing commercially in order to sell your finished goods, the difference in stitch quality might be a serious consideration in pushing you towards one of those brands. For the rest of us, the stitch quality alone might not be enough to warrant the additional expense so keep reading in order to better understand how you might choose between the different brand options.
What is Stitch Quality?
There's a little bit of "the beauty is in the eye of the beholder" when it comes to gauging stitch quality. In many cases, you could look at a row of stitches produced by a high end machine, compare them to a row of stitches produced by a budget machine and not see any significant difference.
Across all brands, most models have controls that will allow you to fine-tune the thread tension in order to get a nice, even stitch.
Where you can best see a difference in quality is by testing out a straight stitch on a number of machines. There's very little room for error in a straight line and any differences in the position of each stitch and directionality stand out more.
The neatness of the stitch relies on how well the fabric is pulled through by the feed dogs, how much manual intervention is required on the part of the sewer to keep the fabric straight, and how well the thread moves through the top and bottom thread mechanisms.
This means that the quality of the stitch is heavily reliant on the design and construction of the machine's internal parts.
How Can One Sewing Machine Brand Make Themselves Better Than Another?
How does one brand manage to make itself better than another? This is competition at its most basic – its what businesses all around the world do regularly in order to stay on top. They distinguish themselves through a "unique selling proposition". In other words, they find their niche in which they can exceed by providing some combination of service, quality, and price that is special to them and their target audience.
Brother, for example, has targeted the home sewing market by providing affordable machines with lots of features, making their models highly available online and through dealers, and by creating slightly different versions of the same model in order to keep costs low yet still offer a wide variety of options that fit individual needs.
Singer and Brother have similar strategies but Singer gets to play on their history which gives them an advantage in some areas. Both make lots of sewing machines for beginners and hope to move you up to their more complex machines over time.
A brand can differentiate themselves in a number of ways. They may decide to focus on quality even if it means their product costs more and then target the high end buyer who requires that level of quality for their work.
You know how financial experts explain that you can save money by pinching pennies? You turn your thermostat down a degree, you skip a Starbucks here and there, you replace your old lightbulbs with CFL and the pennies add up over time.
With sewing machine makers, it's the same sort of thing. The cumulative effect of having a number of improvements in the internal parts and the way in which they work adds up to a better quality of machine. Sure, you can get an automatic needle threader on both a Brother and a Bernina but the design of each is different, the quality of the parts used may be different, and the ease of use may be different. When you make these kinds of minor improvements through all the internal operations of a machine, the overall user experience is just that much better.
Names like Elna and Bernina are manufacturers that fall in this category. While they may not make as many sales, the higher prices make them profitable and they're highly recommended by those who know their stuff and have personally tried machines from different brand names long enough to know the differences.
You end up paying more for those improvements and that's why you have to figure out whether or not the higher price is worth it to you. As a beginner, if you buy something of slightly less quality, you may be able to afford more features.
Materials used in production, stitch quality, features, service, price, and the value offered in exchange for the price are all ways that manufacturers can distinguish their brand name.
These different combinations that make up a brands unique selling proposition mean that while one brand might be best at offering the smoothest, most precise stitches another might be best at offering lots of features for a low price.
Let's Define "Best"
Figuring out what "best" means is the reason for my initial floppy answer about whether one brand is better than another.
We could measure them based on a number of factors:
Quality
Price
Value
Service
Reliability
Longevity
Popularity
Name Recognition
But there isn't a single brand that I would say tops every category and is therefore king of the hill. For example, Elna and Bernina might score really well when it comes to quality but not so well on price or name recognition.
Singer and Brother have name recognition and price cornered but the reliability can be questionable on some models.
Juki makes great machines but most people have never heard of them.
Husqvarna has grown over time by acquiring some other brands and that's taken them awhile to digest.
Janome has been solidly plugging away at the middle market with a reputation for great quality and solid machines with some affordable models that don't totally break the bank.
So, what this means is the answer about which brand is best depends on what you really mean by "best". The top end brands build relatively few machines compared to the lower end brands as you can see in the chart and because of that they're able to focus on the quality of each. The lower end brands make more models in total so there's more opportunity to find a model that has the exact mix of features you want – not too many or not too little – and at a more affordable price. However, because they make so many they also risk having some lemons in the group.
Dealer Only Brands vs. Available Online Brands
There's a rumor out there that sewing machines you can buy online aren't the same quality as machines you buy from a dealer. I won't deny there may be some of that. Numerous salespeople will tell you that, too. However, as I've mentioned before, sometimes they may say that because they don't want to lose the sale.
Operating a sewing machine retail outlet is an expensive proposition with slim margins unless the retailer can figure out how to leverage their space into other revenue streams such as the selling of notions, accessories, and classes. That's why you find some brands relying more and more on places like Jo-Anne's to showcase their models.
Getting the right mix of inventory and sales to maximize their revenue per square foot is not an easy task.
Singer and Brother rely heavily on the internet to sell their models and almost any model is available somewhere online. Same goes for Juki. Janome makes some models available on the internet while other models are only available through dealers. The other manufacturers only sell their products through dealers.
My semi-educated guess as to why that is revolves around the quality issue. Elna, Bernina, and Husqvarna have targeted the upper end of the spending market. In order to demonstrate that the added expense is appropriate, they need you to see and touch those machines. A salesperson needs to be able to justify the expense. In addition, if they allowed their machines to be sold online it could undercut the retail brick and mortar stores such that they wouldn't sell as many as they would otherwise and these brands must have determined that they can't sell enough additional volume to make up for the lost in-store sales.
Have you ever watched the show Shark Tank? Entrepreneurs propose their businesses to a panel of individual investors in hopes of earning an investment in their company so they can grow. The investors are called sharks. Sometimes the sharks will turn down what looks like a great business because the product requires a lot of demonstration and advertising in order for the consumer market to understand the product's benefits. That's what those higher end sewing machine brands are up against. Recommendations from others leads you to the only door to getting one – a dealer – and the dealer handles the sales pitch.
I've found 248 currently available sewing machine models from the most 9 most recognized brands all competing for your wallet and they each have very finely tuned strategies for getting their name in front of you.
Buying the Best Might Not be YOUR Best Move
I've pretty much laid out that there are so many factors we could use to rank the brands that it's hard to say there's one that wins across the board but let's say that Elna, Bernina, and Pfaff beat the others hands down when it comes to just the quality factor. That doesn't mean that you should buy one of those, necessarily.
Here's a real life scenario we can use as an example – my mother-in-law is quite the crafter. She hand makes 3D cards, she quilts, she sews, she stamps, makes scrapbooks, loves all kinds of paper crafts and she loves to dabble in new projects. She doesn't do any one thing exclusively. She has a large craft room my father-in-law lovingly tolerates. He and my son joke that getting a special day out with Grandma is a trip to the craft store.
She already spends a reasonable sum each month just on craft supplies. She and my father-in-law are very thrifty. They are financially comfortable but still very careful about what they buy. They want things to last and they'll make something do for as long as possible but that doesn't mean they buy the top brand of anything. They buy specifically with reliability and their needs in mind.
If my mother-in-law had $400 to buy a new machine, she might be able to get a pretty basic but very reliable, high-quality Elna. It wouldn't have a lot of stitches, wouldn't handle embroidery but would do general stitching extremely well.
For someone who likes to dabble, try new things, loves color and the arts, that might not be the best use of her money. She's not sewing all the time nor is she sewing for profit. For her, crafting is a hobby and the more she can try the happier she is.
That means that a brand like Singer or Brother might be her best bet where she could get a combination sewing and embroidery machine for the same $400.
The financial value returned for your dollar spent needs to be taken into consideration. Some machines just offer so much that while they may not have the most supreme stitch quality you'll enjoy it more and get more for your money because you'll be able to do more with it.
In addition, as my mother mentioned when she and I were discussing this post, no matter which brand is best or which model of that brand is best, you may not be able to get your hands on it anyway.
If you live in a city with only a limited number of dealers and those dealers are each carrying only a limited selection of available models, your choices are immediately limited to what's online and what's at those stores unless you want to buy something untested from a dealer in another city and have it shipped to you. Doing so, of course, eliminates some of the benefits you get from buying through a dealer such as free classes, buying notions at a discount or getting annual maintenance inspections.
Single Model Winners
One brand might not rank high on the overall comparison but might have some stand out models in the mix that offer more features than options from higher quality brands. The Singer 9960 comes to mind because the combination of stitches and features offered for the price are simply outstanding.
Another model that fits this criteria is the Brother CS6000i. It's been on the market for years and probably has the most online reviews of any other model. When Brother came out with a near twin in a pretty white and pink frame with the exact same features PLUS 10 more stitches, I thought for sure the CS6000i was going away. I was shocked that not only did the other model (the CP7500) not take over as the lead seller for Brother but that they actually appear to have stopped selling it – which was often available for the same or less money!
To me, that says the market was so entrenched for the CS6000i that Brother couldn't justify continuing with the other model even though it offered more value. Unfathomable to me but that goes to show you the importance of recognition and a proven track record.
What This Means for You
Oh, I know – you came here wanting a definitive answer about which brand was better than another and now you see there is no clear answer. However, brand alone should not be your deciding factor when it comes to which machine to buy and that's really the point of this discussion.
In order to choose wisely you must first outline what you need your sewing machine to do, determine the features the machine must have in order to best accomplish the things on your list, figure your budget, and then find the models available to you online and locally that offer all of those things, have the highest ratings, and give you the most value for your money.
Comparing the final options on your list point for point will help you narrow down the choice that fits you to a T.