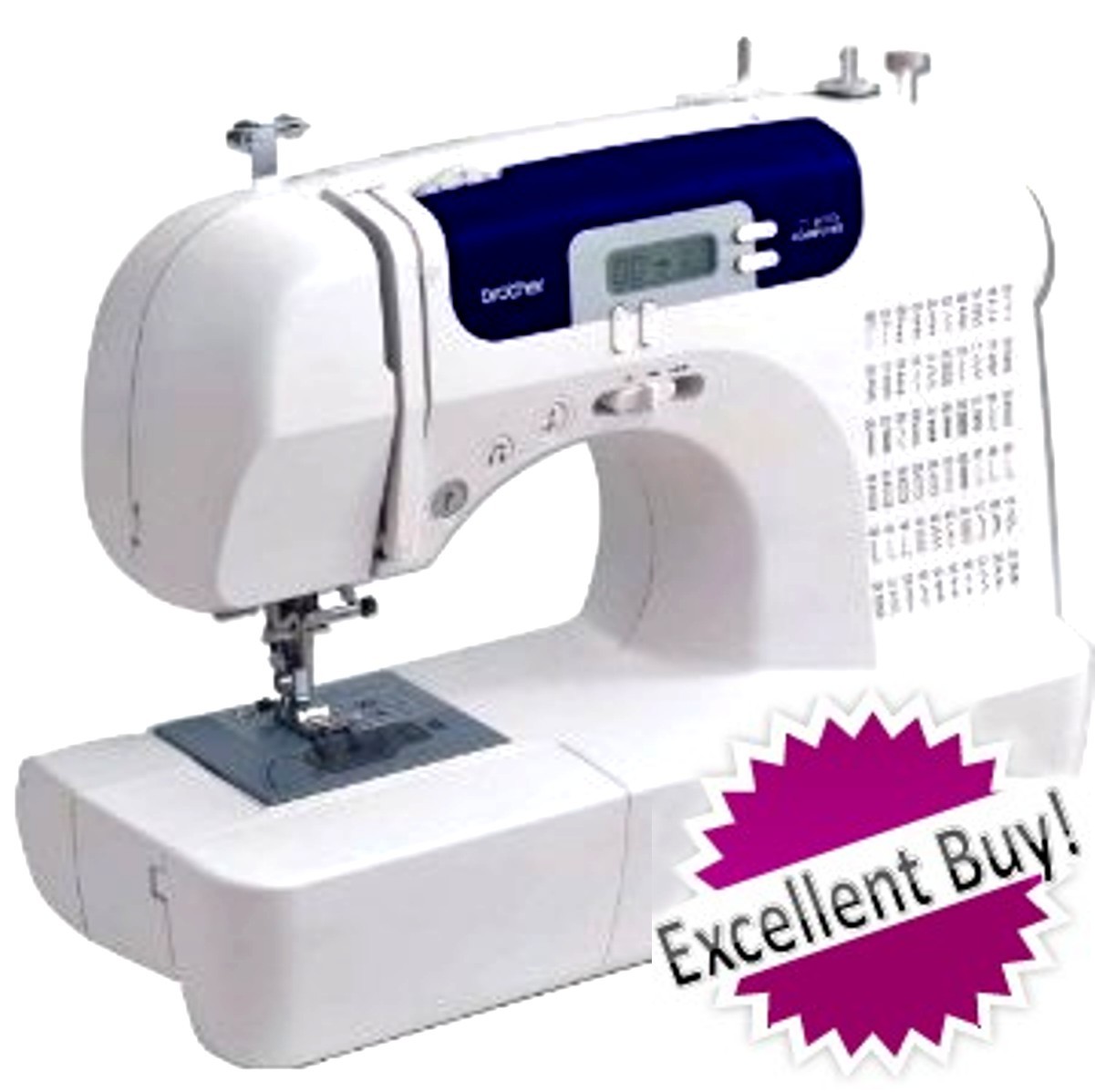 The Brother CS6000i is hands down the best deal for under $200 and has high marks from beginners and experienced seamstresses alike.
The combination of low price and loads of features makes it one of the best value buys on the market.
Users describe it as incredibly easy to learn with automation and throw in accessories that make it a bargain that's almost too good to believe!
In comparison to other machines in this price range, it can't be beat. If you want flexible sewing options and a low price, this model had better be on your list!

Table of Contents
(Click Ahead!)
Built In Stitches / Presser Feet / Features & Functionality / Operating Buttons & Controls / Video / Accessories / Optional Presser Feet / Price / Bobbins / Hard Cover Case / Beginners / Customer Reviews / Pros, Cons & Manual
REVIEW SUMMARY
MODEL: Brother CS600i Sewing Machine
REVIEWED BY: Erin
RATING: 4.5


LAST UPDATED: April 10, 2015

COMPARE PRICES
Amazon
Walmart
We believe that a good, quality sewing machine doesn't have to cost a fortune. If you're just starting out, why pay several hundred dollars if you don't have to? This model proves you can get a lot of options for without spending a lot of money.
A quick glance reveals there's automation built in that simply makes it easier to sew like a combination Start/Stop button with speed control so you don't even need to use a foot pedal (although one is supplied). Most computerized models with features like these cost far more than this one does.
The stitch count and selection are fantastic, too. This isn't a machine you're going to outgrow anytime soon.
It easily accommodates quilting, comes with accessories that you'd have to buy separately with other machines, an automatic needle threader, twin needle sewing, an extra wide work table, and push button needle up or down control. Oh, and did I mention the hard cover? Included!
Stitches Cover Lots of Project Types
(Back to Top)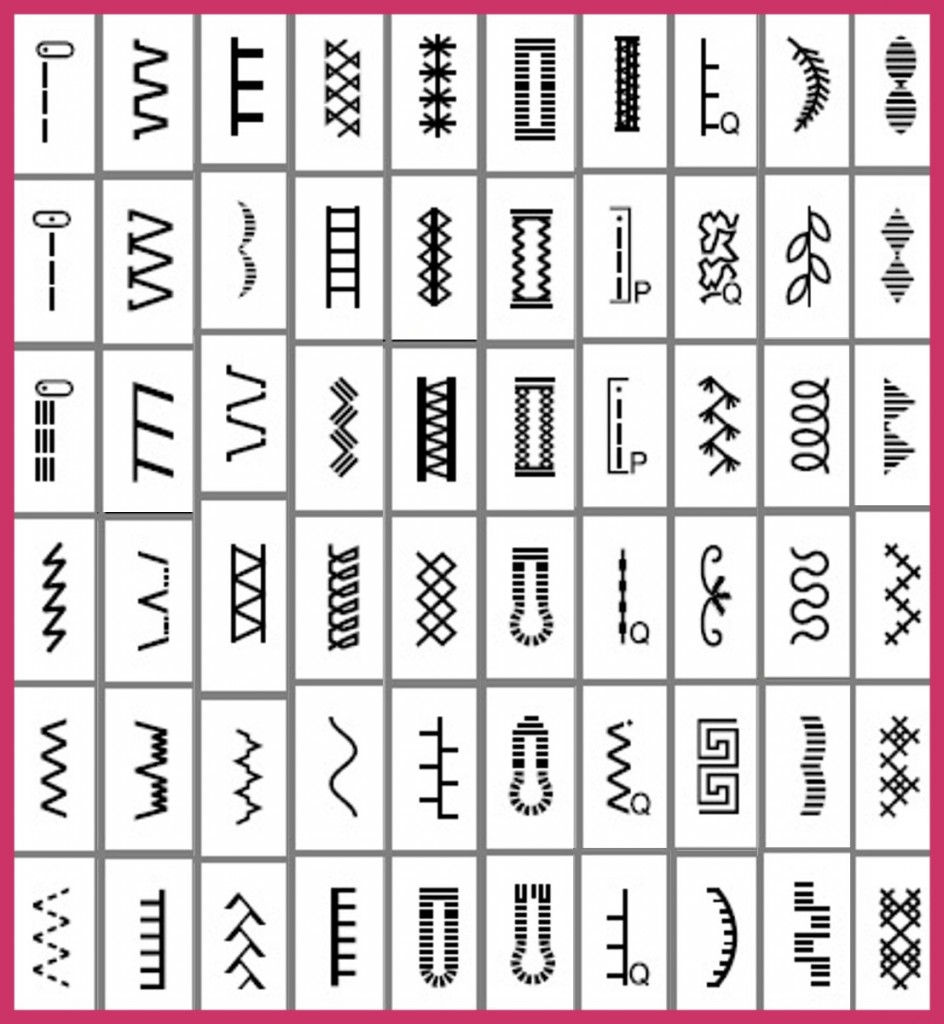 Sixty – count 'em! – 60 stitches. In this price range, that's outstanding! Stitches include utility stitches for straight stitching, alterations, and making clothes as well as a number of decorative stitches, applique, heirloom stitches and quilting stitches. The total count includes the 7 buttonhole styles.
Stitch width and length can be adjusted up to 7mm for certain stitches. You select the desired pattern by pressing the plus and minus buttons around the LCD panel until your desired stitch number appears in the screen.
The list of stitches and their respective stitch numbers are printed right on the machine front so you won't have to look at your manual every time you want to switch from one design to another.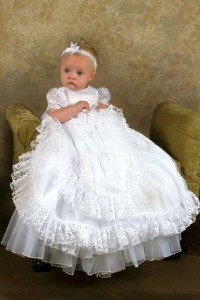 The stitches density is nice and tight. The stitch spacing is even and they look great. Checking a satin stitch is a good test for density and this one passes easily. The stitches have nice, close threads with no gaps between.
You'll see the mention of heirloom sewing capabilities and heirloom stitches on a number of machines. This kind of sewing is based on the French hand sewing techniques used in the 19th century. Decorative and special stitches are required for attaching lace to lace or lace to fabric in order to prevent unsightly seems from showing through the delicate fabric. This machine has a number of pretty heirloom stitches.
This type of sewing is often used to make baby christening gowns, lace camisoles, and bridal gowns.
Included Presser Feet Even Covers Quilting
(Back to Top)
The presser feet snap into place on rather than being screwed in like on older machines. This is easier on your hands, ideal for kids, and makes for much easier foot replacement. The push of a button on the back of the presser foot holder causes the presser foot to fall off. Simply place a different presser foot under the holder, lower the presser foot lever and the new foot clicks into place.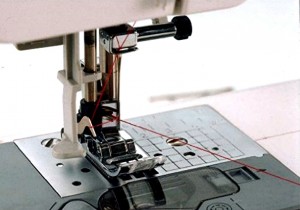 If you haven't sewn in ages and only remember basics from a long ago home ec class forced upon you in junior high, you might not have worked with anything but a general presser foot. Today, presser feet play a major role in getting more out of your sewing machine. They automate tasks that used to be performed by hand or through sewing machine gymnastics that seemed impossible to accomplish without years of experience.
The presser foot sits on top of your fabric as you sew. Its purpose is to hold the fabric in place against the feed dogs on the bottom so the fabric moves forward as you sew. Other styles of presser feet have been designed which manipulate fabric to accomplish certain sewing techniques that used to be done manually. For example, there are presser feet that will make a buttonhole with almost no intervention from the sewer, presser feet that make it easier to insert a zipper, and presser feet that are used to perform certain decorative stitches.
Machines come with at least a general purpose presser foot, may come with others, and can often be enhanced with the separate purchase of even more presser feet. It uses low-shank presser feet so you can attach other, generic, low-shank presser feet and do all kinds of nifty sewing with your new machine.
Included are an impressive 9 presser feet:
Zigzag – also referred to as a General Purpose presser foot.
Buttonhole – makes buttonholes automatically. Regular sized buttons fit right in the back of the buttonhole foot and the machine uses the button as a guide for making a perfectly sized buttonhole in one of 7 different styles.
Overcasting – for more professional looking seams with some protection against fraying.
Monogramming
Zipper
Blind Stitch
Button Fitting Foot – Instead of hunting around for a spare needle and thread to replace buttons that have fallen off of shirts, jackets, and pants or to attach them manually to your garment projects, just use your sewing machine and the button fitting foot.
Walking Foot – a presser foot with feed dogs for better fabric control when quilting or working with thick layers of material.
Quilting Foot – Spring activated quilting foot can be used for free motion quilting, free motion embroidery, or for darning.
The general purpose (or Zigzag) presser foot has what's called a "leveling" button on the back. It's a little black button that helps the presser foot handle really thick seams – like the intersection of side and cross seams at the bottom of a jean pant leg. When you come to such a thick seam, just push the leveling button and the presser foot will have no problem climbing over the change in fabric thickness without dropping stitches.
What about the 1/4″ presser foot?
Sewing a 1/4″ seam is a critical step in some types of quilting so buyers are often surprised that there's no 1/4″ presser foot included in the purchase of a machine that comes with so many other quilting related features. There are two easy solutions, though. There are two piecing stitches built into the machine that sew a true 1/4″ seam or, if you'd like, you can buy the Brother 1/4-Inch Quilting Foot
separately when the time is right.
It's important that you account for the value of additional presser feet that come with a machine when you consider your options. Extra presser feet can cost anywhere from $5-50 depending on the type of foot so if you're getting a number of them included in the price, you're really getting an even better deal than a comparable machine with fewer accessory feet. That there are so many included feet saves you from having to shop around for them later.
Probably the Most Features You Can Get in this Price Range
(Back to Top)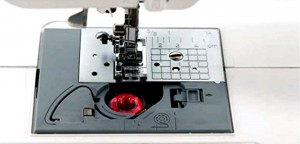 For the money, this machine over-delivers on ease of use. It's one of the few machines in this price range that includes a sliding button that controls the maximum speed of the sewing machine and a Start/Stop button so you don't have to use the foot pedal, although the foot pedal is included for traditionalists.
Beginners like that this machine is easy to use but can also handle more complicated projects whenever they're ready. It has a ton of features:
LCD display with button control stitch selection
Six point feed dogs
1-touch start/stop and reverse functions
Easy automatic needle threading
Quick-Set Bobbin (drop in – the easiest!)
Free-arm sewing machine
Electronic speed control
Max sewing speed 850 stitches per minute (spm)
Manual thread tension with adjusting dial for enhanced control
Automatic thread cutter
Variable needle position
Vertical thread delivery
Second spool pin for twin needle sewing
Presser foot lever control with 3 height settings
Built in manual thread cutter on the left side of the sewing machine
Built in carrying handle
See through bobbin cover
Extra wide work table to assist with large projects
The drop-in bobbin is the easiest bobbin setup you can get. Even if you've never sewn before you'll have no problem following the directions on loading the bobbin and inserting it into the case. There's a printed guide right on the plate that reminds you exactly how the bobbin is to be inserted as well as a manual thread cutter right where the bobbin thread pulls to the side so you don't have to use your scissors or the upper thread cutter to trim off the bobbin thread.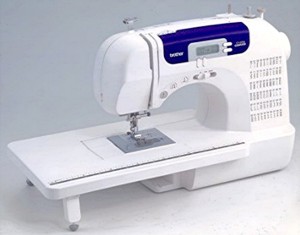 There's also no need to draw up the bobbin thread. If you've sewn on older machines, you know you have to use the hand wheel to guide the needle down slowly and then back up so that you can try to grab this tiny, little loop of bobbin thread and pull it up between the presser feet. Not with this machine! Just insert the bobbin, pull the thread to the side, and you're ready to sew. It's the elimination of these pesky sewing tasks that makes today's machines so much easier to use.
It will take needles sized 9-16. Out of the box, it's equipped with a size 11 needle which is fine for some thin and most medium weight fabrics. This is not a good needle for thicker materials like denim but there are 3 needles that are included in your little pack of accessories including an extra size 11 needle plus a size 14 and a size 16 needle. Those larger needle sizes are suited to thicker fabric types like denim so you'll just have to swap out the needle based on the type of material being used. Read the guide in the manual and use the right combination of needle and thread and you'll be able to plow through most materials. Changing the needle is easy, too, just use the supplied screwdriver to unscrew the clamp holding the needle in place, pull out the existing needle, insert the new needle and screw the clamp back in place.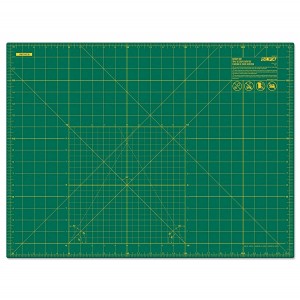 If you're going to work on really large projects like a full-size quilt, you might find it moves a bit because of the drag of a large amount of fabric versus the light weight of this machine. Just put a rubberized mat or a OLFA cutting mat
under the machine.
In between uses, it resets all stitch settings so if you are using a stitch you've customized for length or width you'll want to make note of those settings for the next time you start working on your project. This is not uncommon for machines under $200. Some of the more expensive ones will let you save stitch settings into memory but this model does not have such memory storage.
The extension table has a ruler guide printed on it which is useful for measuring seams or fabric length.
This is a self-maintaining machine which means you do not ever need to oil it. Today's machines are often made with materials that naturally reduce friction or are self-lubricating rather than requiring oil like older machines.
Operating Buttons and Controls
(Back to Top)
Computerized sewing machines have been around for awhile but they might still seem intimidating. I'm a gadget geek so I say the more buttons the better but not everyone feels that way. This model uses just a few, well-organized buttons to do a lot of the grunt work. In fact, it has all my FAVORITE buttons on a sewing machine: Start/Stop button, the Reverse/Reinforce Stitch button, and the Needle Up/Down button. These three buttons sit just above and to the right of the needle arm so they're right above your hand as you work. (It also beeps at you if it's set up incorrectly so you can't really mess it up!)
Start/Stop Button
Traditionally, to get a machine to actually start sewing, you'd press down on the foot pedal with your foot. You can still do that with this machine OR you can just push the Start/Stop button to…well…start and stop sewing. I have this on my sewing machine and as a result I've never attached the foot pedal. I just don't need it.
Reverse/Reinforce Button
When you hold the Reverse button down while sewing the straight or zigzag stitches, the machine moves your fabric backwards. You do this when you are first starting or stopping a line of stitches to lock them in place.
Reinforce is much the same thing except it does something cool for the other stitches. If you're sewing a decorative stitch, locking the ends of the seam with a straight stitch is kind of sloppy, right? You either have to hide that part because the stitch patterns overlap each other or you hope no one notices. With this machine, if you select a decorative stitch, start to sew and then you push the Reverse/Reinforce button to lock the end of your stitch in place, it sews backwards in the same pattern as your selected decorative stitch so there's no sloppy mismatch at the end of your stitch lines. This means you won't have a line of straight stitches running over the end of a line of asterisk stitches. You might not think you'll need this but just wait until you tackle the more decorative projects where your stitches are going to show like the pockets on the front of a toddler's dress or the center of a baby quilt. Nice and tidy and very professional!
Needle Up/Down Button
The Needle Up/Down button is also pretty self-descriptive. Push it to move the needle up or down. It's an automation of the hand wheel on the side of the sewing machine. You can also program your machine to always stop with the needle in the down position or program it to always stop in the up position – the choice is yours and you can change this as needed based on the type of project you're working on.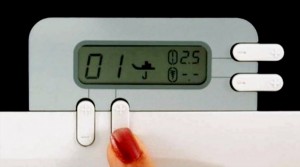 An LCD panel surrounded by four +/- buttons (two below and two to the right) is used for stitch selection and stitch settings. The screen displays your stitch information and provides the letter code of the presser foot to use with that stitch. It's easy to read with sufficiently large print. This screen also relays error codes to you if the machine encounters any problems.
There's one remaining control button to talk about and that is the speed control slider in the middle-top of the machine. This is another convenient button found often on more expensive sewing machines. This button moves to the left and to the right and controls the maximum speed at which the machine will sew whether you use the Start/Stop button or the foot pedal.
Having a speed slider with different speed options from slow to maximum sewing speed provides the optimum amount of control over any sewing situation. If you need to go slow because you are just learning, working on a delicate piece of work or teaching a child, you can do so. If you need to fly through lots of straight lines, set the machine on max speed and just push the start button.
Sew without the foot pedal!
I didn't realize just how convenient a feature like that could be until I was talking to my dad awhile ago. My dad is on the board of directors for a charitable organization that provides support and services for those with a particular disability. This disability can cause partial paralysis and he mentioned that one of their clients had noticed how sewing was becoming more difficult for her because she couldn't work the foot pedal anymore. She had tried using her arm to work the pedal but considering that she also had to use her hand to guide the fabric, this wasn't the ideal solution. When I mentioned that there are sewing machines now that don't require the use of a foot pedal, he made a note to share with their staff. If they add a sewing machine to the new dorm facility they're putting up, it will be something like this one.
The other benefit of a machine that doesn't require you use the foot pedal is space. I've got a fair amount of square footage in my house but I also have a slew of big, growing BOYS and darn if they don't eat up a lot of room! Ideally, I should be able to fit a small sewing table in my office for the sewing machine if it wasn't already doing double duty as a home gym so all I've been able to scrounge up is the top of a spare dresser. This means I either sew standing up at the dresser (which I've done) or move the sewing machine out to the kitchen table as needed (which I've also done). Both are far easier to accomplish without having to worry about the foot pedal. It's simply not easy to control the pedal if you sew while standing and having to make sure I gather it up while moving rooms is just a bother.
Video Demonstartion
(Back to Top)
If you can't test a machine in person, the next best thing is a video demonstration. The following video shows you how it works. (One look at the embellished clothing in the beginning of the video and it's obvious that it acts like a more expensive machine.)
Dimensions: L 16" x H 11.05" x D 6.7"
Weight: 13 pounds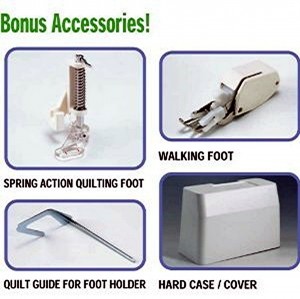 Accessories
(Back to Top)
These sewing notions are included
Accessory storage within the machine
Hard cover case
Seam ripper
Bobbins
Needle set
Twin needle
Cleaning brush
Screwdriver
Extra spool pin
Foot controller
Built in LED work light
3 needles
3 bobbins
Quilting guide
Great Optional Presser Feet You Can Add On Later
(Back to Top)
You can usually add more accessories after your purchase and there are a couple of presser feet that don't come with this one but could really be useful for certain types of projects.
Turn it into a mini serger!
The first is the
Brother SA177 Side Cutter 7mm
. The Sidecutter acts like a mini-serger and trims the fabric along your seam as you sew overcasting stitches. It's a nifty, little feature that makes for tidy, low profile seams.
The other presser foot accessory that looks like it could cause me to suddenly forget I have other household responsibilities like, oh, laundry and cooking, is the Brother SA150 Pearls and Sequins Foot
. All I had to do was see the "pearls and sequins" and I was enchanted. I could picture myself staying up all night attaching a little bling to my pillow covers, and then my tablecloth, and then the collars of a few blouses…and then I'd run out of things and my three sons would be forced to hide their clothes! 😉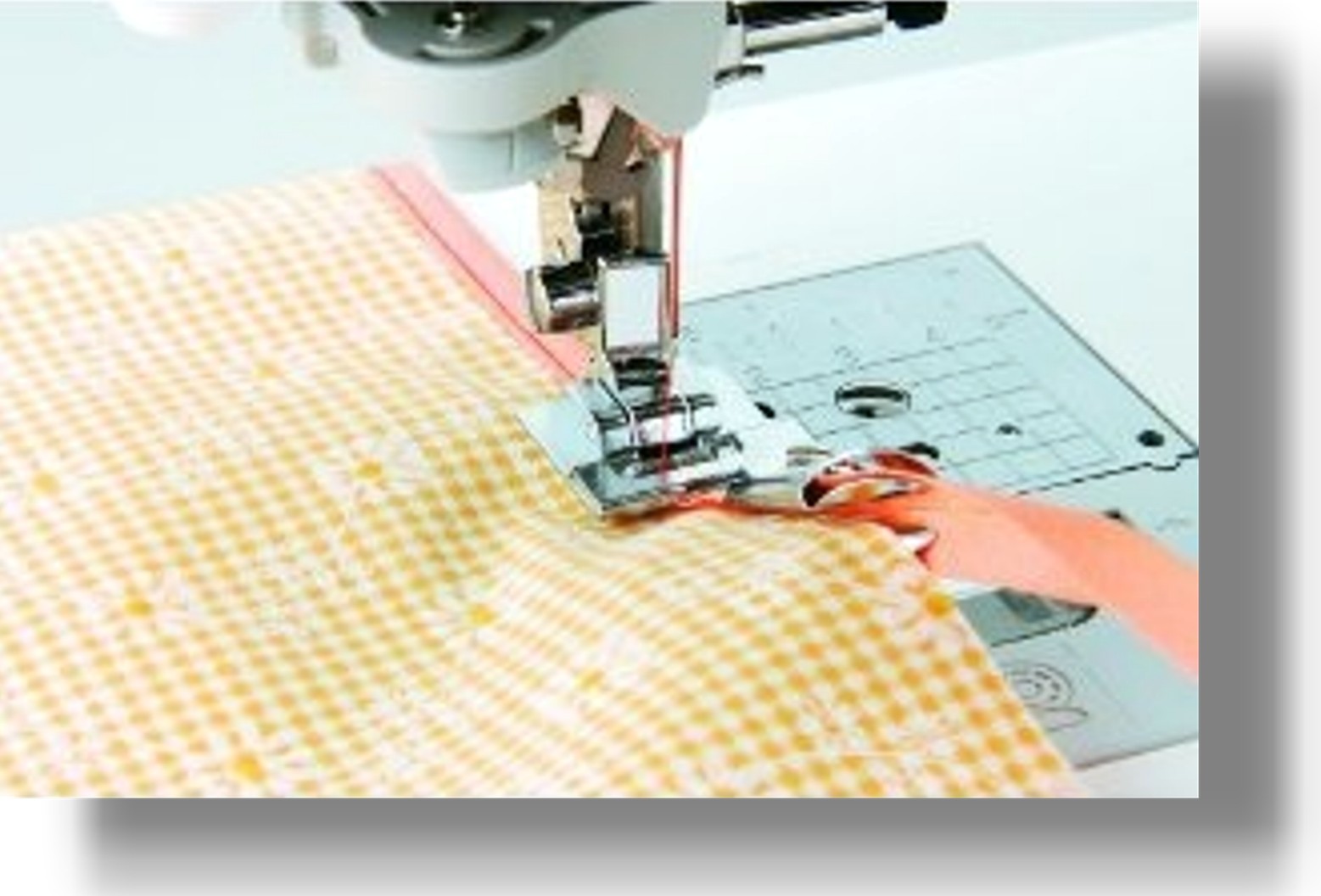 SA109 Quarter Inch Binding Foot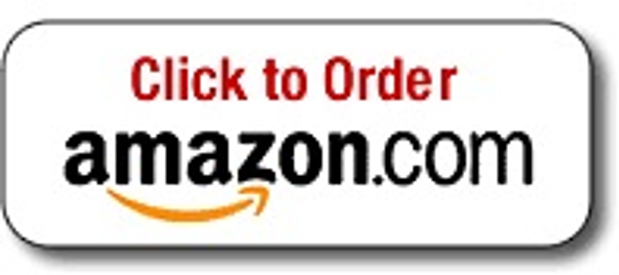 Getting the Best Price
(Back to Top)
After reading hundreds of comments, comparing features, and studying all the printed material, there's no doubt in my mind that under $200 is an incredible bargain.
Where to get the best deal!
It's so popular, in fact, that you get the benefit of a constant, on-going price war between Amazon and Walmart. Most days they are the EXACT same price but every now and then you'll find one is a few dollars lower than the other so it's worth it to check them both when you go to buy. Plus – while Amazon offers free shipping, Walmart offers free shipping to your local store for pick-up. For some people, that's simply more convenient.
This machine is so popular and easy to use that many sewing shows, expos and workshops use them in their classrooms because they know even beginners can get comfortable with the operating instructions in a very short amount of time. It's lightweight but not so much so that it can't hold up to large projects. The only thing to do before you buy is to compare it to the newer Brother CP7500 sewing machine here: side by side chart.
What Kind of Bobbins Does it Use?
(Back to Top)
It uses plastic Style SA156 Sewing Machine Bobbins
.
These are not generic bobbins. If you look closely, they are just a tad taller than the interchangeable bobbins used with some other machines but you can find them very reasonably priced so it's easy to by more or stock up at a later date.
Included Hard Case Wards Off Dust
(Back to Top)
The hard cover case that's included is a great dust cover but it's not a carrying case. There is no carry handle and no bottom. It's still a value add, though. If you let dust build up inside your machine because it sits uncovered in between projects, you're asking for problems. At the very least, you should plan on providing dust protection for your sewing machine when not in use and the best type of coverage is dense material like the included plastic case or an vinyl cover.
The cover doesn't have a cut out or a hole on the side to accommodate the power cord so you'll need to remove that when you use the cover. Might seem annoying but it's good for the machine. Electric appliances draw some minimal amount of electricity when they're plugged in and off so unplugging will be saving you and the planet in some small, but positive, way. As with computers, power surges can have an impact on your sewing machine so leaving it unplugged when it's not in use.
If you need a carrying case, though, with a handle than consider getting the Brother 5300 Universal Sewing Machine Carrying Case
for about $25.
Here's Why I Like it for Beginners
(Back to Top)
One of the biggest fears with buying a first sewing machine is that you'll have spent too much for one of those fancy machines that have lots of features you won't ever use or that your desire to save money will mean you end up settling for a really basic machine that does nothing more than handle alterations. If there's any chance that you're going to want to do more than the basics, it's hard to ignore those cool machines with pretty stitches and button controls and lots of accessories.
That's what makes the this model such a great deal. It's not expensive but it sure acts like it. This is a machine that will grow with you as you learn more and more sewing techniques and includes the accessories you'll need in order to try those techniques.
In fact, it has so much to offer, that it is often bought by more experienced sewers who want a sturdy backup or traveling machine.
Beginners of all ages consider the CS600i to be one of the best machines they could have chosen. Those who were older had concerns that it might be difficult to learn because of the computerized functionality but found it was surprisingly easy to learn. There's a Quick Start guide that can help you get up and sewing in a matter of minutes even if you've never sewn before.
Those buying for children or young teens were concerned that the machine might have too many features but found kids adapted easily to using different stitches and could switch out the presser feet without a hitch. There are a couple of sewing machine features that I find are most helpful to those who are just starting to sew and speed control is one of them. This makes it super simple to slow the machine down so kids as young as 8 years old can get a feel for how to work a sewing machine.
Highly Popular with Consumers
When I first wrote this post in April 2010, the machine had 310 ratings on Amazon. Today, (May 27, 2012), there are over 970!
The more ratings, the better and richer the feedback. Breaking down this total count gives us really detailed information about longevity and performance.
Of those 900+ reviews, 631 people gave it the highest rating of 5 stars. The remaining marks include 159 four star ratings, 32 three star ratings, 32 two star ratings, and 66 1 star ratings. If you consider 4 and 5 stars to be above average, then 86% of Amazon consumers who commented rated this sewing machine above average. Pretty strong recommendation!
On top of that, these comments go back as far as January of 2007. That's over five years of positive feedback for this model. You know what really sticks out for me? If this machine lasted ONLY four years, the total cost spread across those 48 months would be just $3.50 a month. That is amazingly cheap!
It's always helpful to hear about some of the projects completed with a certain machine. It helps one understand the capabilities and how they relate to projects that might be in mind. Some of the projects people finished include full-size quilts, sofa cushions, drapes, fabric panels for closets, pillows, clothing, doll dresses, outdoor furniture, hemming jeans, and kites. These demonstrate the versatility of this machine.
Walmart shows even better ratings. In April, there were 491 and now, the end of March 2012, there are 833 with an average rating of 4.6 on a scale of 5. 93% of the reviews have given this machine a rating of 4 or 5 stars and many noted how nice this machine was for beginners.

Average Rating: 4.5
Pros, Cons & Manual
(Back to Top)


Pros: The undeniable, #1 pro for this machine is the unbelievably low price. There are really good sewing machines that cost almost the same, are appropriately priced for the market but have maybe 10-20 stitches and one quarter of the features of this machine. If you stack all Brother and Singer sewing machines that cost under $200 side by side there isn't a better deal for your money. That is HUGE!
Some of the built in features can only be found with machines that cost twice as much as this one – the Start/Stop button, speed control slider, and needle up/down buttons are my absolute favorites.
On top of that, Brother throws in all of these extras like the additional presser feet, the extra wide work table, and the hard dust cover. These are all tangible goods that you'd have to buy separately for most other sewing machines and are worth an easy $75 alone.
The machine operates quietly and the stitches are nice and even. It's very easy to use and sews easily through a variety of fabrics.
Threading is easy and the drop-in bobbin is a noticeably less finicky to use than front-loading bobbin systems.

Cons: Because of the huge number of online feedback and experience, it made sense to break the cons down into a couple of types. First, there are some things that are missing from this machine that more experienced sewers might consider important for really advanced sewing. I called those OBJECTIVE cons. They're indisputable and are helpful to potential buyers in evaluating the machine.
Objective Cons
The presser foot pressure is not adjustable. This is common in most entry level sewing machines but really advanced sewers like to have that level of control.
The extension table doesn't snap perfectly into place but it's still extremely functional. Some of the accessories and internal parts are made of plastic. That's what helps keep the machine lightweight and inexpensive but some people are turned off by plastic parts.
Storage for the accessories is just a small opening inside the flatbed attachment. Nothing fancy and you might find it easier to store the accessories in a stand-alone storage box.
If you turn off the machine, it returns to stitch default settings and does not remember any changes you made. Again, not uncommon for machines in this price range but can be annoying if you are used to a machine that saves your settings.
Subjective Cons
Then there are the cons that are more SUBJECTIVE. Some people mentioned these were actually pros and some people said they were problems. These kinds of complaints could just as easily be driven by user error or user preference rather than through any fault of the sewing machine but it's important to understand any trends in these types of comments.
For example, several people noted that the work light is not sufficiently bright. Others, however, mention that it's really bright and ideal for sewing. Reminds me of when my husband and I are looking at a new sofa and I think it's beautiful and he says it couldn't be any gaudier. All I can say is eyes are funny things and we don't all have perfect vision. The good news is that if you find the light isn't bright enough you can put a nice work lamp near your sewing machine and the problem is fixed.
Others say the LCD screen isn't backlit well enough, while others haven't had any problems. Having a work lamp or small flashlight you can point at the LCD screen can help IF this becomes an issue for you.
Thread jamming, bobbin issues come up in a portion of the comments. This can happen with even the most expensive sewing machines.
It's easy to forget that a sewing machine is really quite an amazing and complex piece of equipment. The machine application of thread to fabric requires precision operation using very small items – the fine point of a needle following a programmed pattern working with filaments of top and bottom threads inserted and looped with just the right amount of tension. The right thread type and weight must be used with the right needle for each type of fabric.
If you use the wrong thread, neglect to replace the needle periodically, use the wrong needle for the fabric or the machine, or don't follow the instructions for top and bottom threading, you can run into problems. If you run into a problem with jamming, the first things you should look at are the needle, the thread, the bobbin, and the bobbin case. The odds are good that replacing or cleaning one of those things will fix most issues. Only use accessories and notions that are compatible with your sewing machine and your fabric. If you can't fix the issue by following these steps, do not continue to use the machine. Instead, take it in to be serviced by a qualified professional.
While most people said it had no problem going through denim or multiple layers of heavy fabrics, some said it just couldn't cut through much more than medium weight fabrics. I know it seems like the sewing machine should punch through anything without having to make any adjustments but that's just not true. The manual provides a chart that specifies the type of thread and the needle that is required for different types of fabrics. Adhering to the manufacturer's recommendations based on the fabric you are using is a must for preventing any issues with heavier fabrics.
Manual available online here: Brother CS6000i Manual
Manufacturer's Warranty: As of this date, Brother offers a 1 year warranty on parts and labor, a two year warranty on electronic pattern control and selection components (parts only), and a 25 year warranty on shafts and rods on the machine head.
These two retailers often have very competitive prices for the CS6000i:
COMPARE PRICES
Amazon
Walmart
Features Summary: