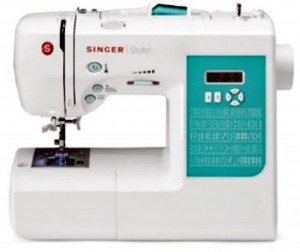 The Singer 7258 sewing machine is about to become the best rated Singer on this site. Lots of stitches, accessories, positive reviews, and my favorite buttons make this one a winner.
In fact, this gives a few of the most popular Brother machines a run for their money. If you're heart is set on this brand read through the details below. I think you'll find this is an ideal choice whether you're looking for your first machine, a replacement for an older one or as a gift for a beginner.
Table of Contents
(Click Ahead!)
Stitch Count / Presser Feet / Functionality / Accessories / Customer Reviews / Pros, Cons & Manual
REVIEW SUMMARY
MODEL: Singer 7258 Sewing Machine
REVIEWED BY: Erin
RATING: 4.3


LAST UPDATED: April 9, 2015

COMPARE PRICES
Amazon
Walmart
Singer 7258 Sewing Machine Stitches
(Back to Top)
There are a number of things to consider when buying a new sewing machine and choosing the right set of stitches is one of the most time-consuming, agonizing of all the choices you'll make. The reason is that you can't add more sewing stitches later. You're stuck with what you've got so, sure, operating buttons and accessories require some research but most of those you can learn to live without (or buy separately) whereas you're stuck with the built in stitches for the long-haul. If you buy a machine without satin stitches amongst its built in collection, for example, you're not going to be able to sew a line of satin crescent stitches with that machine. Ever. Period. End of story.
The set of built-in sewing stitches also define the types of sewing you'll be able to perform with that particular machine. A product description often will clue you in but where that is missing, a look at the set of built in stitches will help out.
Lots of stitches to choose from!
With the Singer 7258 sewing machine, there are 100 built in stitches including 6 styles of 1-step buttonholes so you know you're going to have lots of project options.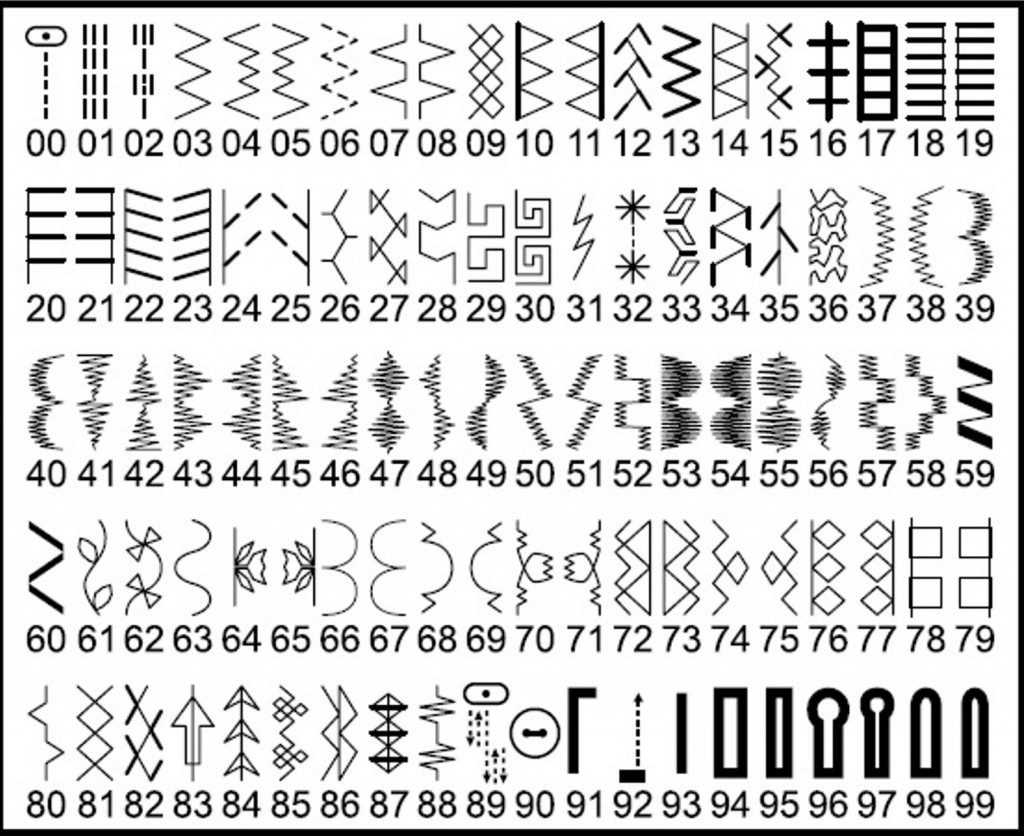 Basic sewing stitches are called "utility" stitches. They're the foundation on which all sewing is built. Straight and zigzag stitches (and their slight variations) are must-have utility stitches. Blind Hem and stretch stitches are also popular utility stitches.
On top of those, there are also has decorative sewing stitches, quilting stitches, and heirloom stitches. You can hem clothes, make clothes, create gorgeous quilts, make today's popular handbag projects, sew your own curtains – even start a sewing business.
Nice, even buttonholes!
The 1-step buttonholes are described as being "perfectly balanced". Each side of any buttonhole is sewn in the same direction so that the sides are even. The corners are reinforced, too, making for really sturdy buttonholes.
Select sewing stitches can be modified to a maximum width of 7mm and a max stitch length of 5mm. Another nice feature is that the zigzag stitch tapers off to the center at its finish creates a more polished end line than a zigzag stitch that stops to one side or the other ("mid-zag", so to speak).
Stitch patterns and their respective selection numbers are printed on the face of the sewing machine so you can quickly find your desired pattern and select the stitch using the controls right above,
The Singer 7258 Sewing Machine Comes With Lots of Presser Feet
(Back to Top)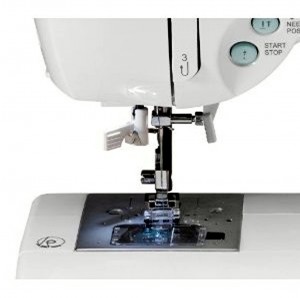 This sewing machine comes with 8 snap-on style presser feet. That's more than most machines in this price range. Presser feet can almost always be purchased separately down the road but since that's an extra cost, the value of any that come with your purchase should be taken into consideration when comparing sewing machines.
Included with the Singer 7258 sewing machine are the following presser feet:
General purpose foot – used for most utility stitches
Zipper foot – for zipper insertion
Satin stitch foot – for satin stitches
Buttonhole foot – sews the one-step buttonhole patterns
Overcasting foot – for the overcasting stitches that finish off the edge of your seam
Darning & embroidery foot – for free motion work
Gathering foot – creates shirring by evenly bunching the fabric as you sew
Rolled hem foot – rolls your fabric under the presser foot as you sew to hide the seam edge
Any machine which has the option to drop the feed dogs out of the way can be used to do free-motion quilting or embroidery lines but having the proper foot is required. The necessary foot – the darning and embroidery foot – is included so right away you'll be able to try doing some monogramming or embroidery free hand style. An embroidery hoop to hold your fabric taut is helpful for performing any free motion work.
The Latest Technology is Built Into the Singer 7258
(Back to Top)
This is a computerized sewing machine but with really simple controls so it's very easy to learn. It shouldn't take more than a few minutes, in fact, to become familiar with how the buttons work. Beginners will have no problem getting used to the controls.  Below the LCD screen are six buttons. The two on the left are used for stitch selection. The 1st button works the 1st digit in the pattern number and the 2nd button works the second digit in the pattern number. Just push each of them as needed until the desired pattern number shows up on the screen. The other buttons are a circular quad that control stitch length and width settings.
Features include:
Jam-proof, top drop in bobbin with see through cover
Automatic needle threader
Programmable Needle Up/Down
Start/Stop button
Speed control slider
Reverse button sews in reverse or ties off decorative stitches
Auto-tie off feature for straight stitch
Max sewing speed of 750 stitches per minute
Automatic presser foot pressure
Automatic bobbin winding clutch
Twin needle capable
13 needle positions
Singer's Optimum Power Control feature (redirects power to the needle arm for thick seams when needed)
6 point feed dog system
Automatic tension
Drop feed dog lever
Horizontal thread delivery
Free arm sewing
Staybright™ LED Lifetime White Lamp
Built in carry handle
Two built in needle cutters – one on the left side of the machine AND on the back of the needle arm
LCD screen error codes for troubleshooting
Heavy duty metal frame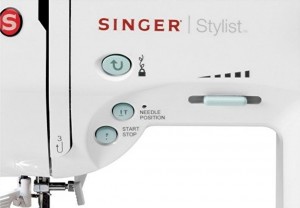 The combination of a Start/Stop button and a speed control slider is showing up on more and more home sewing machines. The two together let you sew without a foot pedal. Just slide the speed control button to your desired setting (anywhere between slow and max speed) and then push the Start/Stop button to start sewing. Push the Star/Stop button again to stop sewing.
Another button whose usefulness grows on you quickly is the Needle Up/Down button. You can program your sewing machine to always leave the needle all the way up when you stop sewing or all the way down. You can also change this programming as needed and the button itself will move the needle to the up or down position with a single push.
There are so many ways this feature helps. You can have the machine leave the needle in the down position so you don't have to do any repositioning for corners – just rotate your fabric. Basically, any time you'd use the hand wheel you can instead use the Up/Down button and you never have to check the hand wheel alignment to make sure you are REALLY all the way up or all the way down.
You'll want to compare the 7258 to the Confidence 7468 (here), the 7469 and the 7469Q (here). All have a similar number of built in stitches – many of the same patterns – but the Stylist comes with as many (or more) accessories and features for a far better price.
Dimensions: 14.8 x 7.76 x 11.85 inches
Weight: 14.75 pounds

Singer's Official Video for the Singer 7258 Stylist Sewing Machine
Whenever you're shopping for a sewing machine online, getting a feel for the true size of the sewing machine can be difficult. That's one of the reasons I like to see video demonstrations. You can get a feel for how much work space there is when you see someone else using the machine or holding their hands up to the needle, bobbin area, or control panel.
I've included the manufacturer's demonstration video below.
Singer 7258 Sewing Accessories
These sewing machine accessories are stored inside the arm of the Singer 7258 flatbed and come with your purchase:
Pack of 5 needles
4 bobbins (3 in the accessory pack and one in the machine already)
Auxiliary spool pin
Spool pin felt discs (2)
3 Spool caps (mini, small, and large)
Buttonhole opener/Seam ripper and brush
Screwdriver for needle plate
Darning plate
(This uses Class 15J bobbins.)
Excellent Reviews and Ratings for the Singer 7258
(Back to Top)
Although the Singer 7258 sewing machine has been out for a couple of years now, there are still only limited reviews available online. I hadn't even noticed it before this week but it was certainly the fact that the price is under $200 that got my attention this week. The number of included stitches and accessories at it's current Amazon price rivals those of the Brother CS6000i (see my thoughts here), one of the most popular machines you can buy online.
Reviews show the 7258 is easy to use and that consumers like being able to sew without the foot pedal.
Update April 9, 2015: Quite a number of reviews have been added to Amazon since I first researched this machine. There are now over 1300 ratings and they continue to be overwhelmingly positive. (There were fewer than 60 when I first published this article.) I continue to believe this is one of the best machines produced by Singer in recent years. Nice to see them come up with something that really competes against other models and revives appreciation of long-time fans of the brand.  For beginners and experienced sewers alike, if your friends are telling you to get a Singer, this is one of the top few you should consider buying.
Average Rating: 4.3
Pros, Cons & Manual

Pros: Operates quietly. Sturdy construction. Stitches are smooth, even, and pretty. The Start/Stop, speed control, and Needle Up/Down buttons make it easier to sew. Top loading, jam-proof bobbin is easy to work with (a great feature for beginners, too). Excellent stitch selection.

Cons: Presser foot pressure is not adjustable, but is automatic. Stitch width is limited to 5mm whereas other machines offer a max of 7mm.
Manual available online here: Manual
Manufacturer's Warranty: As of this date,the warranty in the US is 25 year limited on the machine head, limited 5 year warranty on motors, light, assembly, wiring, switches, speed control and electronic components, and a limited 1 year warranty on adjustments, belts, rings, bulbs, and attachments. As is standard with most warranties, the warranty may be void if certain requirements are not followed.
Comparison shop these two stores:
COMPARE PRICES
Amazon
Walmart