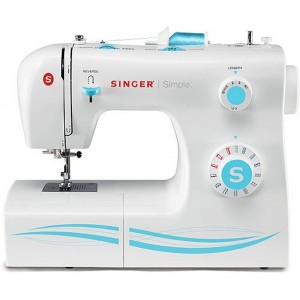 The Singer 2263 Simple sewing machine reminds me that nothing with a front-loading bobbin should ever be allowed to use the word "simple" in its name.
If you read the post I wrote about my run in with my mom's old Viking machine, you'll know that front-loading bobbins and I are not friends. They're not impossible to use, they're just not easy.
In fact, most people really like this machine except for one, repetitive issue – problems with the bobbin thread. Somehow, I'm not surprised.
Table of Contents
(Click Ahead!)
Stitch Count / Presser Feet / Functionality / Accessories / Customer Reviews / Pros, Cons & Manual
REVIEW SUMMARY
MODEL: Singer 2263 Simple Sewing Machine
REVIEWED BY: Erin
RATING: 3.8


LAST UPDATED: April 9, 2015

COMPARE PRICES
Walmart
It's too bad, really, because I adore the blue accents on this one. They just make the machine look pretty trendy. I could see it sitting happily in a sunny yellow craft room or in a girl's bedroom of purple, pale green, and sky blue. The stitch selection is pretty nice, too, and the fully electronic functionality is appealing to those who don't want a computerized sewing machine.
Types of Stitches on the Singer 2263 Sewing Machine
(Back to Top)
There are a total of 23 built in sewing stitches including a four step buttonhole. Most sewing machines that do buttonholes have one of two types – a 4 step, like this one, or a 1-step buttonhole. The difference is really just a matter of convenience.
The stitch names are: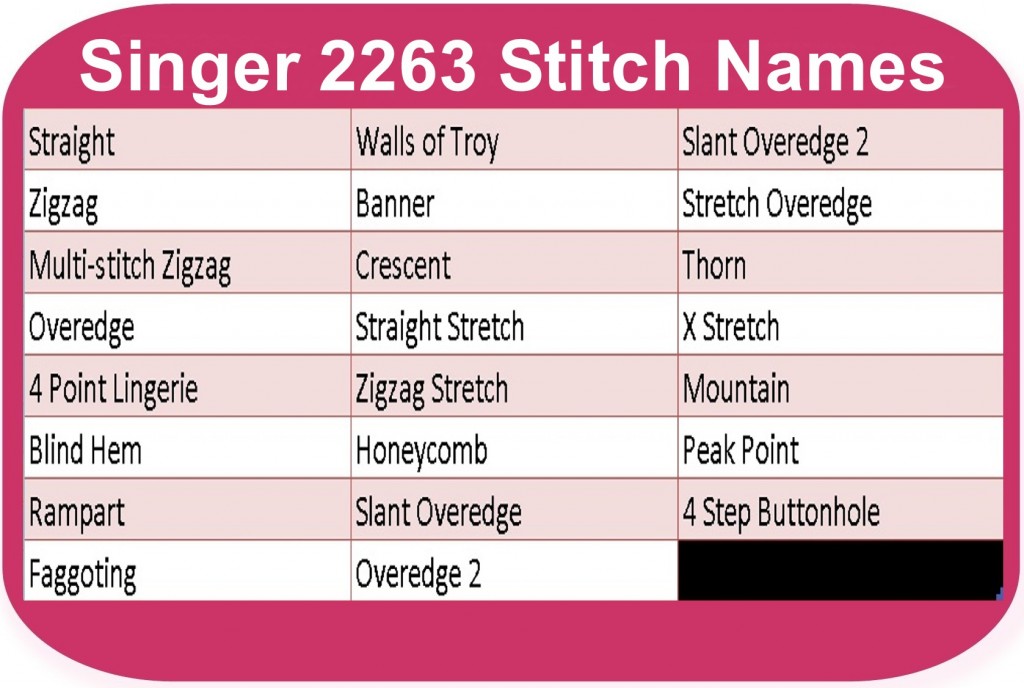 A sewing machine with a four step buttonhole style requires more manual intervention to complete. It breaks the buttonhole down into four parts – two, longer parallel lines of thread for the sides of the buttonhole and two shorter, parallel lines of thread for the ends. To do a four step buttonhole you select the stitch for one side, sew it, select the stitch for an end, sew it, select the stitch for the other side, sew it, and then select the stitch for the final end and sew it.
You don't have to move the fabric around, you just have to control the length of the stitches and tell the sewing machine which part of the buttonhole you're working on next. For a one step buttonhole you would just set the length and width settings in advance rather than having you turn the dial or push the button to move from one length of stitches to the next. The nice thing about a four-step buttonhole is that you can easily make buttonholes just about any size you want.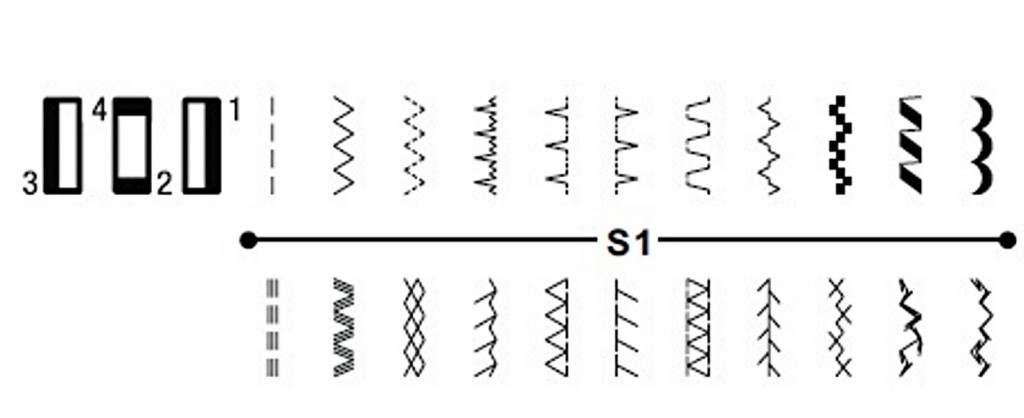 Stitch width is adjustable to 5mm and stitch length can be adjusted to 4mm using two dials located at the top right of the machine. Not all stitches can be adjusted, which is normal, but the straight and zigzag stitches are adjustable and those are the ones most often modified.
There's a good selection of overedge stitches for making sturdy seams and stretch stitches for working with different types of fabrics. Using the right needle, the machine
will sew through a couple of layers of denim and canvas but probably not much more than just a couple of layers without difficulty.
Singer 2263 Presser Feet
(Back to Top)
The Singer 2263 sewing machine comes with 3 snap on presser feet. Additional presser feet like a quilting foot, blind hem foot and satin foot can be purchased separately.
The presser foot pressure is not adjustable but the height settings include the standard up, down and extra high up so you can put thick layers or quilting under the presser foot. The lever to move the presser foot up and down is situated behind the needle arm.
General Purpose
Buttonhole Foot
Button Sewing Foot
Singer 2263 Features and Functionality
(Back to Top)
A number of advances have been made in sewing machines in recent years and most of those are meant to do two things – make sewing easier and keep thread from jamming or breaking while sewing.
While the Singer 2263 is a mechanical machine, it includes a few of those advancements like an automatic needle threader and horizontal thread delivery but then, for whatever reason, they used a front loading bobbin system. If you learned to sew on an old sewing machine, you might be an old hand at that kind of bobbin but it is incredibly frustrating for beginners to learn. One, tiny flaw in loading the bobbin, threading the bobbin, or inserting the bobbin and you're likely to spend more time fixing thread jams than actually sewing.
There are a couple of advantages to a front loading bobbin which make it worthwhile for sewing machine manufacturers to continue to produce. If you sew projects that require you to switch thread types or to change thread colors mid-stream in a line of stitches, you can't do that on a top loading bobbin without removing your project because the bobbin case is right under the needle plate. However, you can reach the bobbin for replacement without lifting your fabric on a front-loading bobbin. For most general types of sewing, however, a top loading bobbin works perfectly and is so much easier to use!
Full list of features:
Automatic needle threader
Automatic bobbin winding
Horizontal thread delivery
Free arm sewing – just remove the extension arm
Adjustable top thread tension
Adjustable bobbin thread tension
Built in manual thread cutter on the side
Reverse sewing lever
Takes size 9-18 needles (the higher the needle size, the thicker the fabric it can handle)
Hole for a 2nd spool pin located on top for over-sized thread spools
Light over the workspace
Built in carry handle
The sewing machine body is made of hard, plastic resin over a heavy duty metal frame. It only needs to be oiled once a year and this can be done by the service tech if you take it in to a Singer service center for an annual checkup.
This video does a great job demonstrating it in action:
Dimensions: L 15" x H 12" x D 7"
Weight: 14 pounds

Singer 2263 Sewing Machine Accessories
(Back to Top)
You get the following sewing machine accessories which store in the extension arm:
Soft dust cover
L-screwdriver
Seam ripper/brush
Pack of needles
3 extra bobbins
Darning plate
Spool holder (cap to keep the spool on the spool pin)
Every time I see a sewing machine comes with a darning plate I get a vision of a woman in petticoats sitting in a straight backed chair with a pile of old, knit socks in front of her. Who actually "darns" anything anymore? Well, that darning plate actually comes in pretty handy. Have you ever torn your pants or jeans where two seams come together? It's really hard to just follow the old seams as some of the fabric unravels and has to be cut away. A darning stitch can help bring those pieces together. A darning plate also comes in handy for attaching buttons or doing free arm quilting work.
Customer Reviews and Ratings for the Singer 2263
(Back to Top)
Walmart
shows over 200 reviews of the 2263 so it's certainly popular!
If customers had any complaints it had to do with the bobbin thread jamming. That tends to happen more often with a front loading bobbin than a drop-in bobbin so this isn't surprising but beginners and children will find this incredibly frustrating.
Yes, this is a really cute sewing machine and it just looks so clean, crisp and trendy – you can't help but like how it looks BUT I like to think that if even the most experienced sewists (sewers? I never know…) are having trouble with the bobbin thread on this one, why would one consider laying such potential frustration at the foot of a beginner? It's just begging for trouble. Especially when there are some other options in the same price range that don't run into this problem. Maybe you can't match the slick appearance but in the end USABILITY matters most.
I've done a tone of research on the best machines under $100 to which you can compare this model: See the List Here.
Average Rating: 3.8
Pros, Cons & Manual

Pros: Stitch selection. Automatic needle threader.

Cons: Front loading bobbin is a bit more tricky to work with than a drop-in bobbin. Although a secondary spool pin hole is built into the machine, the secondary spool pin must be purchased separately. No drop feed dog lever.
Manual available online here: Manual
Manufacturer's Warranty: As of this date,the warranty in the US is 25 year limited on the machine head, limited 5 year warranty on motors, light, assembly, wiring, switches, speed control and electronic components, and a limited 1 year warranty on adjustments, belts, rings, bulbs, and attachments. As is standard with most warranties, the warranty may be void if certain requirements are not followed.
This is a Walmart exclusive so it's generally cheaper there but 3rd party sellers sometimes have it on Amazon, too. Compare these two stores for the best price.
COMPARE PRICES
Walmart
Features Summary Review: