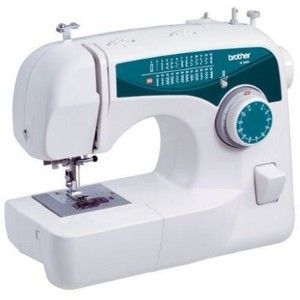 When it comes to getting your money's worth, our review of the Brother XL-2600i Sewing Machine shows it includes loads of features you don't find on other beginner sewing machines in this price range.
It's incredibly affordable and has excellent reviews from other users.
Because of the large number of stitches and accessories that are included, it can grow with beginners from their earliest projects to more complicated fabrics and projects for years to come all for under $100.

Table of Contents
(Click Ahead!)
Stitch Count / Presser Feet / Functionality / Accessories / Customer Reviews / Pros, Cons & Manual
REVIEW SUMMARY
MODEL: Brother XL2600i Sewing Machine
REVIEWED BY: Erin
RATING: 4.4


LAST UPDATED: April 10, 2015

COMPARE PRICES
Amazon
Walmart
Stitch count is always something to consider when shopping for a new sewing machine. If you're just learning to sew, the information about stitches might seem confusing. Stitch count and the description of the various stitches provide an idea of the variety of projects a machine can handle.
Different projects require different types of stitches. It's common for the hem at the bottom of your jeans to show the threads but dress pants often show no thread stitch at the bottom. Those two types of pant hems are done with different stitches. The more stitch variety a machine offers, the more quality finishing touches can be applied to any pattern.
If you want to do more than just mend some existing clothing, go for a sewing machine with as many stitch types as you can afford.
Lots of Stitches Considering the Low Price
(Back to Top)
The Brother XL-2600i comes with a nice selection of 25 stitches that cover light weight fabrics to thicker, multiple layers of denim, duck, canvas, and quilting fabrics. There are a number of zigzag and stretch stitches as well as a nice selection of decorative stitches so even elegant home accessory projects can have the look of retail-quality goods.

1 step buttonhole stitch with stitch balance control for perfect buttonholes (not many machines under $100 come with a 1 step buttonhole stitch vs. the more manual 4 step stitch)
Straight stitch
Zigzag stitch
Blind hem (a hemming stitch where the thread does not show on the outside of the project, like the hem on dress slacks)
2 Stretch blind hem stitches (Blind Hem and Shell Tuck)
Shell Tuck (provides a finished edge for light fabrics that gives the appearance of lace)
Elastic shell tuck stitch
Elastic stitch
Double action stitch
Bridging stitch (used to join two fabrics together at their edges rather than on top of each other)
Rampart stitch
Triangle stitch
Triple stretch
Triple zigzag
Stretch overlook
Elastic overlook
Feather stitch
2 Arrowhead stitches
2 Decorative stitches
Leaf stitch
Tree stitch
Legs stitch
You get a pretty amazing selection of stitches for the low price of this sewing machine. There are utility stitches for making clothes and home decor projects. Some of these stitches provide super-strength seams that will hold up really well if you're going to be making clothes for children, too.
All the Basic Presser Feet
(Back to Top)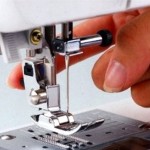 Four different, snap-on presser feet come with the Brother XL2600i. Presser feet hold your fabric in place while you sew and apply pressure on the fabric so the feed dogs maintain contact to move the fabric forward. A general presser foot is used for most projects but sometimes you need fabric to move in a certain direction to accomplish a specific task, like making buttonholes.
That's where the additional presser feet come in handy. They make these unique jobs easier to accomplish. This machine uses a snap on approach to attaching each presser foot which makes changing them out much simpler than the screw attachment style.
General Purpose
Buttonhole Foot
Zipper Foot
Button Sewing Foot
Operating Features and Functionality
(Back to Top)

Lots of convenient features have been built into the Brother XL2600i, almost as if Brother meant for the beginning sewer to be able to focus on their creations and not be tied up with a lot of machine instructions and frustration. They've included an automatic needle threader, a simple drop-in bobbin style, adjustable stitch length and width dials, reverse lever, and a built in thread cutter (common in most machines). The built in work lamp helps illuminate the work space. The machine is foot pedal operated.
There is a dial tension control so you can more easily find the right thread tension for each fabric type which helps reduce jamming and thread bunching.
The feed dog has six segments for smooth fabric control and can handle a wide variety of fabrics.
The needle position is variable, also helping with thicker fabrics, but the Brother XL2600i comes with a twin needle and the additional pin required for attaching the second spool. Twin needle sewing is available on most machines but usually requires an additional purchase of the actual twin needle whereas it is a standard accessory for the 2600i.
Free arm sewing is possible by removing the cover plate so that sleeves and pant legs can be slipped under the needle easily. The provided sewing accessories can be stored inside the extension arm.
Additional features include:
Automatic bobbin winder
Vertical thread delivery system
Button attachment using darning plate and the zigzag stitch
This is one of the lightest, highly rated sewing machines for beginners.
Dimensions: L 12.26" x W 9.6" x D 7.73"
Weight: 11 pounds
Bobbins, Needles and Accessories in the Box
(Back to Top)
The Brother XL2600i comes with the following accessories:
3 bobbins
3 needles (HAX130)
1 Twin needle
Extra spool pin
Screwdriver
Darning plate
We're Not the Only Ones Who Think it's Great!
I track machine sales, trends, and buying patterns throughout the year. The number one sewing machine under $100 purchased for Christmas the past two years based on my own data is the Brother XL26000i. In fact, it's tops in my best five under $100: See the list
The personal stories people share when they've reviewed this machine on Amazon are both entertaining and inspirational. When one woman mentioned that she bought this machine just so she could sew baby items for her newborn son, it's hard not to feel a little, emotional tug. My own children are growing so fast and I know that woman will always have fond memories of how she's used her machine to make her first child's baby clothes.
Several users noted how easily the machine handles thick fabrics. Used by several teachers with students without complaint. Several parents explained that they purchased the machine for children as young as 8 years old who had no difficulty getting started right away.
Most comments mention how easy this machine is to setup and use and that it provides great value for the money.
When I first wrote this review, there were 84 ratings on Amazon. Today, March 28, 2012, there are 307 reviews and they continue to be significantly positive. In fact, the average rating has increased since I've been monitoring this review.
Average Rating: 4.4
Update June 12, 2010: The Brother XL2610 (read more here) is the same sewing machine but has pink trim instead of blue. Usually, the XL2610 costs more than the XL200i but every now and then you'll find the opposite. Check both prices here: Amazon Brother XL2600i and XL2610 Price Comparison
Pros, Cons & Manual
(Back to Top)


Pros: The Brother XL-2600i operates quietly. The transparent window to the bobbin helps one see how much thread is left. Top-loading, drop-in bobbin is a plus. One stitch buttonhole maker saves time on making buttonholes. Very easy to set up and get sewing. The sewing machine is easy to thread.



Cons: No presser foot pressure adjustment. Tension dial is very particular so can be challenging to find the right setting when you change fabrics.
Manual available online here: Manual
Manufacturer's Warranty: As of this date, Brother offers a 1 year warranty on parts and labor, a two year warranty on electronic pattern control and selection components (parts only), and a 25 year warranty on shafts and rods on the machine head.
These two stores often compete heavily to provide the lowest price:
COMPARE PRICES
Amazon
Walmart
Features Summary Review: