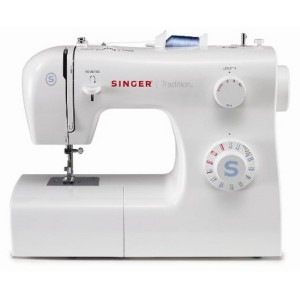 My Singer 2259 review had more to do with clarifying the sewing machine's listed features and details than it did with anything else. There are a few descriptions online that might be misleading without a bit of explanation.
This model falls in Singer's "Very Basic" category making it a popular option for those just beginning to sew. While it might be basic, it does have its strong points so shouldn't be overlooked by Singer fans.
It's got a nice, clean look and sleek design, a nice set of stitches and, by now, a track record of almost two years proven performance.

Table of Contents
(Click Ahead!)
Built In Stitches / Presser Feet / Functionality / Accessories / Consumer Reviews / Pros, Cons & Manual / Overall Review & Price Info
REVIEW SUMMARY
MODEL: Singer 2259 Sewing Machine
REVIEWED BY: Erin
RATING: 4.2


LAST UPDATED: April 8, 2015

COMPARE PRICES
Amazon
Stitches Built Into the Singer 2259 Tradition Sewing Machine
The first point that needs to be clarified is the number of stitches that come on this machine. Some product descriptions say there are 19 but Singer's product page shows 20. Which is it? Technically, it's 21 if you count the buttonhole stitch.
Here's the list:
Straight stitch center
Straight stitch right
Zigzag
Multistitch Zigzag
Elastic Blind Hem
Blind Hem
Four point lingerie

Rampart
Faggoting stitch
Scallop
Straight stretch center
Straight stitch right
Stretch Ric Rac
Honeycomb
Slant overedge (reversed)
Overedge (reversed)
Slant overedge
Stretch overedge
Thorn stitch
Peak Point stretch stitch
Four step bartack buttonhole
(If you ever need to know what a Singer stitch is meant to do, check their stitch reference guide here: http://www.singerco.com/sewing-resources/stitch-reference)
This collection has a little bit of everything but the focus is on the most used, basic stitches with just a small number of decorative stitches.
Selecting the stitch pattern you want to use is done by twisting the large dial on the front to the desired pattern. There are two images side by side at most points on the dial. One of the stitches is black and the other is blue. The blue images are the stretch stitches. To select the blue stitch patterns you need to turn the length dial located just above to S1. Any other setting on the length dial will default the pattern selector to the black stitches.
The non-stretch stitches are adjustable up to 4mm. The Zigzag stitch width is also adjustable to 4mm. Longer stitches are good for working with thicker fabrics and threads. Since more advanced machines have stitch width and lengths adjustable to 7mm, the max setting on the Singer 2259 is not the highest you can get.
There is no width dial but the Zigzag pattern on the pattern selector is stretched out so that you can choose the width by where you settle the selector on the image. Placing it at the narrow end of the picture will cause a thin zigzag while placing the selector on the wider part of the image will result in a wider stitch.
There's one four-step buttonhole stitch on the Singer 2259. It's a bartack style which means it's straight on all four sides. To create a buttonhole, you place the button in the buttonhole foot and move the pattern selector from one step to the next. The machine will sew the sides around the button as you move the pattern selector. You might say it's semi-automatic – it's a lot less work than doing it by hand but there is some manual effort involved in moving the pattern selector.
These stitches cover quilting, clothes-making, home décor projects like curtains and tablecloths, and general mending and hemming.
Presser Feet
There are a total of four snap-on presser feet included:
All purpose foot (aka zigzag foot)
Buttonhole foot
Button sewing foot
Zipper foot
There are a lot of compatible, optional presser feet you can buy separately for specialty projects.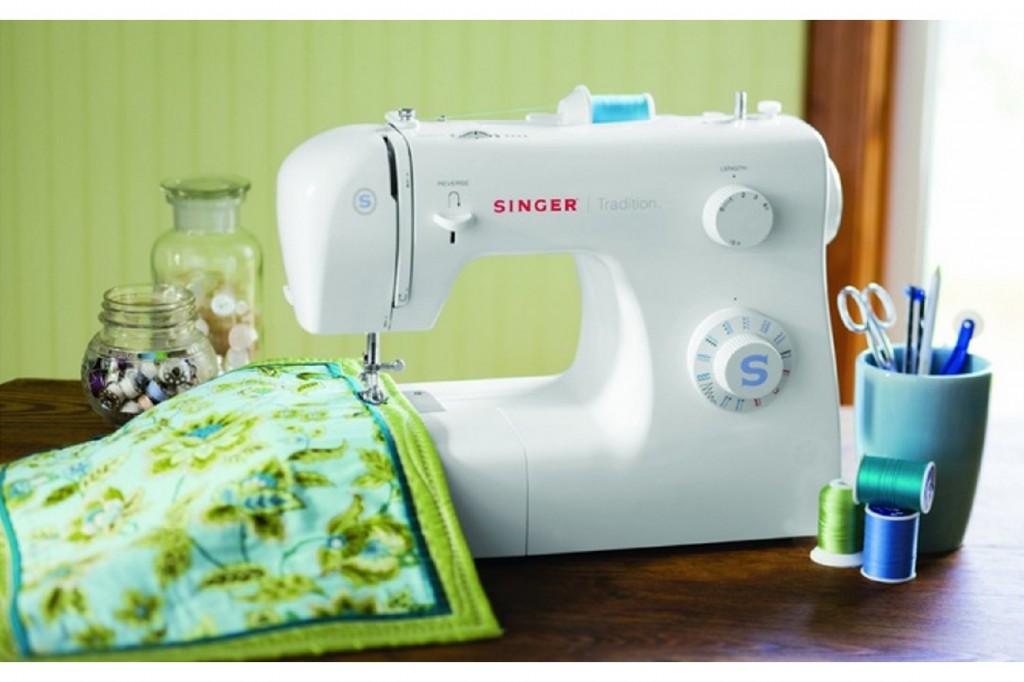 Singer 2259 Features & Functions
Some of the other items I thought were confusing in the product descriptions included the reference to "quick and easy threading". That statement made me think that there was something special about the Singer 2259 Tradition that set it apart from other machines.
Sorry –no magic threading tool here. However, the diagrams for threading are on the machine and include both arrows and step numbers so you know where to put the thread next.
There's an automatic bobbin winder which only requires you put your foot on the floor pedal and the machine will load the bobbin and stop when it's full.
Here's an overview of the other machine features and how you should interpret them:
Extra high presser foot lifter – Whenever you put fabric under the presser foot or remove a project from under the presser foot, you need to push the presser foot lever up in the back. It flips up into a set position and stays in place. However, a machine with an extra high lift will allow you to push the lever up even further than the default up position in case you're working with thicker materials or a heavy seam.
Four segment feed dog – The feed dog does all the work of moving the fabric under the needle. It's a set of "grabbers" that reach up, pull on the fabric, drop down, come forward, and pop up again to repeat the process. The more segments in a feed dog, the greater the pull and the easier it will be for a machine to deal with heavy fabrics. Four segments is good for lightweight and medium fabrics but might struggle with thick or heavy materials.
Multiple needle positions – In some sewing machines you can move the needle off of center and to the right or left to get closer to your fabric edge. On the Singer 2259 you cannot move the needle but there is a stitch pattern for both the straight and straight stretch stitches that will position the needle to the right. This isn't as flexible an option as you might find on more advanced sewing machines but it is sufficient for most beginners. Just understand that if you're comparing this to other machines, the phrase "multiple needle positions" can mean different things.
Free arm & accessory storage – This means that the storage compartment for accessories is built into the machine and can be removed so that you're left with a smaller base around the needle plate. This is meant for working on cuffs and pant legs. You can slip them over the narrow arm so you can sew around the edges. The storage compartment on the 2259 does have a flip-up cover which is a plus as you're less likely to send your stored accessories flying when you remove the compartment. (I know that's a possibility because I've done that more than once on a few machines! Maybe I don't know my own strength…)
Automatic tension – That's what the product description says but there is a manual tension dial on the top of the machine and you may have to adjust it to get your stitches just right on really thin or really thick fabrics. The bobbin thread tension can also be adjusted with a screw driver.
Reverse button – This does just what it sounds like. Pressing this button changes the direction of the feed dogs so your fabric will move backwards through the machine. It helps you tie off stitches so they won't pull out.
Horizontal thread delivery – The thread spool pin lies horizontally and so will your spool. The objective is that this lets thread flow more easily through the machine and could result in less snagging and thread tears than vertical thread delivery.
Front loading bobbin – Bobbins can either site flat in the sewing machine (top loading) or sit vertically in a machine (front loading). This means you access the bobbin compartment through the front of the machine rather than under the needle plate. There is no see-through cover and no bobbin thread sensor so you'll have to pay close attention to how much thread is remaining on the bobbin or you could unknowingly run out right in the middle of a line of stitches.
Drop feed – The Singer site says the Singer 2259 Tradition has drop feed functionality but that's not accurate. Instead, it comes with a darning plate that you put over the needle plate and feed dogs which blocks the feed dogs from touching the material. This accomplishes the same thing as dropping the feed dogs but it is not done by actually dropping them and there is no drop feed button as you might find on other machines that have this feature listed.
Thread cutter – located on the left side of the machine is a thread cutter. Just pull your threads out a few inches when you're done sewing and you can reach up and snip them off on the machine.
Built in carry handle – A flip-up handle is located on the top of the sewing machine.
Work light – A bright work light is located over the needle and is replaceable some machines have built in LED lights that you can't replace yourself which is a mixed benefit. The LEDs tend to be brighter and last longer but when they go out it could cost you to replace them. You'll have to buy a replacement bulb for the 2259 but at least you can replace it yourself.
Can be mounted on a table or cabinet – The necessary screw holes are located on the bottom of the 2259 in case you'd like to secure it to a sewing table or cabinet.
Metal frame and hard shell plastic exterior – the frame under the plastic is all metal. This doesn't mean that the interior parts are necessarily metal but the frame is sturdy and the exterior plastic is extremely durable.
NOTE: Singer's product description says that this machine is not twin-needle capable. However, it does have an opening in the top for a second spool pin – it just doesn't come with the machine.

If you buy a second spool pin and a 4mm twin needle, you can do twin needle sewing. The needle cannot be any wider than the maximum width of the zigzag stitch as that's the total amount you have for both needles to fit into the needle plate. Singer does sell a 4mm width twin needle.
Dimensions: L 15″ x H 12″ x W 7″
Weight: 16 pounds
Accessories
These items come with the machine and are either inside the box or stored in the free arm storage tray:
Soft dust cover
2 thread spool cap holders (large and small) holds thread spool onto the spool pin
Screwdriver
Quilting guide for making even, parallel stitches
3 Class 15 bobbins (does not take 15J bobbins)
Pack of 5 needles plus one installed on the machine
Darning plate (for sewing on buttons, darning or free hand embroidery)
Seam ripper/lint brush
Oil bottle
Foot pedal
Customer Reviews
When I review a machine, I don't always have a chance to touch it myself. The manual gives me a lot of information but I also rely heavily on interpreting the comments of reviews on other sites.
I found a good number of reviews from folks who have had the Singer 2259 machine for more than a year and say it's still running strong. That's a good sign. Almost everyone notes that it's easy to use and learn.
Someone mentioned they specifically wanted a Singer as a starter machine based on generations of history with the brand and they were glad this model was available.
While I'm not partial to the front-loading bobbin, someone commented that they actually prefer that style of bobbin which was another plus for them when it came to the 2259.
It's certainly lightweight and easy to move around. Lots of users need that kind of functionality either because they don't have a craft room set up and need to be able to pull it out and store it somewhere or in order to carry it to classes.
Just a heads up that there were some reviews on Amazon that simply don't belong there – a couple were obviously talking about a different machine as they mention features this one doesn't have. One person complained only because they didn't like the manual. You have to watch out for those kinds of comments.
Average Consumer Rating: 4.2
Pros, Cons & Manual

Pros:
Horizontal thread delivery keeps thread moving more smoothly
Great stitch selection for a beginner
Simple operation
Sturdy

Cons:
No see through bobbin cover so you don't know when you're about to run out of thread
Limited stitch width and length adjustment
4 segment feed dog (which is good for lightweight fabrics but not thick materials)
Manual available online here: Manual
Overall Review
Before I give you my final thoughts on the Singer 2259, I want to compare it to two similar models:
Compare the 2259 to the Singer 2263 Simple – the 2263 has a couple of extra stitches and the stitches include more decorative choices. The 2263 also has an automatic needle threader.
Compare the 2259 to the Singer 2250 Tradition – same design and features but the 2250 has half the stitches.
Overall the Singer 2259 sewing machine is designed for light to medium fabric work. While it's fine for daily use, it won't handle thick fabrics or denim easily. It's best suited to someone who needs a mechanical sewing machine for occasional mending, clothes-making, and home decorating projects and doesn't need a lot of decorative stitches but will be working with some jersey, knits and other stretch materials. This machine can do light quilting, too. It's a nice, basic machine with a narrow focus and if your needs fit this description than this model is worth consideration.
You'll find the two stores with the lowest prices I found online here:
COMPARE PRICES
Amazon
Features Summary Review: