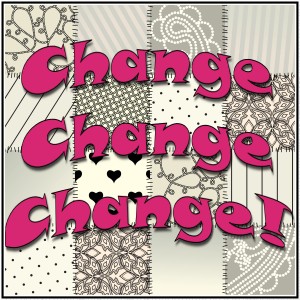 If you're a repeat visitor you may have noticed this site has gone through some changes recently. I changed the site to a new address – something I've wanted to do for a long time now. The old address was cumbersome and rather blah. I wanted something that would be easier to remember. Hence the new name "Erin Says Sew". (I thought it was kind of a fun play on words…)
While I was at it I revised the site's look with a new header image. When I first created the site (back in April 2010), there was a lot more black in the overall scheme and I remember my mother saying "I like it but it's kind of dark for a site about sewing." She's my go-to person for feedback on site appearance as she's incredibly crafty and, in what little spare time she has, manages to find the cutest blogs online.
I'm obviously stuck on pink as that has stayed around. Maybe it's too pink but I ask you to pardon me if you think so. I live with three boys, my husband and a male dog. I don't get many opportunities to use pink anywhere in my house so I may go overboard in my online home.
As a result of the move, though, if you had signed up for my RSS feed, you'll have to do that all over again for this new location. Sorry about that. You might also want to bookmark it if it's something you intend to return to as it won't be easily found in Google yet.
However, with all this background work out of the way I intend to get back to adding new sewing machine reviews. I've seen so many models introduced this year and haven't had a chance to write about any of them! I've got vacation time coming in the next week and have a few store and test visits planned so I can gather some material.
I also have some comments that I'd neglected here and there over the past few months so I'll need to get to those as best I can, too.
In the interim, poke around in here, let me know if you need anything and good luck in your quest for a new machine!