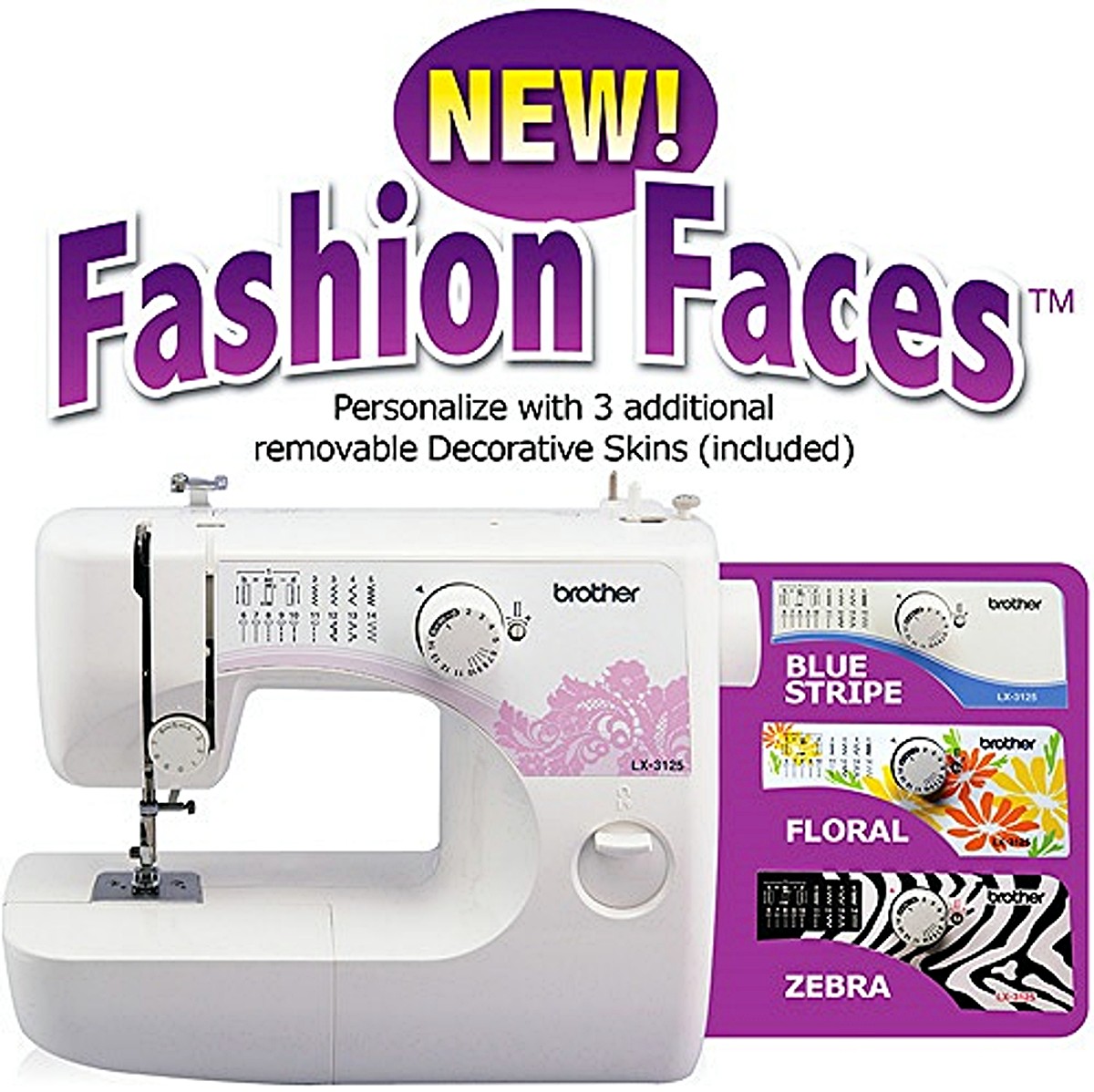 The Brother LX 3125 sewing machine is
an excellent choice for beginners who want a basic, reliable machine for mending and household projects
.
It's lightweight, is extremely easy to operate and offers great value.
This is also a wonderful sewing machine to buy for kids because of the nice sized levers and simple controls.

Table of Contents
(Click Ahead!)
Stitch Count / Presser Feet / Functionality / Accessories / Customer Reviews / Pros, Cons & Manual
REVIEW SUMMARY
MODEL: Brother LX3125 Sewing Machine
REVIEWED BY: Erin
RATING: 4.1


LAST UPDATED: April 9, 2015

COMPARE PRICES
Walmart
Home Depot
Stitch Count
(Back to Top)
The Brother LX3125 comes with 14 built-in stitches including a 4-step buttonholer:
4-step Bartack Buttonhole
3 Zigzag stitch styles
Zigzag Satin Stitch
5 style of Straight Stitch
Straight Stitch (needle in the left position)
Stretch Blind Hem
Shell Tuck
Elastic Stitch
Stitch length is adjustable up to 4mm and stitch width adjustable up to 5mm.
Stitches are selected by rotating the dial on the machine front to the desired pattern.
Presser Feet
(Back to Top)
The Brother LX3125 comes with four snap-on presser feet. The presser foot lever has 3 height settings – regular down position, up, and an extra high up for thicker fabrics.
Zigzag/General Purpose Foot
Buttonhole Foot
Zipper Foot
Button Sewing Foot (for 2 and 4 hole buttons)
Functionality
(Back to Top)
The Brother LX3125 sewing machine has some neat, little features considering the price. For example it has a pretty fast max speed of 900 stitches per minute, an automatic bobbin winding system, twin needle capability and a darning plate.
You can even remove the presser foot and presser foot holder to do some free motion sewing with an embroidery hoop.
Other features include:
Free-arm sewing
Adjustable thread tension dial
Buttonhole adjusting screw to ensure even stitch width on both sides of the buttonhole
Bobbin case tension adjustment dial
Vertical top thread delivery
Front-loading bobbin case
Built in carry handle
Work light
Requires the use of SA156 or SFB: XA5339-151 bobbins.
May need to use stabilizer material under thin fabrics to keep fabric in line while working.
Dimensions: L 17.7″ x W 14.2" x D 7.5″
Weight: 15 pounds

Accessories
(Back to Top)
Built-in accessory storage in the extension arm houses these sewing accessories:
Darning Plate
1 bobbin
1 needle
Screwdriver
Want to save a few bucks and get even more for your money?  Buy the Brother LX 3125 sewing machine with Fashion Faces at Walmart. It's the exact same sewing machine but with three additional, decorative skins you can use to personalize the front.
There's the pink floral pattern, the traditional Brother blue detail, a zebra pattern, or a bright, bold floral pattern.
At under $80, this version makes a great gift if you are buying for someone else.
Customer Reviews
Users state that they love how quickly they can get sewing with this machine. Even kids are able to get the hang of things very quickly. The extra "faces" give the machine a more personalized look. There are no problems with jamming or needle breakage. It's lightweight so easy to move around. Threading is simple and it's just enough machine to allow the most inexperienced sewer to do mending, alterations and explore a variety of home decor and basic clothing projects.
Average Rating: 4.1
Pros, Cons & Manual

Pros: Twin needle capable. Darning plate included. Sturdy, solid utility stitching.

Cons: Presser foot pressure is not adjustable. No drop feed-dog functionality. Twin needle capable but additional spool pin and twin needle must be purchased separately.
Manual available online here: Brother LX3125 Manual
Manufacturer's Warranty: As of this date, Brother offers a 1 year warranty on parts and labor, a two year warranty on electronic pattern control and selection components (parts only), and a 25 year warranty on shafts and rods on the machine head.
For current pricing information, follow these links:
COMPARE PRICES
Walmart
Home Depot
Features Summary Review: