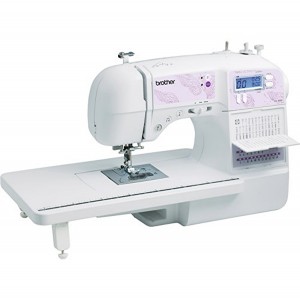 The Brother SQ9000 quilting sewing machine comes with an extra wide extension table and a number of quilting accessories.
This is exactly the same as the Brother XR9000 with a couple of major differences and identical to the newer SQ9050 (which comes with 20 more stitches).
Brother gave it a nice accent upgrade by applying the purple scroll splash across the front of the machine, threw in the quilting accessories (which previously had to be purchased separately) and gave it a nice, low price.

Table of Contents
(Click Ahead!)
Stitch Count / Presser Feet / Functionality / Accessories / Customer Reviews / Pros, Cons & Manual
REVIEW SUMMARY
MODEL: Brother SQ9000 Sewing Machine
REVIEWED BY: Erin
RATING: 4.5


LAST UPDATED: April 9, 2015

COMPARE PRICES
DISCONTINUED
What do those changes get you? The same functionality, a cuter package, and more accessories – all at a pretty cheap price.
Stitch Count
(Back to Top)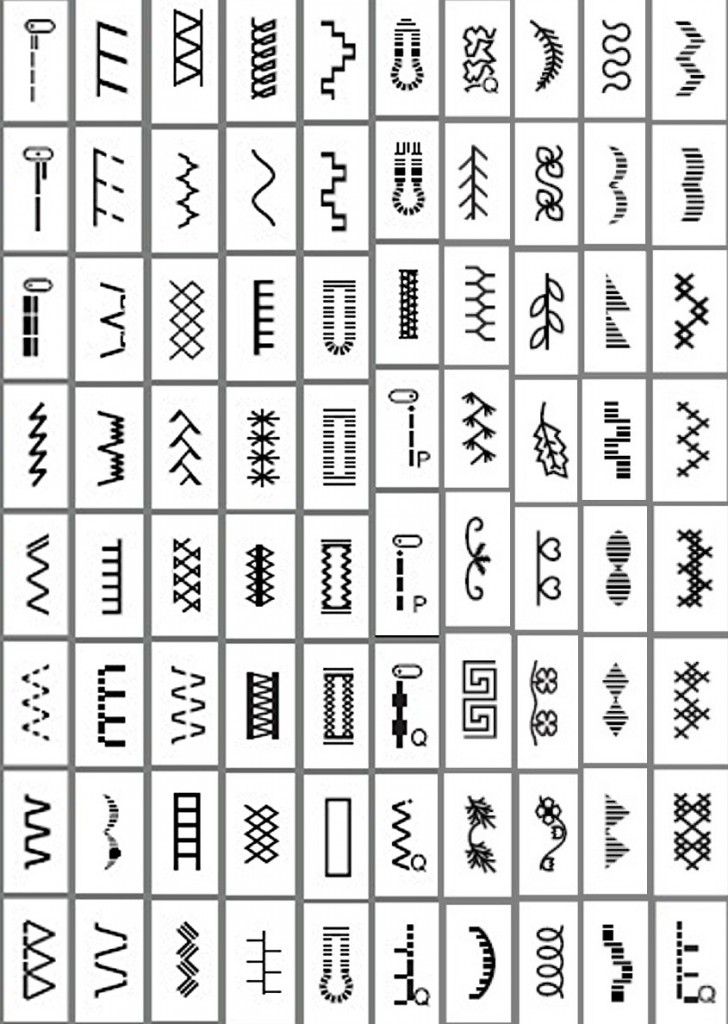 The Brother SQ9000 sewing machine comes with 80 built-in stitches to cover mending, clothes construction, quilting, joining, and piecing. Included in that list are 8 styles of auto-sizing, 1-step buttonholes.
Stitch selection is done through the use of two up/down arrow keys located beneath the backlit LCD screen until the appropriate stitch number is selected. Two additional arrow keys establish the settings for the selected stitch. Stitch width is adjustable to 7mm and stitch length is adjustable to 5mm.
There is also one font of letters and characters for monogramming. The font style is rather boxy and the font size is small but sufficient for stitching messages and monograms on clothing, quilts and other projects.
Sew names, messages or monograms with the letter and character font. You can also combine stitch patterns a stitch or character at a time for a more customized look, for example: letter, flower, letter, flower, letter. You can even insert spaces in between patterns of decorative stitches.
The stitch reference guide is located on a flip chart on the front of the machine and readily available as you sew.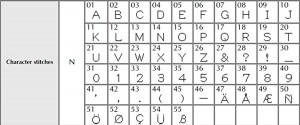 Presser Feet
(Back to Top)
The ten presser feet that come with the Brother SQ9000 are an upgrade from the previous model. You now get the presser feet most necessary for doing any quilting or free-motion embroidery on a sewing machine.
Zigzag – (with a leveler button to assist the foot in getting over thick or bulky seams)
Walking Foot
Quilting Foot
¼" Foot
Monogramming Foot
Buttonhole Foot
Zipper Foot
Button Fitting Foot
Overcasting Foot
Blind Stitch Foot
Some product listings – even the Brother website – note that this machine comes with nine presser feet. They have not included the Zigzag presser foot – also known as the General Purpose foot – in their count.
If you've been shopping for sewing machines, you'll have noticed that some come with just a couple of presser feet and others come with many more. First, many of today's sewing machine manufacturers sell add-on accessories (like presser feet) that can be purchased later as needed.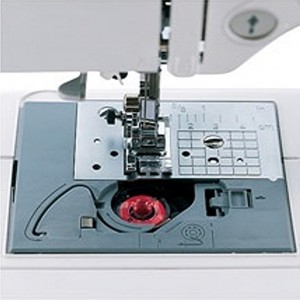 This means that if you are really after a sewing machine with a walking foot, it is okay to consider sewing machines that don't come with one as long as there is either a manufacturer brand or a generic one available that is compatible with your machine.
However, any add-ons are an extra expense. The number of presser feet that come with the Brother SQ9000 would cost about $100 if purchased separately. That's a plus for this sewing machine, if you're comparing several models.
Functionality
(Back to Top)
The Brother SQ9000 is a couple of inches smaller than others in this price range and several pounds lighter than most. This is compensated for by the addition of the 14" extra-wide extension table. You can remove the flat bed attachment and replace it with this longer, wider table in order to have more work-space – especially nice when you're working on a quilt.
This is a computerized sewing machine with an LCD screen and push button controls. A number of automated features have been included to speed up threading and sewing tasks:
Automatic needle threader
Quick set bobbin eliminates the need to pull up bobbin thread before you start to sew
Brother's F.A.S.T winding system –has a little seat on which the bobbin sits during winding that helps guide the thread (saving a step in the process) and includes an automatic thread trimmer on the seat. Bobbins are wound quickly and evenly.
Start/Stop button – allows you to sew without using the foot pedal
Speed control slider – used to reduce the maximum sewing speed for beginners or for delicate stitch work
Drop feed dog lever – lower the feed dogs for darning, quilting, or free motion embroidery
Upper and lower thread sensors – tells you when thread has broken or is running low
Reverse/Reinforcement stitch button – Tie off your threads with the push of a button
Needle up/down button – program the machine to stop with the needle up or down as needed
Upper thread tension dial – tension is manual and can be adjusted with this dial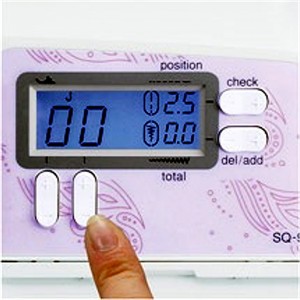 The Brother SQ9000 is capable of twin needle sewing and, in fact, a twin needle comes with your purchase. The flat bed attachment is used to store the provided accessories and can be removed for free-arm sewing, as well. The needle has three available positions – center, left, and right.
The LCD panel provides clear pictures of stitch selections and settings and will even tell you which presser foot needs to be attached for a selected stitch. Error codes and beep sounds keep you posted as to the machine's status and notify you of any problems. There is an LED light over the work area and a built-in handle so you can pick up and go.
(Requires SA156, SFB bobbins.)
Dimensions: – L 16" x W 11.05" x D 6.7"
Weight: 9.9 pounds

Accessories
(Back to Top)
A number of sewing accessories are included with the Brother SQ9000 sewing machine:
Hard cover case
Seam Ripper
4 bobbins
4 needles (1 size 75/11, 1 size 90/14, 1 size 100/16, 1 90/14 gold ball point for stretch fabrics)
Twin needle
Cleaning brush
Screwdriver
Extra spool pin
Larger extension table
Quilting Guide
Eyelet Punch
Customer Reviews
Users like it for quilting work, particularly piecing. It's fast, easy to use, and the font comes in handy for simple monogramming work. The controls provide a lot of automation which makes sewing a breeze.
Overall, consumers have been happy with their purchase. You can read more here: User Reviews
Average Rating: 4.5
Pros, Cons & Manual

Pros: Great selection of presser feet. Extension table for wider work space. Needle up/down. Speed control slider. Broad assortment of utility and decorative stitches. Hard cover case included. Light-weight. Best with medium weight fabrics.



Cons: Bobbin cover is not see-through. Presser foot pressure is not adjustable. Letter and character font size is small. Stabilizer may be required for working with very light or sheer fabrics.
Manual available online here: Brother SQ9000 Manual
Manufacturer's Warranty: As of this date, Brother offers a 1 year warranty on parts and labor, a two year warranty on electronic pattern control and selection components (parts only), and a 25 year warranty on shafts and rods on the machine head.
Features Summary Review: