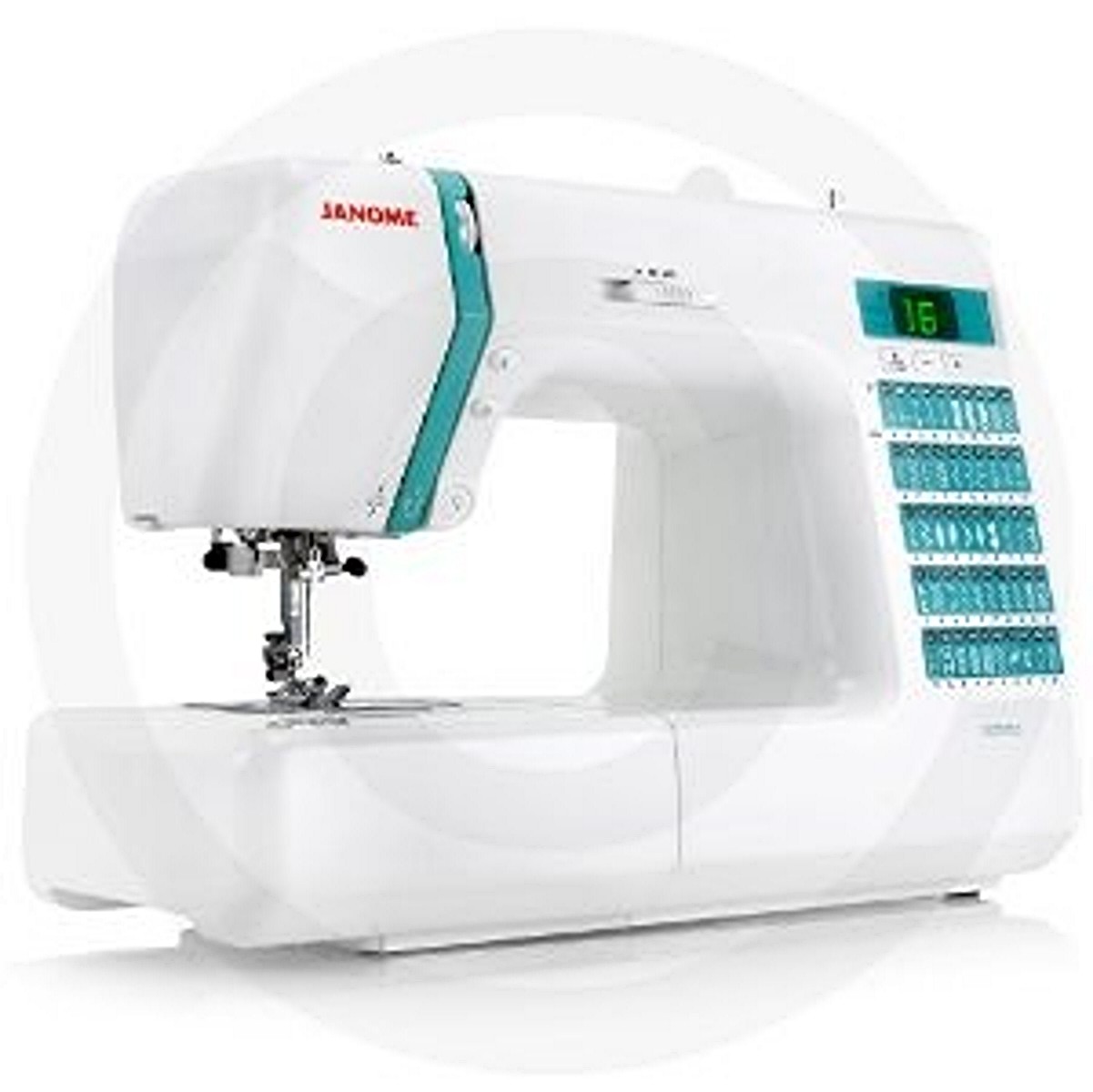 The Janome Décor DC2010 Computerized Sewing Machine is one of four machines the company classifies as their EveryDay line.
These are home sewing machines that offer a little bit of every type of sewing with simple controls and nice, automated functionality to make completing your home décor projects as easy as possible.
This is a solid, sturdy machine with a good sized work space that won't be pushed around by heavy fabrics.

Update June 4, 2012: This machine is a retired model and has been replaced with the Janome DC2012. It has all the same features and the exact same stitches as the DC2010 and DC2011.
Table of Contents
(Click Ahead!)
Stitch Count / Presser Feet / Functionality / Accessories / Customer Reviews / Pros, Cons & Manual
REVIEW SUMMARY
MODEL: Janome DC2010 Sewing Machine
REVIEWED BY: Erin
RATING: 4.7


LAST UPDATED: April 9, 2015

COMPARE PRICES DC2012
Amazon
Overstock
Great for garment construction, machine quilting, darning, and large home projects and you also get Janome's popular precision tension and smooth, beautiful stitching.
50 Great Stitches
(Back to Top)
The Janome Décor DC2010 sewing machine comes with 50 built-in stitches including 3 styles of 1-step automatic buttonholes, a selection of the most used satin stitches, a hand-look quilt stitch, and unique heirloom stitches.
Three buttons work stitch selection, stitch width, and stitch length. One button chooses the mode – choose either stitch selection, width setting, or length setting mode – and the two arrow keys under the LCD screen change the settings up or down. Stitch length is adjustable to 5mm and length is adjustable to 7mm depending on which stitch is selected. The stitch reference guide is located right on the machine front so it is always available.
| | | | | | |
| --- | --- | --- | --- | --- | --- |
| 1 | Straight | 18 | Triple Stretch | 35 | Decorative Stitch |
| 2 | Straight (needle to the left) | 19 | Sculpture | 36 | Garden Stitch |
| 3 | Lock-a-matic | 20 | Stretch Stitch | 37 | Heirloom Stitch |
| 4 | Auto-lock | 21 | Saddle Stitch | 38 | Heirloom Stitch |
| 5 | Durable Seam | 22 | Cording | 39 | Heirloom Stitch |
| 6 | Square Buttonhole | 23 | Bead | 40 | Heirloom Stitch |
| 7 | Round End Buttonhole | 24 | Embroidered Leaf | 41 | Ladder |
| 8 | Keyhole Buttonhole | 25 | Crescent | 42 | Heirloom Ladder |
| 9 | Darning | 26 | Diamond | 43 | Heirloom |
| 10 | Zigzag | 27 | Hearts | 44 | Smocking |
| 11 | Multi-stitch Zigzag | 28 | Applique | 45 | Smocking |
| 12 | Overcasting | 29 | Blanket | 46 | Double Overlock |
| 13 | Knit Stitch | 30 | Parisian | 47 | Decorative Stitch |
| 14 | Double Overedge | 31 | Parisian (Reversed) | 48 | Asterisk |
| 15 | Stretch Blind Hem | 32 | Hemstitch | 49 | Cross Stitch |
| 16 | Blind Hem | 33 | Scallop | 50 | Honeycomb |
| 17 | Shell Tuck | 34 | Patchwork | | |
Basic Presser Feet and a Few More
(Back to Top)
This machine comes with six snap-on presser feet. The presser foot has 3 height levels: down, up and extra up for working with thick fabric projects. The Zigzag foot has a leveling button to help get over thick seams or maneuver the edge of a thick layer of fabric.
Zigzag (General Purpose Foot)
Satin Stitch Foot
Zipper Foot
Automatic Buttonhole
Overedge Foot
Blind Hem Foot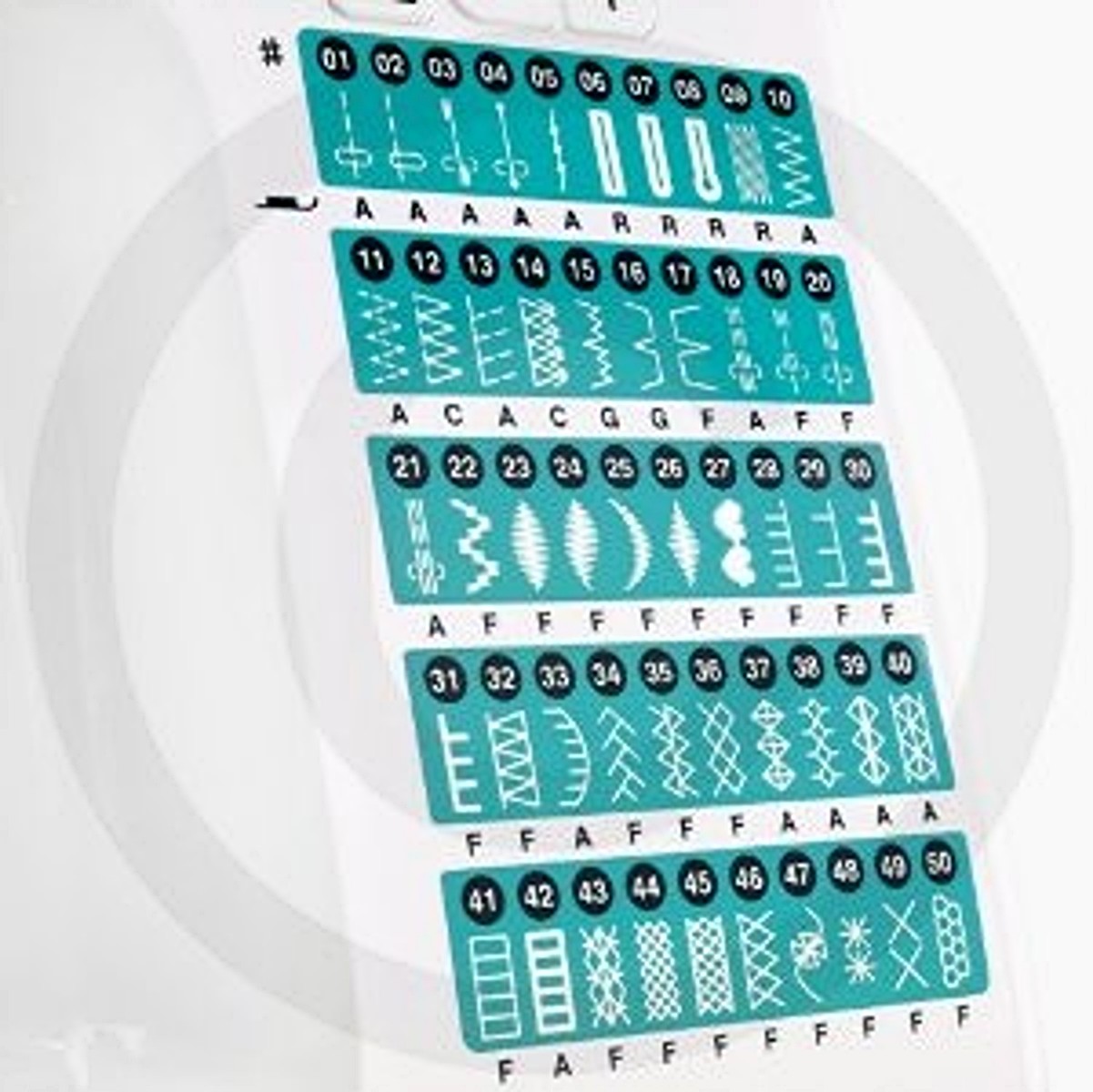 A Rich Set of Features and Controls
(Back to Top)
The Janome Décor DC2010 has lots of features that eliminate frustration for beginner sewers:
Jam proof, top loading bobbin – won't cause problems even if you sew off the edge of your fabric
Automatic bobbin winder – stops when the bobbin is full
Horizontal thread delivery – smoother thread delivery
See through bobbin cover – lets you see when you should refill the bobbin
Automatic needle threader – easier needle threading
Speed control lever – caps the maximum speed of the sewing machine to slow things down if necessary
Up/Down needle button – stop with the needle in your project to turn corners perfectly
Pattern stop button – keeps you from stopping a decorative stitch in the middle of the pattern
Auto-lock button – sew a combination of decorative stitches
Reverse button – conveniently located for quick stitch tie off
Additional spool pin – try twin needle sewing or thread your bobbin without unthreading the top thread
Audible beeps and error codes – inform you when the machine settings are incorrect
There are also settings and features that more experienced sewers find handy for more complicated stitch work or projects:
Free arm sewing – remove the extension table for working on sleeves, cuffs, or pant legs
Drop feed dog lever – allows you to do free motion quilting and darning
Needle adjustable to 3 positions – center, left, and right
Stretch stitch balance control – The appearance of stretch stitches can be altered depending on the type of thread and fabric used. The stretch stitch balance control allows you to adjust the tension to appropriate modify the appearance of those stretch stitches as needed.
The Janome Décor DC2010 has what's called a superior feed dog system which works in conjunction with the 7 point feed dog to provide the best fabric control. The machine has a work light with replaceable bulb and a built in carrying handle.
Dimensions: L 19" x W 15" x D 11"
Weight: 18.2 pounds

Accessories
(Back to Top)
The Janome Decor DC2010 comes with the following accessories:
4 bobbins
5 pack of needles
Seam Ripper/Buttonhole Opener
Screwdriver
Lint Brush
Quilter Bar
Additional Spool Pin
1 Spool Pin Felt Disc
Spool Stand
2 Spool Caps (small and large size)
All Have High Ratings from Consumers
Rugged and feature-rich. Clog free bobbins. Smooth feed dog system. Sturdy and reliable. Great for heirloom sewing and machine quilting. Easy to thread and easy to load the bobbin. Much smoother feed dog system than previous machine. There are 4 reviews on Amazon.
You can read more here: Janome Decor DC2012 Reviews
Average Rating: 4.7
Pros, Cons & Manual
(Back to Top)


Pros: Needle up/down button. Auto-lock control. Drop feed dog functionality. Selection of heirloom stitches. Speed control. Stretch stitch balance control dial. Presser foot leveling button for thicker fabrics. Light bulb is easily replaceable.



Cons: Presser foot pressure is not adjustable. Limited buttonhole styles considering the price range. Twin needle capable but twin needle must be purchased separately. Cover or case has to be purchased separately.

Manual available online here: Janome Decor DC2010 Manual
Manufacturer's Warranty: In the US, as of this date, the Janome Decor DC2010 sewing machine comes with a 20 year warranty on parts, 2 years on electrical, 1 year on labor and may be voided by certain activities.
Compare prices on the DC2012 (the current model – same features) at the two stores below:
COMPARE PRICES DC2012
Amazon
Overstock
Features Summary Review: