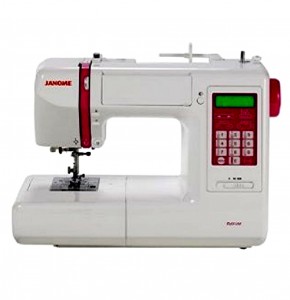 The Janome DC5100 is new for 2011 and combines a unique set of stitches and powerful motor with technology that promises to produce beautiful, professional stitches.
This is the sewing machine you want when you plan on doing a lot of sewing and when the appearance and quality of your stitches will be an integral part of your work.
(And I'm not just saying that because its adorable pink accents are a perfect match for this site!)
Table of Contents
(Click Ahead!)
Stitch Count / Presser Feet / Functionality / Accessories / Customer Reviews / Pros, Cons & Manual
REVIEW SUMMARY
MODEL: Janome DC5100 Sewing Machine
REVIEWED BY: Erin
RATING: 5.0


LAST UPDATED: April 9, 2015

COMPARE PRICES
Amazon
Overstock
Beautiful Sewing Stitches on the Janome DC5100 and Lots of Them!
(Back to Top)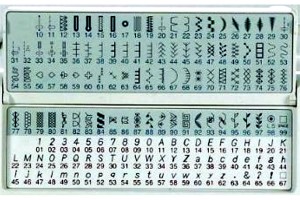 There are a total of 167 built in stitches built into this model including:
95 utility and decorative stitches
5 styles of on-step buttonholes
67 letter font (upper case, lower case, numbers 0-9, 4 punctuation marks and a space key)
Stitch width can be adjusted for certain stitches up to 7mm and length up to 5mm. The stitch reference guide is easily available under the hinged cover on the top of the sewing machine.
Extra Value Comes with the Presser Feet Included with the Janome DC5100 Sewing Machine
(Back to Top)
The Janome DC5100 sewing machines comes with 11 snap on, low shank presser feet,
Zigzag Foot
Zipper Foot
Blind Hem Foot
Hemmer Foot
Overedge Foot
Even Feed Foot
Satin Stitch Foot
Cording Foot
Overcasting Foot
Basting Foot
Automatic Buttonhole Foot
Janome DC5100 Sewing Machine Features and Functionality
(Back to Top)
There are lots of features that help you get sewing more quickly such as programming of your favorite stitch settings and needle up/down control. Features include:
Top drop-in bobbin
DC motor – A DC motor enables the needle arm to power through with as much strength on even the slowest speeds as at higher speeds. Janome has this feature on several models and those sewing machines are almost always described as "workhorses" because you can count on them time and again to work through all kinds of material and layers.
Automatic thread tension control – Janome uses a roller style sensor that measure the thread being spooled off of the top thread spool and combines that information with data it measures about fabric thickness to determine the right thread tension for each situation.
Automatic needle threader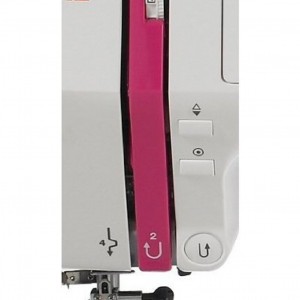 Programmable Needle Up/Down button
7 point feed dog
Drop feed dog lever
Locking stitch button – Pushing this button will cause the sewing machine to invisibly lock the end of a run of decorative stitches. No sloppy work or overlapping stitches at the end of your seam or line.
Speed Control Slider
Reverse button
Memory up to 50 patterns – You can save stitch settings in the sewing machine's computer memory so that you don't have to reset the width and length of a desired zigzag pattern for example, easy to return to your favorite stitch settings.
Auto declutch bobbin winder
Extra high presser foot lift
Backlit LCD touch screen
Horizontal rotary hook bobbin
Retractable carry handle
Stretch stitch adjustment dial
Buttonhole pitch adjustment dial – Keeps the parallel sides on a buttonhole even so stitch pitch and appearance is exactly the same – extremely high quality buttonhole appearance.
10 direct selection keys
3 select modes
Horizontal thread delivery
Built in manual thread cutter
See through bobbin cover
Maximum speed 820 stitches per minute
Twin needle capable
The control panel of the Janome DC5100 sewing machine sits under a backlit LCD screen and the buttons are soft, touch panel areas underneath the pad.
This is a very solid sewing machine.  The weight is substantial enough to hold up to large projects but not so heavy that you can't move it around with ease.  The DC motor is a huge plus and makes this an option for anyone interested in a heavy duty power house that can handle thick projects without bogging down.
Dimensions: Weight: 18.73 pounds
Janome DC5100 Video Demonstration
This video was done for HSN by a Janome representative. Just listen to how quiet it is! She walks through how the DC5100 works, demonstrates the features, discussions the Superior Feed system, and shows how the feet attach. In particular, you'll see how well this sewing machine works for quilting.
The other thing I want you to look at is how easy it is to operate. Beginners – even children – will love that you can slow the speed and cap it at a lower rate so you don't lose control of the fabric and run off the edge of your material.
One woman calls in during the demonstration and explains that she's had the Janome DC5100 for over four years and gave her review. She absolutely loves it! She called it a "Cadillac", even.
Janome DC5100 Included Accessories
(Back to Top)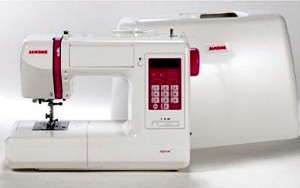 There is built in storage inside the extension table
Screwdriver
Lint Brush
Bobbins
Seam Ripper
Large/Small Spool Holder
Additional Spool Pin
Felt
Spool Base
Hard Cover
Excellent Ratings and Reviews on the Janome DC5100
(Back to Top)
As of the initial date of this review, there are no online consumer reviews as this is brand new and was just announced by the manufacturer last week. I've got a great local store that stocks lots of this brand so I'm planning a trip over to test the new ones soon. I'll update this review when I've had a chance to do so.
January 21, 2011: I stopped my favorite local retailer today and while they didn't have the DC5100 up and in the store yet, they did have the DC2011 up and ready to demo. It has the same pink theme, and let me tell you – that pink accent is really, really PINK and I love it! I'm going back in a week and should be able to test out the demo of the DC5100 at that time – more to come!
One more update – there are now five reviews on Amazon and all give it really strong ratings. It's a prime example of quality and performance. It sews extremely well, the stitches are beautiful, it's loaded with features and absolutely wonderful to use. (Can't hurt that it's simply DELICIOUS to look at!)
It has great power, is very versatile and will carry through from beginner to advanced sewing techniques.  For a starter machine, it might appear pricey but it comes with lots of extras, will last for a long time, has the quality that Janome builds into every sewing machine, and will handle a broad spectrum of sewing projects.
Average Rating: 5.0
Pros, Cons & Manual

Pros: DC motor for powerful, reliable sewing. A number of features focused on high-quality stitch appearance. Sufficient memory for stitch pattern recall. Included hard cover. Letter font for monogramming.

Cons: Not an overly exciting font and you're limited to just the one.
Manual available online here: Read the Manual.
Manufacturer's Warranty: In the US, as of this date, it comes with a 20 year warranty on parts, 2 years on electrical, 1 year on labor and may be voided by certain activities.
Compare these prices:
COMPARE PRICES
Amazon
Overstock
Features Summary Review: