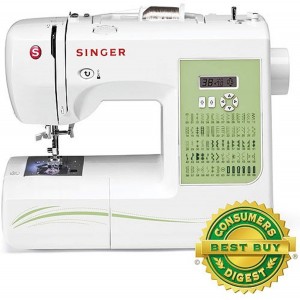 The Singer 7256 Fashion Mate sewing machine was awarded the Consumer Digest Best Buy Award for good reason.
Beginners love the easy controls and feature set. The high marks from other users mean we might have finally found a Singer option that reminds us why this manufacturer was the standard for home machines for as long as it was.
Released in 2009, this model is an upgrade to the 7466 and if you look at the two side by side you'll see that the design has been completely redone. It's much more stylish with rounded corners and a fun, green splash across the bottom.

Table of Contents
(Click Ahead!)
Stitch Count / Presser Feet / Functionality / Accessories / Customer Reviews / Pros, Cons & Manual
REVIEW SUMMARY
MODEL: Singer 7256 Sewing Machine
REVIEWED BY: Erin
RATING: 4.5


LAST UPDATED: April 9, 2015

COMPARE PRICES
Amazon
Walmart
Not that looks matter when it comes to performance but for some of us (me included) if a machine is also more fun to look at, the odds are better that I'll use it more rather than less.
My review shows you can get this sewing machine for well under $200, a deal for all you Singer fans!
Singer 7256 Sewing Stitches and 7mm Width
(Back to Top)
Included are 70 built in sewing stitches that run the gamut from utility to decorative, sating, heirloom and stretch stitches. In that mix, you'll find 6 different styles of 1-step, automatic buttonholes.
This stitch selection is great for making clothes, hemming or altering you existing wardrobe, making home accessories, quilting, appliqué and free motion work.
Select stitches, like the zigzag stitch, can be modified in width up to 7mm and in length up to 6mm.
There's even the neat stippling stitch for making a crazy design on your quilts. Have you ever seen quilts where a scrolling stitch has been run all through the pattern, maybe free form or in the shape of scrolls or hearts? The stippling stitch is a small version of that type of work done by the sewing machine itself instead of by free-hand, although you can do free motion stippling with this machine for wider, longer patterns in your quilting.
The stitch reference guide is printed right on the face of the Singer 7256 so no need to hunt around for your manual (which tends to wander farther and farther from your sewing machine over time).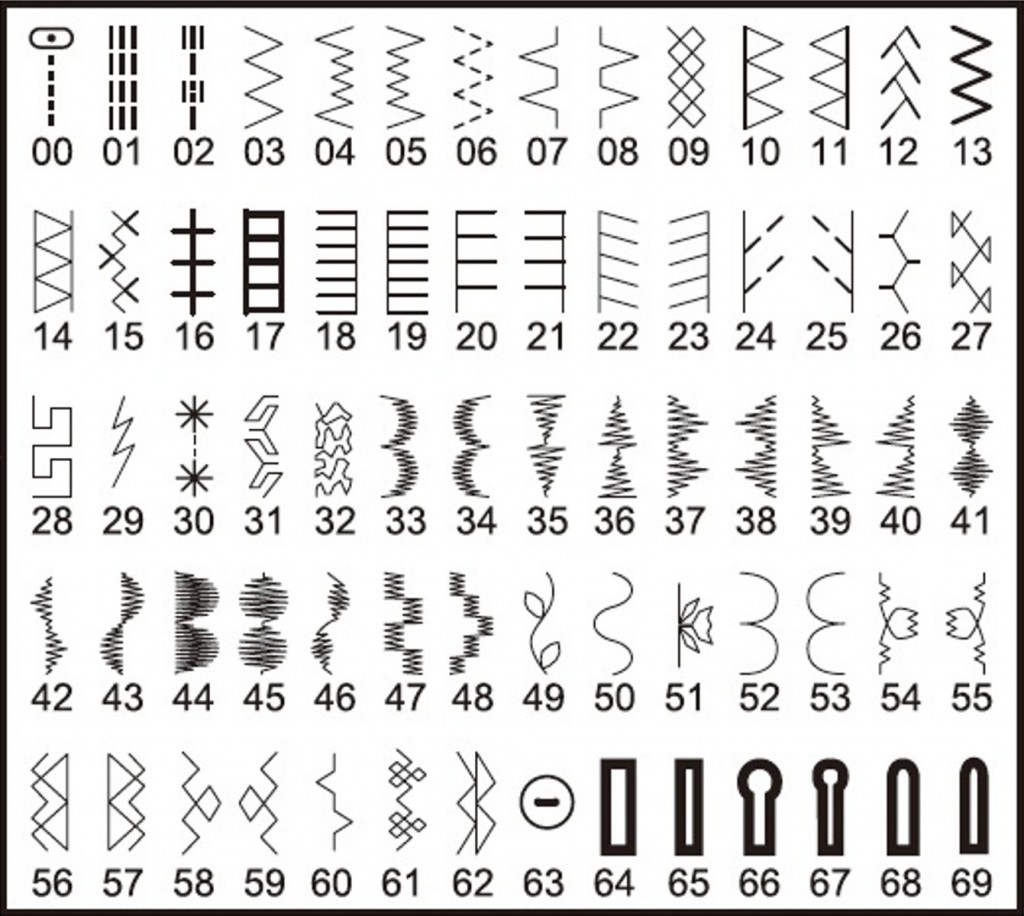 Singer 7256 Included Presser Feet
(Back to Top)
Four snap-on type presser feet are included:
General Purpose (Zigzag)
Satin Stitch Foot
Blind Stitch Foot
Buttonhole Foot
Plenty of accessory feet are compatible for separate purchase including ruffler foot (Part # 270 086742) and an even feed walking foot (Part # 270 006185008).
Singer 7256 Sewing Machine Features
(Back to Top)
The computerized controls on the Fashion Mate consist of four buttons surrounding the LCD screen. This layout is popular on a lot of models produced the past several years. It's intuitive, easy to learn, and helps change stitch selections and settings quickly.
Besides simple operation for beginners, there are lots of little extras built in to make threading , set up, and routine tasks as painless as possible:
Automatic needle threader
Automatic lock stitch
Auto tie off feature
Auto declutch bobbin winder
Drop in bobbin
Horizontal threading
See through bobbin cover
Six segment feed dog
750 stitches per minute
Extra high presser foot height setting
Twin needle capable
Free arm sewing
Automatic presser foot pressure
Built in handle
Built in work light
13 needle positions
Two built-in, manual thread cutters (one on the left hand side of the machine and one on the right side of the presser foot shank)
The sewing machine has a metal interior frame and a housing of the high quality plastic used almost exclusively these days. It is sturdy but can be mounted to a cabinet to help support your larger fabric projects.
It sews nicely across a range of fabrics including chiffon and crepe, knits, jersey, a full variety of cotton fabrics, canvas, denim, duck, and sailcloth.
The feed dogs don't drop but the Singer 7256 sewing machine comes with a darning plate which covers the feed dogs so you can do free motion work, attach buttons, or darn materials which require mending.
Two arrow keys under the LCD screen change the two digit stitch pattern selection and two side arrow keys change stitch settings like width and length. The needle plate has metric and inch markings.
The reverse button has two different jobs depending on which stitches are being sewn. With straight and zigzag, the reverse button will sew in reverse when pushed. For all other stitches, pushing the reverse button sews four tiny, tacking stitches in a compass pattern to lock the decorative stitches in place.
Having said all of these nice things, I'd have you do one thing if you like this sewing machine. Take a look at the Singer 7258. It has all of the same stitches as the 7256 plus 30 extra. It comes with 4 more presser feet. It also includes a collection of control buttons that let you have more control over the needle, starting and stopping the machine and speed: Start/Stop button, Needle Up/Down button, and the speed control slider that caps the maximum sewing speed. It's also an excellent choice for beginners.
Dimensions: L 14.75" x D 7.25" x H 11.75"
Weight: 14.55 pounds

Singer 7256 Sewing Machine Accessories
(Back to Top)
These accessories come with the machine:
Needles – 5
Bobbins – 4
Auxiliary spool pin
Felt discs – 2
Spool caps – 3 (mini, small, and large)
Combination buttonhole opener, seam ripper, and lint brush
Screwdriver
Darning plate
Dust cover
Tips and project DVD from the Martha Stewart show
The smaller items can be stored inside the extension arm.
Singer 7256 Sewing Machine Reviews and Ratings
There are over 50 reviews on Amazon. The reviews are overwhelmingly positive and in particular mention how easy the machine is to use.
It's been used to backup more industrial machines, gone through quilting, and been rated by beginners and very experienced seamstresses. For Singer, it's another win in their lineup which was much needed for longtime brand diehards. Nice features and stitches with a low price make it an attractive option.
Average Rating: 4.5
Pros, Cons & Manual

Pros: Operates quietly. Nice set of stitches. Feels solid during sewing. Easy to use. Automatic bobbin winder, drop in bobbin and automatic needle threader. Strong feed dog system.  Beginners find it easy to learn.

Cons: The LCD screen is not backlit so it can be difficult to see in some conditions. LED light could be brighter. Presser foot pressure is not manually adjustable.
Manual available online here: Get the Manual
Manufacturer's Warranty: As of this date,the warranty in the US is 25 year limited on the machine head, limited 5 year warranty on motors, light, assembly, wiring, switches, speed control and electronic components, and a limited 1 year warranty on adjustments, belts, rings, bulbs, and attachments. As is standard with most warranties, the warranty may be void if certain requirements are not followed.
For current low price information, follow these links:
COMPARE PRICES
Amazon
Walmart
Features Summary Review: