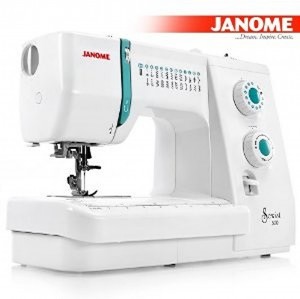 Sewers love the quality of Janome machines and the Janome Sewist 500 does not disappoint.
It is a nice, sturdy machine that runs quietly, includes the kind of automation that helps you set up the machine quickly, and can do everything from mending to quilting, including free motion embroidery.
There aren't as many decorative stitches as some of the less expensive machines but what you get in exchange is a worthy trade-off.

Table of Contents
(Click Ahead!)
Stitch Count / Presser Feet / Functionality / Accessories / Customer Reviews / Pros, Cons & Manual
REVIEW SUMMARY
MODEL: Janome Sewist 500 Sewing Machine
REVIEWED BY: Erin
RATING: 3.7


LAST UPDATED: April 9, 2015

COMPARE PRICES
Amazon
Home Depot
Things like an included hard cover case (which most of the other machines we've reviewed do not include), stable weight (which is helpful when working with heavy fabrics), automatic needle threader, jam-proof bobbin system, adjustable presser foot pressure, the ability to drop feed dogs so you control fabric movement, and (of course) the Janome quality make this a popular sewing machine for both beginners and more experienced sewers.
A Mix of Stitch Types
(Back to Top)
The Janome Sewist 500 sewing machine comes with 25 built-in stitches including utility, stretch, and decorative plus a 1-step buttonhole stitch. Stitch length is adjustable up to 4mm and stitch width is adjustable up to 5mm. Thread tension is manually controlled by use of a dial on the machine. Stitches include:
Straight
Straight (needle in left position)
Zigzag
Multi-stitch Zigzag
2 Blind Hem stitches
4 Overcasting stitches (Overedge, Overcast, Slant Overedge, Double Overedge)
4 Decorative Satin stitches (Crescent, Arrowhead, Diamond, and Three-step Zigzag)
Straight Stretch
Straight Stretch (needle in left position)
Zigzag Stretch
4 Decorative stitches (Shell Tuck, Rampart, Double Ric Rac, and Honeycomb)
3 Decorative Stretch stitches (Peak Point, Pulse, X Stretch)
Bartack Buttonhole stitch

Presser Feet Include Some Extras
(Back to Top)
Easy, snap-on presser feet can be changed quickly. The machine comes with 6 presser feet:
General Purpose (called the Zigzag foot on this machine)
Overedge
Zipper
Blind Hemming
Buttonhole
Automatic Buttonhole (handles buttons up to 1" – buttonholes for larger than 1" can be done manually)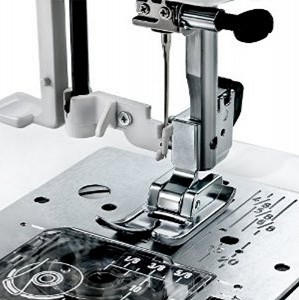 Solid Performance with Basic Features
(Back to Top)
The Janome Sewist 500 has a built-in automatic needle threader that helps get the thread through the eye of the needle, a top loading bobbin system they refer to as "Jam Proof", and adjustable presser foot height to three different levels including ¼" extra-high up for working with extremely thick layers of fabric.
The bobbin cover plate is clear so that you can quickly see how much thread is left before starting the next step in any sewing project. A horizontal full rotary hook is used in the bobbin compartment which is what helps reduce thread jamming (hence, the "jam proof" description).
Reverse stitching is done with the quick-press lever on the front-right of the machine. The carrying handle at the top retracts to stay out of the way while the machine is in use. A drop feed-dog lever can be accessed at the back of the machine by removing the extension table. When the extension table is removed, you can do free-arm sewing and tackle pant legs, sleeves, and cuffs.
There is an extra spool pin hole so that the bobbin can be loaded without unthreading the top thread. The needle is adjustable to five positions. An incandescent work lamp lights the work space. Top speed is 860 spm.
The following videos demonstrate the jam proof bobbin technology, stretch stitches, and how the sewing machine handles changes in fabric thickness. (Thanks to Kristen for finding these videos!)


This is the ideal choice for anyone who likes the ease and simplicity of a mechanical machine but needs the power and precision that you can get with manual presser foot pressure and thread tension controls. Most of Janome's machines, including the Sewist 500, have solid metal interior frames with metal parts.
Dimensions: L 16.5" x W 11" x D 6.7"
Weight = 16 pounds
Accessories
(Back to Top)
Accessories fit in the storage tray under the extension table:
Pack of 5 Needles
4 Bobbins (3 in accessories and one inside the machine)
Screwdriver
Lint Brush
Seam Ripper
Quilting Guide
Large Spool Holder
Small Spool Holder
Additional Spool Pin (for winding the bobbin without having to unthread the machine)
Felt Cushion
Hard Case for Storage and Transport
Consumer Ratings Seem to Struggle
Easy to use. Several beginners have purchased this machine and like how easy it is to set up. Great bobbin winding system. Solidly built and runs smoothly. There are 2 reviews in this thread: Mothering, both of which express how pleased they are with the Janome Sewist 500. There are 16 reviews on Amazon and quite a few of them mention an issue with a grinding noise coming from the machine. Whether this is a result of a faulty bobbin thread and needle combination or a sign of something more serious is yet to be determined.
You can read the Amazon reviews here: Janome Sewist 500 Review
Average Rating: 3.7
Pros, Cons & Manual
(Back to Top)


Pros: Adjustable Presser Foot Pressure, decorative stitches for quilting, feed dogs lower so you can do free motion embroidery, easy to use, runs quietly, sturdy weight keeps machine from jumping while working on large projects, handles multiple layers of fabric easily, and includes a quilting guide.



Cons: Thread tension is manually adjusted which can be challenging for some beginners but the instruction manual provides clear directions for achieving the right setting. (Keep in mind that manual thread tension control is often a plus for more experienced sewers.)

Manual available online here: Janome Sewist 500 Manual
Manufacturer's Warranty: In the US, as of this date, the Janome Sewist 500 comes with a 20 year warranty on parts, 2 years on electrical, 1 year on labor and may be voided by certain activities.
Two sites you should check for comparison shopping:
COMPARE PRICES
Amazon
Home Depost
Features Summary Review: