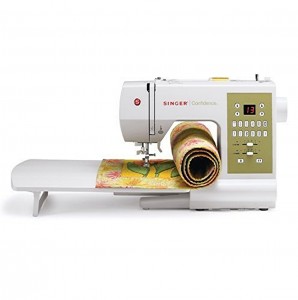 The Singer Confidence 7469Q Quilter is
not only value priced but comes with bonus accessories that make quilting easy for beginners and takes your purchase dollars even further
.
This machine was running around $399 around the end of 2009 (and that was a sale price!) but the price has dropped significantly making it a great deal for a feature-rich quilting sewing machine.

Table of Contents
(Click Ahead!)
Stitch Count / Presser Feet / Functionality / Accessories / Customer Reviews / Pros, Cons & Manual
REVIEW SUMMARY
MODEL: Singer Confidence 7469Q Sewing Machine
REVIEWED BY: Erin
RATING: 4.2


LAST UPDATED: April 9, 2015

COMPARE PRICES
Amazon
Walmart
If you're a beginner looking for a machine with lots of functionality to cover mending, craft sewing, dressmaking AND beginning quilting then this machine offers tremendous value.
A "Can't Miss" Set of Stitches
(Back to Top)
It comes with 100 built-in stitch patterns including all the necessary utility stitches, a beautiful selection of decorative stitches and 7 different styles of 1-step buttonhole stitches. There's even an "infinite" bartack buttonhole which means you can make the buttonhole as long as you need to accommodate oversized buttons. This is great for craft projects like carry all bags with flaps and large, decorative button closures.
Some product descriptions say the machine has 97 stitches – some say 98. I'm looking at the source (the manual, the Singer site, and the actual stitch reference guide that pulls out of the machine) and counting ALL the built-in stitches and the total is 100.
Stitch width and length are both adjustable up to 7mm depending on the selected stitch.
Selecting a stitch pattern is super simple. There are two up/down arrow keys on either side of the LED screen. The arrow keys on the left control the 1st digit in the pattern number and the arrow keys on the right control the 2nd digit. A pull-out reference guide for all patterns is conveniently located at the base of the machine.
There are also 12 one-step stitch selection buttons for the most used utility and decorative stitches. This makes it even easier than scrolling through the stitch pattern numbers for those frequently accessed stitches – push a button and sew.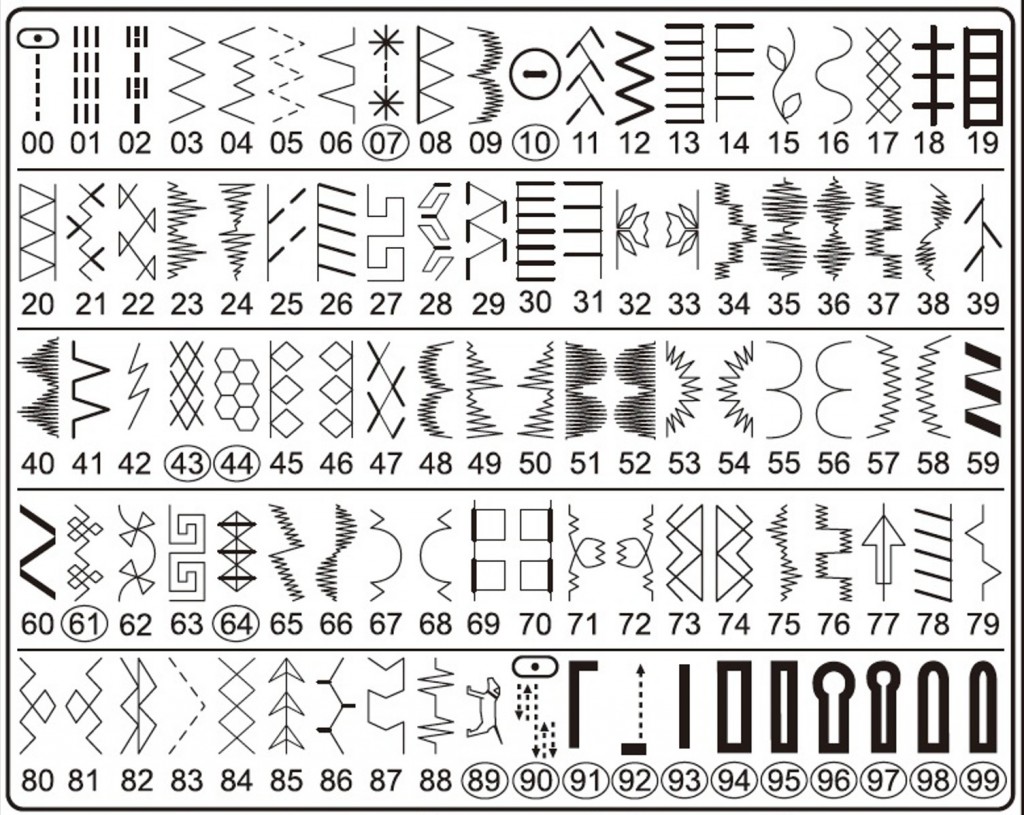 (Refer to the list of stitch names at the bottom of this post)
Some Bonus Presser Feet Thrown In
(Back to Top)
Included with the machine are 8 snap-on presser feet – the five that originally came with this model and 3 bonus presser feet. Presser foot height is adjustable to 3 settings: down, up and extra-up for thick fabrics and multiple layers.
General Purpose
Satin Special Purpose Foot
Buttonhole Foot
Zipper Foot
Blind Hem Foot
BONUS FEET:
Darning and Embroidery Foot – Used to do free motion embroidery, free motion quilting, and darning. Allows the needle more room to move.
¼ Inch Foot – For perfect, quarter-inch seams.
Even Feed Foot – a Walking Foot for quilting that gives extra pressure by applying feed dogs to the top of the fabric to help move the material along smoothly regardless of the thick layers involved.
Some Great Automation Features and Controls
(Back to Top)
The Singer Confidence sewing machines are great for beginners and experienced sewers alike. These are the types of machines that will grow with someone who is just starting out and can do much more than basic mending. The features include more than you'd find on the most basic machines but are not as expensive or as large as heavy duty sewing machines.
The line includes a lot of automation when needed AND the ability to fine-tune settings as your skills progress:
Automatic Needle Threader
Six Segment Feed Dog System
Twin Needle sewing – Run two lines of identical stitches in the same color thread or in two different colored threads.
Twin Needle Control Button – Press this when you have the twin needle attached and the machine prevents you from selecting stitches that are not twin-needle compatible.
Thread Tension – Automatic and adjustable as needed.
Programmable Up/Down Needle Position – Instruct the machine with the push of a button to leave your needle in the down or up position when done with a line of stitches. This lets you make perfectly tight corners as you can leave the needle inserted in the fabric as you rotate your work.
13 Needle Positions – Get as close to the seam, edge or zipper as you need to get in order to finish off a decorative or complicated seam.
Automatic Bobbin Winder – Stops as soon as it senses the bobbin is fully loaded.
Drop & Sew Bobbin System – Easy, top loading bobbin that takes care of pulling up the bobbin thread for you.
Optimum Power Control – Senses when additional power is needed to push through thick layers of fabric so that stitching and speed maintain an even flow.
Drop Feed Dog System – Lower the feed dogs to handle darning, free motion quilting and free motion embroidery. The button to lower the feed dogs is accessed at the back of the machine by removing the extension table.
Self-Lubricating – No need to oil the machine…ever!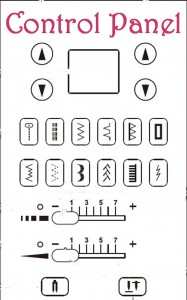 This machine is built around a heavy duty metal frame. The machine facing is plastic and some of the parts are also plastic so don't expect the old, solid, weighty Singer of 20 years ago but still sufficiently solid for beginners.
This machine requires the use of class 15J bobbins so you can't use just any bobbin. It can handle multiple fabric weights from sheer to multiple layers of denim. Just use the right thread and needle combination. A reference guide inside the manual provides fabric and needle requirements.
The machine has two LED lights over the workspace, a built in carry handle, can be mounted to a sewing cabinet or table, and includes some other nice features like a tapering zigzag that ends at a point in the center of the stitch width for a tidier, more professional stitch. Horizontal top thread delivery keeps thread moving easily to help prevent bunching. A reverse button is conveniently located just above and to the right of the needle and can also be used to do a locking stitch.
Another bonus that comes with the quilting package is an oversized extension table. This keeps larger projects in line with the sewing surface. The extension table holds the additional accessories and can be removed for free-arm sewing.
Personally, I think the Singer Confidence 7467 (written about here), 7469, 7469Q and the 7470 (reviewed here) have one of the most intuitive, easy to understand control panels. Model 7463 is the very entry level model in the Confidence line and has a different control panel and fewer stitches than the others.
The 7469Q and the 7469 are exactly the same sewing machine – same manual, same size, same features and functionality. The only difference is that the 7469Q comes with the quilting package which includes extra presser feet and the oversized extension table. Oddly, on Amazon, you can get the 7469Q for LESS than the 7469 right now! Same machine, more accessories – lower price.
Beginners can find some of today's machine controls a bit intimidating but the Confidence line uses easy to understand stitch selection and buttons have simple images that help you know immediately what each button does.
Dimensions: L 17.2" x W 12.2" x D 8"
Weight: 16 pounds

Accessories Included
(Back to Top)
Tucked inside you'll find:
5 pack of needles
Auxiliary Spool Pin for oversized thread spools
2 Spool Pin Felt Discs
3 Thread Spool Caps (small, medium, and large)
Screwdriver for needle plate
4 Bobbins
Lint Brush/Seam Ripper
Dust Cover
Quilting Bonus: Quilter's Extension Table
Users Give it Good Marks
Quilters like the included accessories and extra work space. It's easy to use and very functional with lots of stitches. The controls are easy to reach and well organized. There were a number of users who found the bobbin and thread tension to be a bit challenging at times and a few who had problems getting the machine to work. Those who switched from one of the more expensive brands like a Bernina or an Elna were not as pleased with the stitch quality in comparison but this option is far less expensive than those other brands.
You can read more here: Customer Feedback
Joann Fabric and Craft Stores shows 33 reviews with an average rating of 4 stars but their price is currently $30 more than Amazon. Following are summaries of review comments:
Easy to use. Fun, especially for beginners. Quilting package is a great deal as the bonus feet would cost at least $10 a piece to buy separately. Used a great deal for quilting. Especially liked the fact that the machine automatically locks the beginning of your stitches in place.
Some customers mentioned issues with the motor or bobbin winder – no more than I'd seen as a percentage of comments on similar machines.
Average Rating: 4.2
Pros, Cons & Manual
(Back to Top)


Pros: Bonus quilting accessories. Programmable up/down needle. Currently costs less than the exact same machine without the bonus accessories. Weight is portable but sturdy enough to stand up to fabrics. Easy bobbin system. Drop feed dog functionality. Horizontal thread delivery. Loads of built in decorative stitches. Automatic and adjustable settings. Grows with the beginner sewer.



Cons: Presser foot pressure is not adjustable. (However, it is automatically adjusted to accommodate different fabric thicknesses.) Restricted to using class 15J bobbins. The manual is exactly the same as for the 7469 so does not cover how to use the bonus quilting accessories. Twin needle capable but twin needle must be purchased separately.

Manual available online here: Manual
Manufacturer's Warranty: As of this date,the warranty in the US is 25 year limited on the machine head, limited 5 year warranty on motors, light, assembly, wiring, switches, speed control and electronic components, and a limited 1 year warranty on adjustments, belts, rings, bulbs, and attachments. As is standard with most warranties, the warranty may be void if certain requirements are not followed.
I've found these two retailers have the lowest prices:
COMPARE PRICES
Amazon
Walmart
Features Summary Review: