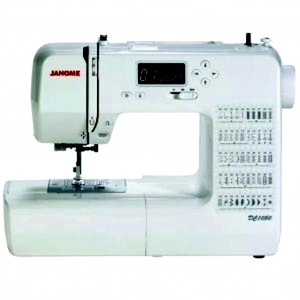 The Janome DC1050 sewing machine is a new model for 2011.
No snazzy color accents here – just a super affordable machine with precision stitching, lots of automation, and a powerful DC motor.
This one is obviously a powerhouse with a no-nonsense attitude!
It costs about the same as basic starter machines that come with a lot less. For about $300 you can buy a high quality machine with lots of automation built by one of the most respected brands in the industry. It's the kind of deal that makes you feel like you're getting away with something sneaky!
Table of Contents
(Click Ahead!)
Stitch Count / Presser Feet / Functionality / Accessories / Customer Reviews / Pros, Cons & Manual
REVIEW SUMMARY
MODEL: Janome DC1050 Sewing Machine
REVIEWED BY: Erin
RATING: 4.6


LAST UPDATED: April 9, 2015

COMPARE PRICES
Amazon
Overstock
Just Enough Sewing Stitches in Each Category
(Back to Top)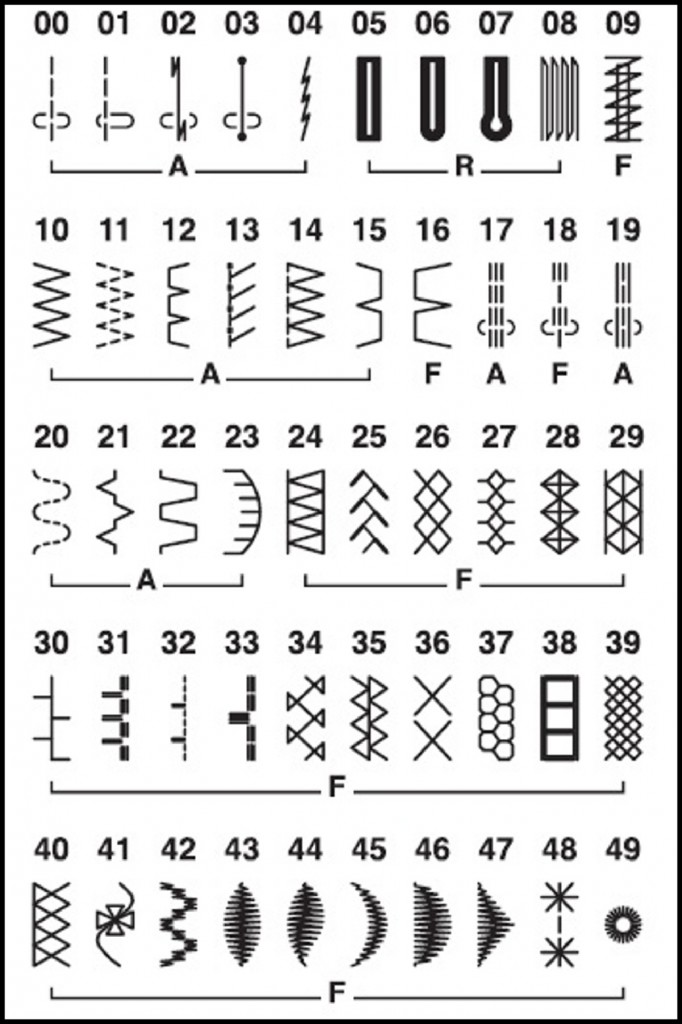 The collection of 50 built in stitches has a little bit of everything. There are plenty of utility and basic construction stitches – straight, zigzag, blind hem, overcasting, and stretch stitches – and three styles of one step buttonholes.
You'll be able to personalize hems or blankets with your choice of satin and appliqué stitches. Finally, you'll find the most popular heirloom stitches.
Heirloom stitches are modeled after traditional French hand sewing techniques. These are the types of stitches often used for working with lace, wedding gowns, bridal veils, and christening outfits.
The maximum stitch width is 7mm and maximum length is 5mm for select stitches.
The stitch reference guide is conveniently printed on the front of the machine.
Four Slide On Presser Feet
(Back to Top)
This little beauty comes with four SLIDE ON presser feet. Most Janome models come with "snap-on" presser feet so this is a bit different and certainly caught my attention. My first concern was that perhaps the presser feet from earlier models would not work with the DC1050 but this isn't true.
Turns out the presser foot itself isn't different – only the method of attaching the presser foot is different. I checked the part number for a snap on Zigzag presser foot and compared that to the part number for the slide on Zigzag foot for the DC1050. They're exactly the same.
This means that low-shank presser feet you may have from another Janome model are probably going to be compatible with the DC1050. The way they're attached is just a little different. On the DC1050, you slide the pin of the presser foot into the front of the presser foot holder instead of the snap on style where you attach the presser foot from underneath the presser foot holder. In either case, it's still extremely easy to swap out presser feet on the DC1050.
The following four presser feet come in the box when you buy the DC1050:
Zigzag
Satin Stitch
Zipper
Automatic Buttonhole Foot
(There are also quite a number of specialty presser feet you can buy separately like a walking foot or a gathering foot.)
The presser foot has an extra high lift setting so you can get thick materials and project pieces under the needle easily.
Features and Functionality of the Janome DC1050 Sewing Machine
(Back to Top)
This sewing machine will fit many a wallet and it does so without shortchanging the buyer on features.
The following features make it a snap to thread the machine without any fuss:
One hand needle threader
Jam-proof, magnetic, drop in, full rotary bobbin system
Auto declutch bobbin winding
Threading instructions printed right on the machine for both the top and bottom thread
Convenient controls:
Start/Stop Button
Needle Up/Down Button
Built in Auto-Lock feature
Conveniently Located Reverse
Speed Control
Machine features:
LED Stitch Pattern Indicator
External Feed Balancing Dial
7 Point Feed Dog
SFS (Superior Feed System)
Box Feed System
Drop Feed System
Drop Feed Dog Switch
DC Motor
Manual Tension (adjustable dial control)
Horizontal Thread Delivery
One Hand Thread Cutter
See Through Bobbin Cover with One Touch Release
15 Needle Positions
Free Arm Removable Accessory
Retractable Carrying Handle
Front Position Halogen Lightbulb
Backlit LCD Screen
Free Arm
820 SPM
Twin Needle Capable
Additional Spool Pin
Instead of using the foot pedal, you can use the Start/Stop button and the speed control slider to work the sewing machine. Being able to sew without connecting the foot pedal is a neat option. If you don't have a lot of space below your work area or if you move your machine a lot, it's a small blessing not having to deal with the foot pedal and cord all the time.
Here's the trick with this option, though – if the foot pedal IS attached, the Start/Stop button does not work. That can throw you sometimes if you go back and forth from using one method and then the other but it has a little foot pedal icon that shows up in the LCD screen that tells you if the foot pedal is attached or not. This saves you from having to peek around to the side of your machine to check for yourself.
The additional spool pin that comes with the machine can be used in the second spool pin hole to load your bobbins without having to unthread the top thread first. It's little things like this that save you a lot of time over the years.
When sewing straight or zigzag stitches, the Reverse/Locking stitch button will sew in reverse until you release the button. If you press the Reverse/Locking stitch button while sewing any other stitches, the machine will sew a few locking stitches and then stop. This keeps the ends of your decorative stitch lines neat and clean instead of allowing for overlapping stitch types.
Stitch selection is done with the computerized controls in the middle of the machine. Left and right arrow keys control the cursor movement and the up and down arrow keys are used to change settings and values.
The LCD screen is in the middle of the machine rather than to the extreme right by the hand crank. This isn't new, several styles have this, but I do think it's a convenience feature that subtly works a little magic. Your eyes don't have to roam as far to the side to select or adjust your stitches. Everything you might need to see while sewing is under the needle or just above. The screen digits are also very clear, concise, and easy to read.
This machine is well prepared to deal with a wide variety of fabric types. The DC motor provides consistent, strong power to the needle arm. A DC motor will provide the same amount of strength to the needle no matter what speed setting is selected so there's no need to sew faster in hopes of punching through thicker materials – you can go slow or fast and get the same even, stitching.
Here's the best part – this machine has an amazingly low price. I paid over $100 more for my Janome Magnolia 7330 and I have fewer stitches. I had to know then how the two compared in other ways and they're surprisingly similar but the Janome DC1050 comes with more stitches and a soft cover. More – for less!
"Is the current online price reflecting an early discount?"
Update February 8, 2011: I wonder how long the "more for less" benefit is going to hold out. Sean, one of this site's contributing visitors, has been comparing several Janome models in the hunt for the best new sewing machine. One of the outstanding questions was how this model compared to the DC2010. Obviously, the DC1050 weighs less than the DC2010 but it also costs about $100 less. Was there something else that was driving the price difference?
Sean called Janome and they explained that the "DC1050 has less parts than the DC2010. While it is a full size machine, the casting on the 1050 is smaller and has less weight."
There's a production difference intended to make the machine as lightweight as possible. Very appealing for those who want a light machine they can carry with them to clubs or classes.
Here's what I thought was more interesting the longer I thought about it. Janome also explained to Sean that the MSRP of both the DC1050 and the DC2010 was $499. It didn't hit me right away that with exactly the same MSRP's, is the current low price on the DC1050 an early discount because the machine is so new? Will the price increase to that of the DC2010 at some point in the future? Time will tell.
Dimensions: Weight=approx. 12 pounds
Accessories
The following accessories are included in the box when you buy the DC1050:
Soft cover
3 bobbins
Pack of 3 additional needles
Spool pin felt
Additional spool pin
Seam ripper
Screwdriver key
Lint brush
Small spool holder
Large spool holder
Spool stand
Consumer Reviews and Ratings of the Janome DC1050
(Back to Top)
There are lots of satisfied Janome DC1050 buyers across the web and sewers love its power and ease of use. The only comment that was a negative had to do with the work light being a little dim. This can be addressed with an attached snake LED light.
It's great for quilting and a variety of projects. More than one person has commented that it sews like butter, just sailing through material very straight and without hesitation. The stitch quality is very high. Anyone who moved up from a more basic machine fell in love with how much more simple it was to complete projects because of the controls. Most don't end up needing the foot pedal at all. They just set the speed and use the buttons to begin and stop sewing.  Beginners won't have any problem figuring out the controls, threading, and general operation.
As one of the lowest priced Janomes with this many features, it's a great deal and well liked.
You can read more here: Consumer Ratings
Average Rating: 4.6
Pros, Cons & Manual

Pros: Excellent price point. Includes my favorite set of controls: Start/Stop button, Needle Up/Down button and speed control. A great set of decorative stitches. Very light weight.

Cons: Limited number of presser feet included in initial purchase but more can be bought separately. Twin needle capable but twin needle not included.
Manual available online here: Janome DC1050 Manual
Manufacturer's Warranty: In the US, as of this date, the Janome DC1050 sewing machine comes with a 20 year warranty on parts, 2 years on electrical, 1 year on labor and may be voided by certain activities.
Comparison shop these two stores for the best price:
COMPARE PRICES
Amazon
Overstock
Features Summary Review: