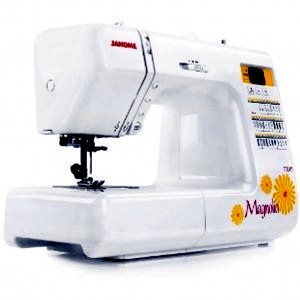 The Janome 7330 Magnolia is one of the least finicky machines for beginners (so say other users!).
It is the top of the line in the series and as I read over the features and functionality, I knew I'd just seen nearly identical performance in another machine review – the Janome AQS 2009.
Both machines are great for quilters, beginner or experienced, but whereas the AQS was built for portability, this one is a full size sewing machine.

Table of Contents
(Click Ahead!)
Stitch Count / Presser Feet / Features / Accessories / Customer Reviews / Pros, Cons & Manual
REVIEW SUMMARY
MODEL: Janome Magnolia 7330 Sewing Machine
REVIEWED BY: Erin
RATING: 4.8


LAST UPDATED: April 9, 2015

COMPARE PRICES
Amazon
Overstock
It's larger, sturdier, and comes with more stitches. All of the features that make the AQS super simple to use like push button controls, automatic bobbin winder, goof proof automatic tension control, start/stop sewing, and speed control are included, too. (Of course, larger and sturdier often equate to a higher price and this one runs about $100 more than the AQS.)
The additional buttonhole styles and sturdy seam stitches are meant to assist with garment construction and the machine's size, weight, and aluminum body allow it to tackle multiple layers of denim and canvas.
Lots of Buttonhole Styles and Utility Stitches
(Back to Top)
There are 30 built in stitches, including 6 styles of 1-step buttonholes. Stitch width is adjustable to 7mm and stitch length is adjustable to 5mm, depending on the stitch. Simple plus/minus buttons control width and length after your stitch selection has been made. While thread tension is automatic and includes the Janome precision that produces smooth and controlled stitches, it is also adjustable as needed for more complex stitch projects.
Straight
Straight Stitch (needle in left position)
Lock-o-Matic

Straight Stitch with Auto-Lock
Straight Stretch Stitch
Durable Stretch Stitch
Patchwork and Quilting Sculpture Stitch
Zigzag
Multiple Stitch Zigzag (Tricot)
Overcasting
Overlock
Double Overedge
Blind Hem
Stretch Blind Hem
Shell Tucking
Square Buttonhole
Round-end Buttonhole
Keyhole Buttonhole
Stretch Buttonhole Stitch
Knit Buttonhole
Antique Buttonhole
Darning
Tacking Stitch
Domino Satin Stitch
Decorative Satin Stitch fMC3500 (isn't that a pleasant name? It looks like an elliptical satin stitch)
Decorative Satin Stitch (they didn't even give this one a number – poor stitch! It looks like a leaf satin stitch)
Crescent
Applique Stitch
Patchwork
Decorative Patchwork and Quilting Stitch
(The work involved in being able to list the stitch names in each review for some of these machines is truly an investigative process. Boggles my mind how many product listings not only don't list the stitch names but also don't offer a picture of them. Do retailers really think people don't need to know what the stitches look like that come with a sewing machine they might buy online? Beginners, in particular, want to know what they're going to be able to do automatically with stitch patterns!)
Just the Basic Presser Feet
(Back to Top)
Presser foot height has three levels including down, up and extra-up to accommodate thick fabrics and quilting projects. There are four snap-on style, low shank presser feet included:
General Purpose Foot
Zipper
Satin Stitch
Automatic Buttonhole Foot
Has All My Favorite Controls and Features
(Back to Top)

This is literally easy, push-button sewing. The only knob on the machine is the hand crank. Everything else is operated with push buttons and sliders. Even the foot pedal is unnecessary using the speed control slider and the Start/Stop sewing button. There are buttons to select your stitch pattern, a button for reverse stitching, and a memory button to instruct your needle to stop in the up or down position as you need. Makes tight corners a breeze since you can keep the needle in the down position as you rotate your material.
For beginners, things like the automatic needle threader, automatic bobbin winder, top loading bobbin with see through cover, automatic thread tension, jam proof bobbin system, and a nice, slow-starting machine speed help you learn with far less aggravation than machines that have picky thread tension settings, more manual operation, or lurching foot pedals. One action that can result in thread jams is sewing off the edge of the fabric but not on this machine.
The drop feed dog system allows for free motion quilting, free motion embroidery, darning, and button attachment. With the push of a button, you can also repeat and reinforce your buttonhole stitches.
The feed dogs have 7 points – one of the most efficient feed dog designs in this price range. More points equate to smoother, more consistent fabric flow.
There's a carrying handle, a bright LED screen display, work light, accessory storage within the extension arm, and the extension arm removes for free-arm sewing.
It uses the horizontal top thread delivery for smoother thread flow.
The needle position is variable with 3 possible positions.
There are several key differences between this machine and the next one down in the series, the Magnolia 7318. First, the 7330 is slightly larger, it has a better feed dog system, has more automation (automatic needle threader, push button controls, etc.), more built-in stitches, and 1-step automatic buttonholes instead of 4-step.
Update July 16, 2010: I went out to compare sewing machines on my potential buy list today, including this one. I was fortunate enough to find a local store that had a great selection of Janome machines to demo. While I thought I might prefer the Janome Sewist or the Threadbanger TB30, I actually LOVED the Magnolia.

It had a slightly larger work space – maybe an extra inch or two between the needle arm and the body of the sewing machine. The stitches were nice and even (as I found to be the case with all the Janomes I tested). The base was wide and solid. The work light was bright. The sewing machine ran quietly and it was really easy to use. Just an overall attractive, well-performing sewing machine.

I didn't buy it only because the in-store price was more than Amazon so I think I'm going to order online. If I do, I'll do a video demo in the near future.

Update July 19, 2010: I DID buy it after all!!! Just got it and have been playing around with it. I'm inserting some pictures and my initial thoughts below. Keep reading!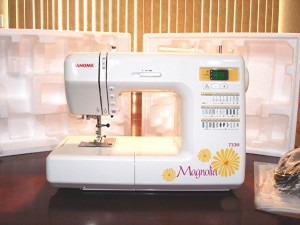 I actually have a picture of it in the box sitting on my table and then thought that might not be the exciting shot you'd want to see so here it is just unpacked with the styrofoam packaging behind it.
I was able to get a bobbin loaded and the top thread through the lay in slots easily. The directions were crystal clear. I thought it would take me a bit to figure out how to use the automatic needle threader but it worked like a charm, too.
The snap-on presser feet are a breeze to change – you just push the foot release button and the foot falls off. Slide the new one under the needle arm, lower the presser foot lever and the new foot snaps into place.
My two new favorite buttons? The Start/Stop button (I never even attached the foot pedal – just been sewing along with the button itself) and the Needle Up/Down button. I haven't even used the hand wheel. Just position the fabric under the presser foot and one push of the Up/Down button lowers the needle into the fabric. Lower the presser foot and on you go.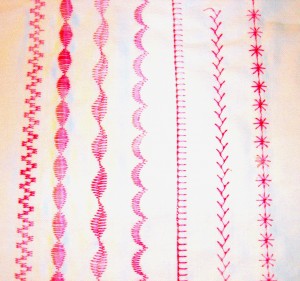 Here's a sample of some of the decorative stitches. I used a white linen napkin – the last remaining survivor of a set I once had – and some pink thread to see if the stitches would stand out clearly enough for a photo. I don't think the picture does them justice. Can't tell you how many times I've run my fingers over those stitches because they just look so pretty.
In fact, if I have one regret it's that I didn't hold out for more decorative stitches. I'm not sure what I'd DO with more of them but they're so tempting! (I may end up with an embroidery machine one of these days…!)
Anyway, it sews like a dream. I hardly have to guide the fabric at all and there's plenty of room for my hand between the needle arm and the machine and still be out of the way of the needle screw while it's sewing. I had it on the kitchen table in the same room where my husband was watching TV. He turned the volume up a couple of notches but that was all. It's really very quiet.
FINALLY! I finally got around to doing the video review. The challenge was finding a spot in my house with decent light so that the view was decent. My current project is a cover for my little baby. Just picked the fabric up a few days ago. (And then it got deleted from YouTube…?!)
Dimensions: L 15″ x H 11″ x W 7″
Machine Weight: 18.2 lbs
Accessories
(Back to Top)
These are the included sewing notions:
Screwdriver
4 Bobbins
3 pack of needles
Seam Ripper
Additional Spool Pin
2 Spool Holders (small and large)
Spool Stand
Felt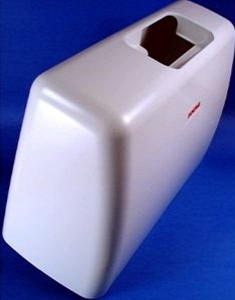 If you want to take the machine with you when you travel or need to transport it back and forth to classes or clubs get the hard cover carrying case. It's Janome part #479701118.
Excellent Ratings from Other Users (and Me, Too!)
Great for a first time sewer looking for a machine that will grow with them. Simple to use, powerful, non-finicky (referring to precision thread tension). Easily punched through 6 layers of denim. Strong enough to get through most clothes and craft projects. Detailed instruction manual. Easy, push button operation. Quieter than comparable machines. Smooth and consistent stitches. Easy to setup and go. Bobbin winder works very well. Many comments regarding the lack of "fiddling" or "adjusting" needed to work on your projects. Nice stitch selection. There is 1 review on Overstock for 5.0 stars.
There are 7 reviews on Amazon (some quite lengthy and detailed!). You can read more here: User Comments
Average Rating: 4.8
Pros, Cons & Manual

Pros: Push button control. Superior feed dog system. Drop feed dog system. Automatic needle threader. Top loading, jam proof bobbin. Convenient buttons for start/stop sewing, needle up/down memory, and reverse. Ability to sew without the foot pedal. Capable of handling thin and thick fabrics. Sturdy machine size and weight.

Cons: Presser foot pressure is not adjustable. Not a lot of decorative stitches (flowers, vines, shapes). Doesn't come with a cover or case.
One negative I've just discovered (May 22, 2012) is that the 7330 cannot be used to darn holes in the knees of denim jeans. My 8 year old has worn through the knees of every single pair of pants he owns including the three pairs we just purchased less than two months ago. (The kid just CAN'T seem to stay off the ground!) My mother was visiting and we decided to try darning all those holes to get more life out the pants and discovered that the way this machine does a darning stitch makes it impossible to use when darning tubular pieces of fabric.
To darn with this machine requires that you use the buttonhole foot and sew lengths of stitches in first one direction, flip the material 90 degrees and sew lengths of stitches across the first set. Because I'm working on a round pant leg, I can do the stitches one way, but I can't rotate the 90 degrees and get the pants over the free arm. Bummer. I could rip the seam out down the side of the leg, darn the hole, and stitch the pants back up but I'd have to do that to each leg for each pair of pants and that's a LOT more work than I intended for $10 jeans. I still love the machine, don't get me wrong, but if you need to be able to use yours to darn large holes in knees, this one isn't your best option.
Manual available online here: Online Manual
Manufacturer's Warranty: In the US, as of this date, it comes with a 20 year warranty on parts, 2 years on electrical, 1 year on labor and may be voided by certain activities.
Check the prices at the following to find the best deal:
COMPARE PRICES
Amazon
Overstock
Features Summary Review: