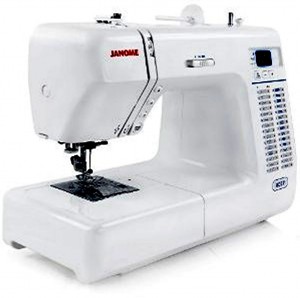 The Janome 8077 features and stitches might look awfully familiar and yet you'll have a hard time finding anything out about this particular model from Janome. There's no listing for it on their website and no manual available online. Why? Because it is exactly like the Janome Magnolia 7330 but without the pretty Magnolia graphics.
My guess is that this model was manufactured originally for another country or maybe it was a private label arrangement with some company at one point because Hancock Fabrics appears to have sold this machine for an extended period of time.

Table of Contents
(Click Ahead!)
Stitch Count / Presser Feet / Functionality / Accessories / Customer Reviews / Pros, Cons & Manual
REVIEW SUMMARY
MODEL: Janome 8077 Sewing Machine
REVIEWED BY: Erin
RATING: 4.6


LAST UPDATED: April 9, 2015

COMPARE PRICES
Amazon
Overstock
This is a good sized sewing machine, sturdy and capable of standing up to heavy layers of denim. Stitches are even and of high quality. While it might not have the yellow flowers and purple trim of its twin, it does have a nice, clean control panel that is just as easy to navigate.
It's also slightly less expensive than the 7330 (read about it here).
Good, Basic Stitch Set
(Back to Top)
This sewing machine comes with 30 built-in stitches including six styles of 1-step buttonholes. Stitch width is adjustable to 7mm and stitch length adjustable to 5mm for certain stitches. Top thread tension is adjustable. There are 15 possible needle position settings.
Following are the names of the built-in stitches along with pictures of the stitches: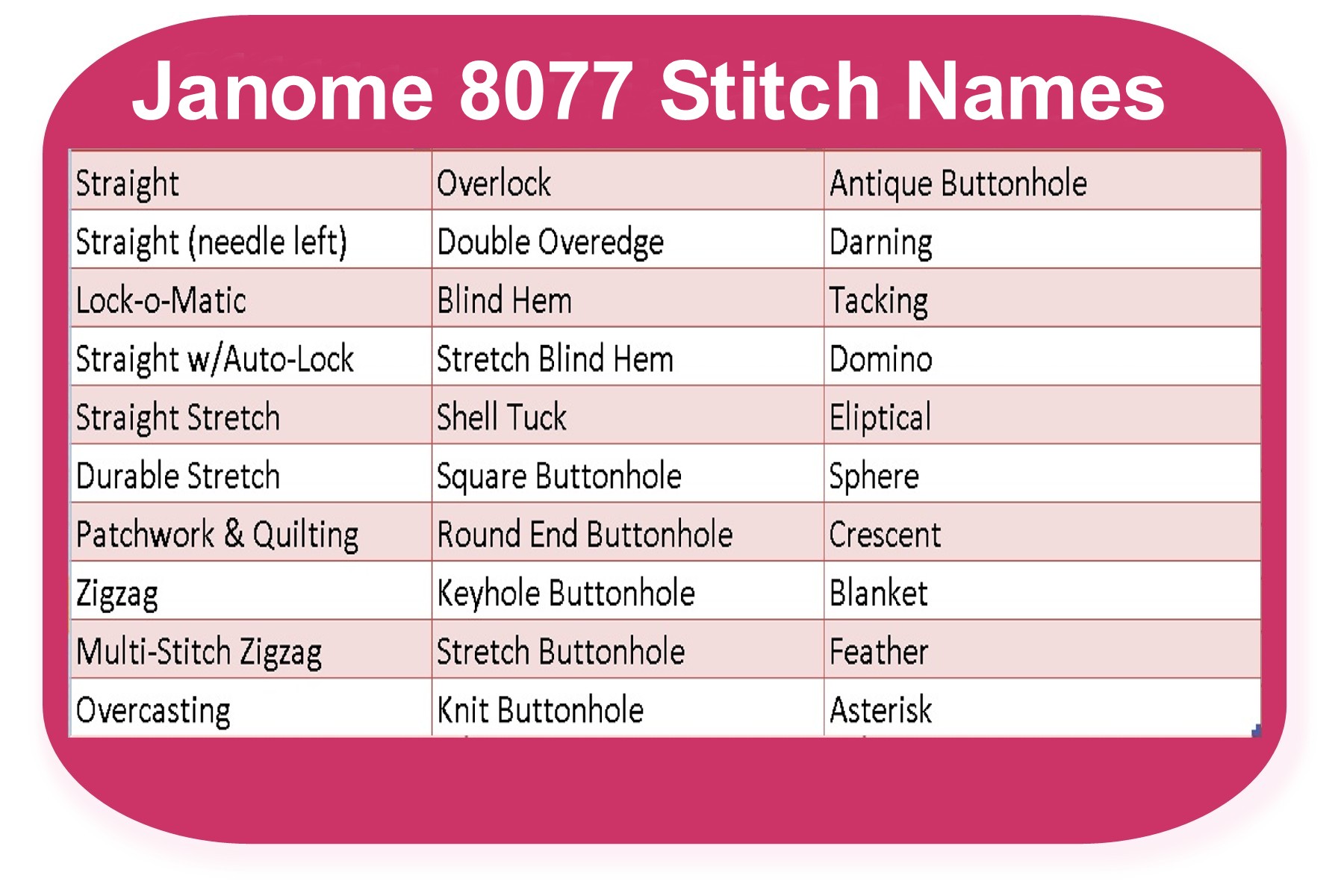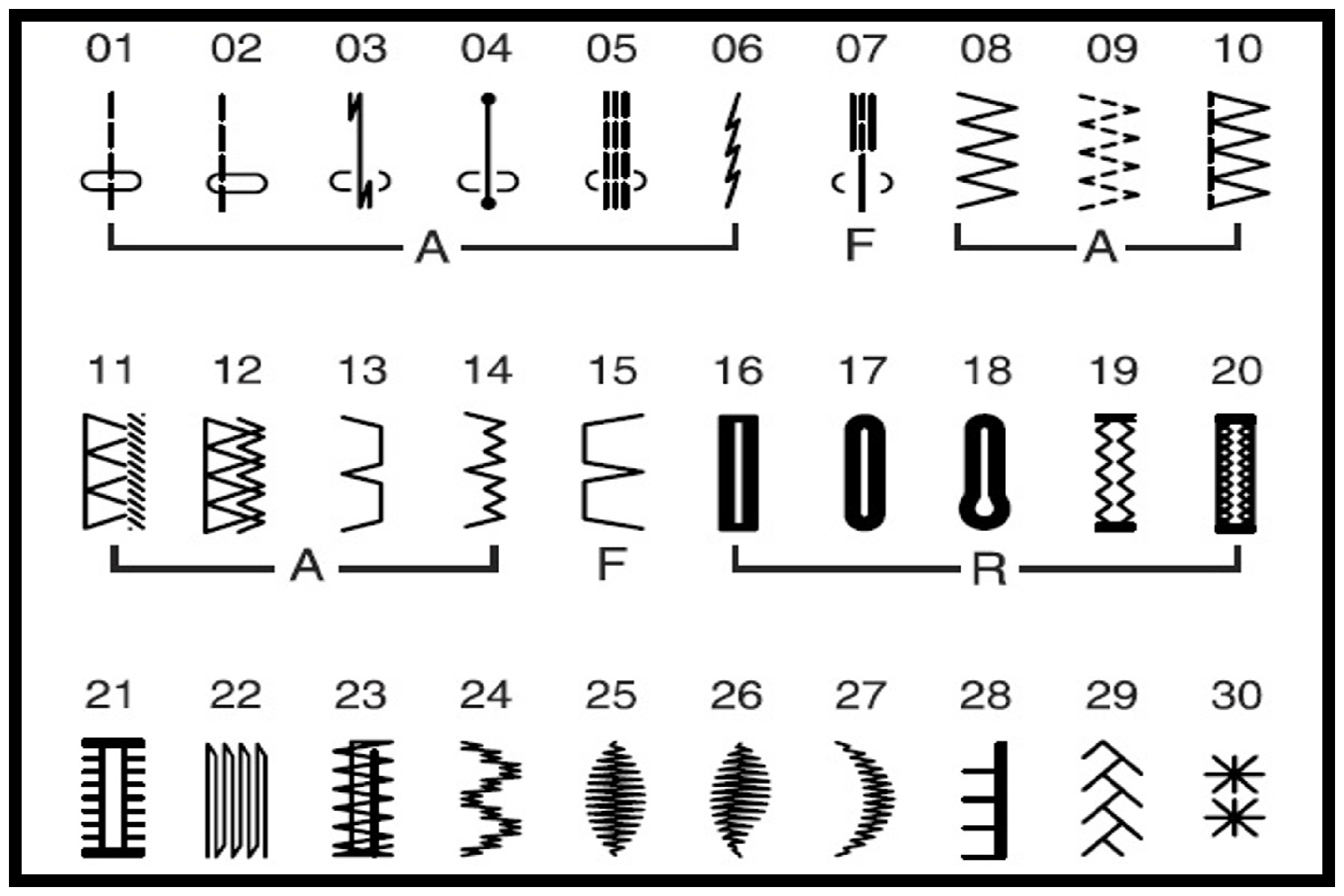 You'll see there are a few quilting and decorative satin stitches along with the most important utility and garment construction stitches plus a great selection of buttonhole styles.
Just Enough Presser Feet
(Back to Top)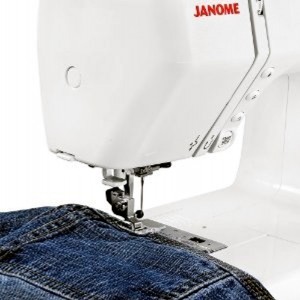 There are four included snap-on presser feet:
General Purpose Foot
Zipper Foot
Satin Stitch Foot
Automatic Buttonhole Foot
The presser foot lever has three height settings including the standard down position, up used for removing or inserting your fabrics, and an extra high up setting for working with thicker layers of fabric.
Presser foot pressure is automatic and not manually adjustable but the machine is designed to handle sheer fabrics as well as heavy-weight fabrics.
The Automation Makes Sewing So Easy
(Back to Top)
The worst part of getting ready to sew is always the process of setting up the machine – winding the bobbin, threading the machine, pulling up the bobbin thread and checking top thread tension. All of that has been made nearly effortless.
Easy Machine Threading
Automatic bobbin winder stops when the bobbin is full.
Top drop-in, jam-proof bobbin system takes care of pulling up the bobbin thread for you. For beginners, it doesn't take long to learn that sewing off of the edge of your fabric can jam up machine thread pretty quickly – not here.
Easy to follow threading guidelines for top thread.
Automatic needle threader makes it a snap to get the thread through the eye of the needle.
Horizontal top thread delivery reduces thread breakage and has been shown to deliver thread more smoothly than the traditional vertical thread delivery set up.
Push Button Controls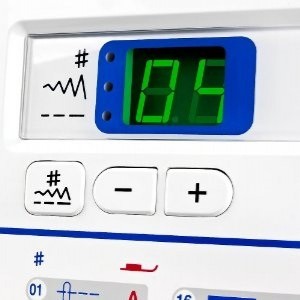 With the touch of a button, you decide which features you want the machine to apply during sewing:
Start/Stop Button – Sew with the push of a button. No need to use the foot pedal.
Reverse Button – Conveniently located above the needle arm.
Needle Up/Down Button – You decide if the needle will stop in the up or down position. This is a huge help in making perfectly tight corners.
Auto Lock Button – Takes care of tying off your stitches.
Speed Control Slider – Want to take it slow? A beginner just learning to sew? Teaching a young child how to put together their first quilt? Reduce the maximum sewing speed with a slide of this button and the machine will stay under that limit.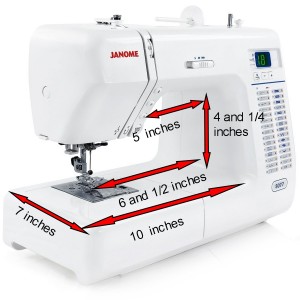 There's a nice sized throat space to work with and I've laid out the dimensions in this photo.
This sewing machine has a superior feed dog system – 7 point contact in a box rotation pattern for extremely consistent fabric movement.
The bobbin cover is see-through so you know how much thread you have left before you launch into your project. There's a bright LED light over the needle arm and a built-in carry handle so you can easily move the machine around your house.
The drop feed dog system allows for free motion quilting, free motion embroidery, darning, and button attachment. With the push of a button, you can also repeat and reinforce your buttonhole stitches.
The extension arm can be removed for free-arm sewing.
Dimensions: Approximately L 16" x W 11" x D 7"
Machine Weight: 18.2 lbs

Includes These Sewing Accessories
(Back to Top)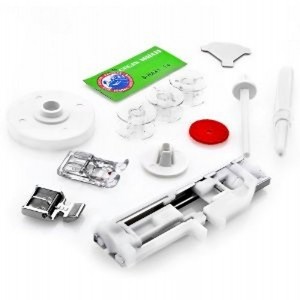 An assortment of tools and sewing accessories store inside an accessory bag that tucks into the machine's extension arm:
Screwdriver
4 Bobbins
3 pack of needles
Seam Ripper
Additional Spool Pin
2 Spool Holders (small and large)
Spool Stand
Felt
Well Loved By Those Who Have One
Considering you get all the bells and whistles that come with the Magnolia 7330 for a cheaper price, what's not to love? Most users like the reliability you get with the Janome name and this machine truly does excellent stitch work. It sews straight with little guidance, provides consistent power, and is easy to use. It may not have all the stitches found on some of the less expensive brands on the market but it's a solid machine built to last.
Users rated it as being very quiet, easy to use, and great for all kinds of sewing projects.
A total of 20 reviews have been added to Amazon and users are giving this machine an excellent rating.
Average Rating: 4.6
Pros, Cons & Manual

Pros: Superior feed dog system. Drop feed dog functionality. Easy bobbin system. Automatic needle threader. Start/Stop button. Needle Up/Down button. Speed control slider. Able to sew without the foot pedal. Precision stitching. Sturdy machine size and weight.



Cons: Presser foot pressure is not adjustable. Not as many decorative stitches as some other machines. No cover or case included with purchase. The machine uses the buttonhole foot and stitches for darning. This is fine unless you have to darn holes in circular fabric like the knees on pant legs. Because you have to rotate the clothing 90 degrees to complete the darning stitch and since the material is round and only slips over the free arm in one direction, you can't darn those areas. A minor draw back unless you really need a machine to darn holes in pants.

I can't locate the manual online but you can see the one for the Magnolia here and as they are the same machine this should suffice: Manual

Manufacturer's Warranty: In the US, as of this date, it comes with a 20 year warranty on parts, 2 years on electrical, 1 year on labor and may be voided by certain activities.
Compare prices at these stores to get the best deal:
COMPARE PRICES
Amazon
Overstock
Features Summary Review: