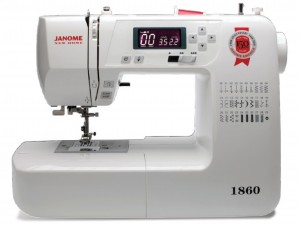 The Janome JNH1860 sewing machine commemorates Janome's celebration of 150 years of great sewing.
It's a great showcase of some of the best in automation and quick set up along with a beautiful collection of stitches.
This one's not yet available online so I'm off to visit my local dealer to gather more information in the next day or two. Wanted to post this much, at least, to satisfy the request from a recent site visitor. 😉
Table of Contents
(Click Ahead!)
Stitch Count / Presser Feet / Functionality / Accessories / Customer Reviews / Pros, Cons & Manual
REVIEW SUMMARY
MODEL: Janome JNH1860
REVIEWED BY: Erin
RATING: 4.3


LAST UPDATED: April 9, 2015

COMPARE PRICES
DISCONTINUED
The JNH in the model name stands for "Janome New Home". Janome bought New Home, a sewing machine manufacturer, back in 1960 and as part of their 150 year celebration this particular machine gives a nod to the successful integration of two popular sewing machine brands.
Stitch Count
(Back to Top)
There are 30 built in stitches including 3 1-step, automatic buttonhole styles. Maximum stitch length is adjustable to 5mm and stitch width is adjustable to 7mm.
Stitches are a nice blend of patterns. As you'd expect, you've got straight, zigzag, and the always handy blind hem stitches as well as overedge stitches, a few satin stitches, a few cross stitches, and – my favorite – the star (asterisk) stitch. There's also a darning stitch for mending torn fabrics or clothes and an eyelet punch stitch.
Buttonhole styles include the rectangular bartack style, the round-end buttonhole, and the keyhole buttonhole.
Top thread tension is automatically set and also manually adjustable as needed using a dial by the thread lay in channel.
You can see the stitches in the image below: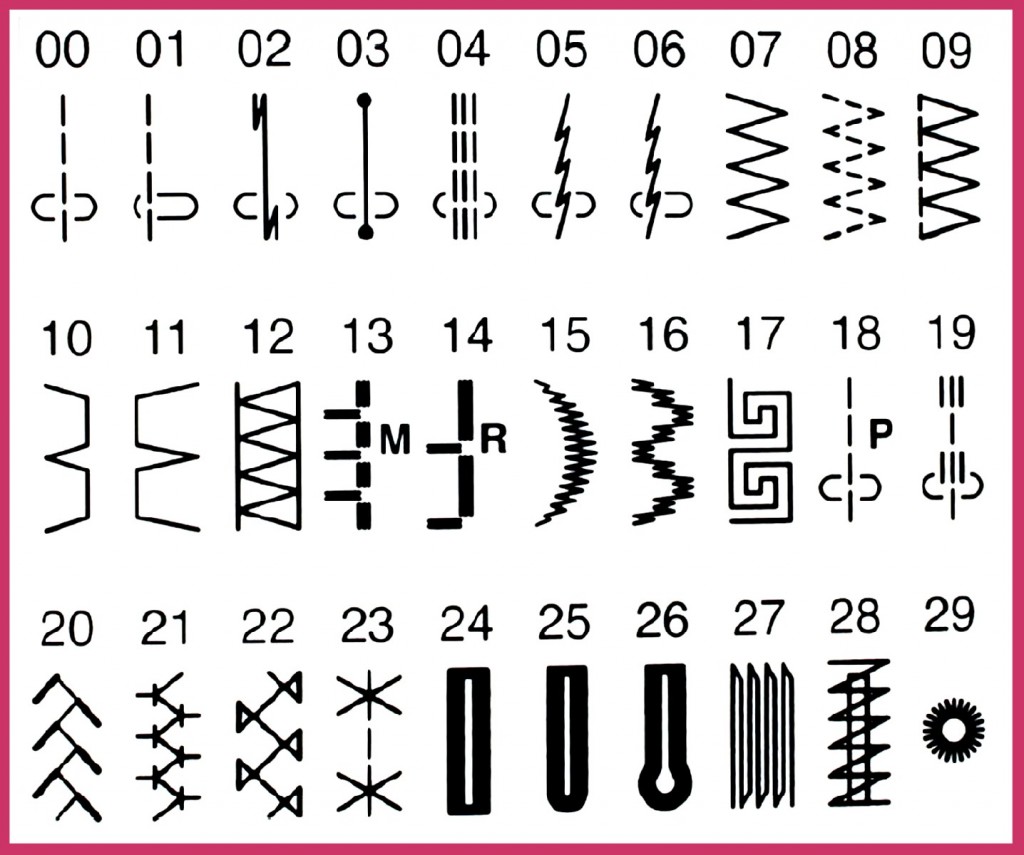 Presser Feet
(Back to Top)
You get five snap-on presser feet with your purchase:
General Presser Foot
Buttonhole Foot
Blind Hem Presser Foot
Overedge Foot
Zipper Foot
Most of these presser feet are a combination of plastic and a coated metal. I have the Janome Magnolia 7330 and some of the presser feet are the same. The General Purpose foot is all plastic but is still very sturdy.
Functionality
(Back to Top)
You know a machine designed to celebrate so many years of sewing technology has got to include some of the best automation and this one does not disappoint. There are a few important features I look for to keep thread tangles and breakage to a minimum as well as features that make it easy for anyone to use the machine. These are all included:
Automatic needle threader
Horizontal thread delivery
Jam proof bobbin
Auto-declutch bobbin winder
Drop in bobbin
Strong feed dog (7 piece)
Speed control slider (this plus the Start/Stop button means you can sew without the foot pedal)
Operating buttons on the front of the machine let you scroll through stitch selection and stitch settings. Additional buttons help you sew and control the needle:
Start/Stop button
Reverse button
Needle Up/Down button
Auto-lock button
There's a drop feed dog lever in the back of the machine so that you can use the darning plate or do free-motion quilting and embroidery.
The extension table removes so you can do circular sewing on a narrow free arm.
The maximum sewing speed is 820 stitches per minute. There is a built in, fold down handle on the top of the machine, a bright LED light over the work space, and a well marked needle plate.
You might compare this model to the Janome Magnolia 7330 or the Threadbanger TB30 but there are some key differences:

While each have 30 built in stitches, the collections are different.
The JNH1860 has a longer extension table and an upgraded, backlit digital LED screen.
The JNH1860 is a full size machine but weighs significantly less than the other two (12 pounds vs. 18 pounds for the other two machines)
Dimensions: TBD
Weight: 12 pounds
Accessories
(Back to Top)
Whoa! A sewing machine that actually designed the accessory storage compartment in a way that makes sense! Instead of having to remove the extension table to reach inside and find your accessories, they're stored in a pull down tray in the front of the machine. Much more readily accessible!
Accessories include:
Soft dust cover
3 extra bobbins
3 extra needles
Screwdriver
Additional spool pin
2 spool caps (large and small)
Spool felt
Seam ripper
Brush
Customer Reviews
(Back to Top)
Not a lot of online information yet.

Average Rating: 4.3
Pros, Cons & Manual
(Back to Top)



Pros: Dust cover included. Automatic needle threader. Needle up/down button. Speed control slider. Full size but extremely light weight. Great accessory accessibility.

Cons: Pressure foot pressure is not adjustable. The light weight could be an issue when working on large projects. Heavy, full size quilts can push around lighter machines.
Manual is not available online at the time of this review.
Manufacturer's Warranty: In the US, as of this date, the JNH1860 comes with a 20 year warranty on parts, 2 years on electrical, 1 year on labor and may be voided by certain activities.
Features Summary Review: