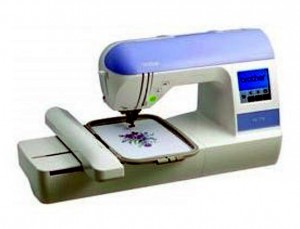 Compare the PE770, PE780D and the Janome MC300E and find out which of these machines offers you the best combination of price and features.
Earlier this week, a sweet woman who visits this blog asked for some advice. She's in the market for an embroidery machine she can use to create finished goods that she'll be selling. (As an entrepreneur myself, I get all goose-pimply when someone mentions they're starting their own business. All those possibilities!)

There were three embroidery-only machines that cost under $1000 but the lowest priced option was almost $350 less than the most expensive. Now more than ever, people are watching their pennies so of course we want to know if the lowest priced machine is really a bargain or are there features on the more expensive models that are worth the added cost?
We'll compare features, discuss how to interpret differences between the machines, and then figure out how to choose the best one.
Compare Side by Side
The first step in comparing sewing or embroidery machines is to make a long list of features and options that are common to those kinds of machines, add a column for each machine on your list, and start reading online or in stores to fill in the boxes for each machine. (I probably browse several hundred pages of information just to compare two machines.)
During that exercise, lots of things jump out at you. Sometimes what you discover is that two of the machines on your list are so very nearly identical that you're not sure how they're different at all. That was the case here.
The PE770 and the PE780D (only available in stores) are the same machine in every way except two:

The Pe780D (D standing for Disney…) comes with 35 Disney character embroidery patterns.
The PE780D can read Disney character embroidery cards (purchased separately).
That's it. Everything else is the same. The machines look the same, operate the same, have the same non-Disney designs, the same power, the same maximum embroidery size and the same control screen. If your choices are narrowed down to just these two embroidery-only machines, the choice is simple – do you want to pay an extra $250 for the ability to embroider Disney characters or not?
(Keep in mind – you can't sell any work produced with the Disney characters. You can only use those designs for personal use. Selling them would likely result in a trademark violation.)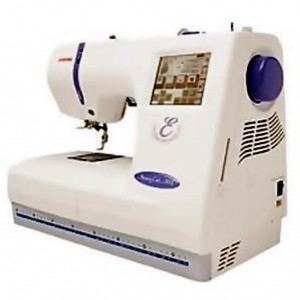 Then there's the Janome Memory Craft MC300E. It's the most expensive of the three options but really only about $100 more than the PE780D and it carries the Janome reputation for quality and precision stitching.
Having figured out that two of our machines are the same minus the Disney designs, how do the Brother embroidery machines compare to the Janome? The following table outlines the specifics for each as they relate to critical embroidery functions:
| Embroidery-Only Machines | Brother PE770 | Brother PE780D | Janome MC300E |
| --- | --- | --- | --- |
| Price | *CLICK* for Brother PE770 Current Price | Approx $900 | *CLICK* for Janome Memory Craft MC300E Current Price |
| # of Disney patterns | 0 | 35 | 0 |
| # of non-Disney patterns | 136 | 136 | 90 |
| USB/Memory Stick | YES | YES | NO/PC Link & Flash Card |
| Max embroidery size | 5x7 | 5x7 | 5.5x7.9 |
| # of Fonts | 6 | 6 | 3 |
| # of Hoops included | 1 (5x7) | 1 (5x7) | 2 (5.5x7.9 and 5x4.3) |
| Other hoops available | YES | YES | YES |
| Embroidery card slot | YES | YES | YES |
| On-screen editing | YES | YES | YES |
| Frames/Border | 10/12 | 10/12 | Accomplished through combining patterns |
| Embroidery Speed | 650 stitches per minute | 650 stitches per minute | 650 stitches per minute |
| Rotation | 1, 10, 90 degree increments | 1, 10, 90 degree increments | 45 degree increments |
| Screen size | 1.6" x 3" | 1.6" x 3" | 4.7" |
| Design formats | .pes | .pes | .jef |
| Dust Cover | YES | YES | YES |
| Presser Feet | 1 | 1 | 1 |
| Bobbin Winding | Super Easy System | Super Easy System | Auto |
| Bobbin Loading | Quick Set™ | Quick Set™ | Drop-in |
| Automatic Needle Threader | YES | YES | YES |
| Automatic Thread Cutter | YES | YES | NO |
| Monogramming | YES | YES | YES |
| Built in memory | YES (512KB) | YES (512KB) | YES |
| Resize | Increase/Decrease in increments | Increase/Decrease in increments | 90%, 110%, 120% |
| Flip | YES | YES | Vertical and Horizontal |
| Tracing | Check Position Feature | Check Position Feature | Tracing |
| Zoom | NO | NO | YES |
| Stitch Counter | YES | YES | YES |
| Thread Sensors | NO | NO | YES |
| Customization Settings | YES | YES | YES |
| Combine Designs | Can only combine font characters and then only within the same font | Can only combine font characters and then only within the same font | YES |
| Start/Stop Button | YES | YES | YES |
| Needle Up/Down | YES | YES | NO |
| Adjustable max speed | YES | YES | YES |
| Time to Complete | YES | YES | YES |
| Progress Information | YES | YES | YES |
| Applique | YES | YES | YES |
| Janome Clothsetter | NO | NO | YES |
| Dimensions | L - 21.26" x W - 16.77" x H - 17.28" | L - 21.26" x W - 16.77" x H - 17.28" | L - 22" x W - 15" x H - 21" |
Interpret the Differences
The next step in comparing machines is to interpret the differences. Where machines are different, there could be an impact to how efficient the machine is for the kind of work you want to do. We'll leave price out of this part of the equation because we're looking only at what the machines do, how they do it, and how that will play into making our lives easier.
(Since the PE770 and the PE780D are essentially the same, I'll only refer to the PE770 in the following comparisons but any reference to that machine applies equally to the PE780D.)
Transferring Embroidery Designs
A big chunk of fun when you have  an embroidery machine is the ability to add new designs you find or buy online once you've exhausted the ones that came built into the machine.  Getting designs from the internet to the machine is done differently on the PE770 than it is on the MC300E.
The PE770 has a USB port so you can connect your computer or laptop by USB cord or you can use a USB memory stick to transfer designs.
The Janome MC300E uses flash cards (those ATA cards that look like the ones you put in card readers or your digital camera).
THE IMPACT: Computers have had USB ports for years and years now so it's very likely that you will be able to connect your PE770 to your computer right out of the box and it's also very likely that you have a thumb drive/memory stick/USB drive hanging around.  (Heck, I have two in my purse because I'm a bit of a geek.)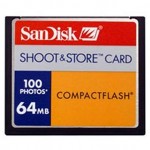 Flash cards, though?  I use to have one along with a flash card reader to use with my camera…three cameras ago.  I don't even know where they are anymore.  To transfer designs to the Janome MC300E, you're going to have to first BUY the flash card (Shoot & Store Compactflash® Card
),  and buy the appropriate PCMCIA flash card adapter, and – if your computer or laptop doesn't have one built in – a flash card reader (Kingston 19-in-1 USB 2.0 Flash Memory Card Reader FCR-HS219/1
.
Decide for yourself based on your current computer/laptop situation whether or not you'd be better off with a USB connection or a flash card arrangement and keep the added costs of the flash card and reader in mind.
Larger Maximum Embroidery Size of the MC300E
The MC300E has a maximum embroidery size of 5.5 inches by 7.9 inches while the PE770 has a maximum embroidery size of 5 inches by 7 inches.
THE IMPACT: The larger the maximum embroidery space you have, the less often you'll have to re-hoop when you're embroidering designs that are larger than that maximum space.
If you were working on a table runner and doing a scroll design down the center from one end to another, you couldn't do it in one hooping. You'd have to do a section of no more than 5×7 or 5.5×7.9 and then re-hoop, do another section, re-hoop, do another section, etc. If you were comparing a machine with a maximum field of 4×4 to a machine with a field of 7×12, you'd see some significant time savings in working on larger projects but the MC300E has only a half inch larger embroidery space in one direction and almost an inch in the other direction and that's not really a major difference.
Brother PE770 Embroidery Frames and Borders
This model has 10 built in frames and 12 built in borders. Just like frames and borders you put on your digital pictures in an online scrapbook, these frames and borders are lines of stitches that surround your actual embroidery design to make it stand out.
The Janome Memory Craft MC300E does not have the same type of frame and border option, however, you can combine multiple embroidery patterns so that you can select a scroll circle or square shape and use that as a frame for another embroidery pattern.
THE IMPACT: You have fixed frames and borders on the PE770 but endless numbers of frame options on the MC300E by just combining patterns. You could accomplish the same thing on the PE770 but you'd have to manually combine designs which isn't quite as fast as combining them on the screen of your machine and just pushing the button.
Brother PE770 Embroidery Pattern Rotation
The PE770 allows you to rotate your embroidery pattern in increments of 1, 10, and 90 degree increments. If you want to rotate a pattern 45 degrees, you'd push the 10 degree button four times and the 1 degree button 5 times.
The MC300E rotates in increments of 45 degrees only.
THE IMPACT: You've found a beautiful little tulip embroidery pattern and you want to sprinkle it around the tip of a collar on a little girl's Easter dress. To really "sprinkle" five of these on the collar, you'd have to rotate the fabric inside the hoop in between completing each flower unless you could rotate in small degrees. The PE770 might save you some time because you could rotate in smaller increments. However, you could accomplish the same thing manually with the MC300E.
PE770 vs MC300E LCD Screen Size
The PE770 has a screen size of 1.6 inches by 3 inches. The screen on the MC300E is significantly larger at a 4.7 inches by 4.7 inches.
THE IMPACT: Both of these machines are touch screen so having a larger screen could really be a benefit. It's easier to read the detail on the screen and easier to push the buttons without hitting the wrong one. Those who have vision problems or larger fingers might greatly appreciate the larger screen.
Automatic Thread Cutter
The PE770 has an automatic thread cutter. It's programmable, too, so you can enter it as a field in between the characters of your fonts and let the machine trim threads for you.
The MC300E does not have an automatic thread cutter.
THE IMPACT: One thing you do a lot of when you embroider is snip tiny threads and anytime you can get the machine to do it for you, you're saving yourself time and some cramped fingers.
Embroidery Fonts
The PE770 has 6 built in fonts while the MC300E has only 3. You can buy more for either machine either through online purchases or on embroidery cards that fit into the machines.
THE IMPACT: Whether it's embroidery or writing online, fonts are an important artistic tool. You might want a boxy font to monogram towels in your master bath and a curly font to trim the edge of a kitchen towel. The more choices you have, the better.
Janome MC300E Thread Sensors
The Janome MC300E has upper and lower thread sensors. These sensors monitor thread and tell you when your thread has broken or is running low. The PE770 does not have this feature.
THE IMPACT: If you plan on working on something else while your machine is embroidering, you'll really appreciate this feature because you'll be notified if there's a problem whereas without the sensors, a machine could continue on through steps in the pattern while not actually laying down any thread and you'll have a bit of a headache backing up to where the thread issue took place.
Brother PE770 Needle Up/Down Button
This button automates the traditional turning of the hand-wheel to move the needle in the extreme up or extreme down position. The button is located right by the needle arm so it's easy to reach up and give it a tap when you're done working or when you need to position your needle. The Janome MC300E does not have this button.
THE IMPACT: You can get the needle where you want on either machine it's just you'll have a choice of pushing a button or turning the hand-wheel on one machine and only have the hand-wheel option on the other.
Janome Clothesetter Option for the MC300E
Sometimes it's not what a machine has that makes a difference but what you can buy to go with it that should be considered. There's this neat piece of equipment you can buy to use with the MC300E that's called the Janome Clothesetter 10000. It's a plastic frame with an arm that comes down onto your fabric to help you mark exactly where you need to start up again when working on an over-sized project.
THE IMPACT: If you plan on doing lots of large embroidery designs outside of the maximum embroidery space, having a tool that helps you reposition your fabric accurately could be useful. You might have to shop around to find it but I did see that it was available at AllBrands.com
.
Demo Videos and Detail
The following video demonstrates the capabilities of the PE770:
This video shows the Janome MC300E in action:
Which One Should You Buy?
Assuming all three fit in your budget, choosing between these three embroidery-only machines comes down to a couple of decisions.
First, if you want to embroider Disney character designs, choose the Brother PE780D. That's an easy one.
Second, if you noticed something on the list of differences that would have a meaningful impact on how the machine would work for your specific projects, then your decision is easy there, too.
Finally, if you didn't see anything above that moved you towards the PE770, the PE780D or the MC300E and you don't have a preference for one brand over another, go with the Brother PE770, save yourself about $350 and enjoy the fact that it comes with a few extra features that the Janome model doesn't have like the needle up/down button and the automatic thread cutter.