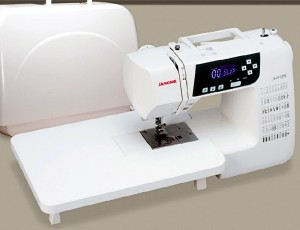 The Janome 3160 QDC sewing machine was built with quilters in mind. All the best quilting needs are built right in! Want to do other types of sewing? No problem.
Beautiful stitches are a given with Janomes but you're also going to get an extra long extension table, the latest feed dog system, complete button operation for all functions and the whole thing is packed into a full-size machine that weighs just over 12 pounds.
Table of Contents
(Click Ahead!)
Stitch Count / Presser Feet / Functionality / Accessories / Customer Reviews / Pros, Cons & Manual
REVIEW SUMMARY
MODEL: Janome 3160QDC Sewing Machine
REVIEWED BY: Erin
RATING: 4.5


LAST UPDATED: April 9, 2015

FIND RETAILER
Janome
Check out these Stitches
(Back to Top)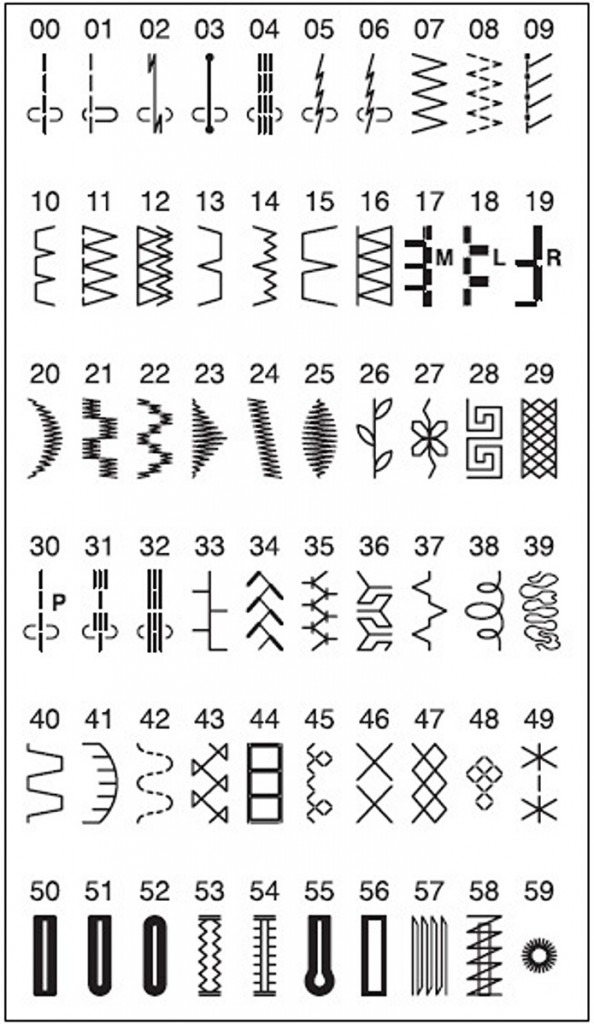 There are a total of 60 built in stitches including six different 1-step buttonhole styles. Utility stitches that secure, attach, and connect fabrics, buttons, and zippers are all included.
Decorative stitches, satin stitches, heirloom designs, popular quilting stitches – they're here, too.
You know those ice cream places where you get to pick your own toppings and get them mixed in? This machine is kind of like that – some fruit, some nuts, some cookie dough…enough variety to keep you occupied for a long time.
Stitch length is adjustable to 5mm and stitch width is adjustable to 7mm.
Stitch selection is accomplished through the four arrow keys on the front of the sewing machine. Those four keys are also used to set choose the settings for each stitch.
This image shows you samples of each stitch.
Nice Assortment of Presser Feet
(Back to Top)
Moving from one stitch type to another is a breeze with snap-on presser feet that are incredibly easy to snap on and off. You get the following presser feet:
Satin Stitch Foot
Zipper Foot
Automatic Buttonhole Foot
Overedge Foot
Blind Hem Foot
¼" Presser Foot
Custom Crafted Zigzag Foot (acts as a general presser foot but with a wider toe for a better view of the stitches as they're being laid down)
Features and Functionality
(Back to Top)
Even basic setup tasks are automated and use the most updated technology so getting this machine up and running is goof proof.
Easy Set Up
Automatic needle threader
Automatic bobbin winder
Drop in bobbin
Computerized Automation Buttons
The computerized operations are well marked and easy to see. Buttons on the front of the machine control almost anything you need including snipping the top and bottom threads when you're done sewing:
Start/stop button (sew without the foot pedal!)
Speed control slider
Reverse button
Auto-lock button
Needle up/down
Thread cutter
Thread Control
If you haven't sewn before, it can be kind of intimidating. You may have heard horror stories from your friends or family about sewing machines that eat fabric or snarl thread. Janome machines are great at eliminating these kinds of problems. You can actually sew right off the fabric and your thread won't jam. Other thread and fabric features include:
Horizontal thread delivery
Easy threading
Superior Feed System PLUS – like having a walking foot built into the sewing machine, the superior 7 piece feed dogs with boxed feed pattern are enhanced with additional feed support so your fabric moves smoothly through the machine. No skipped stitches.
Enhanced Sewing Functions
Adjustable presser foot pressure
Drop feed dog lever
Adjustable top thread tension
Free arm sewing
Machine Design
This unique needle plate they mention actually has a patent pending. There are more lines than previous needle plates as well as angled lines to help with cornering and creative projects.
Extra long free arm
Extra long extension table to support your larger quilting projects
Backlit LCD
Maximum speed of 820 stitches per minute
Horizontal retractable type spool pin
LED lamp
Horizontal rotary hook
Skeleton type body constructions
Folding carry handle
Additional spool pin can be used to wind bobbin thread without unthreading the top thread.
Lots of time saving features mean you can focus more on sewing and less on finicky machine operations.
Dimensions: TBD
Weight: 12.56 pounds
Accessories
(Back to Top)
This has the coolest accessory tray. Rather than removing the extension table to reach inside for accessories, just flip down the storage tray on the front of the machine. All of your presser feet and sewing notions can be kept readily accessible even if you're in the middle of some stitch work.
Accessories include:
3 bobbins
1 spool pin felt
3 extra needles
Additional spool pin
Seam Ripper
Screwdriver (key style)
Lint brush
2 spool holders (large and small)
Spool stand for oversized thread spools
Hard cover
Customer Reviews
(Back to Top)
There aren't a lot of reviews online as this machine is still relatively new, however, those that I've found are clearly divided. Some LOVE this machine. Some complain of a problem with tangled threads. This is interesting (frustrating would probably be the word others would use…) because this is not the sort of thing you hear about Janomes.
My guess (and it's just a guess at this point) is that the combination of adjustable presser foot pressure and adjustable thread tension AND the SFS+ feed dog system may mean that settings, thread, and needle need to be just right for each type of fabric. If you're new to sewing, this might not be the best machine. However, if you're looking for a a sewing machine that will let you fine-tune settings for different fabrics and threads and are comfortable doing so, this is a tempting choice.

Average Rating: 4.5
Pros, Cons & Manual
(Back to Top)



Pros: Pressure foot pressure, easily accessible accessory storage tray, Superior Feed System, speed control slider, drop feed dog lever.

Cons: Not sure about the light weight of the machine standing up to really large quilt projects. Some users have reported issues with the bobbin and having to have the case replaced.
Manual available online here: Manual
Manufacturer's Warranty: In the US, as of this date, the Janome JNH1860 sewing machine comes with a 20 year warranty on parts, 2 years on electrical, 1 year on labor and may be voided by certain activities.
This machine is only available through a dealer. To find the nearest dealer check the link below.
FIND RETAILER
Janome
Features Summary Review: