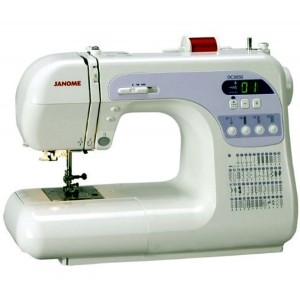 The Janome DC3050 sewing machine
offers precision stitching in a solidly built design with great features. It's pretty, is a nice weight for home use, and – most importantly – is a high quality sewing machine
. Beginners who want to explore a variety of sewing projects will get many years of value from this machine.
It was apparent upon review of all the features, though, that one should compare the DC3050 to the Janome DC2010 for a full understanding of choices and price savings. I've outlined the differences between the two at the end of the Features section of this review.
Table of Contents
(Click Ahead!)
Stitch Count / Presser Feet / Features / Accessories / Customer Reviews / Pros, Cons & Manual
REVIEW SUMMARY
MODEL: Janome DC3050 Sewing Machine
REVIEWED BY: Erin
RATING: 4.8


LAST UPDATED: April 9, 2015

COMPARE PRICES
Amazon
Overstock
Janome DC3050 Sewing Machine Stitches
(Back to Top)
There are a total of 50 built-in stitches with an interesting selection of utility, decorative and heirloom stitches. I think I've pretty much determined the features that are important for me (personally) in selecting a sewing machine so I can quickly say yay or nay depending on my list of requirements.
Where I struggle the most is around comparing the different options for built-in stitches. Which ones do I really think I'd use the most? Which would serve me the best? This is where the "what if I's" come into play. What if I want to get into quilting? What if I want to get into embroidery? If you're going to do anything more than basic alterations and garment construction, choosing a machine with the best set of stitches is probably the most difficult decision.
The selection on this particular sewing machine, however, covers a lot of ground. There are the most used utility stitches, stretch stitches, strong seam stitches for heavy fabrics, some pretty stitches to play with, heirloom stitches, 3 styles of 1-step buttonholes and some quilting stitches. Outside of buying an embroidery sewing machine, this one provides a lot of flexibility for creative sewers and beginners.
Stitch length is adjustable to 5mm and width is adjustable to 7mm for select stitches.
Janome DC3050 Presser Feet
(Back to Top)
Included in the purchase of this sewing machine are four snap-on style, low-shank presser feet:
Zigzag (General Purpose)
Zipper foot
Satin Stitch
Automatic Buttonhole
The presser foot lever has 3 height options: down, up and an extra high up which is ¼" higher than regular up so you can more easily slip thicker fabrics and projects underneath the needle.
Presser foot pressure is NOT adjustable.
Janome DC3050 Features and Strong Fabric Control
(Back to Top)
Janome sewing machines have a reputation for quality stitch work. This is possible because of their standard for using best practices in design and technology.
High Quality Sewing Machine Features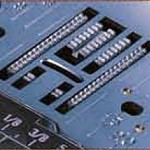 Superior Feed Dog System – 7 point contact, box feed system
Horizontal Thread Delivery
Auto Declutch Bobbin Winding
Bobbin – Top-loading, drop-in jam proof bobbin
Programmable Needle Up/Down Button
Drop Feed Dog Lever
Speed Control Slider Control
Max speed of 820 stitches per minute
Enhanced Features for Ease of Use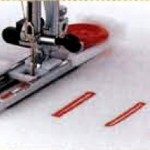 Reverse button conveniently placed above the needle arm
External feed balancing dial
Tension has an automatic setting but is also adjustable
Auto-sensing buttonhole size means less measuring and prep work required for sewing buttonholes
See-through bobbin cover
15 needle positions
Lay-in threading with numbered paths
Automatic needle threader
One hand thread cutter
Additional spool pin allows for bobbin winding without unthreading top thread
Pattern reference guide printed on machine front
The reverse button sews in reverse when pressed while stitching straight or zigzag stitches. For all other stitches, pressing the reverse button will sew several locking stitches and then stop.
The auto-lock button immediately sews a few locking stitches when pressed during the sewing of straight and zigzag stitches. For all other stitches, the machine will wait to finish the complete stitch pattern in process when the button was pressed before sewing a few locking stitches. This way, you don't get half a heart at the end of a run of heart stitches.
Machine Details
2 Digit LED Stitch Pattern Indicator
Free Arm Removable Accessory Tray
Retractable Carrying Handle
Front Position Halogen Lightbulb
DC3050 vs. DC2010
The DC3050 and the DC2010 (click to read my notes on this one) have the same exact set of built-in stitches. That calls for an immediate comparison between the two regarding other features. What's different? Not much except that the DC2010 is currently a better value for your money depending on the price you find for the DC3050.
Both have same number of stitches, the exact same stitch patterns, the same superior feed dog system, needle up/down, same stitch width and length options, and almost the exact same list of features.
These are the only differences: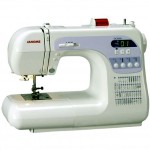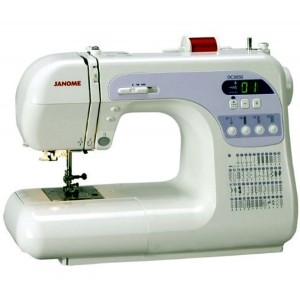 Janome DC3050
4 direct stitch selection buttons
Rounded corners
Lavender/blue trim
Janome DC2010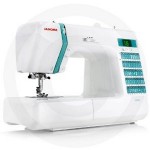 Does not have the 4 direct stitch selection buttons
Square corners
Aqua blue trim
2 extra presser feet (Overedge and Blind Hem presser feet)
Lower price
Price Difference
The DC3050 is currently $479 (check here: DC3050 Price)
The DC2010 is currently $399 (check here: DC2010 Price)
So, in exchange for giving up the four single-touch stitch selection buttons, you'd get two extra presser feet AND save $80 if you buy the DC2010 at that lower price. You still get the stitches those four single buttons select, it's just that you'd have to use the up/down arrow keys to select the stitch numbers vs. the one-touch selection feature for those four stitches.
Dimensions: L 19" x H 15" x W 11"
Weight: 18.2 pounds

Video Demonstration of the Janome DC3050
Here's a video review of the Janome DC3050 showing you some of the highlights of the automation features.
Accessories
(Back to Top)
Sewing accessories that come with this sewing machine include:
Screwdriver
4 Bobbins
3 needles
Seam Ripper
Additional Spool Pin
2 spool holders (small and large)
Spool Stand
Felt
Consumer Reviews and Ratings for the Janome DC3050 Sewing Machine
Those who have worked with this machine repeatedly comment about how well it handles anything you throw at it – always a plus for beginners but much loved by experienced sewers, too. Piecing, thick layers, webbing, denim – you name it, it will power right through. It's also very easy to use, does top quality stitching, and is a sturdy, reliable sewing machine. There are no issues with jamming and users find the automated tension hardly ever has to be adjusted manually which saves a lot of fuss time.
You can read more here: Further Info
Average Rating: 4.8
Pros, Cons & Manual

Pros: Speed control slider. Drop feed dog lever. Superior feed dog system. Heirloom stitches. Needle up/down control. Auto-lock button. Precision stitching.

Cons: Presser foot pressure is not adjustable. No cover or case included.
Manual available online here: Get the Manual
Manufacturer's Warranty: In the US, as of this date, it comes with a 20 year warranty on parts, 2 years on electrical, 1 year on labor and may be voided by certain activities.
Compare prices online at these two stores:
COMPARE PRICES
Amazon
Overstock
Features Summary Review: