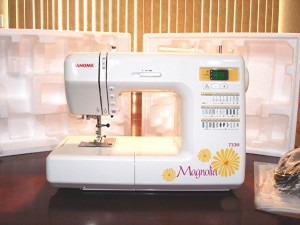 I am enchanted by computerized sewing machines. I'm fairly technical in nature anyway so anything with buttons and screens doesn't scare me – in fact, I'm rather addicted to them. I did, however, get to see what these newer sewing machines might feel like to someone with much more sewing experience than myself. A very interesting perspective.
My husband and I took the kids back East to visit my folks last week which gave my mom and I a chance to talk "sewing machines".  She also drove me out to one of the sewing machine stores in her area so I could show her a few of my new favorites.  Imagine our surprise when we arrived at the location only to find that the store had moved all the way across town.
My parents live just outside a major metropolitan US city yet sewing machine stores were even more difficult to find than where I live – also a rather large city in the US.  Boggles my mind.  (You can read about my previous sewing machine shopping expedition:  here)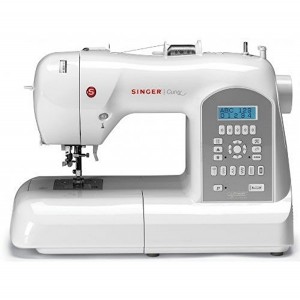 We didn't have time for a cross town trip so we headed to the local Joann's to test the new Singers and Husqvarna Vikings they had on display.  My mother, with years and years of sewing experience, let me choose which sewing machines to demo.  I chose the Singer Curvy 8770 (and wrote about on this page) and a Husqvarna model.  I asked if she wanted to give one of them a try herself and was a little surprised when she politely refused.
Later, she admitted she was intimidated by the computer aspects of today's sewing machines and preferred to watch me maneuver my way around them.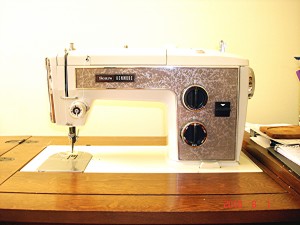 That made sense until we got back to her house and she pulled out her machine – a 1973 Kenmore 1703 sewing machine.  I remembered having to use that machine when I took Home Ec and Sewing in junior high.  I remember it because it constantly baffled me, teased me with a tricky bobbin and never seemed to want to just do what I needed it to do.
I'm pretty sure I could hear that machine chuckling at me as my mother hauled it up out of the sewing cabinet housed in her craft room.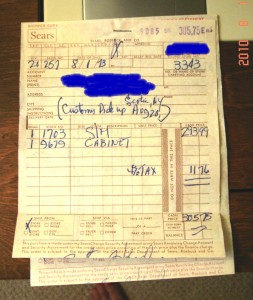 Her Kenmore sewing machine came with the cabinet and brand new the set cost about what I just paid for my new machine (see my little baby here).  (She still has the receipt!)
My father bought it for my mother as a birthday present and both recall that it was an extremely costly purchase for them at the time with four mouths to feed besides their own.  They got their money's worth, though – 37 years and that machine still hums right along.
This is what drives the concern more experienced sewers have about replacing their older sewing machines with newer, computerized models.
We all have some of the latest and greatest technical gadgets in our homes – televisions, iPods, laptops.  We know how long those things last, how quickly they can become obsolete, and how easily they can cost a bundle to repair if something goes wrong.  Will my computerized Janome last 37 years?  I can't really say.  But those older sewing machines made of metal with dials, manual threading, and complicated tension slots have surely stood the test of time.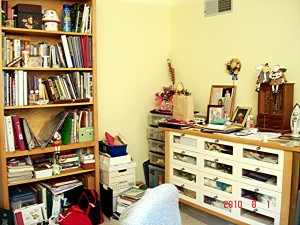 I started to think that maybe there was something to those old, electronic machines after all. Then I actually used my mom's sewing machine again and suddenly the justification for going with a computerized machine was crystal clear.  If she was intimidated by computerized sewing machines, I was petrified by the gyrations necessary to use hers.
Why?  Because those older sewing machines are Complicated with a capital C.  My mother left to run some errands and suggested I play around with her Kenmore.  If she'd had a hidden camera set up in her craft room she could have won a contest for the funniest sewing video ever.
Feeling a bit uppity because of all the sewing machine reviews I'd been writing and the demos I'd done recently, I was confident I could tackle this machine with the ease I had not possessed when I'd last used the machine about 29 years ago.
Mom had bins and bins of scrap fabric for me to choose from so I grabbed a dark colored material since the thread on the machine was white and I wanted to clearly view the stitch results.  A simple line of straight stitches was done in no time.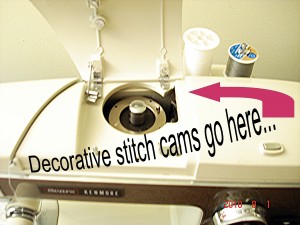 However, as is always the case, I was tempted by the selection of decorative stitches. (I can never resist those!)  On the 1973 Kenmore, this requires the insertion of a cam for anything other than a straight stitch and specific settings of 3 dials.  The settings for each stitch could be found in the manual.
I inserted the cam for a cross stitch, found the reference page for the machine settings for that stitch, spent about 10 minutes trying to figure out which dial was what and then started to sew, expecting the pretty, little patterned X's.  Instead, I got a straight stitch.
I reinserted the cam.  Again, a straight stitch was all that would come out.
I read the manual section on using the cams, found I'd missed a switch that had to be pushed while inserting the cam and then tried one more time.  Phew.  A very nice line of cross stitches.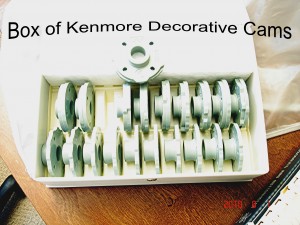 To change stitches meant removing the one cam and replacing it with another.  Using several different cams, I increased the number of stitch lines on my sample fabric.  However, I continued to have to reinsert several of the cams before I could actually produce the desired stitch.  If the cam wasn't inserted just right the machine would either sew only a straight stitch or start to jam.
Then the bobbin thread ran out.  No see-through bobbin cover to let me know this was about to happen before I started sewing.  I ignored the tiny, inkling of terror spurred by memories of dealing with that bobbin in my youth.  Okay, I thought.  You can wind a bobbin easily enough.
Here's what you have to do to get to the front-loading bobbin on one of these machines.  Tilt the machine back so that you can see the bobbin case (which is hidden underneath), either reach in through the hole in the cabinet in which the machine sits or underneath the table, release the bobbin latch, pull out the bobbin case and drop the bobbin out into your hand.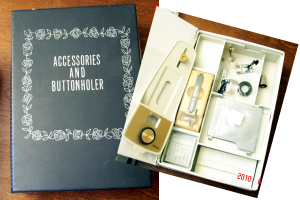 The machine did have an automatic bobbin winder very much like the one I have on my Janome.  No matter what I did, though, once I wound the bobbin part way and snipped the thread tail on the top as instructed, the thread would unspool from the bobbin as quickly as it was winding.  I cleared through three spool disasters before finding the only way to make bobbin winding work was to hold onto the thread tail until it finally wound itself so tight in my hand it broke on its own.
If getting to the bobbin was difficult, getting the bobbin back in place was even more so.  You have to place the bobbin in the bobbin case and then insert that into the bobbin compartment while holding the latch on the bobbin case open with one finger AND keeping track of the thread tail so you can route it correctly.  Nothing secures the bobbin in the case and you have to insert it vertically so one wrong move and your bobbin drops out of the case, onto the floor and rolls away.  This happened twice before I successfully got the bobbin inserted.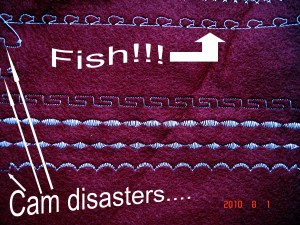 I managed to get the bobbin thread pulled up and sew one more line of stitches before the top thread ran out.  I tried not to shake with fear as I found a new spool of thread.
Up, down, through various slots.  I'm near sighted and wear glasses.  The only way I could thread the needle was to remove my glasses, lean way down to the needle and squint like a mad man to line up the thread and the eye of the needle.
My hands must have grown or that machine had shrunk because I found it difficult to pull the thread out through the other side of the needle.  Three tries later and I was able to start sewing again.  (Later Mom showed me that this is exactly why she keeps a nice set of tweezers nearby…brilliant!)
I think I wrote somewhere in this site that you don't really need an automatic needle threader – that it was a "nice to have".  I was WRONG!  I sometimes think I'm still in my twenties but my eyes have since reminded me I am NOT.
By this time, I needed a break.  You'd have to have the patience of a saint to get through a sewing project jumping through hoops like that.  Seriously – I was chasing runaway bobbins across the floor on my hands and knees!
(My mother, by the way IS a saint so I can see how she and this machine have managed to not only get along but have become great partners.)  I have a new respect for those who create beautiful works of art with fabric and lace using tools that require such sewing gymnastics.
In fact, this was what struck me as so ironic – that Mom could master her finicky old sewing machine with such grace and yet be leery of a machine that was so simple you literally just had to push a button.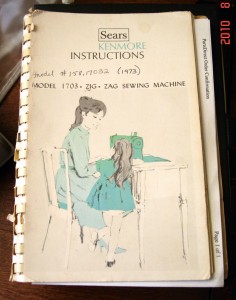 Time was on her side.  She has learned how to handle her machine, conquered the ins and outs so that when she sews the machine becomes an extension of her and she is completely familiar with its components and behavior.
Perhaps because of how much effort that must have taken with her particular machine, she is concerned about having to go through the process all over again with a computerized sewing machine.  However, having spent some time with both her Kenmore and my computerized Janome, I don't think that would actually be the case.  Maybe I'm too new to sewing to know.
So, call me a cheat.  Call me a pretend sewist.  Call me lazy – but I'll take a computerized sewing machine any day of the week over those older, manual machines.  I just couldn't do it. Give me my automatic needle threader, my speed control slider, my Start/Stop button so I don't have to use the foot pedal.  Give me snap on presser feet, drop-in bobbins, and some quick buttons to push for stitch selection.  I'd simply rather use my time for sewing (and writing) than for bobbin chasing.   Plus, I think I owe my mother a couple spools of thread.