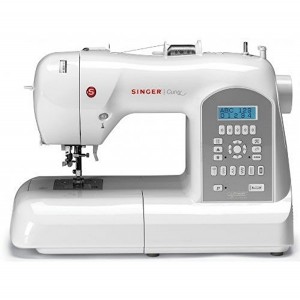 The Singer Curvy 8770 sewing machine
has a beautiful selection of utility and decorative stitches, automated features and functionality nicely packed into a sleek, stylish design
.
This is a really neat machine for those who intend to sew a great deal, want to make clothing and home décor items, and who are looking for some decorative stitches for light, free-motion quilting and embroidery.

Table of Contents
(Click Ahead!)
Stitch Count / Presser Feet / Functionality / Accessories / Customer Reviews / Pros, Cons & Manual
REVIEW SUMMARY
MODEL: Singer 8770 Sewing Machine
REVIEWED BY: Erin
RATING: 4.0


LAST UPDATED: April 9, 2015

COMPARE PRICES
Amazon
Rakuten
The coloring and control panel are so similar to the Singer Confidence 7470 that it is worth comparing the two to see if the higher price on the Curvy is warranted by additional features and functionality.
More about the comparison will be discussed towards the end of this review or you can jump straight to that section here: Comparison.
No Lack of Stitches Here
(Back to Top)
As with most multi-stitch sewing machines, stitches are separated into two categories. One set is called Utility/Continuous and the other set is comprised of Decorative stitches.
In total, there are 225 built-in stitches:
55 Utility/Continuous Stitch Patterns
10 Buttonhole and Button Sewing Stitch Patterns (6 styles of 1-step buttonholes, 3 stitches for creating infinite-length buttonholes, and 1 button attaching stitch)
20 Decorative and Satin Stitch Patterns
28 Mirror Stitch Patterns – some of the Utility and Decorative stitches can be sewn as a mirror image of themselves – this can be used to increase the uniqueness of your stitch patterns. For example you could sew one of the decorative puppy stitches and then another using the mirror image so that the puppies were facing each other – like little puppy friends!
112 Decorative Letters, Characters, and Numbers in one box-style font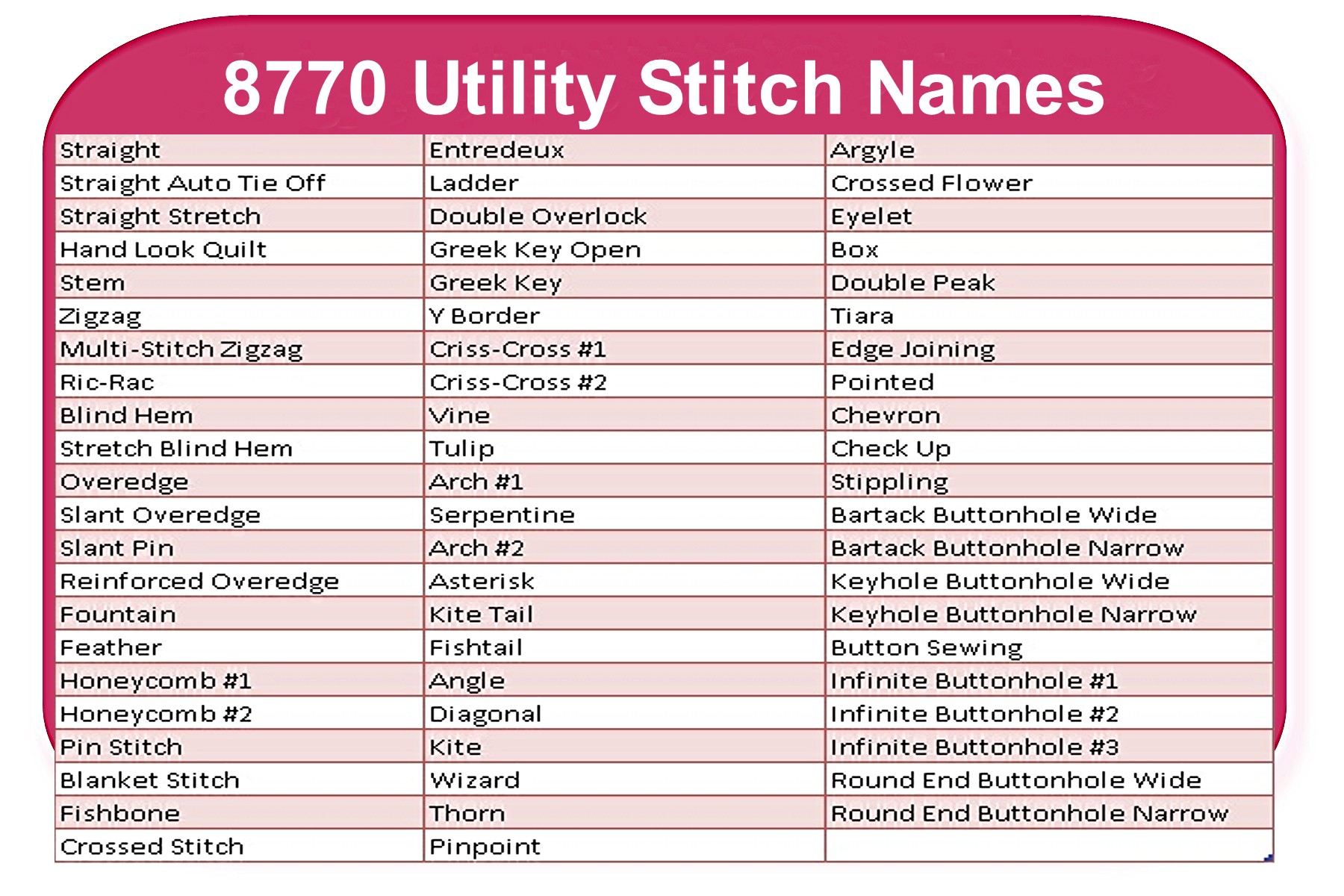 Any of the decorative stitches can be combined to create monograms, messages, or unique stitch patterns (like a run of Crescent satin stitches separated by a Heart at intervals).
Stitch width is adjustable to 7mm and stitch length is adjustable to 4mm. Width and length options are stitch-dependent, meaning that not all stitches can be adjusted up to 7mm and 4mm. A very clear outline of the minimum and maximum settings available for each stitch is presented in the instruction guide that comes with the sewing machine.
The Zigzag stitch tapers to the center no matter when you end your run of stitches so that you always have a nice, clean finish.
There are six buttons for single-button stitch selection to access the most used utility stitches: straight, zigzag, blind hem, overedge, pin stitch, and the bartack buttonhole.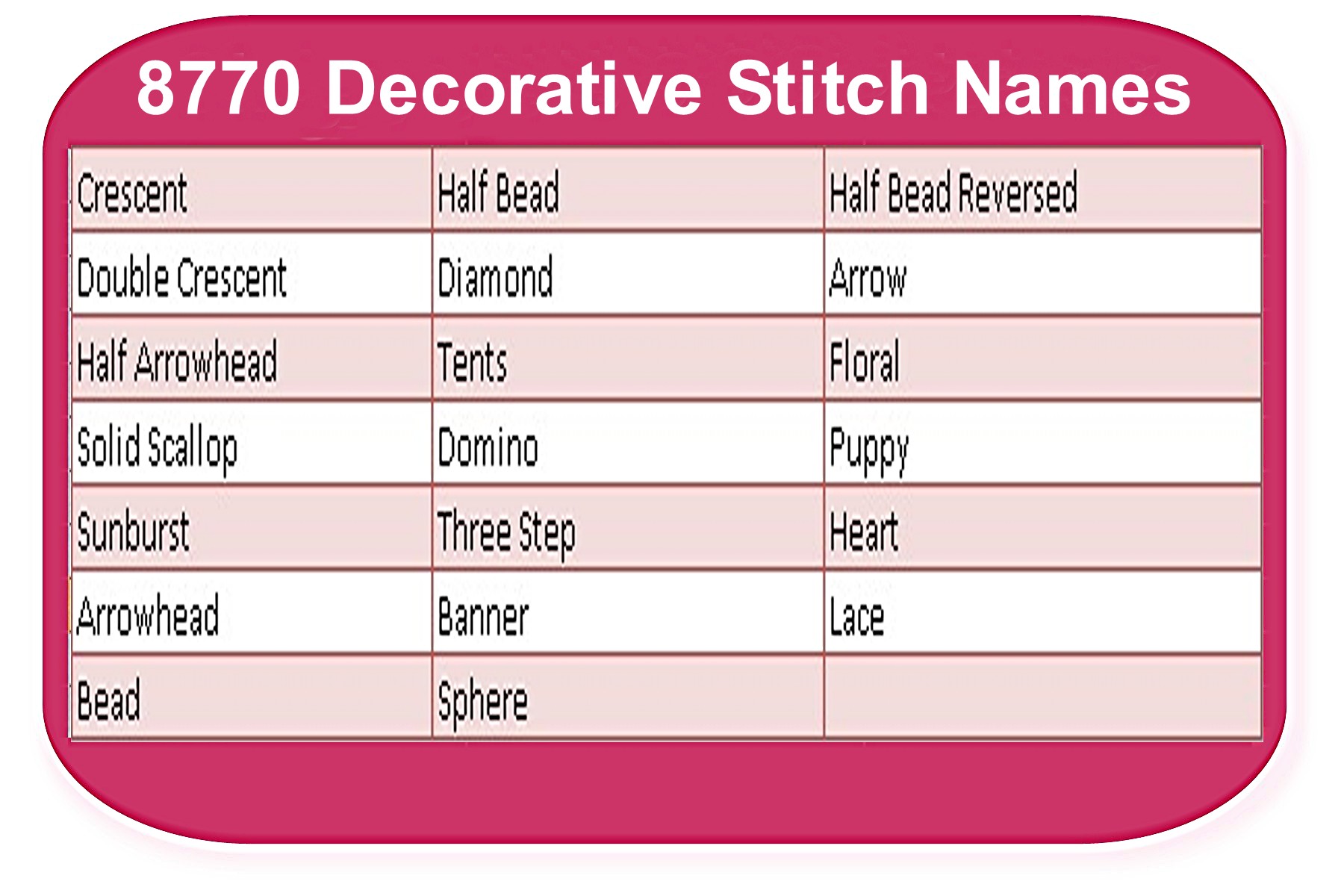 Standard Presser Feet Plus Blind Stitch
(Back to Top)
Five, snap-on presser feet are included:
General Purpose Foot
Zipper Foot
Satin Stitch Foot
Blind Stitch Foot
Buttonhole Foot
The presser foot lever has three height settings: down, up and extra-high up so you can slip thicker projects and fabrics under the presser foot.
Solid Fabric and Thread Control Features
(Back to Top)
This machine operates quietly and efficiently. The six point feed dog system uses the box rotation method for reliable fabric control. I've mentioned before that I like the control panel of the Confidence line of machines and the Curvy uses the same set up. Although computerized – which is sometimes off-putting to those who learned to sew on traditional machines or to beginners – it's very intuitive and easy to learn.
This video covers some of the highlights of this model:
This machine is extremely easy to set up, easy to thread and is very powerful thanks to a DC motor:
Singer's Exclusive SwiftSmart threading system – just run the top thread down through one groove on the front of the machine, hook the thread and push the needle threader button.
One-Touch Needle Threader – once the top thread is in place, a lever on the side activates the needle threader which will punch the thread through the eye at the push of a button.
Top drop-in bobbin system – jam proof! No need to pull up the bobbin threads.
Smooth, powerful thread and stitch operation:
Horizontal thread delivery
Optimum power control senses when more power is needed to get through thick seams or layers and delivers that additional power so that fabric continues to feed evenly.
Direct drive system for the needle bar – the needle bar is directly connected to the motor rather than power being routed indirectly. This provides more power to the needle arm than some other sewing machines.
Exclusive Buttonhole Underplate – an additional plate provides added pressure when sewing buttonholes through multiple layers of fabric to ensure buttonhole stitches are consistent and even.
Automatic bobbin winder stops when the bobbin is full.
Lots of simple, push-button controls:
Touch button stitch selection
Automatic tie-off function
Automatic tacking stitch function
Automatic reverse
Programmable needle up/down button
Electronic twin needle control button
LED Screen contrast control
Memory clear button wipes out temporary stitch settings
Flexibility for Advanced Sewing:
13 needle positions
Adjustable top thread tension
Drop feed dog lever
Free-arm sewing (removable extension table)
Pattern override function lets you change the default settings of stitch patterns
20 space memory for stitch patterns (great for saving monograms and message patterns)
All of the control buttons are located underneath the LED screen except the reverse button which is conveniently located above the needle arm. The first five buttons under the screen are used to select stitch patterns, set stitch length and width settings and to confirm selections. One button is used to access the list of utility stitches while another accesses the decorative stitches.
Scroll buttons with directional arrows are used to find stitch patterns, review stitch settings and to edit individual stitch settings.
The reverse button has dual functionality – for straight and zigzag stitches, pushing the reverse button will cause the machine to sew in reverse for as long as the button is pushed. For all other stitches, pushing the reverse button will cause the machine to sew four, small tie-off stitches to tack the threads into place.
Bobbin cover is see-through so you know when you're running out of thread. There is a built-in carry handle at the top of the machine, 3 built in LED work lights, and a built-in manual thread cutter. The instruction guide is incredibly thorough.
* Requires Class 15J bobbins.
This sewing machine can be mounted to a table or cabinet.
Although the following video is in Russian, it best demonstrates the size of the decorative and letter stitches. You can also get a feel for how quietly the machine operates:
Singer Curvy 8770 vs. Singer Confidence 7470
The Singer Curvy 8770 costs about $130 more than the Singer Confidence 7470 so the natural question would be what do you get for the extra $130?

51 more letters and characters in the letter font (such as greek letters)

3 LED work lights instead of 2

The curvy design shifts weight to the base for a slightly sturdier machine

SwiftSmart threading system

Direct drive system for more powerful needle arm
Everything else is identical – box feed system, button control options, drop feed dog lever, thread tension and delivery, twin needle capability, same presser feet, same presser height options, utility and decorative stitches are almost identical including having the hand look quilt stitch, stippling stitch, puppy, heart, and more.
If you're going to work with extra thick fabrics, prefer the easier threading technology, or can't live without the cool look of the Curvy line, then this is the right sewing machine for you. Otherwise, if you like most of what the this has to offer but could live without a few things in exchange for saving a few bucks – take a look at the Singer Confidence 7470:  Read about it here.
Dimensions: L 17.7" x W 12.5" x D 9"
Weight: 16.7 pounds

Included Accessories
(Back to Top)
Included sewing accessories can be stored inside the extension arm cubby and the sewing machine comes with a dust cover:
5 Pack of needles
4 bobbins
Auxiliary spool pin (for use with larger spools of thread)
2 felt spool discs
3 Spool Caps (small, medium, and large)
Combination buttonhole opener/brush/seam ripper
Dust cover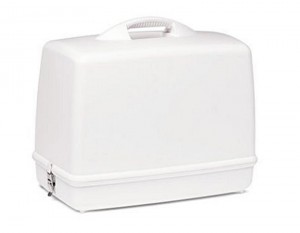 The Singer 611 Universal sewing machine case fits the Singer 7467 but must be purchased separately.
Solid Performance and Ratings
(Back to Top)
Consumers who have purchased and used this machine describe it as easy to use. The buttons are easily accessible while sewing. It handles thread smoothly and does not jam or grab while sewing. It's a bit noisier than some other models and you do have to maintain control to keep the fabric moving straight at times (it's like "no texting while driving" – you'll need to keep your eyes on things but that's often the case). Rates will for stitch variety and automation features.
You can read more here: User Reviews
Average Rating: 4.0
Pros, Cons & Manual

Pros: Lots of utility and decorative stitches for clothes and home décor projects. Drop feed dog functionality for free motion quilting and embroidery. Easy, push button controls. Stylish design. One of the easiest threading systems in this price range. Powerful needle arm capable of handling lots of fabric types. Six point feed dog system with box rotation. Needle Up/Down button. Huge selection of letters and characters in the font style.



Cons: Presser foot pressure is not adjustable. Twin needle capable but twin needle must be purchased separately. Font stitches are rather small.

Manual available online here: The Manual

Manufacturer's Warranty: As of this date,the warranty in the US is 25 year limited on the machine head, limited 5 year warranty on motors, light, assembly, wiring, switches, speed control and electronic components, and a limited 1 year warranty on adjustments, belts, rings, bulbs, and attachments. As is standard with most warranties, the warranty may be void if certain requirements are not followed.
Compare prices at these two stores to find the best offer:
COMPARE PRICES
Amazon
Rakuten
Features Summary Review: