Sewing machine shopping is not nearly as easy as I would have thought.  In fact, today's little excursion produced several tips I'd like to pass along to those of you also looking for your first, second, or third sewing machine.
These might seem like really basic shopping tips but I really didn't understand how significantly they applied to sewing machines until I returned home this afternoon.  My day didn't quite go as planned and I hope this piece of shopping advice will save you some of the same aggravation.
Table of Contents (jump ahead!)
Shopping Tips My Shopping Trip Husqvarna Viking Machines
Janome Sewing Machines Combination Sewing, Embroidery, and Quilting Machines
Sewing Machines Online
Sewing Machine Shopping Tips
(Back to Top)


Know which sewing machine features you want in advance and/or know which type of sewing machine you want (a basic sewing machine, a quilting machine, an embroidery machine, a combination sewing and quilting machine, a combination sewing and embroidery machine, or one that does all three types of sewing).

Better yet – have a list of sewing machines in which you are interested, note their online price, and note why you added that sewing machine to your list (adjustable presser foot pressure, the selection of stretch stitches, etc.).

Look online to locate all the possible sewing machine shops in your area.

Call each sewing machine shop in advance and find out which brands they carry, which brands are set up for demo in their showroom, and how many sewing machines in total are set up to demo.  Ask them if they'll let you bring in your own fabrics for some test sewing.  If so, bring a few fabric squares with you.  If you don't have any fabric squares, cut up some old jeans and clothes so you can try out different fabrics.

Map your driving route.

Tell the salesperson what type of machine you are looking for and pick their brain with a list of questions.

Bring pen and paper to take notes.  If you aren't planning on buying while you're out, it's easy to forget which machine did what and which machine you liked the best even by the time you get home.

Try to avoid sewing machine shopping on a day that's super hot or rainy.  You may be in and out of your car a few times going from store to store.

Don't stop at the DMV during your little outing. (Maybe that's just me…)
Having a list of possibles along with their respective online prices will keep you focused during your discussions with any salesperson and may help you negotiate a better price.  Knowing why you added a machine to your list will keep you from giving up that feature for something else because the salesperson guided your selection elsewhere.
My Sewing Machine Shopping Trip
(Back to Top)
Coming up with these tips was a comedy of errors on my part because, well, I didn't do any of the above and that had me on the road for four hours looking for what I wanted and I was never more than 10 miles from home.  I thought shopping for sewing machines locally would be a piece of cake – I'd walk into some giant showroom filled with all the brands and models of sewing machines I've ever heard of, I'd poke around and practice sewing and then I'd have a better idea of which of the ones on my list I really wanted to buy.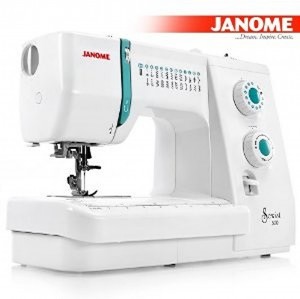 I specifically wanted to get my hands on the Janome Sewist 500, the Janome 8077, the Janome Magnolia 7330, the Brother SE400, and a Singer Futura.
To be honest, I did know in advance that not every sewing machine dealer is licensed for every brand and that seeing Brother, Singer, and Janome all in one store might be a stretch.  I figured I'd maybe have to hit two of those giant showrooms.
First, there's no such thing as a giant sewing machine showroom.  Not in my neck of the woods, anyway, and I live in a pretty big city.  That was my first eye opener.
Second, what you see in a store's online site is not necessarily what they have in their physical showroom.
Third – wow! – there is a lot of road construction going on in my area.  (That slowed me down a bit.)
Fourth – I'm in Phoenix and it's, oh, about 110 degrees outside today.  Getting in and out of my car over and over caused me to M…e…l…t.
My first stop was Jo-Ann Fabrics because I knew their website showed the Brother SE400 (which I've written about here).  The sewing center was well marked and right in the middle of the store.  There they were, several rows of sewing machines out for demonstration.  I could feel my fingers tingling.  I was getting close!
Imagine my surprise when all I found were Singer and Husqvarna Viking machines.  Not a Brother sewing machine in sight.  The sales woman who helped me was very kind and explained that the sewing centers inside of the fabric stores are not the same as the online store – in fact they are kind of a separate division and sell only Singer and Husqvana Viking machines in the physical stores.
Husqvarna Viking Sewing Machines
(Back to Top)
To top it off, they didn't have a Singer Futura – the one Singer on my list because it is a combination sewing and embroidery machine like the Brother SE400.  They did, however, have a Husqvarna Viking 500E which looks exactly like the Futura series.  The saleswoman explained that the Futura models would soon be discontinued and that Husqvarna Viking was taking on the design.
Now, I don't know if it was me being drawn to the large, shiny screen and tempting buttons or the saleswoman's skill but somehow we ended up spending a lot of time with the Husqvarna Viking Saphire 875 Quilt sewing machine – the price of which is about $2200.  Not exactly the kind of machine I was in the market to buy but I think sewing machines are like cars.  You go in wanting simple transportation but you're immediately taken by the look and feel of a luxury automobile.  That was one very impressive sewing machine.
I left with some notes and my wallet still closed and secure in my purse.  Phew.
Next was a little sewing machine dealer/repair shop not too far from my house.  I knew I was in trouble when I walked in and the only 3 sewing machines I could see had to be at least 30 years old.  I didn't even know Montgomery Ward made a sewing machine.  Again, the store manager was very nice.  He explained that his store mostly focuses on repair and service but are licensed to service all brands of sewing machines.  I asked him where the closest retail outlet was for new sewing machines and he referred me to Walmart.com
.  Not exactly what I expected to hear.
A few blocks down the street was another sewing machine shop.  Again, this one was mostly a repair center.  No new machines in the storeroom.
My little GPS told me there was another sewing machine store a few miles away so I pointed my car in that direction. (Unfortunately, that led me past the DMV which reminded me it was time to renew my tags this month.  I had to stop and take care of that.  There's an hour and a half I'll never get back.)
We're now at sewing machine shop #4 which turned out to be an extension of the same sewing shop inside Joanne's.  Again, mostly Singer and Husqvarna Viking and once again most of my time was spent on the most expensive sewing machine in the store.  This time, the Husqvarna Viking Designer Diamond.
It was mouth watering but it doesn't matter if you're a beginner or the most experienced seamstress on the planet – that is one EXPENSIVE machine.  It runs between $7000-8000.  I told the sales woman that for that price I ought to be able to ask it for a new pair of pants and it should whip them up and hand them to me!!!  The screen was amazing – as clear as a flat panel TV screen.  The Husqvarna Viking Diamond does absolutely everything.  The stitches were gorgeous.  I quickly left, wiping the drool from my chin.
Janome Sewing Machines
(Back to Top)
I'd just about given up on ever touching a Janome when I found one more sewing machine shop that wasn't too far out of the way.  When I walked in, I was immediately glad I'd talked myself into one more stop.  It was Janome heaven.
They were all lined up in rows, plugged in and ready to go – the Janome 7330 (the one I own) and her sisters (7312 & 7318), the DC2010, the DC3050, the Threadbangers (TB30 and TB12), the Jem, the Sewist 500.  Oh, and the top of the line models – you know, the ones out of my price range and really far too much machine for what I need.  They were winking at me.  (Really.  I swear!)
Janome Mangolia 7330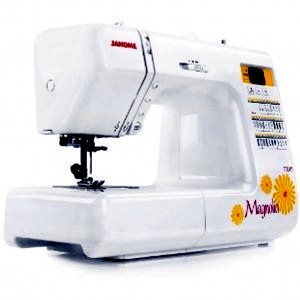 I did still have a list of Janomes I wanted to check out for myself and I did manage to squeeze in some tests on those models.
I found it easy to cross a few off ONLY because they lacked some things I wanted – not because of the quality.  In fact, I found the Janome machines lived up to their online reputation.  They're just nicely built.  They're easy on the eyes, they sew quietly, they have great graphics and, most importantly, the stitch work was beautiful.  (I even thought the satin and embroidery stitches on the Janomes were better than that incredibly expensive Husqvarna Viking I'd tried out!)
The Janome Magnolia 7330 would have to be my favorite, though.  For someone who doesn't need a ton of extras but wants a sewing machine that will last and sews well the Magnolia 7330 had slightly more working space between the needle arm and the machine body, sewed quietly, has some of the extras that just make it easier to sew and it looks amazing.  I had been drawn to the look of the Magnolia line since the start but seeing it in person was even better.  It's solid, has a nice, wide base, and the front of the machine is so pretty.  I know…pretty shouldn't enter the picture  – but it DID!
Combination Sewing, Quilting and Embroidery Machines
(Back to Top)
While I was shopping for myself and really only need a basic sewing machine, I was also interested in what my mother could do with one of the top of the line sewing machines.  She's the artist in the family.  Sews, embroiders, and draws.  I had asked at each shop which machine would let my mother turn her artwork into embroidery patterns.   The salesperson at each store had explained that a machine that would be capable of embroidery creation, quilting and sewing was likely going to be the most expensive machines in each brand – a combination sewing, quilter, and embroidery machine.  No option was less than $2000 not counting the cost of software that would be necessary for coding the pattern into stitches which would run another $400-600.
However, the last store gave me an excellent piece of advice.  If I really wanted to be able to sew, quilt and do embroidery – including the ability to create my own embroidery patterns – it would be cheaper to buy two separate machines – one combination sewing and quilting machine and one embroidery machine.  I could then get a high quality sewing and quilting machine for about $400-600 and an embroidery-only machine for about $800.  That would put the total at $1200-1400 – far less than the $2000 alternative.
Even better, that embroidery-only machine for which the last store quoted $799 was $300 less on Amazon.  It was the Memory Craft 200E and the quality of the stitches was phenomenal.  Very detailed, very precise, 73 embroidery patterns to choose from, 3 fonts, and a USB port for adding patterns and for using software that would allow for pattern creation.
Of course, that possible $400-600 for a quality sewing and quilting machine could come down another $100 or so by comparison shopping online so for $800-900 ($300-400 for a sewing and quilting machine and $500 for an embroidery-only machine) my mother could handle all the sewing, quilting, and embroidering she ever wanted to do at less than half the cost of the sewing machines that can handle all three types of sewing.
Sewing Machines Online
(Back to Top)
I didn't buy any of the machines.  Why not?  First, while I had a list of sewing machines I wanted to check out, I couldn't remember what specifically caused that machine to be on my list and what the differences were between them all.  I was afraid I was going to be passing up an important feature due to a shopping high simply because I hadn't thought to bring my notes.
Second, the saleswoman said they were scheduled to have a sale the next week so the price would be lower but she didn't know by how much.  Every place I went sewing machine shopping had prices that were far higher than I could find online for those sewing machines available online – even when they said they'd drop the price for me.
Third, every store dropped the price on every machine as soon as they thought I was interested.  Felt very much like I was negotiating with car dealers.  If you'll drop it once, how do I know you aren't still holding out on me?  And all of the lower prices were still higher than what I'd seen on the internet.  Kind of an icky feeling so I'm sticking with online shopping.