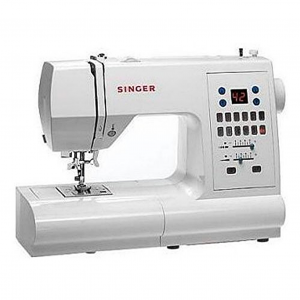 The Singer 7468 is not widely available but some sewing outlets do still have this model on hand.
The stitch patterns and features are exactly the same as the 7469.
The only differences between the two are the color accent on the front of the machines and the machine dimensions.
Singer no longer shows this as a current model on their website but it's still a sewing machine worth considering if only for the price discount as compared to the 7469.

Table of Contents
(Click Ahead!)
Stitch Count / Presser Feet / Functionality / Accessories / Customer Reviews / Pros, Cons & Manual
REVIEW SUMMARY
MODEL: Singer 7468 Sewing Machine
REVIEWED BY: Erin
RATING: 4.0


LAST UPDATED: April 9, 2015

COMPARE PRICES
Amazon
Quite the Variety of Stitches
(Back to Top)
Included are 100 built-in stitches – an incredible variety that serve multiple purposes and different kinds of sewing. Basic utility stitches like Straight, Overcast, Overlock, Blind Hem, Shell Tuck, Zigzag and a number of stretch stitches can handle assembling sturdy seams in many types of fabrics.
The selection of decorative stitches is outstanding for this price range. There are satin stitches like Crescent, Bead, Sphere, Steps, and Diamond and some of the most intricate hem stitches like Greek Key, Kite Tail, Criss-Cross and Vine.
Singer calls their floral, tulip and puppy stitch "novelty" patterns. They can be sewn continuously or just once to decorate a corner, the top of a pocket, or the edge of a project.
A pattern reference guide pulls out from the base of the machine for quick reference. Stitch selection is accomplished by using two sets of arrow keys to submit a pattern's two digit identification code into the sewing machine except for 12 of the most used stitches which have their own selection button under the LCD screen. The LCD screen displays the selected pattern number.
Stitch width and length are both adjustable up to 7mm for certain stitch patterns. A slider for each is located at the bottom of the control panel.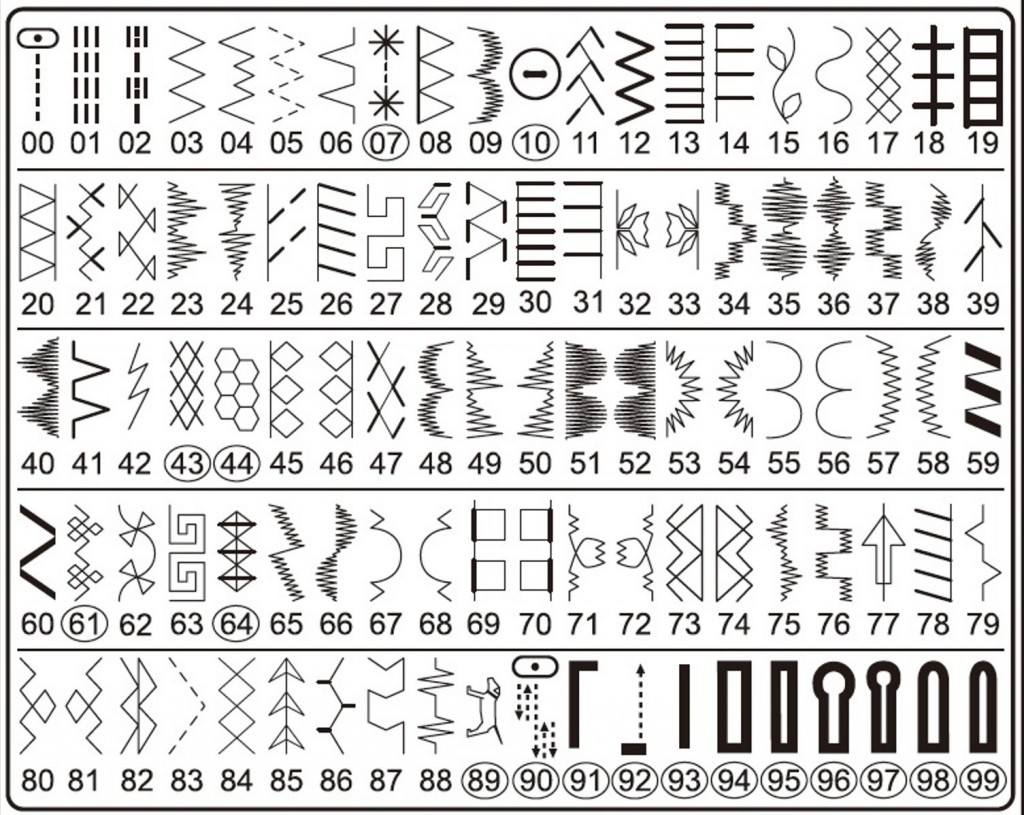 Enough Presser Feet for the Basics
(Back to Top)
A total of 5 snap-on presser feet come with this machine. The presser foot lever has 3 height settings for down, up, and extra high up. Presser foot pressure is not adjustable.
General Purpose foot
Zipper foot
Satin Stitch Foot
Blind Stitch Foot
Buttonhole Foot
Good Thread Management and User Features
(Back to Top)
Comparing sewing machine features can be the hardest part of sewing machine shopping for beginners. It's hard to understand what features will be the most important until you get going, yet you don't want to get the most basic of machines only to find out that you outgrow it quickly.
The following video DOES NOT show you this model but it does show machines in the Singer Confidence line, including the 7469Q which is nearly identical in performance.
Sewing machine features serve three main purposes:
to ease and automate setting up a machine in order to sew
to automate sewing tasks that used to be done manually
to facilitate other types of sewing like embroidery, craft sewing (paper crafts, photo books, handbags, leather sewing, etc.) and quilting.
This sewing machine offers lots of nice features that focus on easy machine set up and some task automation for a fairly cheap price.
Automatic needle threader
Top loading drop-in bobbin
Automatic bobbin winder
Adjustable top thread tension with an "automatic" setting
Push button controls handle many sewing tasks:
Stitch selection
Twin needle control prevents selection of stitch patterns incompatible with a twin needle
Needle Up/Down programming button
Reverse button conveniently located above the needle arm
The 7468 uses the horizontal top thread delivery arrangement for smoother thread flow, however an auxiliary spool pin is included for over-sized thread spools. A drop feed dog lever lowers the feed dogs for darning, monogramming, free hand embroidery and free motion quilting.
The extension arm slips off of the machine allowing for free-arm sewing of circular projects like sleeves, cuffs, and hemming pants.
With the right needle, this machine will handle lightweight fabrics like chiffon and crepe as well as heavy weight fabrics such as duck, canvas, and denim.
A carry handle is built into the top of the sewing machine for easy transport, the bobbin cover is see-through, and a work light illuminates the needle plate.
It has the exact same control panel and built in stitches as the Singer 7469 and the Singer 7469Q.  Following are the differences between the three.

7468 vs. the 7469:
7469 is 1 inch longer and 1 inch taller, has a gold colored accent around the control panel and is currently $70 more than the 7468.

7468 vs. the 7469Q
7469Q is 1 inch longer and 1 inch taller, has a gold colored accent around the control panel, includes an extra wide extension table for quilt sewing, and 3 additional presser feet: Even Feed foot, ¼" presser foot, and the Darning and Embroidery foot.
Dimensions: – L 16" x H 11.4" x D 8"
Weight: 16.5 pounds

Accessories
(Back to Top)
The following accessories come with the sewing machine and can be stored in the extension arm:
5 pack of needles
4 bobbins
Auxiliary Spool pin
2 felt discs
3 spool caps (mini, small, and large)
Buttonhole opener/Brush/Seam Ripper
Screwdriver
Receives Passing Marks from Consumers
(Back to Top)
There are no reviews on Amazon and, therefore, no rating. However, the Singer 7469Q has nine reviews and a rating of 4.7. As the machines are nearly identical, I think it's safe to say that consumers enjoy the functionality of this set of features and stitch patterns.
Average Rating: 4.0
Pros, Cons & Manual

Pros: Variety of utility, stretch, quilting, and decorative stitches. Needle Up/Down control. Drop feed dog lever. Automatic needle threader.



Cons: Presser foot pressure is not adjustable. No soft or hard cover is included.

Not available on the Singer site but you can download it for free here if you jump through a few hoops (like sign-up for the site and answer a few questions): Read the Manual

Manufacturer's Warranty: As of this date,the warranty in the US is 25 year limited on the machine head, limited 5 year warranty on motors, light, assembly, wiring, switches, speed control and electronic components, and a limited 1 year warranty on adjustments, belts, rings, bulbs, and attachments. As is standard with most warranties, the warranty may be void if certain requirements are not followed.
This model is discontinued and hard to find but you can check if it is in stock here:
COMPARE PRICES
Amazon
Features Summary Review: