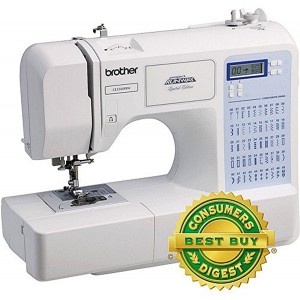 The Brother CE 5500PRW is one of the least expensive Project Runway machines you can buy.
This is a compact, lightweight machine with lots of features suitable for making clothes, light quilting and free-motion embroidery.
It's been awarded a Consumers Digest 'Best Buy' Award.
It's smaller and lighter than comparable machines making it highly portable.

Table of Contents
(Click Ahead!)
Stitch Count / Presser Feet / Functionality / Accessories / Customer Reviews / Pros, Cons & Manual
REVIEW SUMMARY
MODEL: Brother CE-5500PRW Sewing Machine
REVIEWED BY: Erin
RATING: 4.6


LAST UPDATED: April 9, 2015

COMPARE PRICES
DISCONTINUED
Sometimes I procrastinate (as I did on this review – I started it two weeks ago) and it works out better in the end. I was going to say that the one negative with this sewing machine was that it was priced higher than another model of which I'm a fan but Walmart has since dropped the price (got to love that!) so now it's about $20 less than the other machine.
I'm still going to compare the two sewing machines, however, further down on the page.
The Brother CE 5500PRW Built In Stitches
(Back to Top)
A total of 50 built-in sewing stitches are programmed into this sewing machine including 5 styles of auto-sizing, 1-step buttonholes. The stitch selection covers decorative sewing, stretch stitches, quilting, and heirloom sewing. Stitch width is adjustable to 7mm and length adjustable to 5mm.
This sewing machine has one slick, trick that is kind of neat when it comes to changing your stitch width and length settings. All machines have built-in stitches programmed with a default length and width. However, when you change those settings, it's really easy to forget what the default settings were so if you find you want to go back to them in the middle of a project, you have to turn the machine off and back on to reset the defaults (or look up the settings in the manual which I would tend not to do).
The Brother CE 5500PRW sewing machine, however, highlights the default width and length settings by displaying a circle around them on the screen so if you want to return to the default settings just push the up or down button to adjust stitch width and length until the setting shows the circle. Ta da! (Really, that I should notice little things like that…)
Brother CE 5500PRW Presser Feet
(Back to Top)
There are a total of 7 snap-on presser feet included with the purchase of this sewing machine. The Zigzag foot has a leveler button for maneuvering over thick seams.
Zigzag (general purpose)
Buttonhole
Overcasting
Monogramming
Zipper
Blind Stitch
Button Fitting
Brother CE 5500PRW Sewing Features and Controls
There is no doubt in my mind that Brother sewing machines have given Singer – the standard for years – a run for their money.  Their entry level sewing machines almost always include nice features, are well designed, and are rated well by others who have purchased them.  The little guy falls right in line.
Bright LCD screen
Easy-to-use, computerized controls
Automatic needle threader
Handles thick fabrics like denim, tweed and canvas (just use the right needle)
6 point feed dog system for solid fabric control
Advanced needle threading system for speed and simplicity
Fast, automatic bobbin winding system
Quick-Set™ bobbin
Bright LED work area
Adjustable upper thread tension
Variable needle position (left and center)
Twin needle capable
Drop feed dog lever for mending and free-motion quilting
Horizontal thread delivery
Built in handle
Reverse button
See through bobbin cover
Max speed of 850 stitches per minute
(Only uses Brother part code SA156 SFB plastic bobbins.)
A walking foot, quilting foot, ¼" foot, and quilting guide can be purchased separately for this machine.
Compare the CE 5500PRW and the CS6000i
The Brother CS6000i (written about here)is one of the most popular Brother models under $200.  It has fantastic ratings (over 800 reviews and ratings online) and is well liked because of the incredible number of features that it offers.
The CE 5500PRW is similar in price to the CS6000i but here's what the CS6000i offers that the CE 5500PRW does not have:

All of the same built in stitches PLUS 20 more
Stitch length adjustable to 7mm instead of just 5mm
Speed control slider
Start/Stop button
Extra wide table attachment included
Walking Foot presser foot included
Hard cover case included

Those last 3 items alone are worth more than the $20 price difference making the CS6000i a great deal.
I know – having a Brother Project Runway machine sounds cool and all but getting your money's worth is nothing to sneeze at either! 🙂
Dimensions: L 16.1" x H 11.4" x D 6.7
Weight: 10.58 pounds

Accessories
(Back to Top)
Accessories store inside the flat bed compartment:
Seam Ripper
4 Bobbins
3 pc Needle Set
Twin Needle
Ball Point Needle
Cleaning Brush
Disc Screwdriver
3 Spool Caps (large, medium, and small)
Extra Spool Pin
Foot Controller
Soft cover
Great Ratings on the Brother CE 5500PRW Sewing Machine!
The majority of buyers give this sewing machine high marks for being a great value with lots of stitches and automation. Some have mentioned that they didn't find the automatic needle threader very "automatic" or easy to use (but I can tell you that's the case with most entry-level machines and even many of the more expensive ones).
The controls are easy to learn, though, and people have been able to use it on denim, thick cotton, fleece, and stretchy fabrics without any problems. The nice selection of stitches lets users explore more creative projects, too, so beginners can start out simply enough and then work their way up to more complex projects.
You can read more here: User Reviews
Average Rating: 4.6
Pros, Cons & Manual

Pros: Drop feed dog. Stitch selection. Number of included presser feet. Drop-in bobbin. Twin needle capable. Easy to use and set up. Low price.

Cons: Pressure foot pressure is not adjustable. The Brother CS6000i offers more features for nearly the same money.
Manual available online here: Get the Online Manual
Manufacturer's Warranty: As of this date, Brother offers a 1 year warranty on parts and labor, a two year warranty on electronic pattern control and selection components (parts only), and a 25 year warranty on shafts and rods on the machine head.
Features Summary Review: