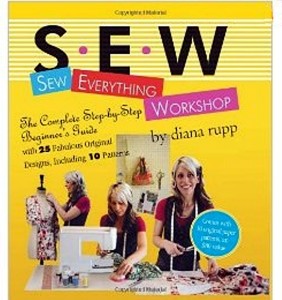 A couple of weeks ago I mentioned ordering some new sewing books including the Sew Everything Workshop.  All the books have arrived and I've been having some fun with them.  It's time to share.
The bright, yellow cover had caught my attention quite some time ago but in person the book is absolutely irresistible.  Out of all of the new arrivals, this one has absorbed most of my time because it's just plain fun.
Sew Everything Workshop was written by Diana Rupp.

Diana runs the Make Workshop design and craft classes for children and adults in NYC, NY.  In fact, her business was named New York Magazine's Best of NY for Sewing Classes in 2009.   It's a little far to travel from Arizona to NY for one of her cool learn-to-sew series classes so her book is a great alternative.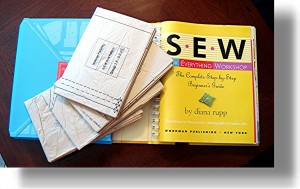 This book is kind of like a workshop in a box.  On the inside cover is a thick, blue envelope containing actual patterns for 10 of the projects you'll complete as you go through the book.  (There are another 15 projects in the book for which you'll make your own patterns.)
The first part of the book teaches you all about sewing and is written for the complete beginner.  You'll learn about your sewing machine, fabrics, threads, and how to read a pattern.  You'll learn how to work with fabrics, how to choose colors, sewing techniques for darts, zippers, gathering, making hems, and prepping for your projects.  It's a complete sewing class for those who can't get to a sewing class.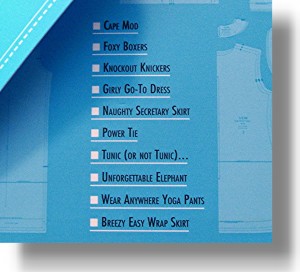 The projects in the Sew Everything Workshop are geared towards adults – projects like Foxy Boxer and the Naughty Secretary Skirt might not be suitable for young children.  They're not as naughty as they sound, either.  They're just fun names for simple projects that require a variety of sewing skills to help you learn.  Great detail, lots of pictures, and thorough instructions round out the book.  This is a really fun way to learn to sew.
Besides the patterned projects there are step by step instructions for projects like hobo bags, pillows, ties, and even an adorable, Manhattan-chic dog cape.
I had already decided the first project I wanted to tackle with my machine was to make a dust cover for it and this book actually has a project for a sewing machine cozy so I no longer need to worry about finding a pattern for that.
While some tutorial type books are dry and dull the Sew Everything Workshop book is certainly not in that category.  Dianne's energy and her passion for sewing come through loud and clear.  She includes lots of herself in the book and her style is very engaging.  Who would have thought reading about choosing fabrics could be fun?
One line of this book threw me for a loop.  The author describes her 10 reasons for why she sews and the last one got me thinking.  It was "I can show others I love them."  Of course!  This means making handmade goods for others with your sewing machine – birthday presents, Christmas presents, or just-because gifts.  I could hardly read past that section.  I REALLY need to think about what I could make for my mother for Christmas this year!  She'd be SHOCKED.  (You can tell by my sudden overuse of capital letters and punctuation!)
I can't believe it didn't dawn on me earlier that because of my new baby sewing machine and the time mom and I have spent talking about sewing and sewing machines, it seems the perfect choice.  There's one pattern in this book that might end up being my Project Mom Christmas idea.  Not sure I can pull it off but I'm pretty sure I'd have fun trying.  Pressure on.
Of course, Mom periodically comes by here to read so I'll have to figure out how to share the project with you all without revealing it to her.  A bit hard to do on the internet.  I might have to wait until January to share my Sew Everything Workshop Project Mom Christmas idea.