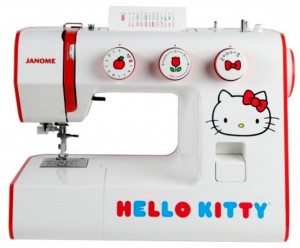 As soon as I saw the Janome 15822 Hello Kitty sewing machine, I wanted it. The fact that I've edged into my 40s didn't stop me one bit. I try not to have a thing for "cute" but it can't be helped. It's in my blood.
Fortunately, my review shows this is also a real – as I can use it to do all kinds of things and it will hold up for ages – machine. You'll be amazed at how much this little thing can do. It might look like a toy but don't let that fool you.
Table of Contents
(Click Ahead!)
Built In Stitches / Presser Feet / Functionality / Accessories / Consumer Reviews / Pros, Cons & Manual / Price
REVIEW SUMMARY
MODEL: Janome 15822 Sewing Machine
REVIEWED BY: Erin
RATING: 4.9


LAST UPDATED: April 8, 2015

COMPARE PRICES
Amazon
This is a solid option that won't only appeal to kids. I've already sent the link to my mom to tell her this is the one she needs to consider for my next niece in the lineup. (She buys all the girl grandchildren one for Christmas when they reach a certain age. If only I'd had a girl!)
Great Stitches and Pretty (Smart) Control Knobs
(Back to Top)
The product description says there are 22 built in stitches but there are really 25. The manufacturer must not be counting the two needle left stitches (one of the straight and one of the zigzag stitches) and the buttonhole stitch. If you see the machine in person or zero in on the pop up reference stitch which you can see on some of the online retail sites, you can easily count there are 25 images.
(Personally, this just added to the respect I already have for Janome. It means they didn't feel it necessary to count everything in order to inflate their stitch count which I've seen done on other product descriptions.)
It's also quite a useful set, too, with a mix of utility, stretch, and decorative stitches:
Straight stitch
Straight stitch – needle left
Zigzag
Multipoint Zigzag (stretch)
Blind Hem
Blind Hem Stretch
Shell stitch
Fagoting stitch
Satin Crescent
Satin Arrowhead
Satin Diamond
Satin Three Step Zigzag
Straight Stretch
Straight Stretch – needle left
Stretch Zigzag
Smocking
Overcasting
Stretch Overcasting
Single Overlock stitch
Double Overlock stitch
Satin Stretch 1
Satin Stretch 2
Satin Stretch 3
Cross Stitch
One-step Bartack Buttonhole


The three knobs on the front are for stitch selection, altering the width (which has a maximum setting of 5mm) and for altering the stitch length (which has a maximum setting of 4mm). The knobs are smartly decorated with a red apple, tulip, and bow. I say smartly because if you're teaching a young child to sew, think about how easy it will be to point out the right knob to a child: "No, honey, the knob with the flower on it". Ingenious whether they intended it for that purpose or not.

For those of you who study Janome machines and like to compare them to each other, this set of stitches might look very familiar. It's the same set as is available on the Janome Sewist 500. In fact, the 15822 is just an inch or so smaller than that model. Just one more piece of evidence that this is a serious machine.
The result of this particular collection means that you have a lot of fabric and project flexibility. It can handle stretchy materials, knits, cottons, and fleece. It can be used for quilting, piecing, making clothes, mending, hemming, and for other creative projects. You can do smocking and even trim the edges of someone's favorite baby blanket with a scallop satin stitch.
This would carry a child right through her teen years and into adulthood.
Four Slip On Presser Feet Included
(Back to Top)
The 15822 comes with four slip on presser feet. Slip ons are as easy to attach as snap on feet. They just slide into a slot on the presser foot holder rather than snapping into place from the bottom up.
The included presser feet are:
General purpose
Blind Hem
Zipper Foot
Buttonhole Foot
You can also buy additional specialty feet that are compatible with this machine.
Features Included with the Janome 15822
(Back to Top)
This is a mechanical machine with a foot pedal so no computer components to worry about later – not that I ever let that hold me back but when you're buying for a child this is sometimes a plus.
You can't ignore the look – I like the white background with the Hello Kitty face on the front and the decorated. I also think the bright red and blue Hello Kitty badge on the bottom is acceptable.
Other features include:
Free arm capable
Automatic needle threader
Front loading bobbin
Tension control dial
3 piece feed dog (more about this later)
Reverse lever (hold down to tie off stitches)
Automatic declutch bobbin winder
Speed of 650 stitches per minute
5 needle positions
Built in manual thread cutter
Vertical thread delivery
Twin needle capable with 5mm twin needle purchased separately
Of the items on that list, only two make me think "Oh, so close!" First is that it has a front loading bobbin instead of a drop in. I always struggle with the front loading ones but, truly, once you get used to them, they're not an issue. My mother has used one for years and doesn't even think twice about it. However, this does mean there's no see through bobbin cover so you won't know when you're about to run out of bobbin thread.
Second is that it has only a three piece feed dog. That's rather weak and means that you may need more intervention in keeping fabric moving when dealing with thicker materials. I will say, though, of all the users comments I read, no one complained about this.
One other plus, though – it comes in a very pretty, pink box with a large Hello Kitty image on it. It's nearly as cute as the machine itself and if you're giving this as a gift, their eyes are going to pop open when they pull off the wrapping.
Dimensions: L 14.5″ x H 10.8″ x W 7.5″
Weight: 14 pounds

Accessories
Plastic bobbins
Buttonhole opener
Needle set
Screwdriver
Darning plate
Customer Reviews
Other consumers have written very positive reviews and it looks like the split between children using the Janome 15822 and adults is about even!
Average Online Rating: 4.9
Pros, Cons & Manual

Pros: Pretty. I think I mentioned that. Pretty stitches, too. Decorated stitch control knobs make it easier for children to learn which knob performs which function. Great stitch selection. Solidly built. Extra presser feet included. While you can't drop the feed dogs there is an included darning plate so you can do free movement sewing. Not a cheapo toy. A pretty good price for a starter Janome.

Cons: Only a 3 piece feed dog. Stitch width and length are a bit limited as compared to some other machines but children won't notice at all. I only mention this as something of which more experienced sewers should be aware if they are considering this machine. No see through bobbin cover.
Manual: Still not available online as of June 21, 2013 but when it becomes available you'll be able to find it here (on the Specifications tab): http://content.janome.com/index.cfm/Machines/Sewing-Quilting/Hello_Kitty_15822
COMPARE PRICES
Amazon
Features Summary Review: