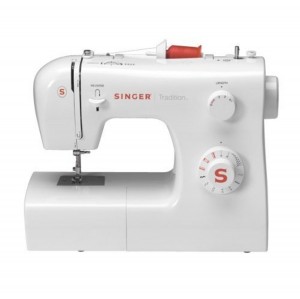 The Singer Tradition 2250 Portable Sewing Machine with 10 stitch patterns looks like a great sewing machine for beginners but my review says otherwise. With basic functionality, the Singer label and a price under $100 you'd expect it to be quite a deal. However, it doesn't get a whole lot of love.
Mostly, it's an issue with the bobbin. Whether it is user error or design error, the last thing you want to do is saddle a new seamstress with a machine this picky.

Table of Contents
(Click Ahead!)
Stitch Count / Presser Feet / Functionality / Accessories / Customer Reviews / Pros, Cons & Manual
REVIEW SUMMARY
MODEL: Singer 2250 Sewing Machine
REVIEWED BY: Erin
RATING: 2.8


LAST UPDATED: April 10, 2015

CHECK PRICE
Amazon
Overwhelmingly, no matter where you look for online reviews, half of them describe an issue with jamming caused by the bobbin and although the machine comes with a DVD that describes loading and threading the bobbin step by step, it doesn't seem to have made a difference.
There are still great Singer sewing machines for beginners but this one seems best suited for the more experienced to use as a basic machine for mending and infrequent, light tasks. Those just starting to sew would experience less frustration with a machine that had an easier threading system. Jamming threads and fabrics can easily turn you off.
People continue to buy this machine and most note it's low price but there are better machines for the same price that have much better consumer reviews. If you're interested in a comparison, check out the Brother XL2600i (more here).
.
Basic Stitches and a 5MM Width Length Maximum
(Back to Top)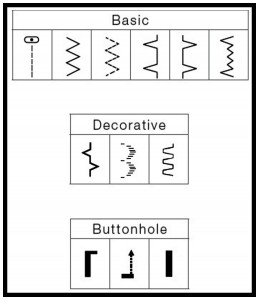 The Singer Tradition 2250 has 10 built-in stitches:
Straight
Zigzag
Multi-stitch Zigzag
Blind Hem
Shell Tuck (a decorative stitch for light fabrics and lingerie)
Elastic Blind Hem
Crescent (a satin stitch)
Rampart Stitch (for seams and decorative borders)
Bridging Stitch
4-step Buttonhole
Besides offering utility and decorative stitches, stitch widths and lengths are adjustable by dial up to 5mm.
Four Presser Feet for Entry Level Sewing
(Back to Top)
Four presser feet are included with the machine including a zipper foot, buttonhole foot, button sewing foot, and a general purpose foot. There is a quilting foot accessory that can be purchased separately to tackle quilting projects. The presser foot also has an extra high lift in order to tackle thick layers of heavy-duty fabric.
Easy Features but not a lot of Automation
(Back to Top)
To its credit, the Singer 2250 tries to deliver. The frame is made of heavy duty metal and the parts are high quality plastic. The extension table can be removed for free-arm sewing so cuffs and pant legs are easily slipped under the needle. Thread tension is automatic but also adjustable by dial control.
The bobbin is a front-loading which I find a little trickier but not impossible. If you find yourself having to change out bobbin thread in the middle of a project, though, this style of bobbin is easier because you don't have to remove your work to get to the bobbin.
It is an electric, mechanical machine operated by handwheel, dials, and the supplied foot pedal. The max sewing speed is 750 spm (stitches per minute). The reverse sewing lever is handily located on the front of the machine.
Additional features include:
Reverse button to reinforce stitches
Twin needle capable
Built in manual thread-cutter
Automatic bobbin winder
The Singer Tradition 2250 is is built for light tasks and comes with a darning plate which assists with mending.
Presser feet are easy to attach and snap into place. Thread delivery is horizontal (common for newer machines) and less prone to problems than vertical delivery.
There is a built in carrying handle which makes it easy to move the sewing machine or take it with you.
Dimensions: L 15″ x W 12″ x D 7″
Weight: 16 pounds
Accessory Supplies Stored Inside
(Back to Top)
The following accessories come with the Singer Tradition 2250:
Built in accessory storage
Work lamp
Cleaning brush
Seam guide
Quilting guide
Oil
Screwdriver
Two spool caps (small and large)
Second hole provided for twin needle sewing but second pin is not included
Thread take up lever
Thread cutter
Seam ripper included in accessories
3 bobbins (Class 15)
Pack of needles
Not a Consumer Favorite
There are quite a number of reviews online and ratings are mixed. One over-riding issue seemed to be the number of complaints regarding the bobbin jamming during sewing. Some users had no issues at all with the bobbin while others were able to resolve the issue by rethreading the machine.
However, the average rating is fairly low and this appears to be the case regardless of which online store's reviews you read, whether it be Amazon or Target.
One thing I didn't notice in the comments from buyers was price which I found rather surprising as there are better performing machines with more options for the same (or lower) price. A few of the Brother sewing machine models, such as the Brother CP-7500 (full details here), offer more stitches and features but for just about $30 more.
Average Rating: 2.8
Pros, Cons & Manual
(Back to Top)


Pros: Easy to learn. Includes helpful DVD covering basic machine operation and beginning sewing skills. Great for basic tasks like mending clothes.



Cons: Significant number of issues reported with bobbin thread jamming in the machine. No adjustable presser foot pressure. Bobbin cover is not see through. No dust cover. No automatic threader. Easily outgrown.

Manual available online here: Manual
Manufacturer's Warranty: The warranty in the US is 25 year limited on the machine head, limited 5 year warranty on motors, light, assembly, wiring, switches, speed control and electronic components, and a limited 1 year warranty on adjustments, belts, rings, bulbs, and attachments. As is standard with most warranties, the warranty may be void if certain requirements are not followed.
CHECK PRICE
Amazon
Features Summary Review: