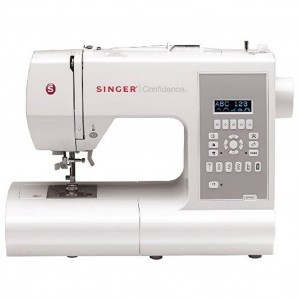 For sewing beginners interested in quilting and a solid starter machine  (or are simply addicted to decorative stitches), the Singer Confidence 7470 is worth a look. It's also a hit with more experienced sewers replacing an older Singer machine.
Its foundation is a heavy-duty metal frame (although, don't expect the Singer style of years gone by – there are still some plastic parts and accessories) and described by Singer as an "electronic sewing machine which will be appreciated by experienced and novice sewers alike".

Table of Contents
(Click Ahead!)
Stitch Count / Presser Feet / Functionality / Accessories / Customer Reviews / Pros, Cons & Manual
REVIEW SUMMARY
MODEL: Singer Confidence 7470 Sewing Machine
REVIEWED BY: Erin
RATING: 4.0


LAST UPDATED: April 9, 2015

COMPARE PRICES
Amazon
Walmart
One beginner who started out with a Singer Simple outgrew it within a couple of months and bought this as an upgrade and has been thrilled with her decision.
There are lots of automated features to cover so this review may get a bit lengthy but I wanted to demonstrate the complete functionality of the machine so you can better evaluate your options.
The Stitches You Need and More, Too
(Back to Top)
What's the saying? A picture is worth a thousand words? There are LOTS of stitches here. Take a peek: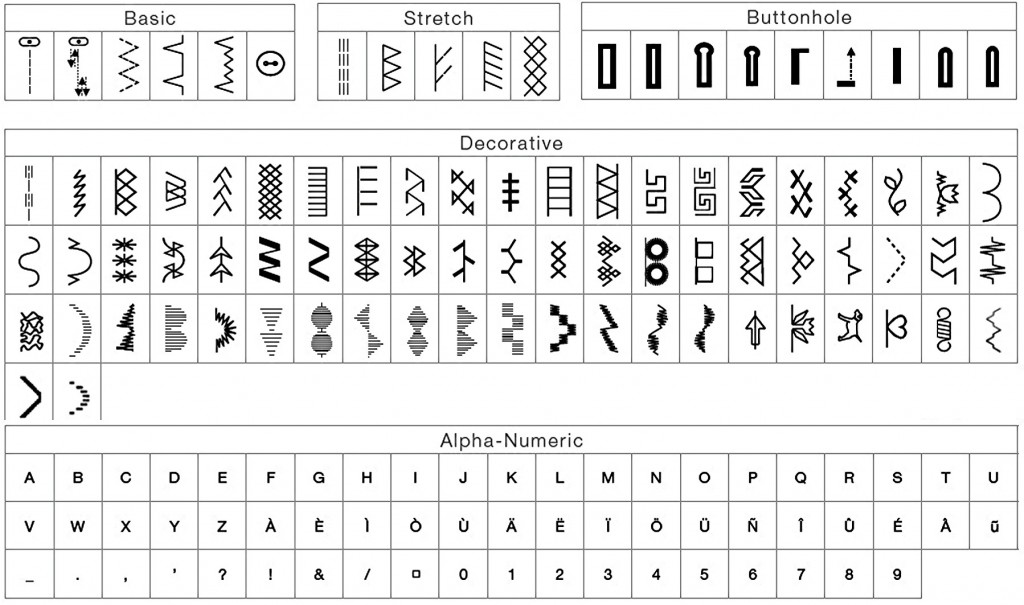 (Scroll to the bottom for a list of stitch names.)
That's a total of 146 built-in stitches, including the 7 buttonhole stitches (six are 1-step buttonholes, one indefinite, manual buttonhole stitch), the letters, numbers, and punctuation. Monogramming? You're in. Cute, little puppy? That, too. (Really! A puppy stitch!) In addition, 30 of those stitches can be done as mirror images which I should probably count as built-in stitches and a number of product descriptions do give different stitch counts (back to the old built-in vs stitch functions definition) but that's why I included the picture.
There are a number of other edits you can make to stitches, including whether to sew some of the decorative stitches just once for embellishment or continuously (with the push of a button) to make a repeating line of decorative stitches. This makes for quite a selection of stitch functions when all the variables are considered.
You can save up to 20 stitches in memory and then clear the memory as needed so if you wanted to monogram cuffs with the same initials or make a number of clothing tags with the same name (and stick a flower stitch symbol at the end, of course, right?), you could do so without having to reprogram the arrangement for each tag.
Stitches are organized into two categories – utility and decorative stitches that are continuous along with buttonhole stitches in one category and non-continuous stitches (like letters and shapes) in another. There are two buttons that bring up these different groups, one for each category. Once the category is brought up on the screen, you use the arrow keys to scroll through the stitch patterns in that category. When the pattern you want appears on the screen, push the appropriate button just underneath the stitch picture on the screen.
To further save time, there are six buttons for single, push button stitch selection for the most used stitches – straight, zigzag, blind hem, overcasting, blanket, and a bartack buttonhole.
Stitch width is adjustable to 7mm and stitch length is adjustable to 3mm depending on the selected stitch. (See the note below about the decorative stitches being "small" – the limitation on stitch length is probably the reason.)
More Presser Feet Would be Nice but Not a Deal Breaker
(Back to Top)
It comes with five snap-on presser feet and 3 presser foot height settings – down, up and extra-up for thick fabrics.
Zigzag Foot (General Purpose)
Zipper Foot
Satin Stitch Foot
Blind Stitch Foot
Buttonhole Foot
There are four sewing machines in the Singer Confidence line. This video explains the differences between the models and also demonstrates the Singer Confidence 7470 sewing machine in action.
Features for Thread and Operational Control
(Back to Top)
The Singer Confidence 7470 is packed with features that make machine set up fast, easy, and painless like:
Bright, adjustable contrast, LCD screen
Simple push-button control panel
Drop &Sew, top loading bobbin
See through bobbin cover
Automatic needle threader
Six point, box feed system
Automatic and adjustable precision thread tension
Visual and audible warning and error messages
Horizontal top thread delivery for smoother thread flow
Needle position is variable to 13 positions which helps get closer to zipper seams and for adding piping and cording. There is also a needle up/down button so you can instruct the machine to leave the needle in the down position when you stop sewing. This aids in making perfectly tight corners.
The extension arm removes for free-arm sewing so you can hem pant legs, finish cuffs, and construct shirt sleeves. The extension arm also houses the included accessories.
Removing the extension table also reveals the drop feed dog lever. There's a little trick to this lever which the instruction manual somewhat glosses over with just a picture. To drop the feed dog, slide the lever over. To raise the feed dogs, push the lever down first and then over.
The Singer Confidence 7470 is capable of twin needle sewing and includes a twin needle button which prevents you from selecting stitches that would harm the machine if performed while a twin needle is attached. Keep in mind that if you have a twin needle attached and then turn off the machine and turn it back on, the machine will have automatically returned to normal, straight stitch mode. Either replace the twin needle when you're done using it or remember to push the twin needle button to inform the machine you should only be allowed to select twin needle stitches.
The work space is well lit with a StayBright, long-lasting LED light. A built-in carry handle is attached at the top of the machine.
Dimensions: L 17-1/5" x W 12 1/2" x D 8"
Weight: 16.5 pounds

Accessories
(Back to Top)
The Singer Confidence 7470 comes with the following sewing machine accessories:
5 pack of needles
4 bobbins (including the one that comes in the machine)
Second spool pin for extra large top thread spool
2 felt discs for spool pins
3 spool caps (mini, small and large)
Buttonhole Opener/Brush/Seam Ripper
Screwdriver
Dust Cover
Singer Fans Like it as an Upgrade from Older Models
Bobbin threading is very easy. One woman used this model to replace her 40 year old Singer and is thrilled with the 7470. Makes smooth, quick stitches. Well lit work space. Light and easy to set up. Runs quietly. Powers through multiple layers. Intuitive and easy to learn. Used to make quilts, bridal gowns, flannel blankets, and for hemming pants – all were no problem except one consumer who did not find the walking foot exerted enough pressure on her quilt material to get the feed dogs to move the fabric properly. The machine weight does keep it from bouncing around while sewing yet it is still portable, just a bit heavier than some of the smaller machines in this price range.
There were a couple of complaints about machines that needed to be serviced in relatively short time. Those were, understandably, the folks who gave the machine a lower rating than others. Yet others not only had no problems to report – even after a number of years – but raved about how easy the machine was to use. Just something to note and may indicate you should make sure to buy from Amazon or an authorized dealer so the machine is covered by the manufacturer's warranty.
This isn't an advanced sewing machine as the decorative stitches are small in size but it's one of the more packed sewing machines for beginners who are interested in light embroidery and quilting. The auto tension, smooth stitching and ease of use were the most noted positives about this machine.
Quite a number of reviewers were upgrading from previous Singer sewing machines and they loved this model. One beginner originally purchased the Singer Simple model and found she quickly outgrew it so replaced it with this model and has been thrilled with her decision. It would be interesting to get some perspective from folks who had replaced another brand of machine with this one to see if their thoughts and opinions were similar.
Average Rating: 4.0
Pros, Cons & Manual
(Back to Top)


Pros: Wide sewing area. Well lit work space. Solid, sturdy machine capable of handling thick fabrics and a multitude of projects. Excellent stitch selection for craft sewing or free motion embroidery. Drop-in, jam proof bobbin system. Drop feed dog system for free motion quilting, free motion embroidery, and darning. Needle up/down button.



Cons: Decorative stitches are rather small. Includes some plastic parts so doesn't feel quite like the old, all metal Singers (this is the case with almost all machines in this price range these days). Restricted to using class 15J bobbins. Reverse stitch button has to be held down to reverse stitch – not just press to start reverse and another press to stop. Twin needle capable but a twin needle does not come with the machine and must be purchased separately.

Manual available online here: Singer Confidence 7470 Manual
Manufacturer's Warranty: As of this date,the warranty in the US is 25 year limited on the machine head, limited 5 year warranty on motors, light, assembly, wiring, switches, speed control and electronic components, and a limited 1 year warranty on adjustments, belts, rings, bulbs, and attachments. As is standard with most warranties, the warranty may be void if certain requirements are not followed.
These two locations currently have the lowest prices:
COMPARE PRICES
Amazon
Walmart
Singer Confidence 7470 Features Summary Review: