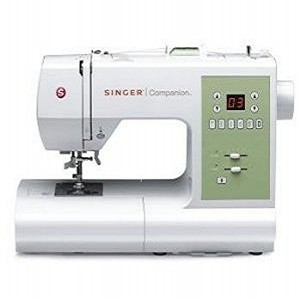 The Singer 7467 Confidence sewing machine is more advanced than most beginners may need at first but if you already know you're going to get into more complex projects down the road,
the features, automation and flexibility that come with this sewing machine are pretty intriguing and it's still reasonably priced
.
While most of the settings are automated, they are also adjustable as needed. Think of it as a sewing machine with training wheels.

Table of Contents
(Click Ahead!)
Stitch Count / Presser Feet / Functionality / Accessories / Customer Reviews / Pros, Cons & Manual
REVIEW SUMMARY
MODEL: Singer 7467 Confidence Sewing Machine
REVIEWED BY: Erin
RATING: 4.0


LAST UPDATED: April 9, 2015

COMPARE PRICES
Amazon
Walmart
Initially, you can let the machine pick the automatic settings for you and then, as you learn, you can manually adjust some settings for bigger, more intricate projects. That may be why they labeled it Confidence.
One of the complaints that comes up most often when experienced sewers use a beginner sewing machine is that needle position, thread tension and presser foot pressure are not adjustable. If you plan on becoming one of those experienced sewers, plan ahead and get a machine like this one that will eliminate that future headache.
Plus, the built-in stitches are incredibly tempting – lots of interesting patterns for quilting and decorative sewing.
Stitches and Buttonhole Styles
(Back to Top)
The Singer 7467 Confidence sewing machine comes with 70 built-in stitches to cover you from mending and clothes construction to quilting and accessorizing. Those 70 stitches include 3 styles of 1-step buttonholes. Stitch width and length is adjustable up to 7mm, depending on the stitch.
Stitch selection is done by pressing up and down arrow keys on each side of the LCD screen to reach the desired pattern number. The buttons on the left control the 1st digit and the buttons on the right control the 2nd.
To make sewing even easier, six stitches have a one-press button below the LCD screen for quick access. These include Straight, Straight Stretch, Zigzag, Blindhem, Overedge, and Wide Bartack Buttonhole. Since most of your sewing will use these stitches it's as close as you can get in this price range to having single button stitch selection.
Because the machine is capable of twin needle sewing but not all stitch patterns work with a twin needle, there's a handy button on the front that you push when the twin needle is attached. That button blocks you from being able to select a stitch that doesn't work with the twin needle, saving you from broken needles and damage to your machine.
The thread tension dial at the top of the machine has an "Auto" option which will set the proper tension for you but allows for you to adjust tension manually when necessary.
The arrangement of stitches and combination of features makes it easy to do even complicated techniques like making ruffles or doing gathers.
And, so you don't get lost amongst all those stitches, there's a pull-out pattern reference guide tucked into the bottom of the machine so you can quickly find the stitch number you want.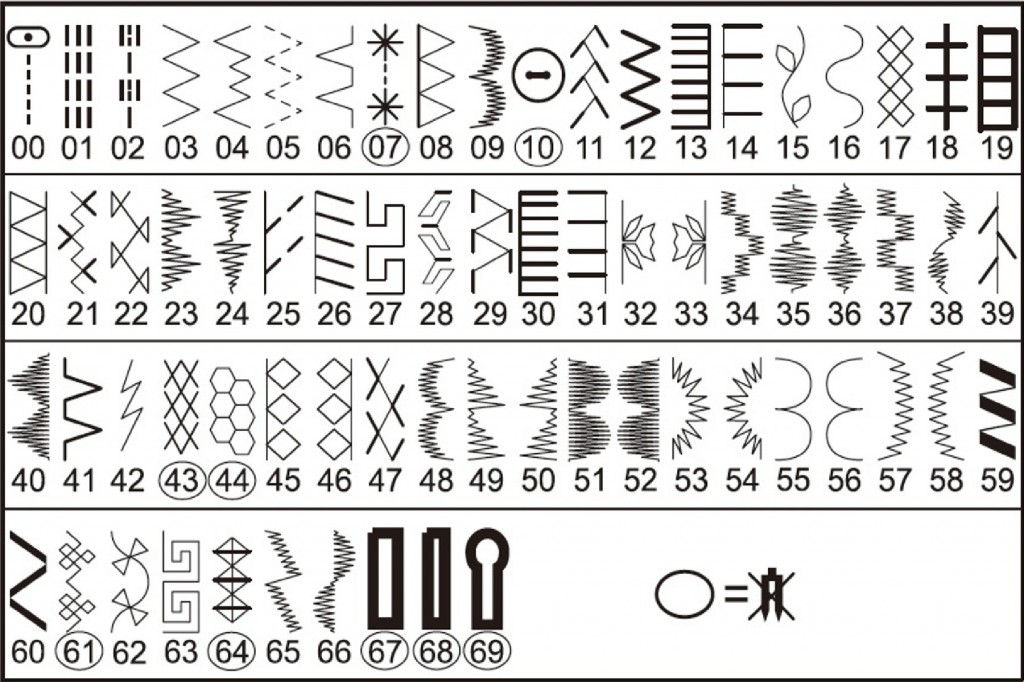 (Scroll to the very bottom for a list of stitch names.)
Includes Some Basic, Snap On Presser Feet
(Back to Top)
Included are five, snap-on presser feet which can be adjusted to three height levels allowing the machine to handle thick fabrics and multiple layers:
General Purpose Foot
Zipper Foot
Satin Foot
Blindstitch Hem Foot
Buttonhole
Automated Features Speed Up the Sewing Process
(Back to Top)
While maintaining flexibility where and when you need it, the Singer 7467 Confidence sewing machine eliminates some of the most frustrating and time consuming steps beginners run into when setting up and using a sewing machine.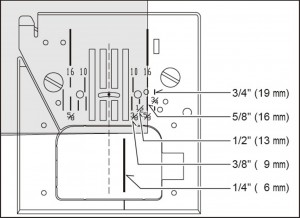 The drop-in bobbin system takes care of drawing up the threads so you don't have to do it yourself and the reverse sewing button is conveniently located right near the needle so you can hit reverse without having to take your hands off of your material.
Fabric flows smoothly under the direction of a six piece feed dog system. You barely have to touch the sides of your material to keep it flowing.
The automatic needle threader makes it easy to thread the machine with one hand. A clear, see-through bobbin cover allows you to check remaining thread quickly.
An LED work light provides bright lighting over your workspace. The heavy-duty, metal frame keeps the sewing machine in place while you work – it doesn't jump or skip during operation.
The needle has 13 possible positions in order to accomplish the provided stitch patterns. When you need to manually control your fabric for embroidery, free-hand sewing, or darning, removing the extension table reveals a feed-dog drop button at the back of the machine that drops the feed dogs so you control the movement of your material and stitches. Horizontal top thread delivery helps reduce possible thread jams.
The extension table provides accessory storage within and there is a carrying handle at the top to make transport around the house or to class a snap.
It is a few pounds heavier than most of the other machines we've reviewed so far but there are two good reasons that is the case. First, the machine's weight holds it in place for steady sewing on large projects. Second, the larger size offers a nice sized work table. The Singer 7467 allows free-arm sewing.
Dimensions: L 17.2″ x H 12.2" x W 8"
Weight: 16 pounds
Accessory Kit Inside the Free Arm
(Back to Top)
You'll find these accessories come with the Singer 7467 Confidence:
Pack of 5 needles
Bobbins (4 total)
Auxiliary spool pin
Spool pin felt discs (2)
Spool pin cap (mini)
Spool pin cap (small)
Spool pin cap (large)
Buttonhole opener/Seam Ripper and Brush
Screwdriver for needle plate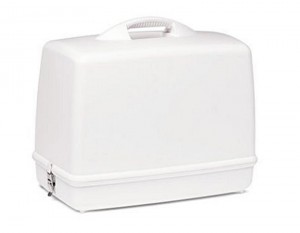 The Singer 611 Universal sewing machine case fits the Singer 7467 but must be purchased separately.
Good Ratings from Owners
(Back to Top)
After reading all the online reviews from a number of sites, the overall impression is that the machine performs very well. It's a bit more touchy about settings than some other machines but that's much appreciated by anyone who needs to fine-tune their work to deal with an assortment of fabric thicknesses.
Handles a variety of materials very well. Powers through thick layers. The push buttons are easy to use and it has lots of stitches to choose from. Just a bit touchy on the threading.
Drop in bobbins makes things so much easier. Stitches look very professional. Sewing machine runs quietly enough that you can have a conversation or watch TV without the machine bothering those around you. Very sturdy and machine does not shake during sewing. Reverse button is right by the needle so you can reach it while still holding the fabric in place. Automatic thread tension setting works very well.

Average Amazon Rating: 4.0
Pros, Cons & Manual

Pros: Sturdy, metal frame. Easy for beginners to learn and operate. Grows with a beginner as they learn to sew. Nice quilting features and stitches. Quick, one-button stitch selection for the most widely used stitches. Broad selection of decorative stitches. Handles thick fabrics and large projects. Additional spool pin can be used for vertical thread delivery of extra large spools.

Cons: Comes with twin needle control and the extra pin for twin needle sewing BUT no twin needle is included so it must be purchased separately (which makes no sense to me but is a minor inconvenience). Case is not included.
Manual available online here: Manual
Manufacturer's Warranty: As of this date,the warranty in the US is 25 year limited on the machine head, limited 5 year warranty on motors, light, assembly, wiring, switches, speed control and electronic components, and a limited 1 year warranty on adjustments, belts, rings, bulbs, and attachments. As is standard with most warranties, the warranty may be void if certain requirements are not followed.
Comparison
Until now, our sewing machine reviews have focused on machines for beginners under $200. However, one question has plagued me. Does a higher price get you a better beginner sewing machine? The answer is "not necessarily".
A beginner has to look at what the additional expense actually gets them AND whether or not they will NEED and USE the additional functionality. Otherwise, you're simply paying for something you don't need.
Does the Singer 7467 give you more than a comparable, cheaper sewing machine for beginners? For the sake of comparison, look at the Brother CS6000i which costs nearly $100 less than the Singer 7467. Here are the advantages each machine has over the other:
Singer 7467
Larger, heavier, sturdier sewing machine.
Quick one-button selection of 6 widely used stitches.
14 more construction and decorative non-buttonhole stitches.
13 needle positions
2 more needles
Brother CS6000i
5 extra presser feet
Button speed control eliminates need for foot pedal operation
4 additional buttonhole styles
Hard cover case
Twin needle included
Two places to check for the lowest prices online:
COMPARE PRICES
Amazon
Walmart
Features Summary Review: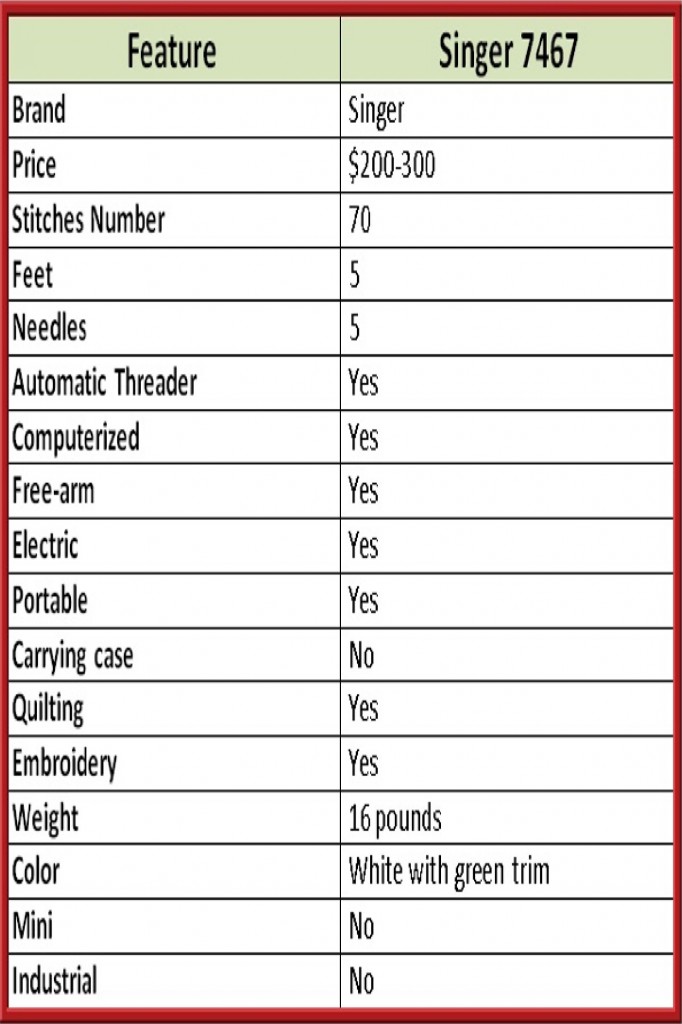 Singer 7467 Confidence Built In Stitches List
| | | | | | |
| --- | --- | --- | --- | --- | --- |
| 0 | Straight | 24 | Arrowhead | 48 | Scallop |
| 1 | Straight Stretch | 25 | Slant Overedge | 49 | Half Arrowhead |
| 2 | Hand Look Quilt | 26 | Slant Pin | 50 | Half Arrowhead |
| 3 | Zigzag | 27 | Greek Key Open | 51 | Solid Scallop |
| 4 | Stretch Blindhem | 28 | Y Border | 52 | Solid Scallop |
| 5 | Multi-stitch Zigzag | 29 | Fishbone | 53 | Sunburst |
| 6 | Blindhem | 30 | Pin Stitch | 54 | Sunburst (reversed) |
| 7 | Asterisk | 31 | Blanket Stitch | 55 | Arch |
| 8 | Overedge | 32 | Floral | 56 | Arch (reversed) |
| 9 | Crescent | 33 | Floral | 57 | Sunburst |
| 10 | Button Sewing | 34 | Domino | 58 | Sunburst |
| 11 | Feather | 35 | Bead | 59 | Banner |
| 12 | Ric-rac | 36 | Diamond | 60 | Diagonal |
| 13 | Pin Stitch | 37 | Domino | 61 | Crossed Flower |
| 14 | Blanket Stitch | 38 | Sphere | 62 | Kite Tail |
| 15 | Vine | 39 | Thorn | 63 | Greek Key |
| 16 | Serpentine | 40 | Pyramid | 64 | Kite |
| 17 | Honeycomb | 41 | Shell Stitch | 65 | Slant Zigzag |
| 18 | Entredeux | 42 | Stem Stitch | 66 | Half Bead |
| 19 | Ladder | 43 | Honeycomb | 67 | Wide Bartack Buttonhole |
| 20 | Double Overlock | 44 | Honeycomb | 68 | Narrow Bartack Buttonhole |
| 21 | Criss-cross | 45 | Reinforced Overedge | 69 | Key Buttonhole |
| 22 | Crossed Stitch | 46 | Reinforced Overedge | | |
| 23 | Half Diamond | 47 | Criss-cross | | |