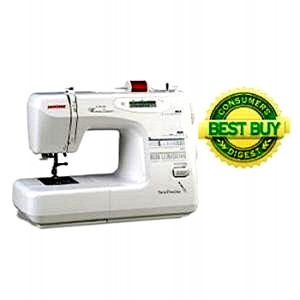 The Janome Sew Precise sewing machine has several things going for it that make it an excellent choice regardless of your experience level.
It was recognized by Consumer Digest as a Best Buy. Plus, it's built by one of the brands best known for precision stitching and reliable performance. Third, the selection of stitches covers all kinds of sewing projects.
Those who want automation without computerized features might be thrilled with the simplicity of this powerful machine.

Table of Contents
(Click Ahead!)
Stitch Count / Presser Feet / Functionality / Accessories / Customer Reviews / Pros, Cons & Manual
REVIEW SUMMARY
MODEL: Janome Sew Precise Sewing Machine
REVIEWED BY: Erin
RATING: 4.7


LAST UPDATED: April 9, 2015

COMPARE PRICES
DISCONTINUED (very hard to find)
Janome Sew Precise Built In Stitches
(Back to Top)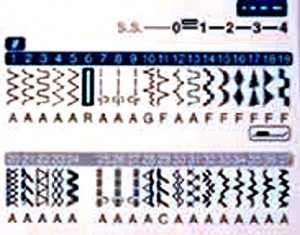 You know what I like about trail mix? There's a little bit of everything thrown in. Same goes for the 37 sewing stitches built into this sewing machine. Quilting, cross stitches, stretch,  basic stitches for sewing clothes like straight and zigzag and even a nice buttonhole stitch. Some machines have twice as many and don't cover the same ground.
The buttonhole is a one-step style. This means that the sewing machine sews all four sides of the buttonhole in one step without you having to remove and reposition the fabric. It will even reinforce the ends.  As a beginner, if you've never done a buttonhole before, the one-step style is an absolute blast!  (I promise you'll create 10 of them in a row when you start playing around with your new sewing machine and you won't break a sweat.)
Stitch width can be adjusted to a maximum of 6.5mm and length adjustable to 4mm on select stitches using dials to the side of the LCD display.
You can't talk about Janome sewing machines without discussing stitch quality. They stitches are straight, even, and consistent in size. The satin stitches are full with no gaps in between the lines that make up those stitches. Janome is well known for the technology that controls their machines' stitch work and it pounds through a ton of work without a hitch.
Janome Sew Precise Included Presser Feet
(Back to Top)
There are a total of 5 presser feet, all snap-on style. To remove one just press a button on the back of the presser foot holder and the presser foot drops off. Line the new one up just below the presser foot holder, press the presser foot lever and the holder drops onto the new presser foot and it snaps into place.
Zigzag foot (general purpose)
Overedge Foot
Blind Hemming Foot
Satin Stitch Foot
Automatic Buttonhole Foot
The presser foot has three different height settings. When you're sewing, the presser foot should be down so that it can hold the fabric in place against the feed dogs. When you're positioning or removing your fabric, the presser foot should be up so that it's out of your way. When you're working with extra thick fabrics, you can push the presser foot up another ¼ of an inch to get those fabrics into place.
Janome Sew Precise Sewing Machine Functionality
(Back to Top)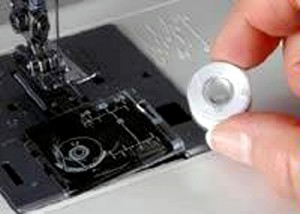 You can literally get this sewing machine up and running in minutes out of the box even if you've never sewn before. Follow the simple instructions in the manual to load the bobbin and thread the top thread, turn the stitch selector on the side to pick a pretty stitch, and slip your fabric under the presser foot.
The Sew Precise l has a top loading, drop-in bobbin – the easiest, least temperamental bobbin style. Load it, place it in the bobbin compartment, and pull the tail thread to the side. You'll pull it up after you've followed the thread guide to put the top thread in place and used the automatic needle threader to get the thread through the eye of the needle.
The bobbin uses a horizontal full rotary hook for jam proof sewing – even if you sew right off the edge of the fabric your threads won't bunch up into a tight, frustrating knot.
There are several other neat features that make this sewing machine easy to use and operate:
LCD display on the front of the sewing machine provides information about the selected stitch, required presser foot, stitch width and length settings
Electronic speed control slider lets you set the maximum sewing speed – ideal for delicate work or those who are just learning to sew
Six language options for the LCD screen – English, Italian, Spanish, Dutch, French and German
See through bobbin cover
Buttonhole stitch balance control for perfect buttonholes in all fabric types
Reverse button to lock stitches in place
Additional spool pin means you can use oversized thread spools or load a bobbin without unthreading your top thread
Automatic thread tension which can also be adjusted manually when working with special fabrics
Drop feed dog lever in the back lets you lower the feed dogs for mending, free motion quilting, or free motion embroidery
The spool pin for the main thread lays horizontally (called horizontal thread delivery) so thread flows more smoothly and is less prone to breakage
Superior feed dog system
Built in thread cutter on the side
Needle can be positioned in the center, to the left, or to the right for straight and straight stretch stitches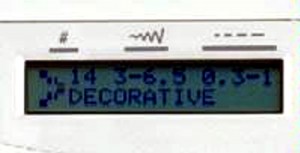 There's a work light over the needle plate and you can remove the flat bed attachment so smaller, circular projects like pant legs and shirt sleeves can be slipped over the free arm and under the needle. A built in carry handle pulls up from the top of the machine so you can easily move this around from table to table.
Maximum sewing speed is 800 stitches per minute.
Dimensions: L 16.5" x H 11" x D 6.7"
Weight: 18.7 pounds

Janome Sew Precise Accessories
(Back to Top)
These accessories come with the sewing machine and can be stored inside a compartment within the extension table:
3 additional bobbins
Set of needles
2 spool holders (1 small, 1 large)
Extra spool pin (useful for loading a bobbin without having to remove and unthread the top thread)
Spool pin felt
Quilting guide
Screwdriver
Seam ripper
Lint brush
Customer Reviews
Consumers have said that this sewing machine sews beautifully – not surprising for any Janome. The controls are simple and it doesn't take much time at all to learn the features and buttons. It's dependable and reliable. Recommended for beginners.
Quilters like this sewing machine because it comes with the quilting guide and is really easy to use. When you're working on making quilting blocks, one after the other, you don't want to have to deal with tweaking the machine settings in between blocks. It also helps to have a superior feed dog system to push through thick, quilted fabrics. Size can be a factor, too. As your project progresses, its bulk can push around smaller machines.  Beginners like the simple operation and built in automation.
You can read more here: Reviews
If this is out of your price range, take a look at the Janome 8077 or the Janome Magnolia 7330. While they each have 7 fewer stitches than the Sew Precise (fewer stretch stitches, in particular), the features are similar – if not better – and the prices are lower.
Average Rating: 4.7
Janome Sew Precise Pros, Cons & Manual

Pros: Drop feed dog capability. Comprehensive stitch variety. Precision stitching. Superior feed dog system. Top drop in bobbin. Speed control slider.

Cons: No case included. No backlight on the LCD screen so can be more difficult to read if your work area is not well lit.
Manual available online here: Manual
Manufacturer's Warranty: In the US, as of this date, the Janome Jem Gold 660 sewing machine comes with a 20 year warranty on parts, 2 years on electrical, 1 year on labor and may be voided by certain activities.
Features Summary Review: