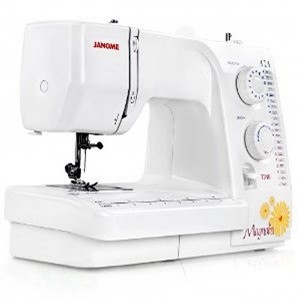 The sturdy, mechanical Janome Magnolia 7318 is
one model in a line of affordable machines for beginners that deliver the same state of the art technology and precision that has earned Janome such a solid reputation from its more expensive products
.
It's also known for smooth stitching and ease of use. It's still portable but heavy enough to stand up to the bulk of thick fabrics and quilting layers. The aluminum cast body stays rigidly in place while you sew and the good sized work space allow your hands to freely work around the machine arm.

Table of Contents
(Click Ahead!)
Stitch Count / Presser Feet / Functionality / Accessories / Customer Reviews / Pros, Cons & Manual
REVIEW SUMMARY
MODEL: Janome Magnolia 7318 Sewing Machine
REVIEWED BY: Erin
RATING: 4.2


LAST UPDATED: April 9, 2015

COMPARE PRICES
Amazon
It costs a bit more than some of the comparable Singer and Brother models with similar functionality but it doesn't skimp on size and weight in order to cut down on the manufacturing expense.
I have to assume the objective of this line of machines is to offer a low cost alternative without sacrificing on production that would also cut short the life of the machine. As this line of machines has only been out for a few years, it is too early to tell how they'll hold up in relation to the cheaper Singer or Brother machines but considering the construction quality it should hold up very nicely.
Because of the drop feed system and combination of utility and decorative stitches, home décor, mending, garment construction, quilting, and free motion embroidery are all possible.
Built In Stitches Allow for Some Creativity
(Back to Top)
Everything you'll read about this machine says it comes with 18 built-in stitches, but the Janome Magnolia 7318 is getting short-changed. Many machines count the straight stitch center and straight stitch left of center as two separate stitches when totaling their built-in stitch count but Janome counts them together as one stitch.
The 4-step buttonhole is also not included in the stitch count, although other machines do include that in their totals. So, in comparison, there are really 21 built-in stitches on this machine. Just keep that in mind when comparing your options. Look at the actual names of the stitches and line them up to be sure you understand which you are really getting on each of the possible machines on your list.
Stitch width is adjustable to 5mm and length is adjustable to 4mm. Both are controlled with dials on the front of the machine. Stitch selection is also done by dial.
Blind Hem Stretch
Blind Hem
Shell
Fagoting

Bridging
Satin
Arrowhead
Overcasting
Stretch Overcasting
Knit Stitch
Double Overedge
Thorn
Satin Stretch
Straight
Straight (left of center)
Zigzag
Multi-stitch Zigzag (also known as a Tricot stitch)
Straight Stretch
Straight Stretch (left of center)
Stretch Zigzag
Smocking
4 Step Buttonhole
Included Snap On Presser Feet
The Janome Magnolia 7318 comes with 4 snap-on style presser feet. Presser foot has 3 height settings: normal, up and extra up (also called "industrial") to accommodate thicker layers of fabric.
General Purpose
Zipper
Blind Hemming
Sliding Buttonhole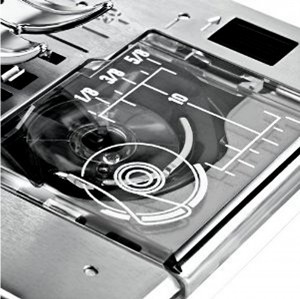 Mechanical Functionality and Features
(Back to Top)
Janome is known for innovation when it comes to sewing machines and this model includes many of the most popular advancements in sewing machine technology.
All of the upgrades that make thread flow smoothly and that make the machine easy to use are included such as a top loading, drop-in bobbin system they call "jam proof" and horizontal top thread delivery.
This is a mechanical sewing machine with foot control pedal and a top speed of 830 stitches per minute.
Thread tension has an automatic setting but is also dial adjustable for flexible stitch control. The bobbin cover is see-through so you don't have to remove it to check thread remaining before starting a project. There is also an extra spool pin so you can load the bobbin without unthreading the machine.
The Janome Magnolia 7318 uses a box feed system with a four piece feed dog. There is a drop feed dog lever to lower them out of the way so you can use the machine for free motion embroidery, darning, and quilting.
The extension arm removes so you can perform free-arm sewing. Needle position is variable from center up to 5 settings to the left. A convenient lever-style quick-reverse button is located on the front of the machine.
There is a built in, retractable carrying handle at the top and a work lamp over the work space.
This is Janome's demonstration video for the Janome Magnolia 7318. It helps to see the machine in operation and in relation to a person so you can get a feel for the size and ease of using the machine.


Lots of people don't want to deal with computerized sewing machines. Either they're simply more comfortable with mechanical setup, they want a simple machine, or they may have concerns with the longevity of computerized mechanisms. Janome limited the automation in this machine without giving up anything that would compromise its reputation for beautiful stitches and reliable performance.
If you're looking for an uncomplicated option that you know will work day in and day out, this is a neat option.
Dimensions: L 16" x W 11.7" x D 7"
Weight: 16.8 pounds
(Overstock has 19x11x15 but that information is incorrect – no way the machine has a depth of 11 inches!)
Accessories
(Back to Top)
A slide out tray within the extension table holds all the accessories that come with the machine:
3 pack of needles
4 bobbins (including the one that comes in the machine)
Screwdriver
Lint Brush
Seam Ripper
2 Spool Holders (small and large size)
Additional Spool Pin
Felt Cushion for Spool
Very Good Ratings from Owners
Beginners looking for basic machines love this model. It sews through everything (towels and quilts included), sews very smoothly at all speeds, and is sturdy and solid. The weight keeps the machine in place while working with heavy fabrics and large projects, There are no reviews on Amazon so I included the 4 reviews on Overstock to help gather feedback and ratings.
Average Rating: 4.2
Pros, Cons & Manual
(Back to Top)


Pros: Easy drop-in bobbin, solid construction, variable needle position, adjustable thread tension, drop feed dog system, top loading bobbin, horizontal thread delivery, and capable of handling thick fabrics and heavy projects without jumping around. Smooth, precision stitching.



Cons: Fewer decorative stitches than some Singer and Brother models that cost the same or less (but those machines are generally smaller and weigh less). Does not come with a case.

Manual available online here: Manual
Manufacturer's Warranty: In the US, as of this date, the Janome Magnolia 7318 sewing machine comes with a 20 year warranty on parts, 2 years on electrical, 1 year on labor and may be voided by certain activities.
Check these two great stores for the best deal:
COMPARE PRICES
Amazon
Features Summary Review: