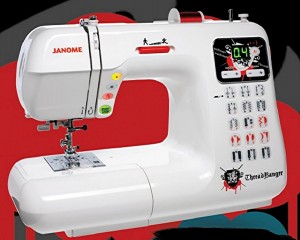 Funky, cool graphics and light up buttons? I'm in! The Janome ThreadBanger TB30 is a work horse that also knows how to let its hair down.
Doesn't it look like there's a party happening on that machine?
I realize how the machine looks is not a significant factor when choosing your first sewing machine, but after looking at quite a number of very plain, very white sewing machines for beginners, it's really hard not to be drawn in by the great colors on this one.

Table of Contents
(Click Ahead!)
Stitch Count / Presser Feet / Functionality / Accessories / Customer Reviews / Pros, Cons & Manual
REVIEW SUMMARY
MODEL: Janome Threadbanger TB30 Sewing Machine
REVIEWED BY: Erin
RATING: 4.7


LAST UPDATED: April 9, 2015

COMPARE PRICES
DISCONTINUED
Even the buttons have fun pictures on them. (Like the picture of the man running to demonstrate the speed button!)
Back to reality. You want to know if it's worth the money. If it can handle tough projects and heavy denim. Can it stand the test of time? Is it as functional as you've heard? Or is it all show and no sew? (That was my weak attempt at humor. Forgive me!)
Well, this monster has some pretty slick tricks up its free-arm sleeve and handling thick layers of denim is just one of them.
Basics, Buttonholes, and Pretty Stitches
(Back to Top)
There are 30 built in stitches including all the necessary utility stitches, a nice selection of satin and decorative stitches, and six styles of 1-step buttonholes. Stitch length is adjustable to 5mm and width is adjustable to 7mm. There's also a unique stitch elongation feature which lets you elongate the satin stitches to 5 times their normal size without losing any of the thread density or appearance.
Stitch selection is pretty simple. Each button has two stitch patterns on it. Push a button once to choose the pattern on the left, twice to choose the stitch pattern on the right. Below each stitch there is also an indicator of which presser foot is to be used for that stitch.
Straight Stitch
Straight Stitch (needle to the left)
Lock-a-matic (Automatically locks the stitch at both ends)
Auto-lock Stitch (Straight stitch)

Stretch Stitch
Blind Hem
Triple Stretch
Lock-o-matic Straight Stretch
Zigzag
Tricot (Multi-stitch Zigzag)
Overcasting
Overlock (Serger Stitch)
Applique
Patchwork
Tacking Stitch
Hemstitch
Cording Stitch
Half Sphere
Diamond
Pyramid
Bead
Leaf
Crescent
Arrowhead
Bartack Buttonhole
Round End Buttonhole
Keyhole Buttonhole
Knit Buttonhole
Stretch Buttonhole
Antique Buttonhole
Good Set of Presser Feet
(Back to Top)
It comes with 6 quick-changing, snap on presser feet. Presser foot height is adjustable to 3 settings: down, up and high (1/4" higher than regular up) so that you can sew thicker layers of fabrics as needed.
Presser foot pressure is also adjustable up to three settings. There's a lever on the side of the machine numbered 1-3. The #1 setting is for use with lightweight and sheer fabrics, #2 for appliqué and basting type stitches, and #3 for regular sewing.
Having both adjustable height settings and adjustable pressure foot pressure enhances the machine's flexibility for handling different fabrics and tasks.
Unlike any other sewing machine we've reviewed so far, there's another interesting features about the general purpose presser foot. It has a little, black button on the side that helps you handle the thickest seams, like when you hem jeans or work with layers of denim. The button keeps the foot level when climbing those thickest layers and then releases after a few stitches.
Zigzag Foot (General Purpose Foot)
Overcast Foot
Satin Stitch Foot
Automatic Buttonhole Foot
Overedge Foot
Blind Hem Foot
Strong Feed Dog and Automation Features
(Back to Top)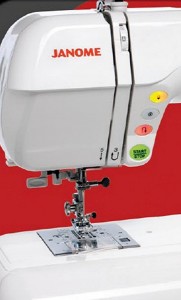 That showy front isn't just a smoke and mirrors trick – there's a lot of cool features embedded in the TB30. It's a very solidly built machine with a high-contact feed dog system and lots of automation.
7 Piece Feed Dog System – superior fabric control
Start-Stop Button – disconnect the foot pedal and sew entirely with the push of a button.
Automatic Bobbin Winder – stops loading the bobbin when it senses it is full.
Easy to Reach Reverse Stitch Button
Janome's Precision Thread Tension – automatic and adjustable for complex projects.
Drop Feed Capable – access the drop feed dog lever by removing the extension table. Dropping the feed dogs lets you use the sewing machine for button attachment, darning, free motion quilting and free motion embroidery.
Automatic Needle Threader
Programmable Up/Down Button – Tell the sewing machine to stop work with the needle in the down position so you can rotate your material for perfect corners.
Free-Arm Sewing – extension table removes so you can place sleeves, pant legs, and cuffs under the needle.
Speed Control Button – For delicate work or free motion sewing, slow the machine's top speed down with the slider control at the top. This caps the machine's max speed so YOU are in control.
Maximum Speed – 820 stitches per minute using the foot pedal and a max of 700 stitches per minute using the Start/Stop button.
Auto-Lock Button – Automatically locks your stitches in place depending on stitch selection. This button can also be used to create your own stitch patterns by combining two or more different stitches. For example, you could sew two complete diamond stitches followed by a hemstitch and repeat the pattern along your entire hem.
Quilting Guide – Attach the quilting guide and you can more easily create identical rows of stitches that are evenly spaced to the maximum length of the quilting guide. Just create the first line of stitches, attach the quilting guide, place the first line of stitches under the quilting guide and run your second line of stitches keeping the quilting guide in line with the first row as a spacer.
Elongation Button – Increase the length of decorative satin stitches to up to 5x their original size without losing any thread density or thinning out the appearance of the stitch.
Solid Construction – Sturdy exterior plastic with metal interior parts and frame.
There's a bright LED screen that displays stitch selection and setting information, a carry handle at the top so you can move the machine around easily, a feed balancing dial, top loading bobbin, horizontal thread delivery, and the needle is adjustable to three settings (center, left, and right) so you can get closer to the edge of your fabric as needed.
Four audible beeps and 8 error codes indicate when buttonhole sewing is complete, when operation is normal, or when the machine is encountering a problem. The manual outlines the definition of each of these sounds and codes.
The Janome DC2010 used to cost the same as the ThreadBanger TB30. Much of the functionality, construction, and accessories are the same but there are a couple of differences when comparing the two sewing machines.

The Janome DC2010 comes with 50 built in stitches instead of 30 and needle position is variable to 15 positions instead of 3. However, the Janome DC2010 does not have adjustable presser foot pressure, a Start/Stop button or the Elongated Stitch button.
Dimensions: L 16.3" x W 11" x D 7"
Weight – 18.3 pounds

Accessories
(Back to Top)
It comes with these accessories:
5 pack of needles
4 bobbins
Screwdriver
Quilter
Seam Ripper/Buttonhole Opener
Lint Brush
2 Spool Holders (small and large size)
Soft Cover
It's a Winner for More than its Looks
Sturdy, quiet, recommended for others. Used as a starter machine. Easy to use, work-horse. Beautiful, even stitches and perfect buttonholes. I found one reference to an issue with the lights underneath the machine buttons going out. This didn't interfere with machine operation but could be disappointing. There are 3 reviews on Overstock for a score of 4.8.
Average Rating: 4.7
Pros, Cons & Manual
(Back to Top)


Pros: Start/Stop button, speed control, Janome precision stitching, sturdy construction, Elongated Stitch button, Auto-Lock feature, top loading bobbin, horizontal thread delivery, adjustable presser foot pressure, superior feed dog system. Presser foot level button for thick seams.



Cons: Not as many decorative stitches as some other machines.

Manual available online here: Manual
Manufacturer's Warranty: In the US, as of this date, the Janome ThreadBanger TB30 sewing machine comes with a 20 year warranty on parts, 2 years on electrical, 1 year on labor and may be voided by certain activities.
Features Summary Review: