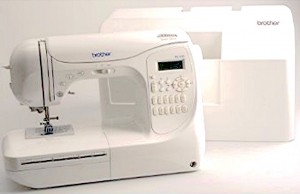 The Brother PC-420 PRW and the PC-210 PRW sewing machines look enough alike to make you wonder how the two compare but the 420 costs about $100 more than the 210.
Does it have enough extra stitches and features to warrant the higher price?

Absolutely!
If you buy the PC-420 PRW you get 6 extra presser feet, 199 additional stitches AND the ability to create your own stitches. You can also monogram, use the included knee lifter and you have an automatic thread cutting button, to boot.
Both are great choices but anytime you're looking at two machines that are this close in price it makes sense to understand the difference in features. If you settle for the PC-210 PRW just because of the lower price, you might kick yourself a few months down the road when you discover your love for quilting and the need for the quilting presser foot that you now have to buy separately or realize that you can't monogram cuffs, baby bibs, or your child's clothes with one but could have with the other.
Not everyone will want the extra features and that's fine, too. Let's just cover what they are so you can make the best decision based on your own goals and needs.
What's different between the PC-420 and the PC-210 Project Runway Sewing Machines?
Right Side Control Panel
The PC-210 control panel has a small screen that shows the selected stitch pattern number and six buttons: Stitch Width slider, Stitch Length slider, Automatic Reverse/Reinforcement button, the Needle Position button and two stitch selection buttons.
Below the control panel buttons is a complete stitch reference guide so you can choose your stitches on the go – no need to refer to the manual or a pull out chart.
The PC-420 control panel has a larger LCD screen that shows stitch selection as well as stitch setting information. There are 23 buttons: help key, stitch selection key, 2 keys for adding and removing patterns from combinations of characters, 4 arrow keys for moving around the LCD screen, an OK button for accepting settings, a back key, a settings key, and 12 single-button stitch selection keys so you can get to the most used utility stitches quickly.
Built In Stitches
No competition here. The PC-210 comes with 50 built in stitches and while it's a wonderful collection including utility stitches, several buttonhole styles, satin stitches, cross stitches, and quilting stitches, the PC-420 comes with 249 stitches including a set of letters and characters for monogramming.
Other differences include the fact that the PC-420 comes with the Stitch Creation program so you can design your own stitches. Grid paper is provided along with instructions for how to sew your own special designs. You can also save your preferred settings for width and length to the built in stitches which you cannot do on the PC-210.
# of Presser Feet
The PC-210 comes with 7 presser feet while the PC-420 comes with 13. To buy the additional 6 presser feet separately would cost about $75.
Thread Cutter Button
The PC-420 sewing machine comes with an automatic thread cutter button. When you're done sewing, push this button and it will automatically cut your top and bottom threads so you can immediately remove your material.
Price Difference
The PC-420 costs about $80-100 more but considering the extras it is certainly worth it if you want as many stitches as possible for decorative sewing, monogramming, and quilting. You can't add stitches later to the PC-210 so if you think you'll ever want them now is the time to decide.
The extra presser feet alone account for about $75 of the price difference which means the extra 199 stitches and the Stitch Creation program that come with the PC-420 PRW are really only an extra $5-25. That really makes the PC-420 a bargain!
All other features are the same:
Organized accessory storage
5 pack of needles, twin needle capable and twin needle included
Speed control slider, start/stop button, reverse/reinforce stitch button, and needle up/down button
Eyelet punch
Same hard cover case
Both are great for making clothes and can handle a wide variety of fabrics from lace to sheers and denim to canvas.
All the thread delivery features such as horizontal thread delivery, drop in bobbin, automatic bobbin winding, easy top threading, and feed dogs are the same.
For more on the PC 210 PRW: See my full overview

For more on the PC 420 PRW: See my full overview
I hope this comparison between the two makes it easier for you to decide between them.  In a nutshell, both are great performing, popular machines but one has some great extras that are worth the extra price for those who want as much functionality as possible.