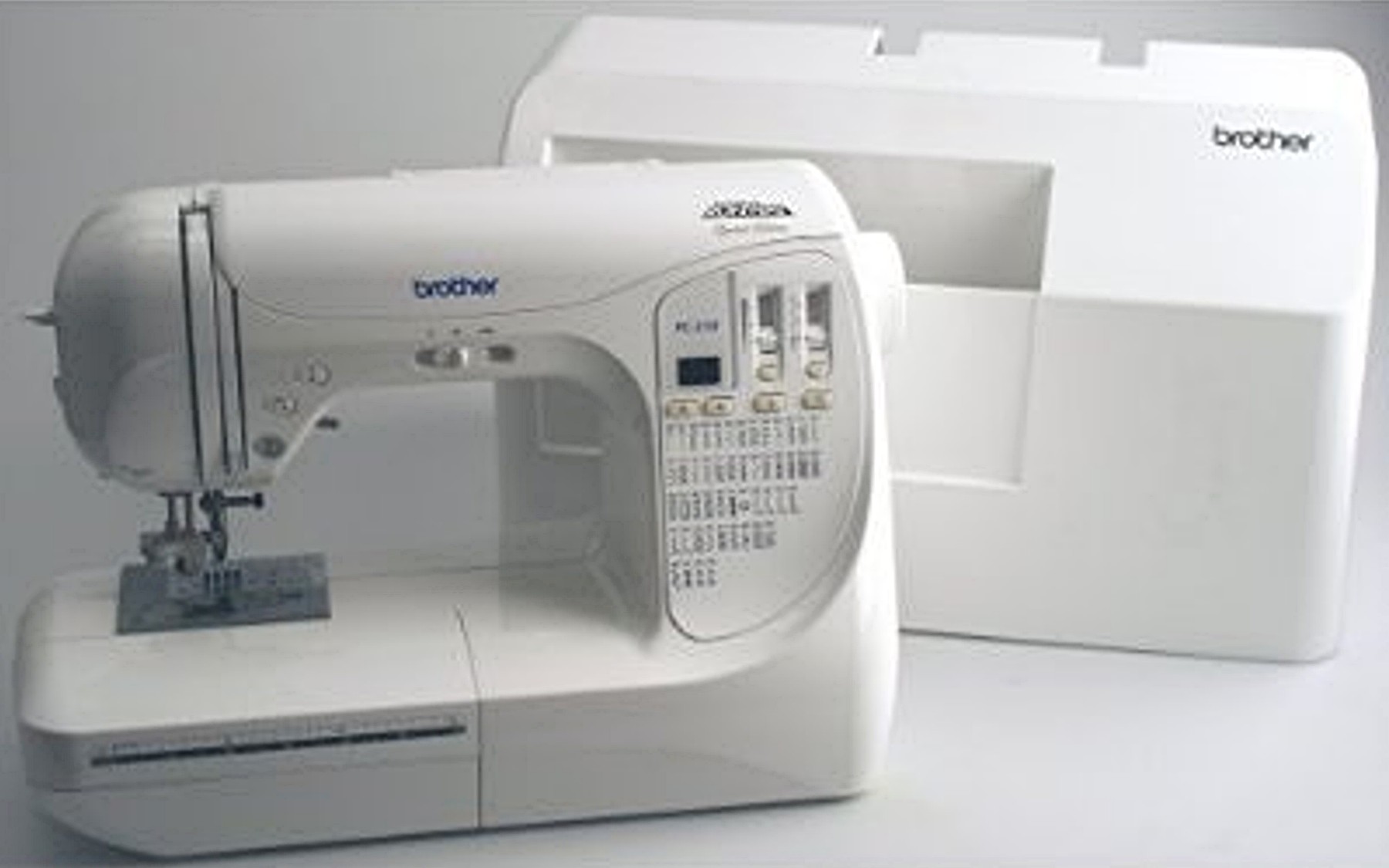 Besides carrying the brand of the hit fashion design show, the Brother PC210 PRW Limited Edition Project Runway sewing machine is one neat, tidy, well organized piece of equipment.
It's a computerized sewing machine that the manufacturer believes is an excellent choice for both beginners and experienced seamstresses.

Table of Contents
(Click Ahead!)
Stitch Count / Presser Feet / Functionality / Accessories / Customer Reviews / Pros, Cons & Manual
REVIEW SUMMARY
MODEL: Brother PC210PRW Sewing Machine
REVIEWED BY: Erin
RATING: 4.3


LAST UPDATED: April 9, 2015

COMPARE PRICES
Amazon
Home Depot
Not only is it a great dressmaking machine, but it has some nifty features for quilting and free motion work, too, plus the most popular automation features on today's home sewing machines – horizontal thread delivery, push button controls, programmable needle up/down button, and drop feed dog capability.
If you want something you can use for the occasional alteration or mending task, this is too much machine. However, if you want to try your hand at clothes construction and design, dabble in some quilting and express your creative side with some decorative stitch work, this is a pretty cool tool.
A Good Set of Utility, Decorative and Buttonhole Stitches
(Back to Top)
There are a total of 50 built in stitches – 16 utility and 34 decorative stitches, including 5 styles of 1-step automatic buttonholes. Stitch length is adjustable up to 5mm and stitch width adjustable up to 7mm.
(Scroll to the very bottom for a list of stitch names.)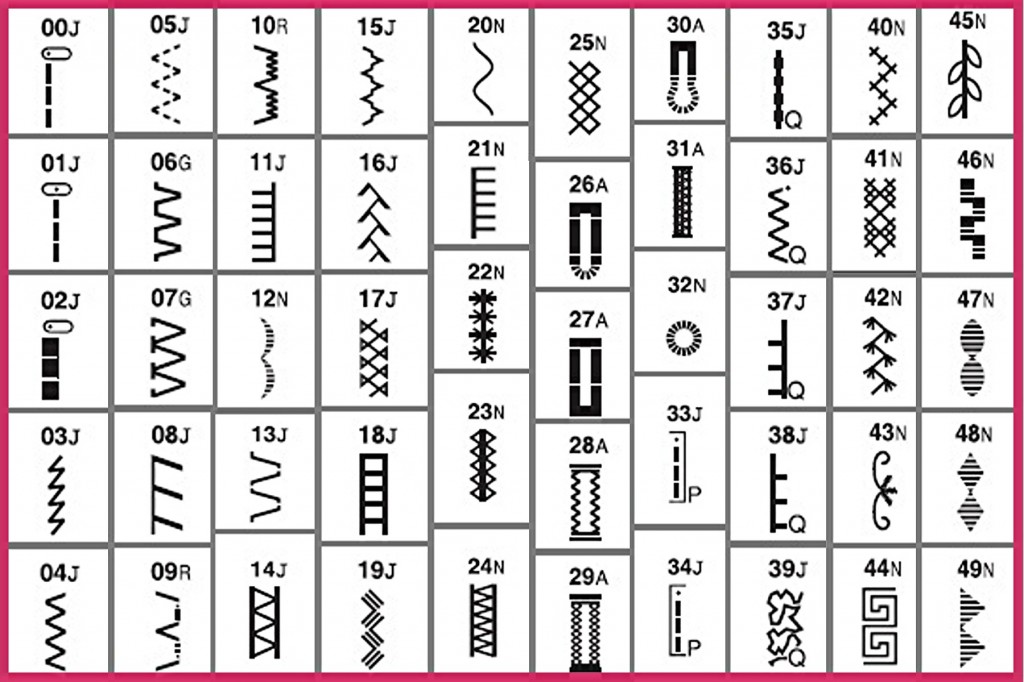 Extra Buttonhole Presser Feet Included
(Back to Top)
The Brother PC-210 sewing machine comes with 7 snap-on presser feet to cover buttons, buttonholes, utility stitches, decorative stitches, hemming, and monogramming. Presser foot pressure is adjustable to four settings with a dial located towards the back of the sewing machine. This makes the machine more capable of handling anything from sheer fabrics without bunching to thicker fabrics and quilt pieces. The General Purpose presser foot (called the Zigzag foot by Brother) has a leveling button you can push when you need to sew up and over thick seams as can occur when sewing or altering jeans and denim.
Buttonhole Foot
Overcasting Foot
Monogramming Foot
Zipper Foot
Zigzag Foot
Blind Stitch Foot
Button Fitting Foot
Automation Features and Easy Control Panel
(Back to Top)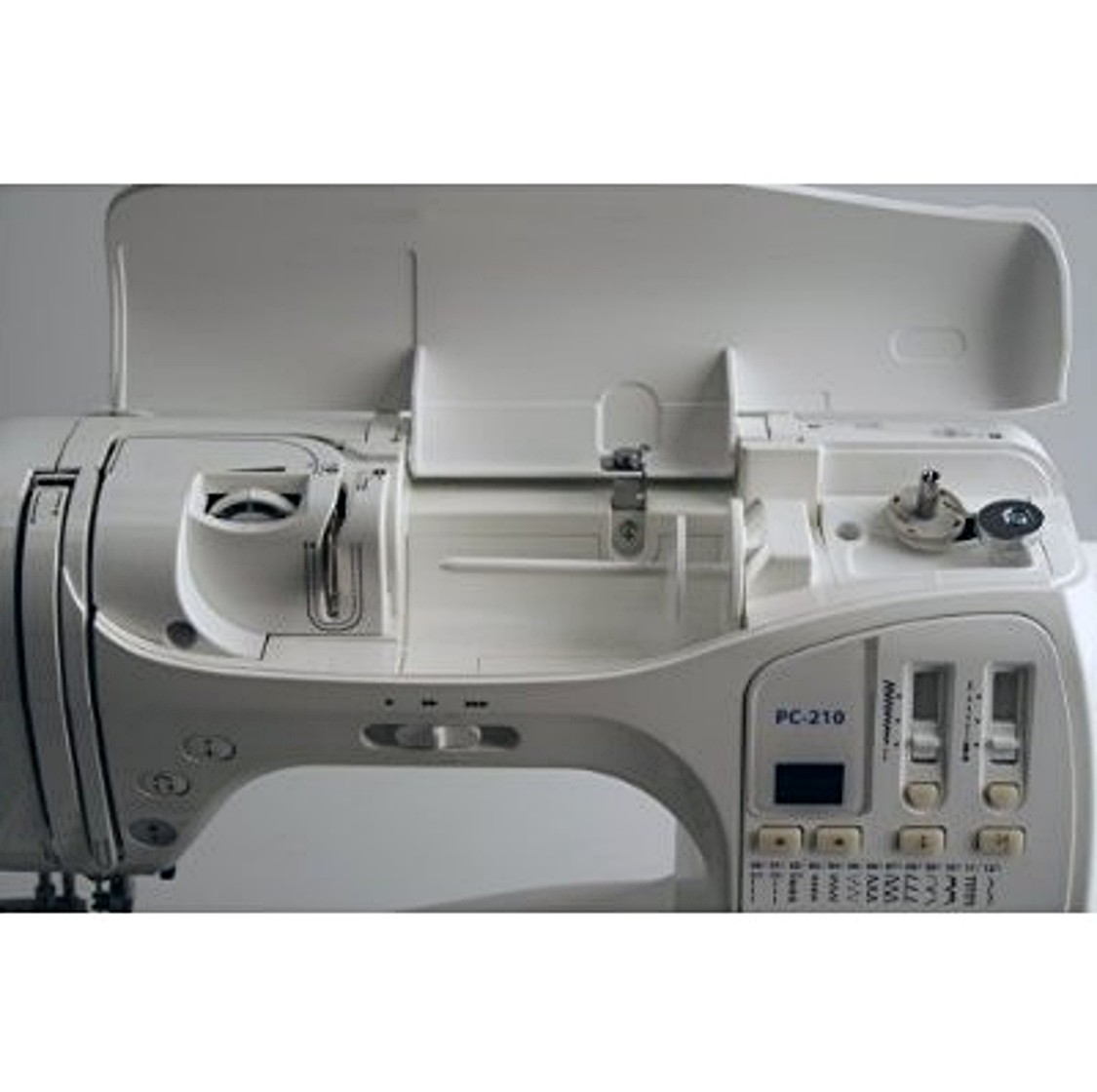 The Brother PC-210 PRW was designed with organization in mind. You can almost hear the designers whispering "a place for everything and everything in its place" as they were sketching out the original concept.
First, the top of the sewing machine flips up to reveal the top thread and bobbin winder. Done sewing? Flip the lid closed and the machine is neat and tidy as a pin. No signs of thread or spools hanging out while you're in the middle of a project.
Second, the accessory drawer pulls down from the front of the machine to reveal an organized slot for each presser foot and the additional accessories. Other sewing machines have little cubbies that fit into the extension arm but have no slots and become just a jumble of accessories. On those machines, you either end up sorting the accessories in a nearby organizer or you have to pour them into your hand and sort through them each time to find the tool you need. Not on this machine. Open drawer, select tool, attach, sew. That easy.
Third, it comes with a hard case. If you buy the optional extra wide extension table, the table attaches to the case so it's not in the way when you're not using it. (Out of the 22 sewing machine reviews we've included so far, only 1 or 2 of those sewing machines comes with a hard cover case!)
Of course, those organizational features don't mean the machine sews any better than another but for those who are going to sew a great deal or who like to be organized while crafting, this machine differentiates itself from others in the same price range.
Other great sewing features on the Brother PC-210 PRW include:
Touch-pad operation panel with LED screen
14 needle positions
6 point feed dog system
Start/Stop Sewing Button
Quick set bobbin – no need to bring up the bobbin thread. Just pop in the bobbin and sew.
Automatic Reverse/Reinforcement Stitch
Programmable Needle Up/Down Control
Large Work Area
Automatic and Adjustable Thread Tension Control
Horizontal Thread Delivery
Automatic Needle Threader (not for use when twin needle is attached)
Maximum Sewing Speed is 850 SPM
Speed Control Slider – limit the maximum speed of the sewing machine. Comes in handy for beginners, teaching children, or completing complicated stitch work or patterns.
Drop Feed Dog Lever
Seam Allowance Markings in 1/8" and mm Increments
Maximum Automatic Buttonhole Length is 1 and 1/8"
Built-in Carry Handle
Drawnnwork Instructions – the manual has some great material on how to use a wing needle to do some intricate drawnwork which uses drawn threads to create patterns where fabrics join.
Free Motion Quilting – requires purchase of a quilting foot.
The Brother PC-210 PRW was designed to handle a variety of fabrics. The manual does caution against sewing through anything more than ¼" thick as doing so could damage the needle.
Dimensions: L 17.3" x W 11.4" x D 7.9"
Weight: 17 pounds

Accessories
(Back to Top)
These accessories come with the Brother PC210 Project Runway sewing machine:
Seam Ripper
4 Bobbins
6 pack of Needles (2 75/11 needles, 2 90/14 needles, 2 90/14 ball point needles)
Twin Needle
Cleaning Brush
Eyelet Punch – The machine can make an eyelet stitch, a reinforced circle of stitching that can be used as the belt hole in decorative belts. The eyelet punch is then used to remove the material in the center to form the eyelet opening.
2 Screwdrivers (small and large)
4 Spool Caps (1 small, 2 medium, 1 large)
Extra Horizontal Spool Pin
Spool Net
Hard Cover Case
Solid Performance Appreciated by Consumers
Speed control very helpful for learning to sew. The slow speed is very, very slow so great for kids to try, too. Automatic needle up is a nice convenience. No more having to crank the hand wheel each time you're done sewing. Bobbin threading is easy and automatic. Start/Stop button is useful for buttonholes as you can do them without the foot pedal. Makes sewing easier. Easy to use. Good instruction manual. Work lights are pretty dim. There are 21 reviews on Amazon.
Average Rating: 4.3
Pros, Cons & Manual
(Back to Top)


Pros: Start/Stop button, automatic stitch reinforcement, drop feed dog capable, quick set bobbin, ease of use, presser foot leveling button, extra wide workspace, accessory organization, flexible needle position, adjustable presser foot pressure, adjustable thread tension.



Cons: Work lights are not sufficiently bright. Limited number of actual user reviews available on the internet.

Manual available online here: Brother PC 210 PRW Manual
Manufacturer's Warranty: As of this date, Brother offers a 1 year warranty on parts and labor, a two year warranty on electronic pattern control and selection components (parts only), and a 25 year warranty on shafts and rods on the machine head.
You'll find the lowest price at one of these two stores:
COMPARE PRICES
Amazon
Home Depot
Features Summary Review: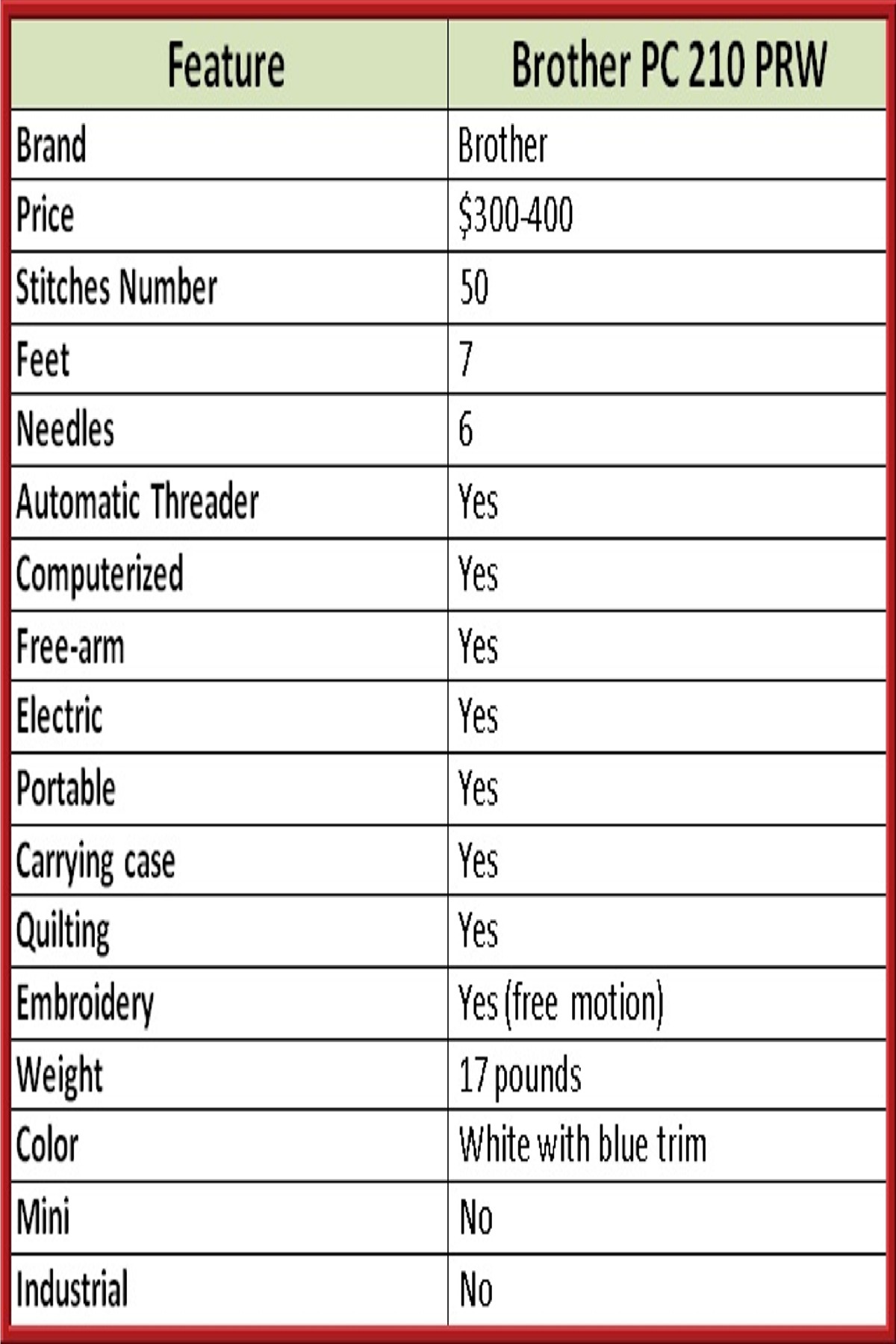 Brother PC 210 PRW Built In Stitch List
| | | | | | |
| --- | --- | --- | --- | --- | --- |
| 1 | Straight Stitch (Needle in the center) | 18 | Heirloom | 35 | Piecing Stitch – Left |
| 2 | Straight Stitch (Needle to the left) | 19 | Hemstitch | 36 | Quilting Stitch |
| 3 | Triple Stretch | 20 | Double Ric Rac | 37 | Zigzag Applique |
| 4 | Stretch | 21 | Serpentine | 38 | Quilting Applique |
| 5 | Zigzag | 22 | Blanket | 39 | Quilting Applique (reversed) |
| 6 | 3 Point Zigzag | 23 | Asterisk | 40 | Quilting Stitch for Stippling |
| 7 | Overcasting for thin fabrics | 24 | Double Triangle | 41 | Cross Stitch |
| 8 | Overcasting for thick fabrics | 25 | Decorative Hemstitch | 42 | Cross Stitch |
| 9 | Stretch Overcast | 26 | Heirloom (sometimes called Grandma's Garden – similar to Honeycomb) | 43 | Decorative Leaf Stitch |
| 10 | Blind Hem | 27 | Round End Buttonhole | 44 | Decorative Border Stitch |
| 11 | Stretch Blind Hem | 28 | Bartack Buttonhole | 45 | Greek Key |
| 12 | Applique | 29 | Stretch Buttonhole | 46 | Vine |
| 13 | Satin Scallop | 30 | Knit Buttonhole | 47 | Steps |
| 14 | Rampart | 31 | Keyhole Buttonhole | 48 | Satin Bead |
| 15 | Double Overedge | 32 | Bar Tack Stitch | 49 | Satin Diamond |
| 16 | Faggoting | 33 | Eyelet Stitch | 50 | Satin Pyramid |
| 17 | Feather | 34 | Piecing Stitch – Right | | |