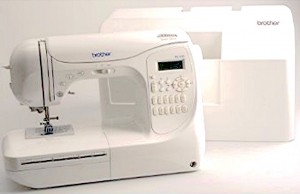 Based on outstanding consumer ratings alone, the Brother PC-420 PRW eserves consideration. When a $400-500 home sewing machine gets almost forty 4 and 5 star ratings, you can't help but take a look, right?
When it's also tied to a major hit television show about fashion and design, interest grows exponentially.

Table of Contents
(Click Ahead!)
Stitch Count / Presser Feet / Functionality / Accessories / Customer Reviews / Pros, Cons & Manual
REVIEW SUMMARY
MODEL: Brother PC420PRW Sewing Machine
REVIEWED BY: Erin
RATING: 4.8


LAST UPDATED: April 9, 2015

COMPARE PRICES
Amazon
Is this machine too much functionality for beginners? A lot depends on how much you plan on sewing. The more you are going to sew, the more features you are going to want because as your skills grow, your tools need to grow, too. Shortchanging yourself early on will just have you back in the market for a new machine sooner than you'd like.
This kind of expense, though, is certainly one of those situations where you need to "know thyself". Are you going to use all the features now or in the future?
Because – when it comes to features – this one is loaded with them!
Enough Stitches to Keep You Happy for Ages
(Back to Top)
There are 294 built-in stitches including 10 styles of 1-step buttonholes and three fonts of letters, numbers and characters:
67 Utility Stitches – All the most popular utility stitches plus! Straight,several zigzag styles, stretch stitches, blind hem, overcasting, overedge, basting, appliqué, patchwork, piecing, joining, and several styles of one-step buttonholes and more (in fact, it has the same 67 stitches as the Brother SE 400 combination sewing and embriodery machine).
31 Decorative Stitches – Faggoting, shell tuck, scallop, heirloom stitches, smocking, vines, hearts, and scrolls are a few examples.
16 Satin Stitches – increase the size of satin stitches up to 5 times the normal size)
5 Cross Stitches
10 Decorative Satin Stitches with adjustable stitch density
55 Letters and Characters in 3 Different Fonts (for a total of 165 stitch patterns): Gothic, Script, and Outline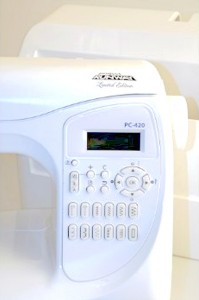 Stitches are selected using the panel control buttons and there are 12 direct-select buttons for the most used utility stitches.
This one includes My Custom Stitch creation program so you can design your own stitches and save them to your machine. To create stitches, you draw them out on the supplied grid sheets. The grid sheets then provide you the stitch points (think x and y axis) of where the needle should come down to create the stitch. Enter those points into your sewing machine and save the pattern.
This is perfect for customizing your work. If you're making a dress for a daughter or granddaughter and they favor a particular type of flower that you'd like to hem along the collar but the PC420 PRW doesn't include that flower pattern, you can create it yourself, save it to your sewing machine and use it to complete the dress.
Up to 70 stitch patterns can be used in combination to come up with patterns, too. This helps with monogramming as you can program the machine to sew the three necessary letters in the monogram without stopping. This can also be used to create your own pattern of decorative stitches, for example a number of satin leaf stitches followed by a number of asterisks and then back to the leaf pattern.
The size of the letters in only the Gothic and Outline fonts have two possible sizes: small and large.
Many stitches can also have a mirror option to reverse the direction of the stitch.
Stitch length adjustable up to 5mm and stitch width adjustable up to 7mm for select stitches.
Quite a Pile of Included Presser Feet!
(Back to Top)
It comes with 13 snap-on style presser feet. Presser foot pressure is adjustable.
Buttonhole Foot – creates buttonholes
Overcasting Foot – used to finish off the edge of fabric and prevent unraveling
Monogramming – beveled edge on the foot keeps it from snagging satin stitches as you sew
Zipper – used to insert zippers
Zigzag – includes a leveling button to assist in getting over thick seams (also known as the General Purpose foot)
Blind Stitch – a guide on the foot keeps the needle perfectly aligned with the seam and manipulates the fabric for a perfect blind stitch
Button Fitting Foot – for sewing on buttons
Walking Foot – used often for quilting and working with heavier fabrics, the walking foot provides a set of feed dogs on top of the fabric to move it forward both from below and on top
Quilting Foot – used for free-motion quilting and designs
Stitch Guide Foot – includes a small ruler on the foot
Adjustable Zipper/Piping Foot – works with right or left seams and includes an adjustable guide to suit different piping widths
Non-Stick Foot – helpful when sewing leather, vinyl or other materials that tend to stick to regular presser feet
Open Toe Foot – makes it easier to see your stitch work when sewing intricate designs and patterns
Great Automation and Thread Handling Features
(Back to Top)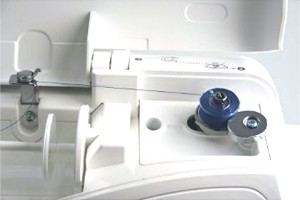 This is the kind of sewing machine that is not only designed to handle so many different kinds of sewing projects but also meant to make sewing easier.
This is especially true for anyone who is going to be making lots of clothes with their sewing machine. The stitch selection covers all bases but things like stitch memorization, push-button thread trimmer, and custom stitch programs mean you'll spend less time switching from buttons to zippers to seams to decorative trim.
The features include things that enhance the sewing experience by eliminating the most frustrating tasks like pulling up the bobbin thread and threading the needle. A solid, 6 point feed dog system also enables all kinds of fabrics to move easily through the machine.
Automatic needle threader
Twin needle function for parallel stitch lines
Quick Set bobbin – no need to pull up the bobbin thread on your own
Adjustable thread tension
14 needle positions
Max speed of 850 stitches per minute
6 point feed dog system
Free-arm sewing
Speed control slider to cap the maximum sewing speed
Horizontal top thread delivery
Drop feed dog lever
Programmable thread trimmer (no hunting for scissors!)
Start/Stop button lets you sew without the foot pedal
Reverse/Reinforce button – lays down tie off stitches mirroring your stitch pattern
Needle Up/Down button tells the machine where to leave the needle when you're done with your row of stitches
See-through bobbin cover
Built-in carry handle
The Brother PC420 sewing machine comes with a knee lifter, too. The knee lifter is a pad at the end of a metal rod that attaches to the bottom of the sewing machine and is intended to rest just above your knee. As you need to raise the presser feet either because you've finished sewing or in order to reposition your fabric, raise the knee under the knee lifter pad in order to raise the presser foot rather than having to take your hands off of your fabric to do so. You do not have to use the knee lifter nor do you need to leave it attached to the machine.
LCD control panel is used for stitch selection and settings. There's even a help button which will scroll threading and bobbin winding instructions.
The top of the sewing machine lifts up to reveal the thread spool and then down to cover up spool and thread when you're done sewing for the day.
The LCD screen will show your selected stitch, which presser foot is required for that stitch, whether or not a twin needle is allowed for that stitch, the stitch width, and the stitch length.
Graphics on the LCD screen represent various sewing machine functions and settings. Four arrow keys, an OK button, and a Back button help you navigate those icons and settings.
The language on the LCD screen can be changed to any one of the following: English, German, French, Italian, Dutch, Spanish, Danish, Norwegian, Swedish, Finnish, Portuguese, Russian, Korean, Japanese.
Requires SA156, XA5539-151 bobbins. Bobbins from older models may damage this machine.
There is also a bright work lamp and built-in carry handle.
Dimensions: – L 17 1/3" x W 11 2/5" x D 7 7/8"
Weight: 17 pounds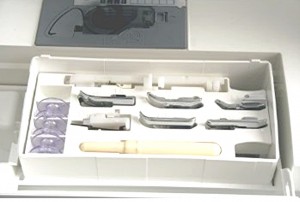 Included Accessories
(Back to Top)
Rather than a simple box space in the extension arm, there is an organizer tray in the machine for all the included accessories. This makes it much easier to locate and store your presser feet and sewing tools.
Seam Ripper
4 Bobbins
6 pack of needles (2 75/11 size, 2 90/14 size, and 2 90/14 ball point needles)
Twin Needle
Cleaning Brush
Eyelet Punch
2 Screwdrivers (small and large0
4 Spool Caps (1 small, 2 medium, and 1 large)
Extra Spool Pin
Hard Cover Case
Spool net (used to protect spools of thread where the thread comes off more quickly than regular thread, like transparent nylon thread)
Grid Sheet Set for My Custom Stitch design
OPTIONAL – The Brother SA537 Extra Wide extension table can be purchased separately for larger projects.  The table has fold out legs and a slot in which you can store the knee lifter.  The extension table also attaches to the hard cover case for easy storage.
Here's a video demonstrating it in action. You can see the quality of the stitch work, samples of a few of the decorative stitches and all of the accessories that come in the box.
A Big Hit with Consumers
Consumers overwhelmingly give this machine high ratings for a number of reasons. It's easy to use even though it offers so many great features and stitches. Some mention that going from a more basic model to this one really highlighted for them how much less work it is to use the PC420 because of the power and automation.
It does an excellent job with specialty stitches and fine work. Handles all kinds of fabrics including the most delicate sheers and laces. For anyone who will be making clothing, this is an ideal choice.
You can read more here: User Feedback

Average Rating: 4.8
Pros, Cons & Manual

Pros: – Adjustable presser foot pressure. Drop-feed dog lever. Needle up/down button. Start/Stop button. Speed control. My Custom Stitch program for creating your own stitches. Excellent selection of utility and decorative stitches for quilting, free motion embroidery and monogramming. Adjustable needle position. Walking foot included. Satin stitch density and size flexibility. Comes with hard cover case.



Cons: No compatible circular sewing foot. Lettering stitches are rather small.

Manual available online here: Read the Manual

Manufacturer's Warranty: As of this date, Brother offers a 1 year warranty on parts and labor, a two year warranty on electronic pattern control and selection components (parts only), and a 25 year warranty on shafts and rods on the machine head.
These two stores currently have the lowest prices:
COMPARE PRICES
Amazon
Features Summary Review: