**This post may contain affiliate links for products I recommend. If you click a link and buy something I may receive some compensation. This does not change the price you would pay.**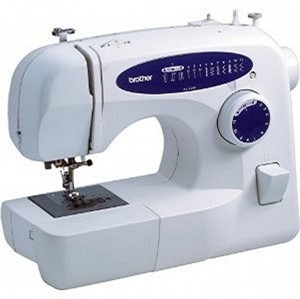 Even the Brother website is confused about the XL-2230 Free-Arm sewing machine, stating on the same page that it has 11 built in stitches and then 15 built in stitches.
Frankly, this is a very basic sewing machine that has been overpriced. Their website also states : "The Free Arm design of this sewing machine is a key feature." I think that says a lot. If free-arm sewing is about all you have to emphasize, there's not much else going on.

This model has been discontinued. If you want to stick with something around the $100 price range, look at the Brother XL2600i, the Brother XL2610, or the Singer Esteem II 2273 before making a final decision.
Table of Contents
(Click Ahead!)
Stitch Count / Presser Feet / Functionality / Accessories / Customer Reviews / Pros, Cons & Manual
REVIEW SUMMARY
MODEL: Brother XL2230 Sewing Machine
REVIEWED BY: Erin
RATING: 4.1


LAST UPDATED: April 9, 2015

DISCONTINUED BUT CHECK HERE
Amazon
(Oh, man! Even Amazon's listing for product dimensions of this machine are incorrect.)
I haven't written a negative review of anything so far and I'm not saying this is a bad sewing machine, but in comparing sewing machines for beginners, I would avoid this one unless you find it for less than $100 (and I haven't found it for that price anywhere) AND don't need a machine for anything other than basic mending and small projects.
It just doesn't hold its own against some other choices in the same price range. My issue isn't with the machine's performance but with its price. It targeted too high a price point. (Yes, that's my personal opinion.)
Just Over a Handful of Stitches
(Back to Top)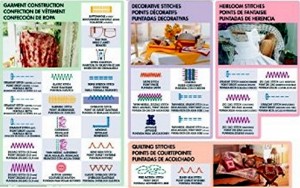 In reality, the machine offers 11 built in stitches with 31 stitch functions and all stitch lengths and widths are set automatically:
4-step buttonhole stitch
Straight stitch at 2.5 mm length centered
Straight stitch at 4 mm length centered
Straight stitch at 2.5 mm in left needle position
Triple Stretch
Elastic Overlock stitch
Zigzag stitch at 3 mm width and 1.5 mm length
Zigzag stitch at 5 mm width and 2.0 mm length
Zigzag Satin stitch
Blind Hem stitch
Elastic Stitch
Standard Presser Feet are Included
(Back to Top)
Metal snap on presser feet:
General Purpose foot
Zipper foot
Buttonhole foot
Button Sewing foot (the only foot that is plastic, not metal)
Not a Lot of Extras but Easy to Use
(Back to Top)
The Brother XL-2230 sewing machine comes with an automatic 4-step buttonhole, built-in needle threading (which is really what other machines call an automatic needle threader – I'm not sure why they use this terminology on this machine), and a drop-in bobbin system.
It's light-weight, compact, and has a removable extension table for free-arm sewing. The machine comes with a twin-needle and extra pin for twin needle sewing.
Thread tension is automatic but can be adjusted by a dial at the top of the machine. It offers decent speed at 800 stitches per minute and a vertical top thread delivery system.
Dimensions: L 15.4″ x H 11.4″ x W 6.7″
Weight: 11 pounds
(Although Amazon says the machine weighs 2.6 pounds (???), it really weighs 11.24 pounds – still light-weight.)
Accessories
(Back to Top)
The Brother XL2230 comes with these accessories:
3 additional bobbins (plus the one in the machine)
3 additional HAZ130 needles (plus the one in the machine)
Twin needle
Extra spool pin for twin needle sewing
Screwdriver
Darning plate
Performance Meets Customers' Expectations
Thread tension is a recurring problem. This may be due to the quality of threads used or use of incorrect bobbins from previous machine but several people reported similar issues. Easy bobbin loading system works great. The machine is very easy to operate as everything is pre-set.
It is relatively quiet. Great for basic sewing. Handles denim and thick layers of material. Instructional manual is easy to follow. Automatic needle threader works very well. I could not find but a handful of reviews outside of Amazon which has 36 reviews in total.
Average Rating: 4.1
Pros, Cons & Manual
(Back to Top)


Pros: Metal presser feet (except the button sewing foot which is plastic). Presser foot raises to ¾" to allow for handling of thick fabrics or multiple layers of material. Heavy duty feed dogs. Bulb can be easily changed when needed.



Cons: Feed dogs are almost too much for sheer fabrics and may cause tearing. Smaller work area than comparable machines.
One item I'm not sure how to classify as a pro or a con is the fact that EVERYTHING is pre-set on this machine: stitch width, stitch length, presser foot pressure and needle position.
If you're looking for a really basic sewing machine and won't need to do any modifications to the supplied stitches and stitch functions than maybe this is a plus for you.
If, however, you want to grow with your machine and take on more complicated projects in the future, the fact that you can't make these adjustments yourself could be very frustrating and limiting.
Manual available online here: Manual
This machine often sells for more than $100 – sometimes as much as $120-130. In fact, the price issue probably has as much to do with individual sellers as it does Brother themselves.
Manufacturer's Warranty: As of this date, Brother offers a 1 year warranty on parts and labor, a two year warranty on electronic pattern control and selection components (parts only), and a 25 year warranty on shafts and rods on the machine head.
DISCONTINUED BUT CHECK HERE
Amazon
Features Summary Review: