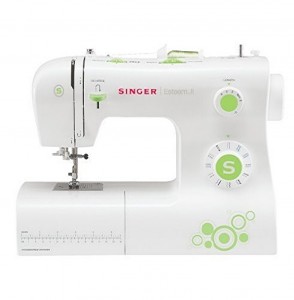 Want an ideal Singer sewing machine with a great price and is easy to use? Here it is – the Singer Esteem II 2273.
Reviews and ratings are positive, the machine is built to last with a sturdy metal frame and accessories, automatic needle threading, easy loading bobbins, and a basic set of stitches to tackle mending, garment construction, and home décor projects. Beginners rave about super-easy set up!

Table of Contents
(Click Ahead!)
Stitch Count / Presser Feet / Functionality / Accessories / Customer Reviews / Pros, Cons & Manual
REVIEW SUMMARY
MODEL: Singer Esteem II 2273 Sewing Machine
REVIEWED BY: Erin
RATING: 3.3


LAST UPDATED: April 9, 2015

COMPARE PRICES
Amazon
In addition to being easy to use for beginners, the cool green accents on this white sewing machine make it bright and sunny – almost a happy looking little machine.
This machine is great for set-up and go sewers who don't want to mess with tons of settings. Stitches are smooth and straight and the controls are well marked and easy to operate.
List of Built In Stitches
(Back to Top)
The Singer Esteem II 2273 comes with 23 built in stitches and hundreds of variations of those stitches. Stitch selection is done with a dial on the front of the machine. Stitch length is adjustable up to 4mm through a dial knob on the front of the machine. Stitch width is adjustable up to 5mm through use of a dial located on the top right. Includes a 1-step buttonhole stitch.
1-step buttonhole
Straight
Zigzag
Multi-stitch Zigzag – a stronger version of the zigzag stitch because it makes several stitches per zigzag leg and can be used for overcasting and mending tears
Blindhem – creates invisible hems
Stretch Blindhem – creates invisible hems on stretchy material like jersey and knits
Banner
Scallop
Edge Joining Stitch – Joins two pieces of material together with a small gap in between
Rampart – used for gathering done with cord or shirring elastic
Straight Stretch
Zigzag Stretch
Honeycomb – great for creating smocking and attaching elastic (you know those blouses with all the ribbing in the middle that gathers around the waist? This stitch helps attach all that elastic.)
Criss-cross – decorative stitch
Double Overlock – attaches elastic and performs overcasting to protect seams on slightly stretchy material
Slant Pin – decorative hem stitch
Peak Point
Thorn
Mountain
2 Other Decorative Stitches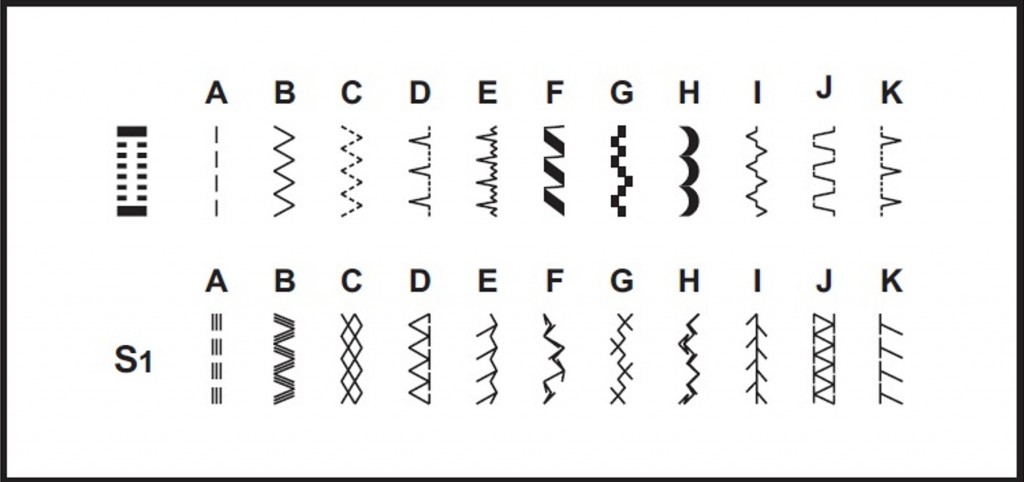 Four Included Presser Feet
(Back to Top)
Four metal, snap-on presser feet are included:
General Purpose
Zigzag
1-step Buttonhole
Button Sewing Foot
Simple Functionality
(Back to Top)
The Singer Esteem II is ready to go for beginners. It is mechanical with electronic speed control through use of a foot pedal. The automatic needle threader and automatic bobbin winder release with front load bobbin make threading much easier.
Thread tension is controlled through a dial at the top of the machine. Remove the extension table for free-arm sewing to handle pant leg hemming and shirt sleeve cuffs. Thread delivery is horizontal for less jamming and smoother flow.
I cannot find weight information anywhere other than shipping weight on Amazon which notes 16.8 pounds so my best guess is that this machine weighs somewhere between 13-15 pounds. A built in handle at the top of the machine makes it easy to move and carry. There is a second spool hole for twin needle sewing, although the pin and spool are not included.
One tip I found from another user: Set thread tension at 4 upon initial use. The thread tension dial can be found on the top of the machine to the left. Many machines come pre-set with proper tension setting but this machine may come out of the box set at a 5 which may be too tight. According to Singer, 90% of all sewing will be done using a thread tension setting between 3 and 5.
Dimensions: L 15.5″ x W 12″ x D 7″
Weight: Est. 13-15 pounds
Accessories
(Back to Top)
The Singer Esteem II 2273 comes with the following sewing machine accessories:
4 Plastic Bobbins (includes the one in the machine)
Seam Ripper
Brush
Quilting Guide
Pack of 5 needles
Spool Cap
L Screwdriver
Oil Botle
Darning Plate
DVD Instructional Guide
Consumers Think it Could be Better
A breeze to learn. Highly recommended for beginners. Automatic needle threader can be tricky but machine comes with a DVD that walks you through the threading process. Sturdy enough that it doesn't bounce while working. Smooth and quiet. Target has 15 reviews with average rating of 4.5 while Amazon has 8 reviews with mixed results.
Average Rating: 3.3
Pros, Cons & Manual

Pros: Easy to set up and learn. Great set of basic stitches. Automatic functions like needle threading and bobbin loading. Sturdy, metal frame. Presser foot raises sufficiently to work on thick fabrics. Bulb can be changed as needed.

Cons: Presser foot pressure and needle positions are pre-set. Stitch width and length are slightly more limited than on comparable machines. No cover included.
Manual available online here: Manual
Manufacturer's Warranty: As of this date,the warranty in the US is 25 year limited on the machine head, limited 5 year warranty on motors, light, assembly, wiring, switches, speed control and electronic components, and a limited 1 year warranty on adjustments, belts, rings, bulbs, and attachments. As is standard with most warranties, the warranty may be void if certain requirements are not followed.
For current pricing information, follow these links:
COMPARE PRICES
Amazon
Features Summary Review: