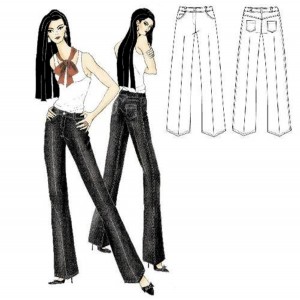 The best sewing machines for denim have a few things in common.  Knowing what those are in advance will help you zero in on the ideal choices for your type of projects.
One benefit of having your own sewing machine is being able to hem your own jeans but people do a lot more with this material.  It can be used for heavy duty work coveralls or for cool, chic handbags.  The type of sewing you intend to do with will help you find the right machine.

Most home sewing machines can handle hemming a pair of jeans or even making clothes out of heavy material as long as the right needle and the right thread are used.  If you're doing more than that you may need a more powerful machine.
Some do a better job than others so keep these things in mind:
The more layers of denim you need to sew through, the more you should be looking at an industrial or commercial sewing machine.
Hemming or alterations on a regular pair of jeans can be done easily by everyday sewing machines but if you're making heavy duty work overalls or you crank out tons of denim craft projects , you need to look at a solid, powerhouse tool meant to do that kind of heavy, repetitive work. Check out Singer's inexpensive CG590 Commercial Grade Sewing Machine.
Look for machines with a leveling button on the general purpose foot that will assist the presser foot in climbing sudden changes in fabric thickness.
The leveling button is a small, black button located at the back of the presser foot. When pushed, it raises the tip of the presser foot so that it can climb over bumpy seams.  You run into this when sewing around the hem of jeans and hit the multi-layer side seam.  If you just need to get over the occasional hill in your fabric, this can help. The Brother PC420 PRW Project Runway sewing machine (see my write up here) is an example of a machine that comes with this feature.
Use a sewing machine with a walking foot for extra fabric control. A walking foot is a type of presser foot that has feed dogs built into the bottom and moves in rotation with the bottom feed dogs.
This top set of feed dogs applies extra pressure to move thick fabrics more smoothly under the needle.  Some machines come with a walking foot (another plus for the PC420 PRW) while others may require that you purchase it separately. If you're going to sew a lot a walking foot is a real plus.
Some Singer sewing machines sense when more power is needed to get through adjustments in the thickness of upcoming fabric and they make it happen.
Power is drawn from other parts of the machine and redistributed to the needle arm as needed. Rather than feel your machine start to bog down in changes over the thick seams in denim the machine moves more smoothly and the stitches are more consistent.  The Singer Confidence 7469Q (read more here) has both this optimum power feature as well as a walking foot for great control of thick fabrics.
Don't forget – make sure to check the manual and get the right needle at the same time or shortly after.  Sewing with the wrong needle could cause unnecessary damage.