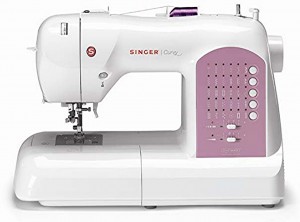 Besides the unique purple trim and round styling, the Singer Curvy 8763 sewing machine is
great for beginners because it covers all the basics – mending, clothes construction, quilting, light embroidery, and craft sewing
.
The metal frame and 16.8 pound weight holds up to heavy fabrics and large projects without jumping around while you sew.

Table of Contents
(Click Ahead!)
Stitch Count / Presser Feet / Functionality / Accessories / Customer Reviews / Pros, Cons & Manual
REVIEW SUMMARY
MODEL: Singer Curvy 8763 Sewing Machine
REVIEWED BY: Erin
RATING: 4.2


LAST UPDATED: April 9, 2015

COMPARE PRICES
Amazon
Rakuten
You pay a little more for the stability and additional work space a machine this size provides but if you're going to be sewing a lot and have some curtain, quilting and blanket projects on your list, this machine provides a great platform that allows you to get piles of fabric AND your hands in and around the work area.
Stitches Include a Bit of Everything
(Back to Top)
There are 30 built-in stitches provided with the Singer Curvy 8763 including two styles of 1-step buttonholes. Stitch width and length are adjustable up to 7mm depending on the stitch selected. Stitches are selected by way of the five selection buttons on the front of the machine. Top thread tension has an "automatic" setting, or can be adjusted as needed for your projects. Stitches include:
Straight
Straight Stretch

Hand-look Quilt
Regular Blindhem
Stretch Blindhem
Crescent
Zigzag
Ric-rac
Multi-Stitch Zigzag
Honeycomb
Overedge
Pyramid
Feather
Pin
Ladder
Star
Vine
Serpentine
Blanket
Slant Pin
Slant Overedge
Greek Key
Entredeux
Arrowhead
Double Overlock
Criss-Cross
Crossed
Button sewing
Wide Bartack Buttonhole
Narrow Bartack Buttonhole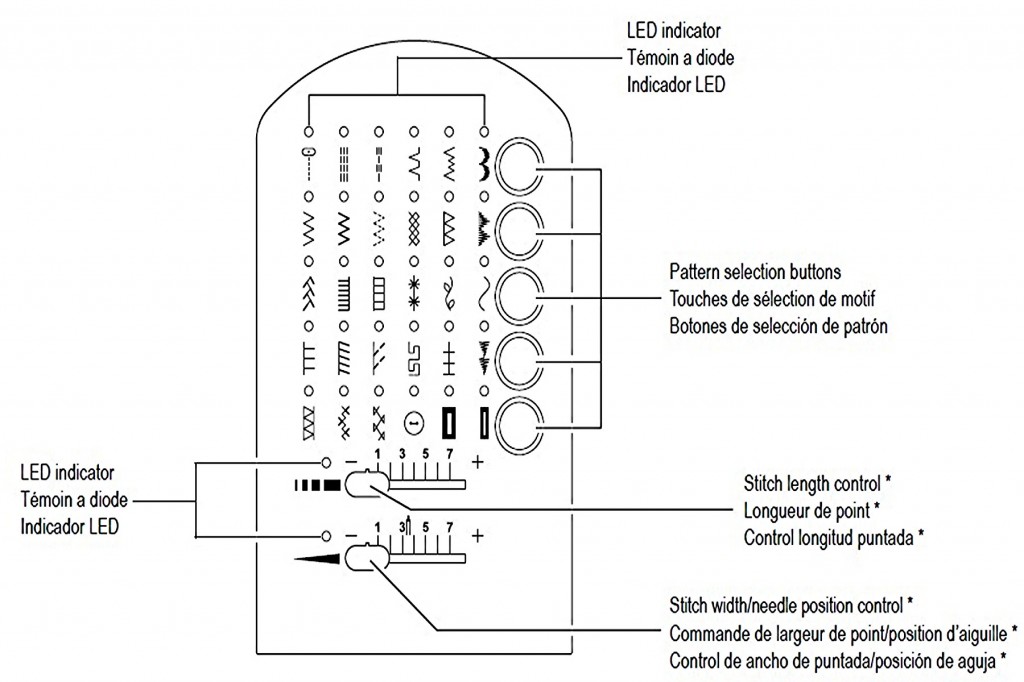 A Bit Skimpy on the Presser Feet (But You Can Add More)
It's far easier to attach the snap-on presser feet that come with this machine than the old screw-in style. Presser foot height has three pre-set settings – down, up and high for thick fabrics. The following presser feet come with the sewing machine:
General Purpose
Zipper
Satin
Blindstitch Hem
Buttonhole Foot
Decent Threading and Operation Features
(Back to Top)
Singer's One-Touch Needle Threader only requires that you guide the top thread through the slots and into the needle threader and then it does the rest, punching the thread through the eye for you. The Drop and Sew bobbin system means you don't have to pull up the bottom thread just right. Instead, insert the bobbin and run the thread along the slot under the bobbin cover plate towards the thread cutter and the machine will handle the bottom thread, too.
Features include:
Feed cover plate for free motion sewing
6 piece feed dog system
Automatic needle threader
Drop-in bobbin
SwiftSmart threading system
13 variable needle positions
Free arm sewing
Built in carry handle
Well lit work area
This video demonstrates the simple threading technology used in the Curvy line of sewing machines:
The extension table houses the machine's accessories and can be removed for free arm sewing. The reverse button is conveniently located just above the needle so you can reach it while still holding your fabric in place.
A darning plate allows for free hand embroidery work and there are a few decorative stitches in the list above that also help with embroidery projects. The Singer Curvy 8763 uses a horizontal thread delivery system for smoother thread control. An additional pin is provided for twin needle sewing (twin needle must be purchased separately).
Three LED lights provide a well lit work space and last longer than old fashioned bulbs. A carry handle at the top of the machine folds down when not in use and makes it easy to move the sewing machine around the house.
Dimensions: L 17.7" x W 12.5" x D 9"
Weight: 16.8 pounds
Included Accessories
(Back to Top)
The following accessories come with the Singer Curvy 8763:
Pack of 5 needles
4 plastic 15J bobbins (including the one that comes inside the machine)
Additional spool pin for twin needle sewing
2 felt discs for spool pins
3 spool pin caps (small, medium and large)
Buttonhole opener/Seam Ripper and Brush
Screwdriver for needle plate
Darning plate
Above Average User Rating
Easy to use. This is almost completely the same as the Confidence, but it has an extra LED light and its threading system is faster. Nice, bright work light. Handles thin and heavy fabrics with ease as well as other media for handbags and craft sewing. Auto threader works well. There is only one review on Overstock and the rating was five stars. Five reviews on Joann's Fabrics with an average rating of 5 stars.
There are 35 reviews on Amazon. You can read more here: Singer Curvy 8763 Reviews
Tips: Get metal 15J bobbins to use instead of the plastic ones provided with the machine as they run more smoothly and last longer. Make sure to use the right needle and thread for heavier fabrics like denim, canvas, and duck. The manual will tell you which needles and thread weights are best for each type of fabric.
Average Rating: 4.2
Pros, Cons & Manual

Pros: Manual is thorough and easy to follow. Even gives instructions for how to do corded buttonholes which most manuals do not show. Nice selection of stitches for mending, clothes construction, quilting, and free-hand embroidery. Capable of handling many light-weight and thick fabrics for heavy-duty and craft sewing. Sturdy metal frame, decent weight, and large size keeps the machine steady while working on large projects like blankets, quilts and large drapes.

Cons: Presser foot pressure is not adjustable outside of the three pre-set levels. Capable of twin-needle sewing but twin needle must be purchased separately. Does not come with a cover or case.
Manual available online here: Singer Curvy 8763 Manual
Manufacturer's Warranty: As of this date,the warranty in the US is 25 year limited on the machine head, limited 5 year warranty on motors, light, assembly, wiring, switches, speed control and electronic components, and a limited 1 year warranty on adjustments, belts, rings, bulbs, and attachments. As is standard with most warranties, the warranty may be void if certain requirements are not followed.
You'll find the lowest prices here:
COMPARE PRICES
Amazon
Rakuten
Features Summary Review: