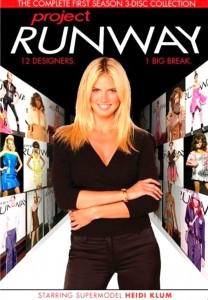 Do you want to sew like the Project Runway designers? I'd never watched the show but my new sewing machine and I have been exploring different kinds of projects and although I have no aspirations of becoming a fashion designer I thought it might be cool to at least make my own clothes some day. Other than some training and practice, I wondered what tools I'd need to get the job done.
I'd written some reviews on Project Runway sewing machines like this one and although I was familiar with the show by name I had not actually watched an episode. I scanned through the guide on my TV, found it was coming on in a few days and scheduled it to record on my DVR.

Talk about luck – I didn't realize at the time I'd just managed to catch the first episode of PRW Season 8. (The DVR now records all episodes and I am h-o-o-k-e-d!)
The show has taught me a couple of important lessons:
I'm never going to sew like they do on Project Runway. These are serious designers and I'm likely never going to pass "passionate hobbyist".
Creativity and vision are critical skills in being able to come up with new designs as quickly as is required on that show.
I'm fascinated with how fast they can take a concept from idea to runway.
I should thank someone that I've never had to create a runway dress out of paper party goods.
What fascinated me most, though, were the sewing notions and tools that the designers used during the challenge. In fact, I made a list of all the items a dressmaker might want to have on hand while I watched the designers go through their challenges.  I then consulted a friend of mine who is an experienced seamstress and we created our ultimate list of sewing notions for anyone who wants to sew like they do on Project Runway.
I didn't know you could do this, but my friend actually published the list so you can see the specific products and brand names that we recommend:

Sew Like Project Runway Designers

You can see which items – even the basics like pins and pin cushions – are perfect for anyone starting to sew.
So what do the designers use on Project Runway?
Dressmakers mannequin (dress form)
Measuring tape
Rotary cutter
Cutting mat
Pattern paper
Stabilizer
Pins
Scissors/fabric shears
Bobbins (machine dependent)
Bobbin storage
Pin cushion
Iron
Ironing board
When I got my new sewing machine (you can see it here), I did go out and get scissors, a cutting mat, some thread and fabric remnants for practicing but I hadn't considered some of those other items.  I hadn't yet become hooked to the show or considered what it takes to sew like the Project Runway designers.  My house has never had need of pins or pin cushions although some place I have a measuring tape which has crawled further and further towards the back of my closet the more my waist size changed. I think it's time to get a few new tools.